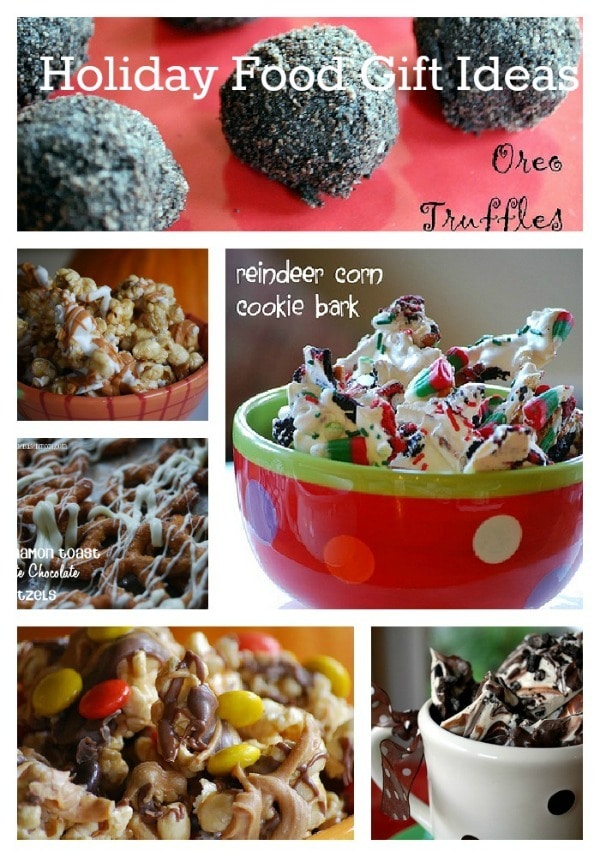 So what are you giving your friends and neighbors for the holidays this year?  The traditional cookie plate??  Don't get me wrong, I love a good cookie plate (in fact I'll do a cookie post this week) but sometimes I like something a little different. Today's post is full of lots of fun non-cookie treat ideas I have shared in the past that cook and wrap up easy for holiday gift giving!
Of course there is all that yummy candy/cookie bark I have been sharing this past week.
One of my personal favorites from last year – Cinnamon Toast White Chocolate Pretzels – yum!!
and to continue that white chocolate theme, how about some White Chocolate Popcorn?
or some dressed up Caramel Corn….Peanut Butter and Chocolate Caramel Corn.  Just switch out the Reese's pieces for some holiday red and green peanut butter M & M's and just ignore the Halloween themed bowl!
and then there is the white chocolate/butterscotch version…
Another fun popcorn variation – Mother Goose Popcorn.  You can make it whatever color you want.  A combination of red and green would be festive!

And perfect for the chocolate lover on your list – a plate full of Oreo Truffles
or a bottle of homemade Hot Fudge Sauce!
Wrap it up with a carton of ice cream and you will make someone very happy!

Or maybe you are looking for something a little less sweet – try these yummy Spiced Nuts.
They dress up pretty cute!

So what are you giving to friends and neighbors this year?  I'd love to hear and if you want to drop some by my house too just let me know and I'll send you my address!!  EnJOY!