I don't think there is a kid out there, little or big that doesn't love a Funfetti cake for their birthday.  How fun is a cake full of sprinkles!  Of course no cake is complete without ice cream so why not just take care of both the cake and ice cream at one time with this fun and delicious Funfetti and Cake Batter Ice Cream Cake.
We love celebrating birthdays at our house and usually a birthDAY turns into a birthWEEK!
Birthday Celebration Tips:
1.  Have Birthday Traditions.  At our house a birthday wouldn't be a birthday without certain birthday traditions.
The birthday boy or girl always awakes to a door covered with streamers which they get to jump through.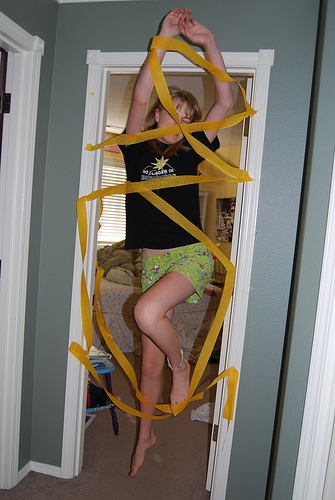 2.  Make them feel special – The birthday person becomes queen or king for the day!  They rule supreme and of course there is always breakfast in bed!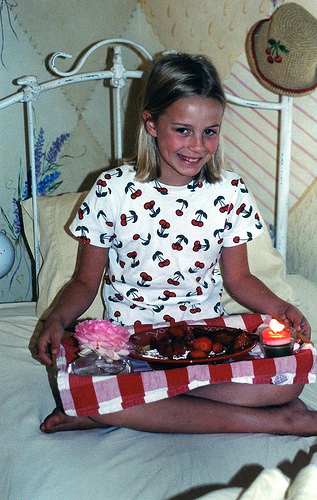 3.  Choose their favorite foods  – the birthday person gets to choose all of their favorite foods for the meals that day – breakfast, lunch and dinner and of course they get to choose what kind of birthday cake they want.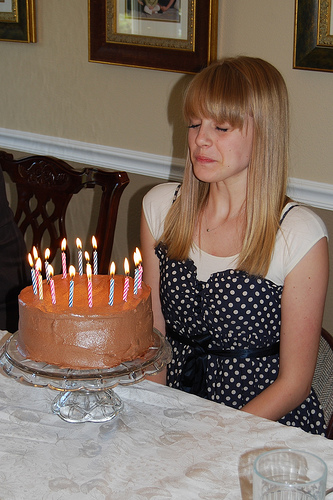 Now who wouldn't want a Funfetti and Cake Batter Ice Cream Cake given the choice!??
This cake just oozes fun!  I used a Pillsbury Funfetti Cake mix and doctored it up a bit by replacing the water with 1 1/2 C of buttermilk and a teaspoon of vanilla.  I used the eggs and oil just like it says on the back of the box.
For the frosting I used Pillsbury Classic White Frosting to frost the cake and then I used one of their fun new  Happy Birthday Funfetti frostings.  I used the Hot Pink Vanilla and put it into a piping bag to put the stars on my cake.  The frosting was the perfect consistency for piping!  The frosting comes in lots of other fun colors like Vibrant Green, Aqua Blue and Bold Purple.  Each frosting has some fun sprinkles that go with it.  The pink frosting came with the pink sprinkles you see on my cake.
 I added gumballs for the finishing touch – fun!!!
I baked the cake according to the directions on the back and just tweeking it a bit as I mentioned above.  I then softened up a container of vanilla ice cream and added in 2/3 a cup of dry, funfetti cake mix (you will need a second box for this).  I then put the ice cream into the same size cake pan as I used for the cake and put it in the freezer.  I lined the bottom of the pan with wax paper to make it easier to remove the ice cream.  After it is frozen run a knife around the edge of the ice cream to loosen it.  Run the knife under warm water to make it easier.  Then I turned it upside down and ran some warm water over the bottom of the pan to loosen the ice cream.  Be sure and hold her hand underneath to catch the ice cream if it falls out!
Then place the layer of ice cream between the two cake layers.
I then ran a knife along the ice cream to fill in the spaces between the cake and ice cream.
Put it back in the freezer for a bit if it is starting to melt too much.  Then frost the cake with your choice of frosting color and pipe on your decoration.  Add candles and blow!
Such a fun cake and yummy too.  Love the layer of cake batter ice cream in the middle.  Makes it even more fun.
So that you can create your own Funfetti and Cake Batter Ice Cream Cake Pillsbury is giving away a Funfetti Celebration Start Kit which consists of:
One box of Pillsbury Funfetti Premium Cake & Cupcake Mix
        Funfetti Frostings (1 each of four new frosting flavors)
       $50 dollar Visa or American Express gift card
        Total estimated giveaway value: $60
Be sure and visit the Pillsbury Baking Facebook page too to check out a fun promotion they have going until April  25th!
Just leave a comment below to enter the Funfetti Giveaway.  Giveaway open until Sunday, April 21 midnight PST
Print
Funfetti and Cake Batter Ice Cream Cake
Ingredients
Cake
1

Pillsbury Funfetti Cake Mix

1 1/2

C

buttermilk

1/3

C

canola oil

1

tsp

vanilla

3

eggs
Frosting
1

can Pillsbury white frosting

1

can Pillsbury Happy Birthday Funfetti Frosting

your choice of color
Ice Cream Layer
1.5

qts of vanilla ice craem

2/3

C

dry funfetti cake mix
Instructions
Mix cake mix with buttermilk, eggs, vanilla and oil.

Bake according to directions on the back of box.

Cool Cake
Ice Cream layer
Soften ice cream and mix in 2/3 C cake mix

Place in same size pan as you used for cake. Line bottom with wax paper first.

Refreeze until firm.
Assemble Cake
Place ice cream layer between two cake layers. Spread ice cream to fill in the space between the cake and ice cream layer.

Frost with white frosting

Using a piping bag and a large star tip pipe on your stars

Decorate with sprinkles that come with the Funfetti Frosting

Add gumballs if desired
This post and giveaway were sponsored by Pillsbury but all opinions are my own.
Get my Weekly Menu Plan for FREE!
Receive my FREE "What's for Dinner?" Meal Planning Course, a copy of my FREE ebook that includes my most popular recipes and my FREE weekly Meal Plan.