Elvis loved his peanut butter and banana.  These Elvis Cookies have all that and a little bit more – bacon, pretzels and chocolate!  I think he would have approved.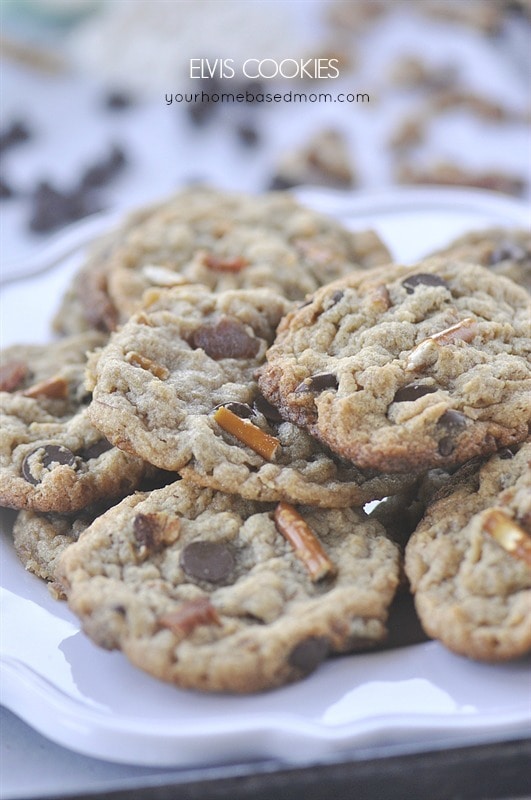 Are you like me?  There are just certain historical events that happen and you remember where you were and what you were doing when you heard about them?  Well, the day Elvis died is one of those for me.  I remember exactly where I was and what I was doing.  I was sitting in my little yellow Honda Civic with  my best friend Luanne in the parking lot of Marriott's Great America in Gurnee, Illinois.  We were both working there for the summer and we were listening to the radio, just getting ready to get out of the car to head into work when we heard the news over the radio.  I wasn't a big Elvis fan but for some reason that day has always stuck with me.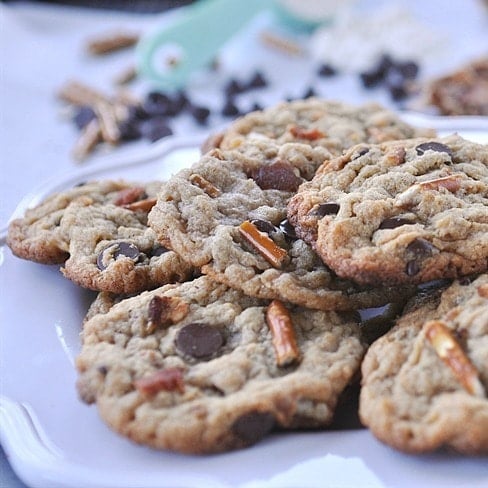 One of the other things I remember about Elvis was that he loved peanut butter and banana!  Today's recipe is a cookie he would have liked and it is rightly named after him.  But in addition to his two favorite flavors, some chocolate, bacon and pretzels have been thrown in for good measure.  A pretty amazing combination and one I am sure he would have approved of.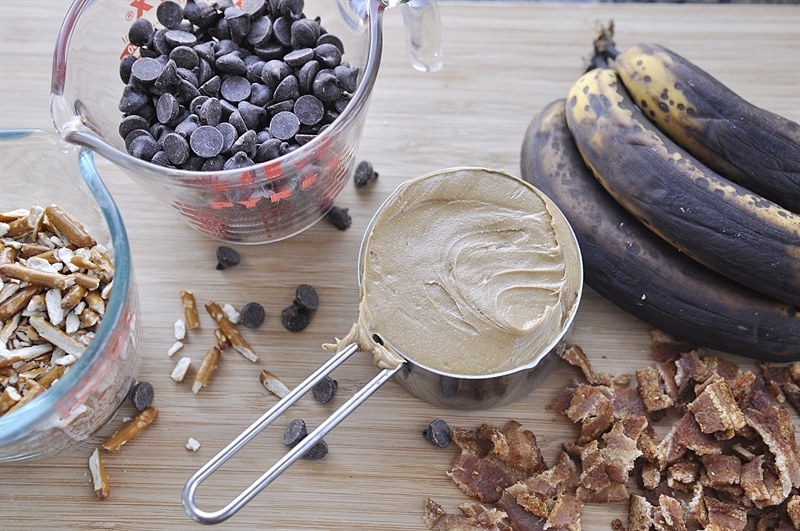 This combination is a perfect balance of sweet and salty.  The flavors all balance out and create an interesting texture and a few surprises when you bite into them.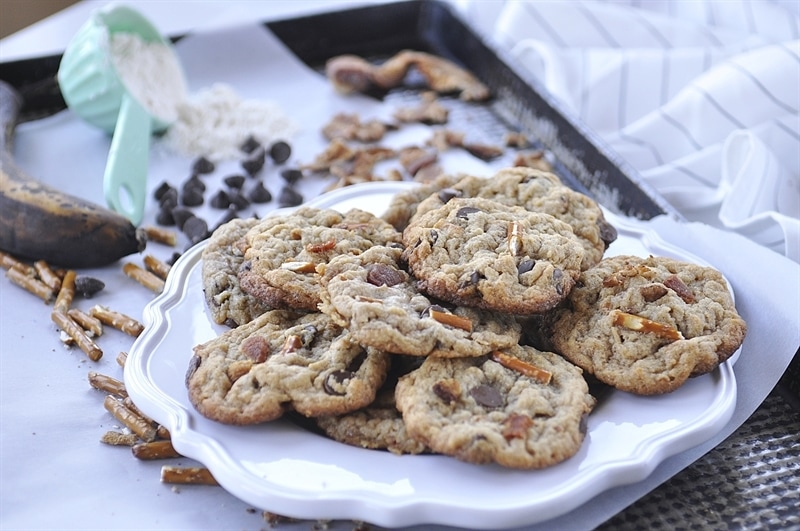 I shared some with my neighbors of course and I got a phone call from one of them asking me what all was in the cookies.  It was the bacon they couldn't quite identify because really, who expects to find bacon in their cookie! But such a nice surprise!!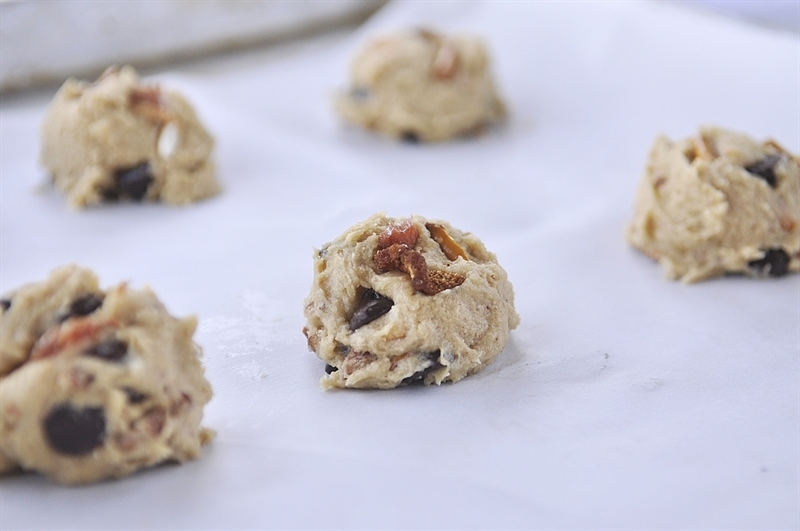 The next time you have some ripe bananas give these Elvis cookies a try, banana bread is always a good choice, but Elvis cookies are just a little bit more fun.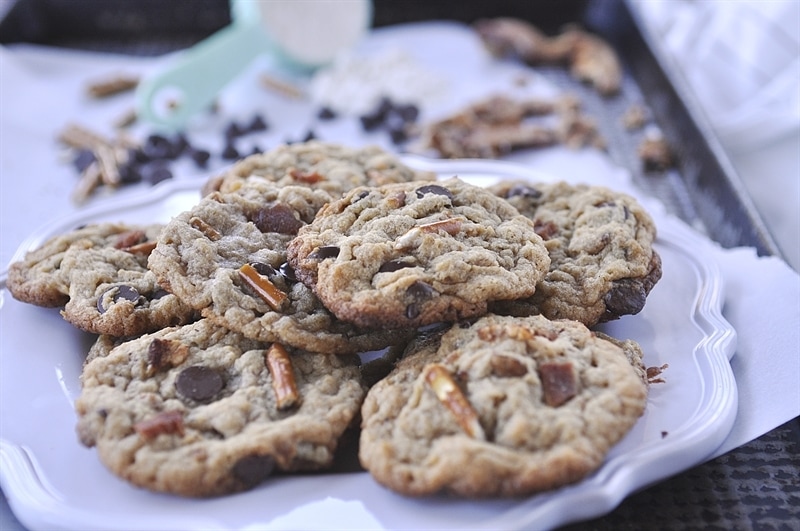 For some other yummy recipes for ripe bananas check out these: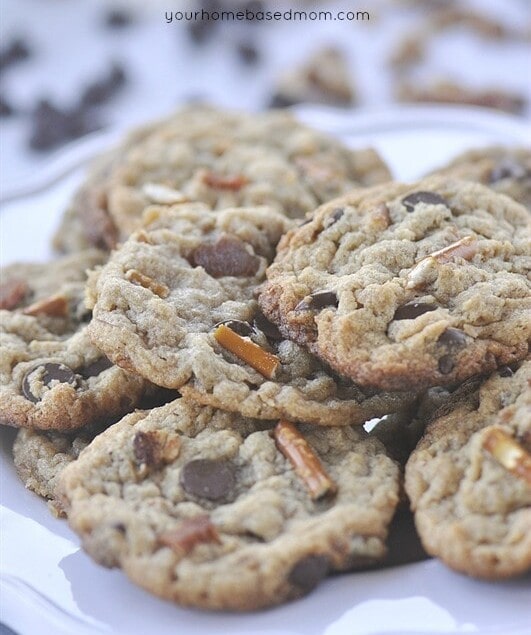 Elvis Cookies}Peanut Butter, Banana, Bacon and Chocolate Cookies
Ingredients
1 1/2 C sugar
1/2 C butter softened
1/2 C peanut butter crunchy or smooth
1 Tbsp molasses
2 tsp vanilla extract
small pinch of baking powder
1 tsp kosher salt
2 very ripe bananas
1 1/4 C all-purpose flour
3/4 C semi sweetchocolate chips
3 ounces pretzels smashed (about 1/2 cup pretzel crumbs)
10 strips bacon cooked crisp and cut into small pieces.
Instructions
Preheat the oven to 350 degrees F and spray a baking sheet or sheets with cooking spray.

In a big bowl, mix the sugar, butter, peanut butter, molasses, vanilla, baking powder and salt until well combined.

Add the bananas and make sure they are well mashed and incorporated.

Add the flour and gently mix until incorporated, with no lumps.

Fold in the chocolate chips, pretzel pieces and bacon.

Place balls of cookie dough on a parchment lined baking sheet, about the size of a golf ball. Place the sheet(s) in the fridge to chill for 10 minutes.

Bake for 12 minutes, or until golden on the outside. They should still be gooey in the middle Elvis would have liked it that way.

Remove from baking sheet onto wire cooling rack