Easy Chicken Lettuce Wraps live up to their name – easy!  They are also delicious and make the perfect quick, weeknight meal everyone will love.
This recipe was originally posted back in March of 2008.  It quickly became a family favorite and it is still going strong.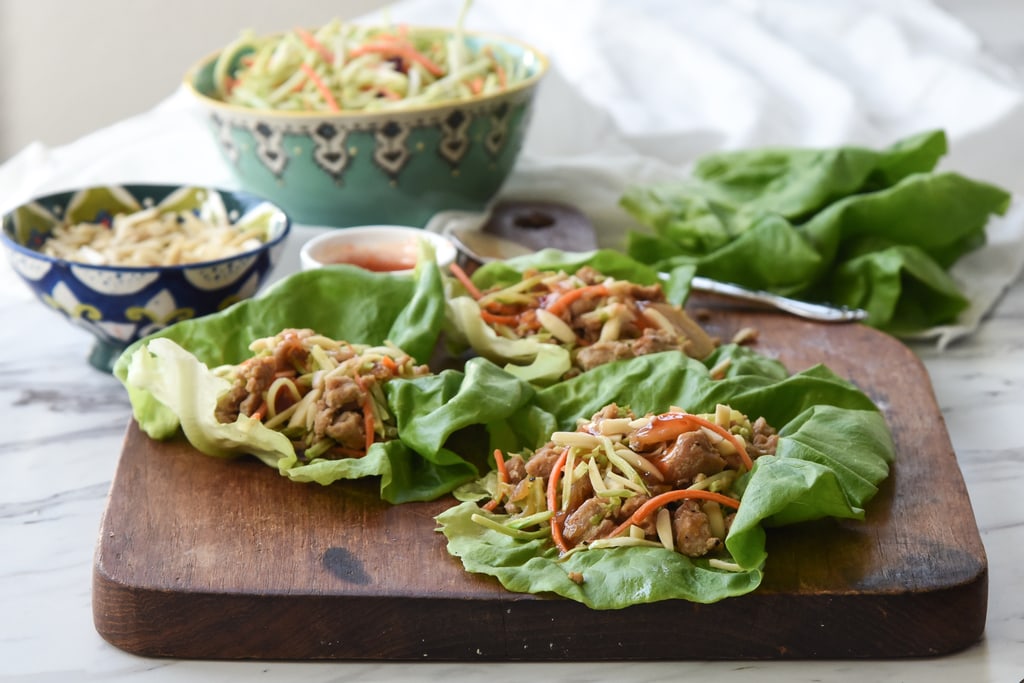 There are two things I love about this recipe. First, it is so easy!  It comes together super quick thanks to the use of broccoli slaw.  The slaw and the almonds also give the dish great texture and crunch. The second thing I love is the flavor.  I used the teriyaki sauce from Trader Joes but you can use your favorite. Many lettuce wrap recipes I come across have a list of ingredients a mile long.  This one dcoesn't so it is perfect for those nights when you need dinner, quick, easy and delicious!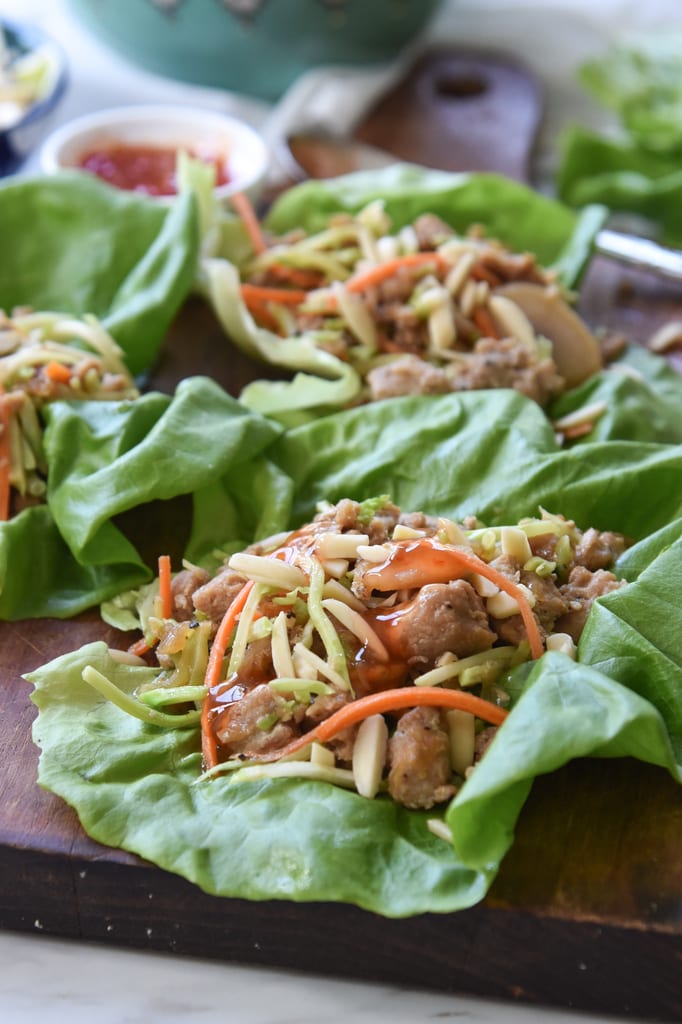 Here is the original post from March 28, 2008 –
One of my favorite restaurants is PF Changs and of course my favorite thing on the menu is their famous Lettuce Wraps.
I love playing around with Copycat Recipes and months ago I found one for PF Chang's Lettuce Wraps.  I finally got around to trying it.  Although the flavor was o.k. – the texture was strange and it didn't taste like the real thing – what a disappointment.  To top it off the recipe had about 20 different ingredients in it, several of which required major chopping  – way too much work, especially when I have a PF Changs within about 5 miles of my house!
A few weeks ago I found another recipe for lettuce wraps at www.pickypalate.blogspot.com and decided to give it another try.  I was not disappointed this time.  Although it doesn't taste just like the ones at Changs they are really good.  This recipe is a keeper and the other went in the garbage!  We loved it.
My girls are not generally crazy about leftovers but they ate these leftovers up the next day!
This version only has a handful of ingredients and there is no chopping involved – fast and easy.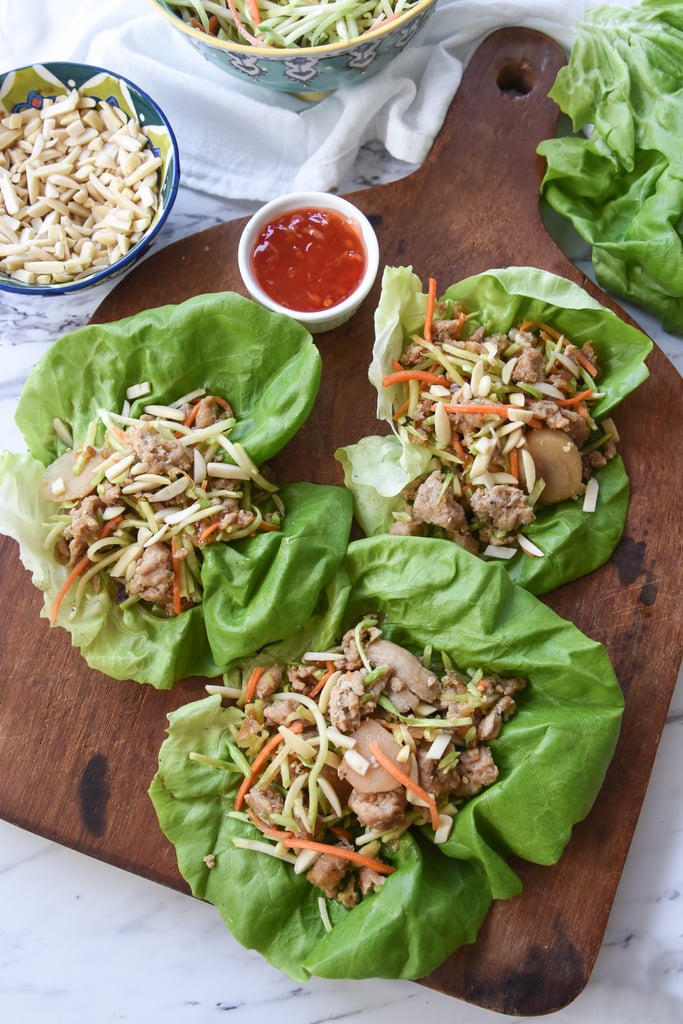 LA Notes:  The original recipe called for ground turkey but I prefer ground chicken so I used that.  This recipe uses a bag of broccoli slaw which can be found in the produce section with all the bagged salad.  It is yummy and there is no chopping!  I have used both iceberg lettuce and butter lettuce and prefer the butter lettuce, it is a softer lettuce and doesn't "crack" as easily as the iceberg and is less messy.
When you need a quick, easy and healthy dinner give this one a try.
Other favorite quick and easy dinner ideas:
Easy Chicken Lettuce Wraps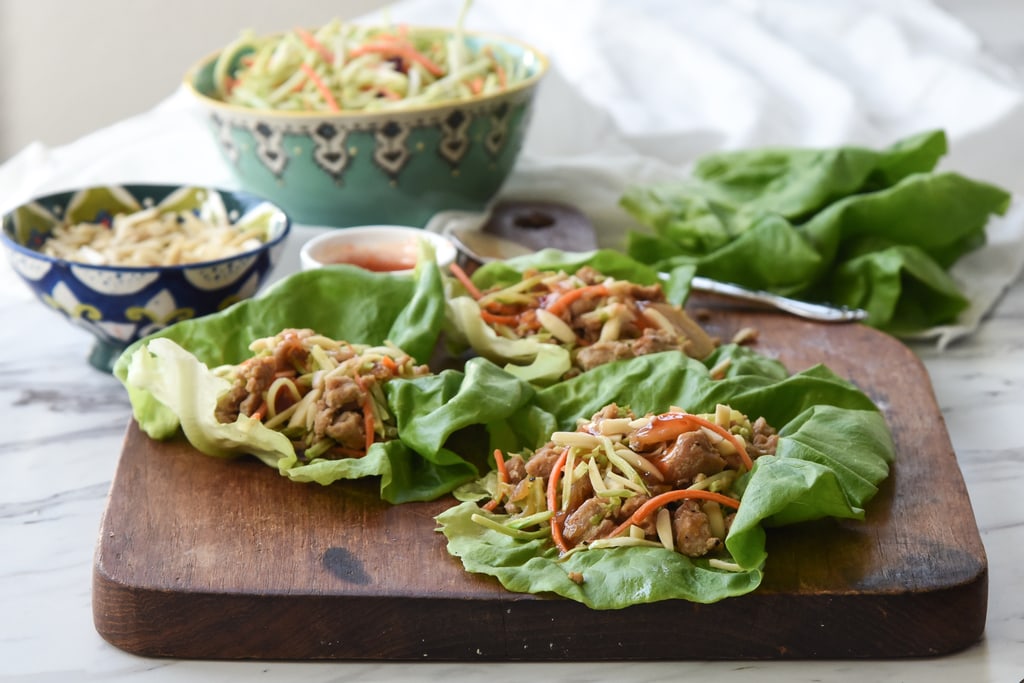 Easy Chicken Lettuce Wraps
Easy Chicken Lettuce Wraps live up to their name - easy! They are also delicious and make the perfect quick, weeknight meal everyone will love.
Ingredients
2

Tbsp.

extra virgin olive oil

1

cup

finely chopped onion

1

lb.

ground chicken or turkey

1/4

tsp.

salt

1/4

tsp.

pepper

1/4

tsp.

garlic salt

1 12

oz.

bag of Broccoli Slaw

1

small can drained water chestnuts

1/2

cup

Yoshida's Teriyaki or Gourmet Sauce

1

tsp.

sesame oil

8

butter lettuce leaves
Instructions
Place oil into large skillet over medium heat

When hot, add onion and cook for 5 minutes to soften

Add ground meat, salt, pepper and garlic salt

Cook until browned, crumbled and cooked through

When meat is cooked, stir in broccoli slaw, water chestnuts, teriyaki sauce and sesame oil

Cook for another 10-15 minutes or until heated through

Reduce heat to low until ready to serve

Serve spoonfuls inside lettuce leaves

Enjoy!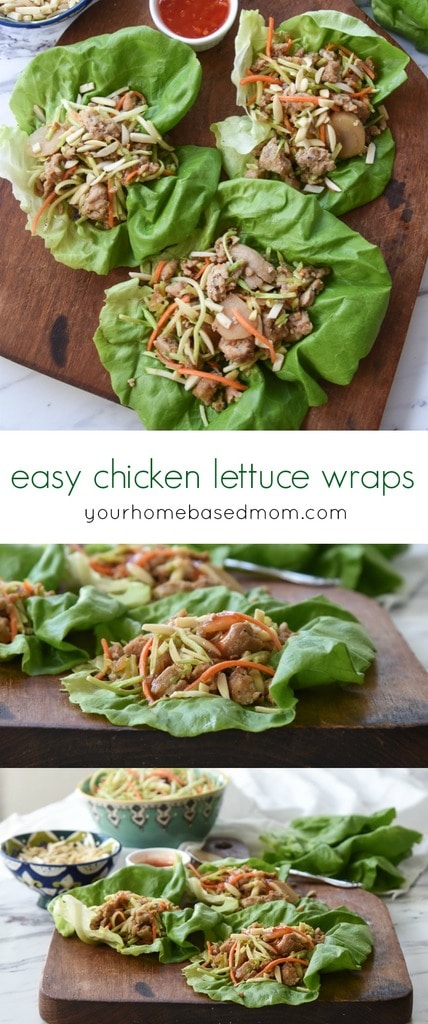 Stay Updated!
Need more recipes and creative ideas? Sign up and get a FREE copy of my ebook! Do you think your friends would love this too? Please share my blog with them. Thanks!