Welcome to Danelle of Let's Dish Recipes today!  I love orange marmalade and her cranberry orange version looks amazing!  
Hello everyone! I'm Danelle from Let's Dish Recipes and I'm so excited to be sharing a delicious edible food gift with you here at Your Home Based Mom as part of this month's Handmade Holidays series.
This Cranberry Orange Marmalade is a perfect holiday gift for neighbors, teachers and friends. You can tie a jar up with a pretty ribbon, or add it to a gift basket with a loaf of your favorite homemade bread. Homemade jams and jellies are one of my favorite edible food gifts. For one thing, they can be prepared well ahead of time, leaving you free to meet all of the other demands of the holiday season. Plus, with the overabundance of sweets at the ho
lidays, people really appreciate something they can use after all of that seasonal indulgence has come to an end.
Of course, I'm not always organized enough to plan that far ahead. Which means I don't always have the time to process this marmalade in a water bath. Even then, it will last for about 3 weeks in the refrigerator, so you can make it just before giving it away and skip the processing if you'd like. But if you want it to last longer, you'll definitely want to go ahead and process it.
I just love the beautiful red color, and cranberry and orange are perfect flavors for the holiday season. This marmalade is a wonderful contrast of sweet and tart, and is delicious served on toast or English muffins. We even enjoy it on grilled chicken and pork chops. And I've eaten my fair share right from the jar with a spoon!
One last reason I love giving homemade food gifts–they're almost always more economical that store-bought gifts, and people truly appreciate the thought and effort that goes into something handmade. I hope the people on your holiday gift list will love this Cranberry Orange Marmalade as much as we do!
As part of the Handmade Holidays series, we're giving away a Blendtec Blender so be sure and head over to Let's Dish to enter!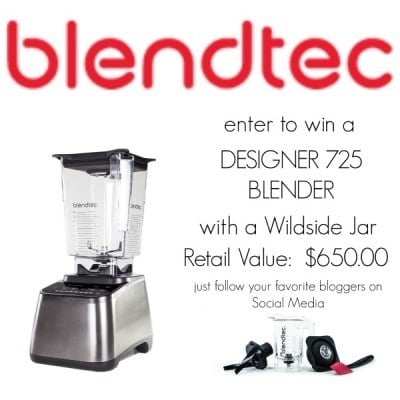 While you're there, be sure to check out some of my other favorite holiday gifts in jars, like this Cranberry Butter, and this Jalapeno Pepper Jelly. You can also find me on Facebook | Twitter | Instagram | Pinterest | Google+.
Happy Handmade Holidays!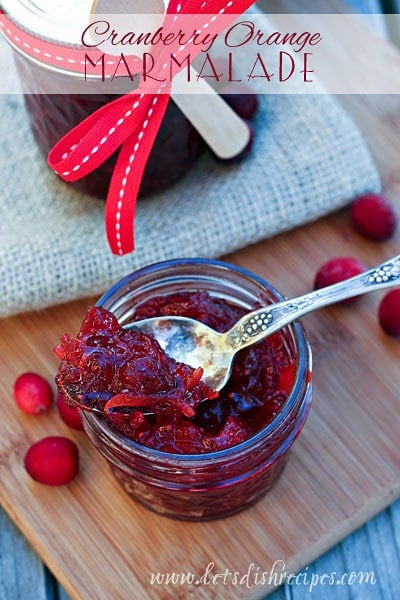 Cranberry Orange Marmalade
Ingredients
2.5 pounds navel oranges
1 cup water
3 cups sugar divided
1 12 oz. package fresh cranberries
2 teaspoons vanilla
Instructions
Using a vegetable peeler, remove the rind from two of the oranges, making sure not to get any of the white part of the rind. Slice the rind into thin, julienne-style strips.

Peel all of the oranges and cut them into sections, discarding the membrane between each section.

In a large saucepan, combine the orange rind, orange sections, 1 cup water and 1 cup sugar. Bring to a boil.

Reduce heat and simmer for 15 minutes, stirring occasionally.

Add the remaining 2 cups of sugar and the cranberries to the pan. Simmer for 70-90 minutes, stirring occasionally, until thickened to desired consistency.

Stir in vanilla.

Ladle marmalade into hot, sterilized jars and top with sterilized lids and bands. Process in a boiling water bath for 10 minutes.

*Alternately, you can skip the processing step and the unprocessed marmalade can be store in the refrigerator for up to 3 weeks.