This Cranberry & Cilantro Quinoa Salad is full of amazing flavor and color.  You won't even know you are eating healthy!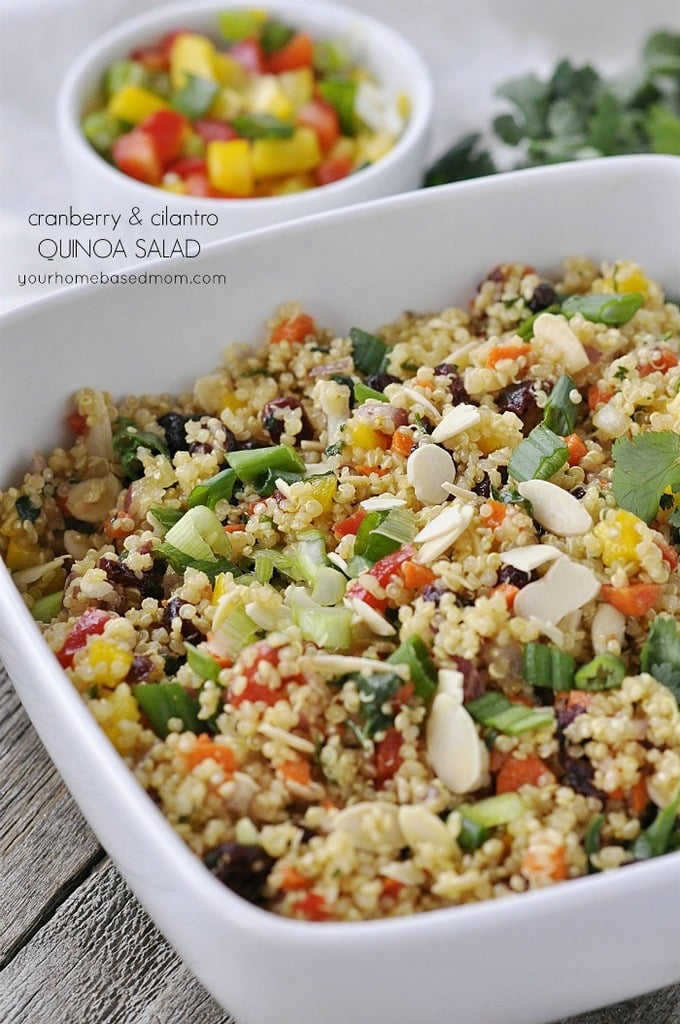 Was eating healthier one of your resolutions this year?  How's it going?  Today's recipe is one that will help you keep on track or get you back on track with that healthy eating.  This salad is so good and full of flavor you won't even know y ou are eating healthy!!
Today I'm going to share with you one of my favorite ways to eat healthier – quinoa! It is amazing stuff.  It is considered a complete protein and comes from the ancient Incas. It is considered the "mother of all grains" and has reached superfood status!  It is high in fiber and it is gluten free (which is important at our house)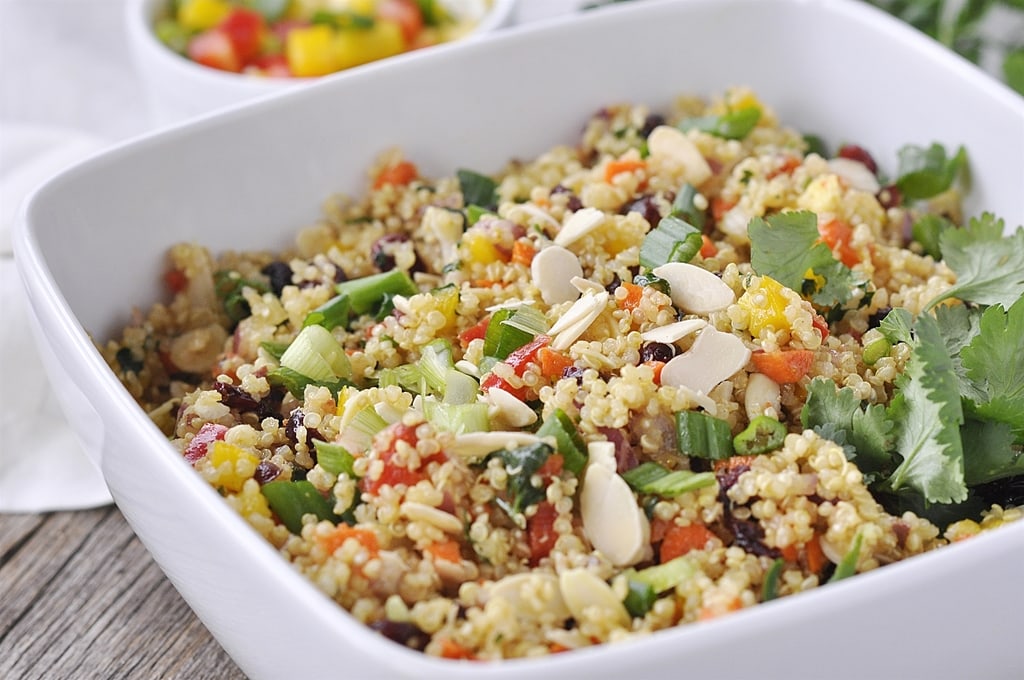 The best part though is it is yummy and versatile!  I have experimented a lot with quinoa and I have a couple other yummy quinoa recipes on my blog including, Black Bean and Tomato Quinoa,  Quinoa Salad with Mango and my personal favorite,  BBQ Chicken Quinoa Salad.
You can pretty much add quinoa into any of your favorite salads for added texture and protein.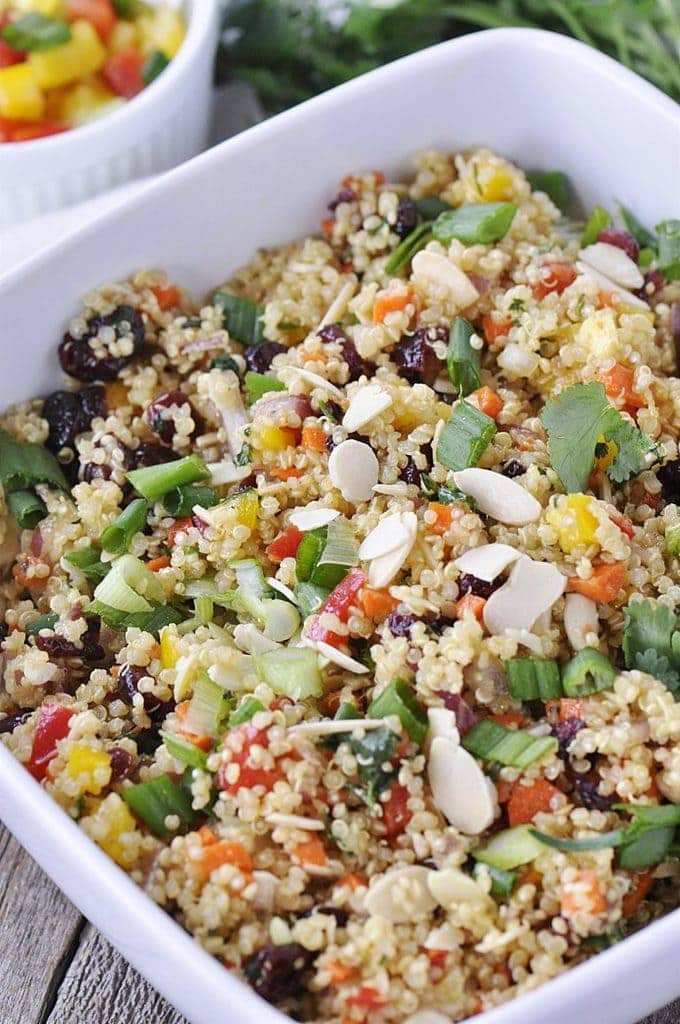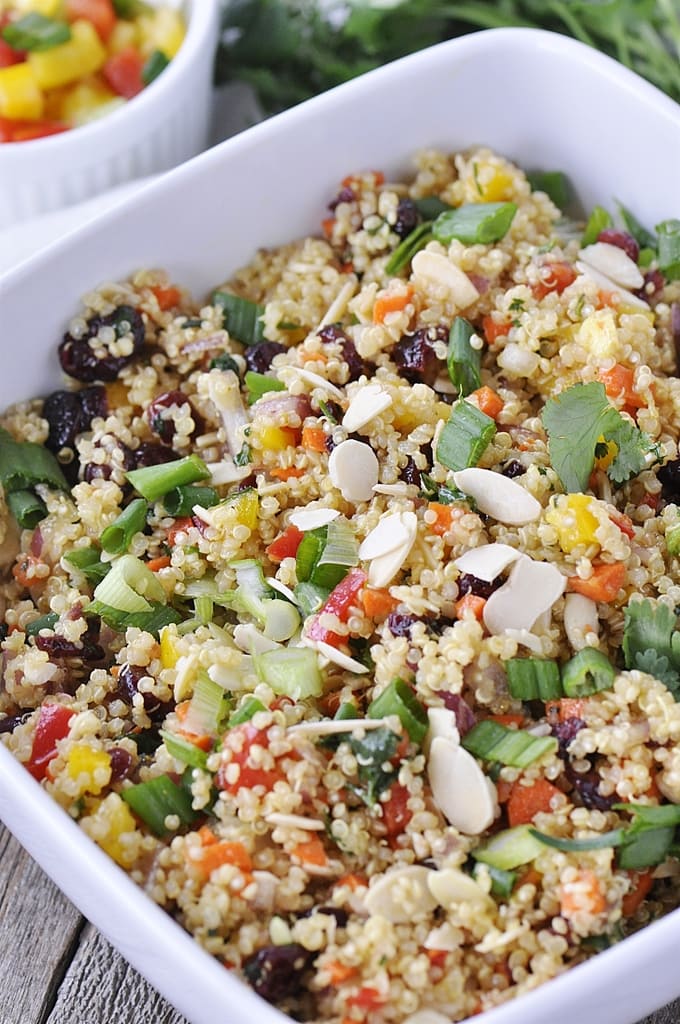 Today's quinoa salad has lots of flavor, texture and color.  You cook quinoa just like you cook rice, just add to boiling water or chicken broth and cover.  Quinoa also comes in different colors which can add additional color to your salads.
I added in red and yellow bell pepper, red onion, cilantro, carrot, dried cranberries and green onion – lots of amazing color and flavor.  For added crunch I added in some sliced almonds.  The flavor also comes from curry powder, cumin and some fresh lime juice.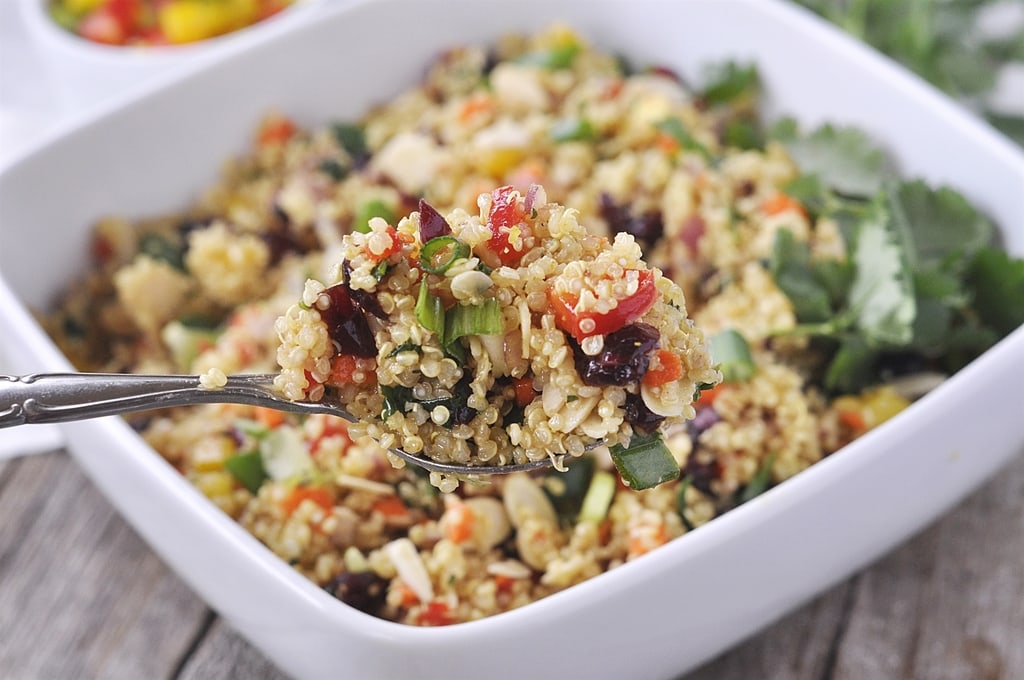 The flavor improves as the salad sits so I like to make it the night before and let all the flavors meld together overnight.  It can be served chilled or at room temperature but I prefer it chilled.
Other quinoa recipes I love:
Coconut Lime Rice Quinoa Salad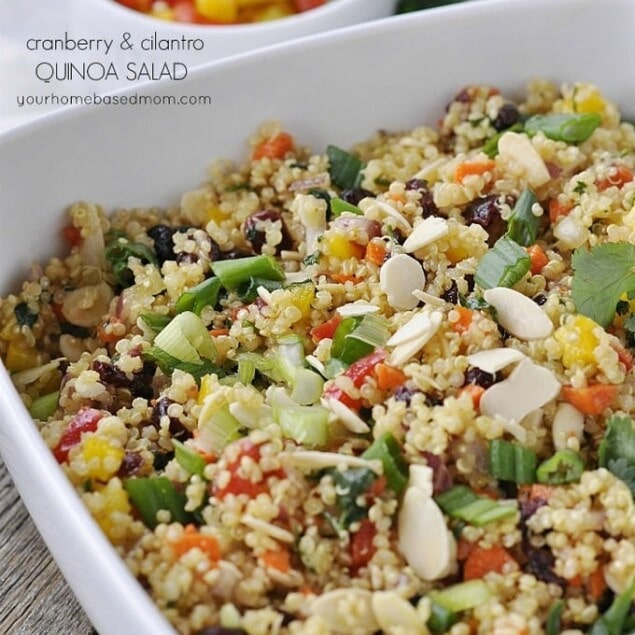 Cranberry and Cilantro Quinoa Salad
Ingredients
1 1/2 C chicken broth
1 C uncooked quinoa rinsed
1/4 C red bell pepper chopped
1/4 C yellow bell pepper chopped
1/3 C red onion finely chopped
1 tsp curry powder
1/2 tsp cumin
1 tsp sugar
1/4 C chopped fresh cilantro
2 limes juiced
1/3 C toasted sliced almonds
1/2 C shredded carrots chopped fine
1/2 C dried cranberries
2-3 green onions chopped
salt and pepper to taste
Instructions
Pour chicken broth into pan and bring to boil. Add quinoa, cover, reduce heat and simmer for 15-20 minutes or until liquid is absorbed. Fluff with fork and chill.

Add chilled quinoa into a bowl and add in remaining ingredients.

Salt and pepper to taste.

Chill before serving.
Recipe adapted from allrecipes.com