White Chocolate Cinnamon Pretzels are the easiest and the yummiest Christmas treat ever!  They are a favorite I make every year.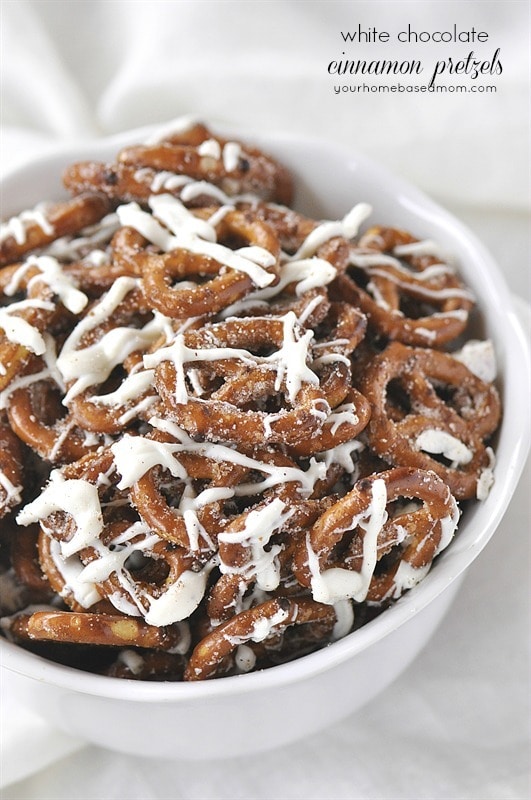 Do you have your holiday baking done yet?  No?  Don't stress any longer I have you covered.  White Chocolate Cinnamon Pretzels are the perfect solution.  They are quick, there is no baking involved (only the microwave), they are super fast to make and they are DELICIOUS!!  I can't stop eating these things and I only end up giving away half of what I make because I personally, by myself, eat the other half!!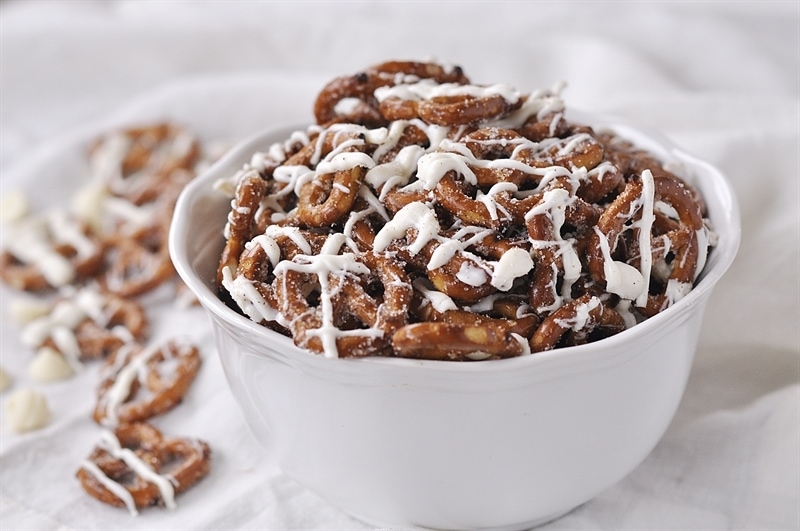 I shared this recipe back in 2008 right after I started my blog and they so deserved a facelift and I couldn't leave them hidden in the archives any more.  They are that good.
Here is the original post:
When I visit my college kids or family in Utah I have a list of stores I always visit.  One of the stores is a cute little gift shop with all kinds of fun goodies.  They  make an amazing selection of different flavored popcorn and pretzels.  My favorite, and the one I always buy a bag or two of is their White Chocolate Cinnamon pretzels.  I love them!
So of course, I had to see if I could figure out a way to make them at home.  I got on the computer and looked around a bit.  I came across this recipe over at cd kitchen and used it as a starting place.  I changed it a bit and they turned out perfect!  I think they taste exactly like the ones I buy!!  I love it when that happens!!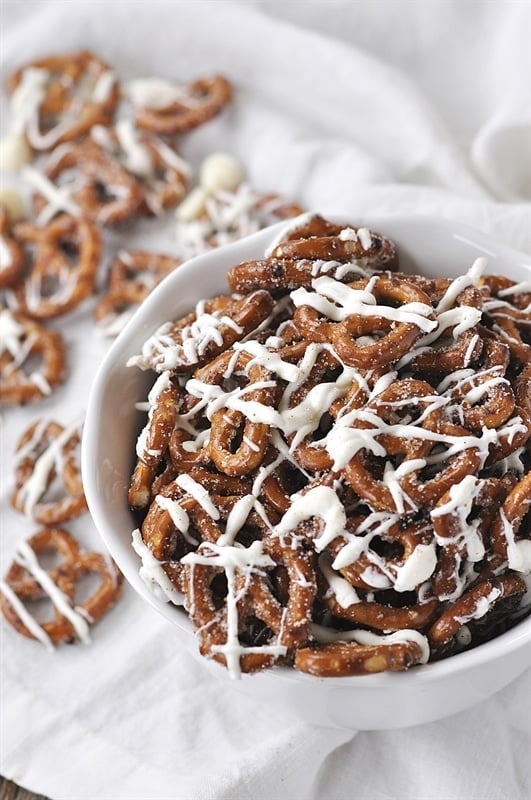 All you need is a bag of pretzels, some white chocolate, vegetable oil and cinnamon sugar.  Yes, that easy.  Mix all of that into a big plastic or glass bowl that will fit in your microwave.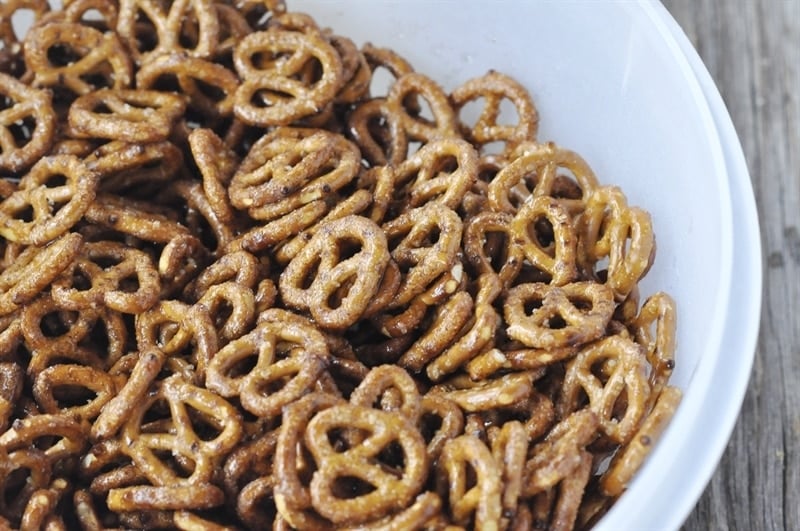 The "bake" them in the microwave for 3 minutes.  Then spread them into a single layer on baking sheets.  Sprinkle with some additional cinnamon sugar.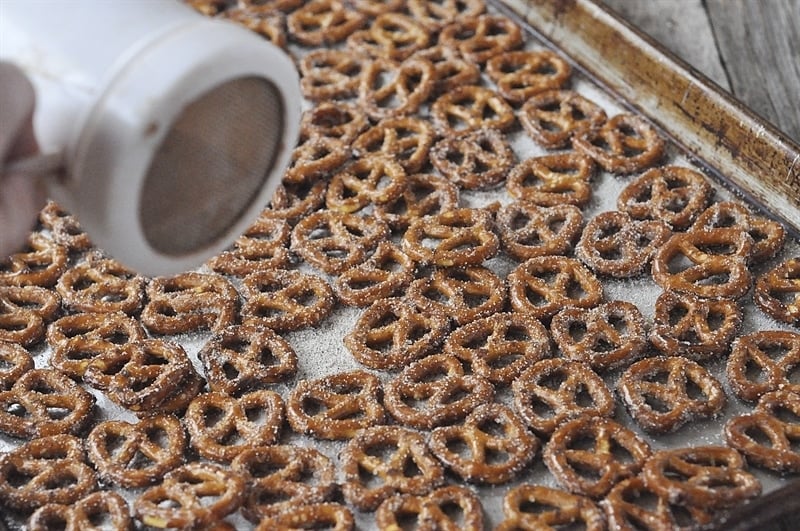 Then the best part – drizzle them with melted white chocolate!  The more the merrier!!!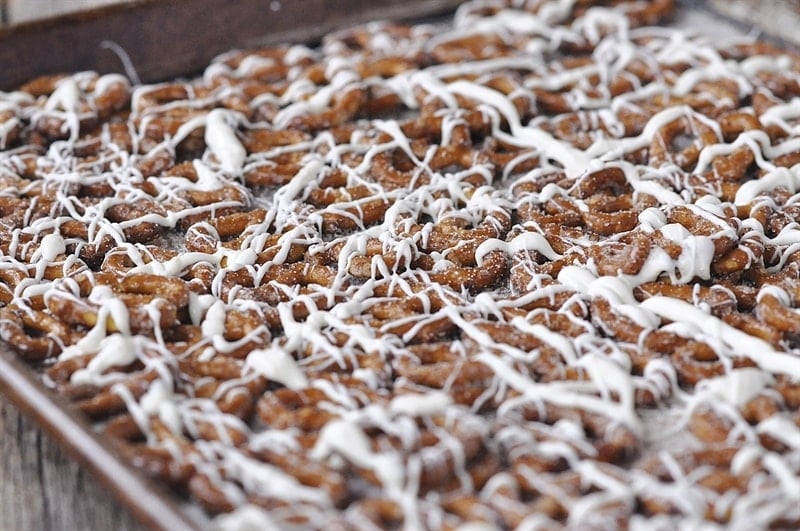 I made a batch on Sunday when we were snowed and iced in and church was cancelled.  We are now on our third day of snow and ice (very unusal for Portland) and school has been cancelled for three days!  As a result, I now need to make another batch to give away to friends as I have managed to munch my way through a good part of the batch I made on Sunday!!
Then if you haven't eaten them all, wrap them up in a little cellophane bag, tie some ribbon and share with friends.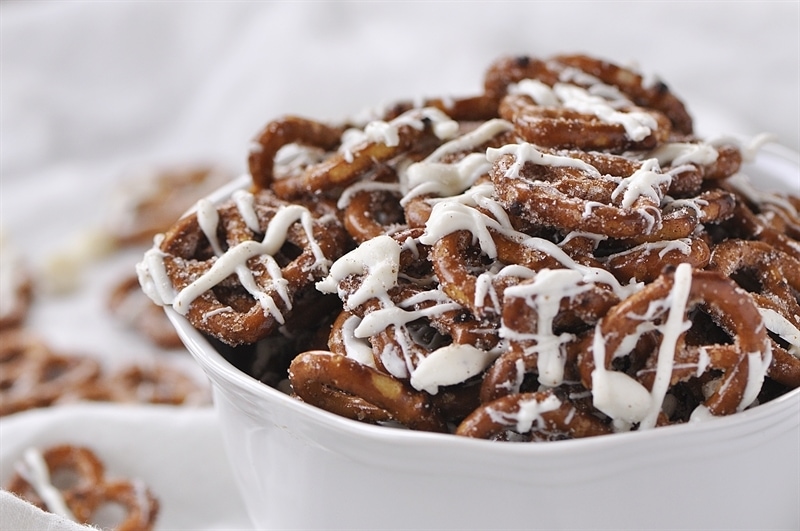 Now I just need to go make another batch so I have something to give away!!!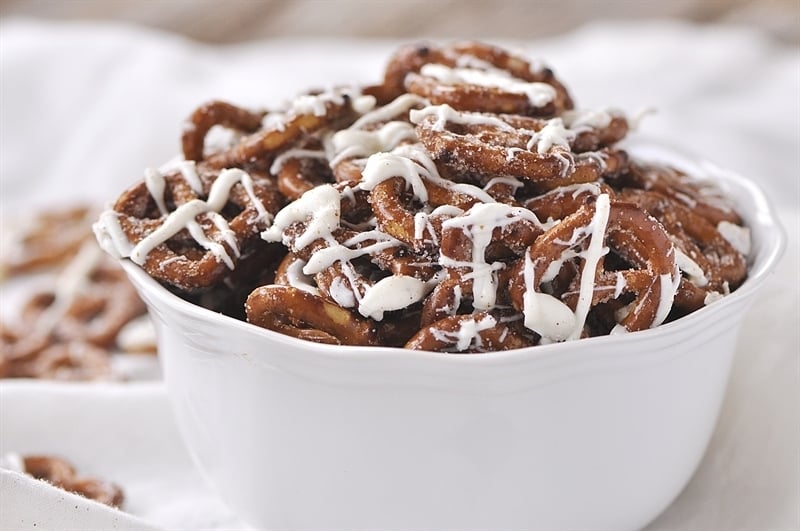 White Chocolate Cinnamon Pretzels Recipe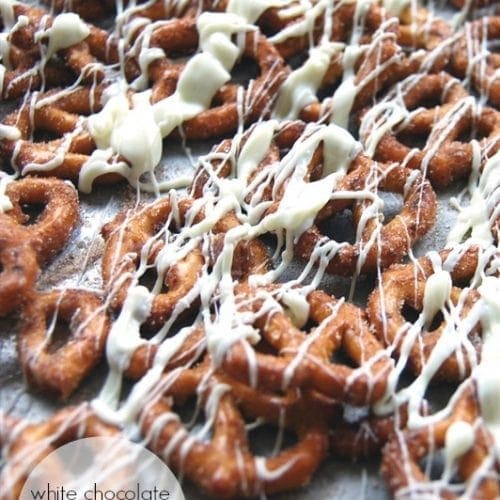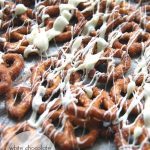 Print
Cinnamon Toast White Chocolate Pretzels
Ingredients
1

bag

18 oz. small pretzels

2/3

C

oil

1/3

C

granulated sugar

1 1/2

tsp.

cinnamon

Extra cinnamon sugar for sprinkling

White chocolate for drizzling
Instructions
In microwave safe bowl pour in pretzels

Mix together oil, sugar and cinnamon in small bowl

Pour over pretzels and mix well, making sure to coat pretzels

Place in microwave for 2 minutes on high

Check after first minute as they might burn

Stir the mixture and continue cooking

Microwave for 1 minute more

When out of the microwave, stir again to make sure they are all coated

Spread the pretzels onto two cookie sheets

You want a single layer of pretzels

While they are still hot sprinkle additional cinnamon sugar over the top

Melt white chocolate and drizzle over the top of pretzels

Once white chocolate hardens put into air tight containers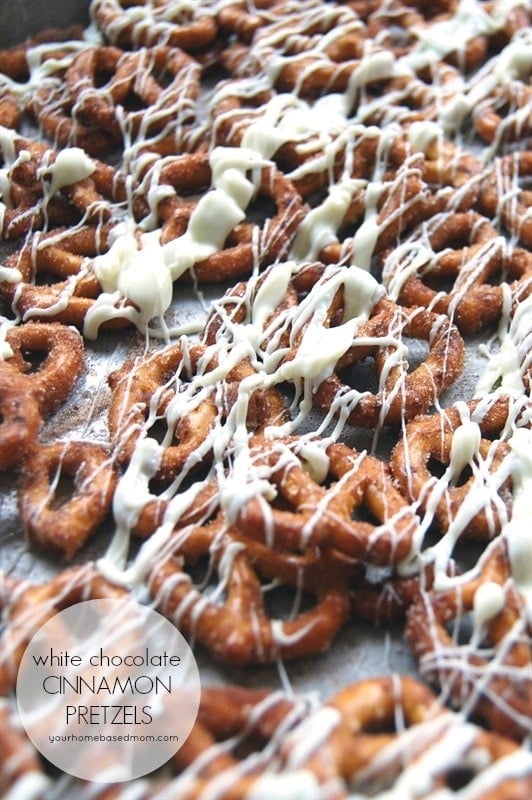 Get my Weekly Menu Plan for FREE!
Receive my FREE "What's for Dinner?" Meal Planning Course, a copy of my FREE ebook that includes my most popular recipes and my FREE weekly Meal Plan.