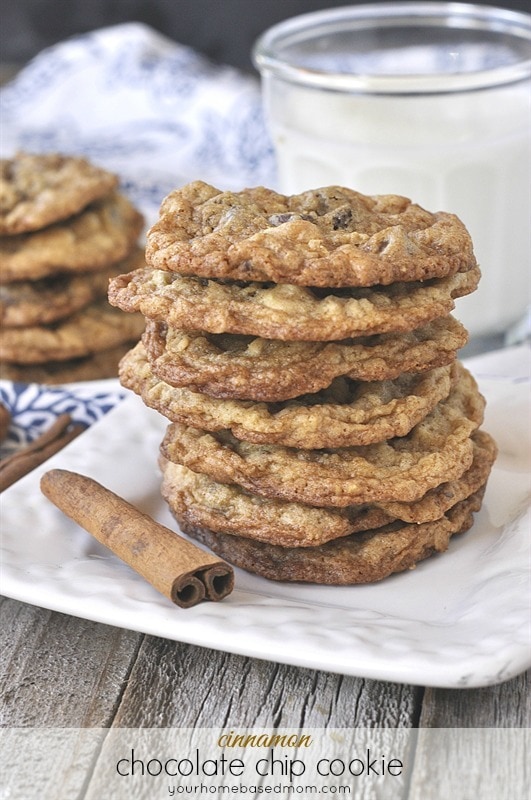 My chocolate chip cookie addiction continues.
I just can't help myself.  I find a new chocolate chip cookie recipe and I just have to try.  Could it possibly be better than my favorite chocolate chip cookie?
I was browsing through a fun cookbook the other day and found a recipe for a chocolate chip cookie recipe that used cinnamon.  I was intrigued and decided I must try it.  Truth be told I am not a big fan of spice flavored cookies but the addition of cinnamon into a chocolate chip cookie really works.  I was a little worried about it so I only added the cinnamon to half of the dough.  Didn't want to totally ruin a perfectly good batch of cookie dough. I figured if I didn't like the cinnamon I still had half a batch of cookie dough!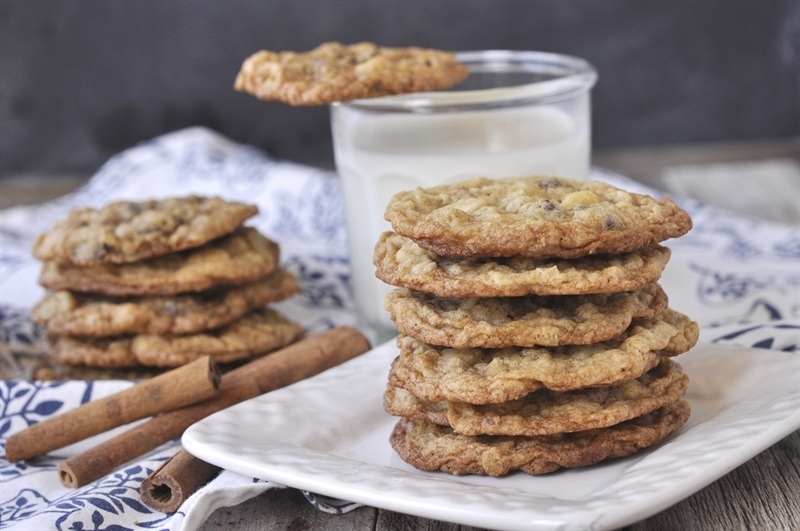 Well, it worked!  The addition of the cinnamon to the cookie was delicious!  Texture is just as important to me in a chocolate chip cookie as flavor is and I loved the texture of this cookie.
It is a flatter cookie with nice crisp edges but with a chewy center.
The cookie was quite  lovely dunked in a cold glass of milk or just by itself.  It was a nice change from an ordinary chocolate chip cookie.  Spice it up the next time you make cookies and try these Cinnamon Chocolate Chip Cookies.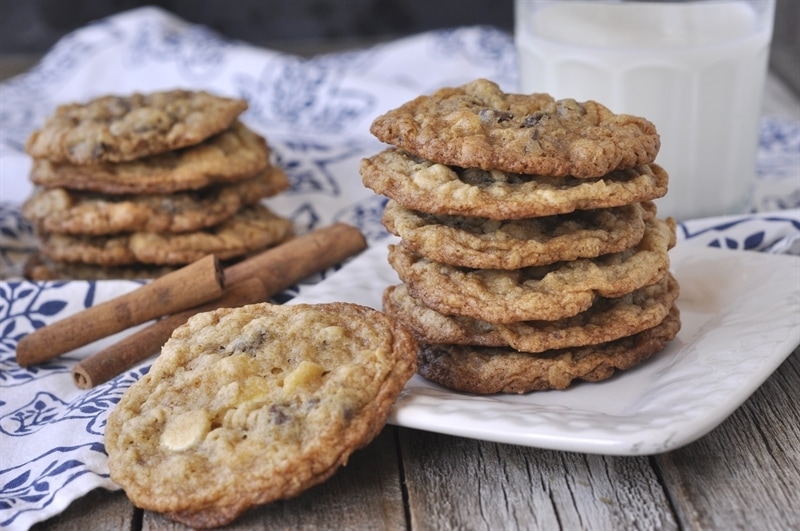 For other yummy chocolate chip cookies try these:
Chocolate Chip Nutella Cookies – Triple Chocolate Chip Malt with Sea Salt – Caramel, Pretzel Chocolate Chip Cookies


Cinnamon Chocolate Chip Cookies
Ingredients
6 Tbsp butter softened
1/4 C granulated sugar
1/2 C packed brown sugar
1 egg beaten
2 tsp vanilla extract
3/4 C all purpose flour
3/4 tsp baking powder
3/4 tsp baking soda
1 tsp ground cinnamon
1/2 C old fashioned rolled oats
1 C semi sweet chocolate chips
1 C white chocolate chips
Instructions
Preheat oven to 350 degrees

Line baking sheets with parchment or grease

Cream together butter and sugars until smooth

Add egg and extract. Beat until creamy

Mix together flour, oats,baking powder, baking soda and cinnamon.

Add dry ingredients to wet.

Stir until combined.

Add in chocolate chips

Place walnut size scoops of dough on baking sheet.

Bake for 11-14 minutes or until flattened, lightly browned.

Cool on sheet for 5 minutes and remove to cooling rack.
Receipe adapted from The Homesick Texan's Family Table.