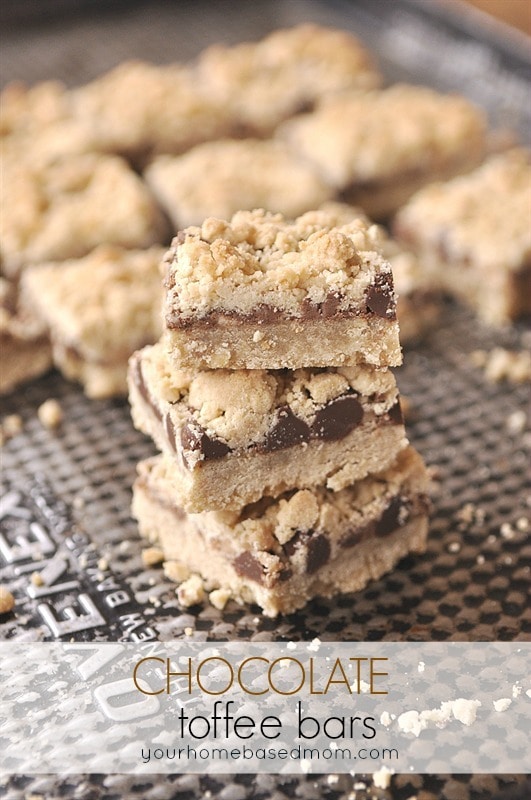 Today's recipe is what happens when you have a major chocolate/toffee craving over the weekend.  You get Chocolate Toffee Bars on the blog!
It was a rainy, gloomy kind of weekend and I didn't accomplish much of anything which is always a bit frustrating. I started a few projects but didn't complete any of them and I now have a great big mess in my attempts to get organized.  I  discovered that a sure fire solution to rain, gloom, ineffectiveness, lack of organization and frustration is chocolate and toffee!  I just left the mess and headed to the kitchen.  It totally worked for me and I hope it works for you too.
This bar cookie is very shortbread like.  A nice crispy bottom layer with chocolate and toffee on top and a crumbly, crispy topping.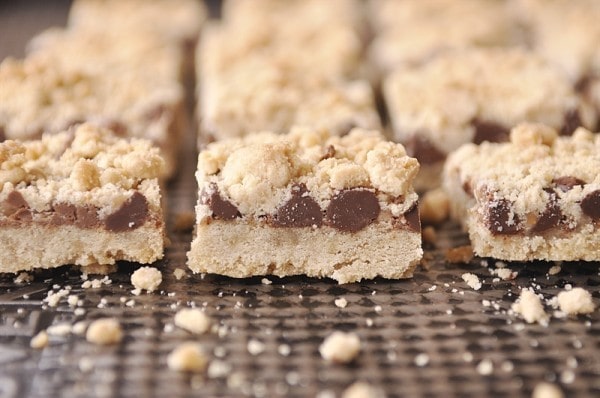 This recipe makes a smaller batch, using an 8 x 8 pan which is nice for my reduced sized family.  It does mean though that there is not as much to give away to the neighbors which they may not like.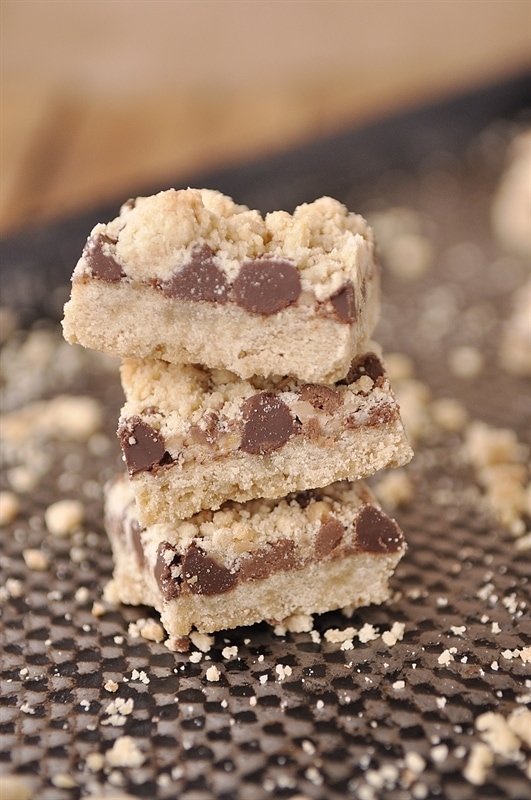 You mix up the  sugar, butter and flour until it is nice and crumbly and then reserve 1 cup of crumb mixture  to sprinkle on top.  Line your 8 x 8 pan with foil to make removal easier and make sure and spray it with cooking spray too.
A great tip for getting your crumb mixture nice and flat in the bottom of the pan is to use the bottom of a measuring cup.  Works great.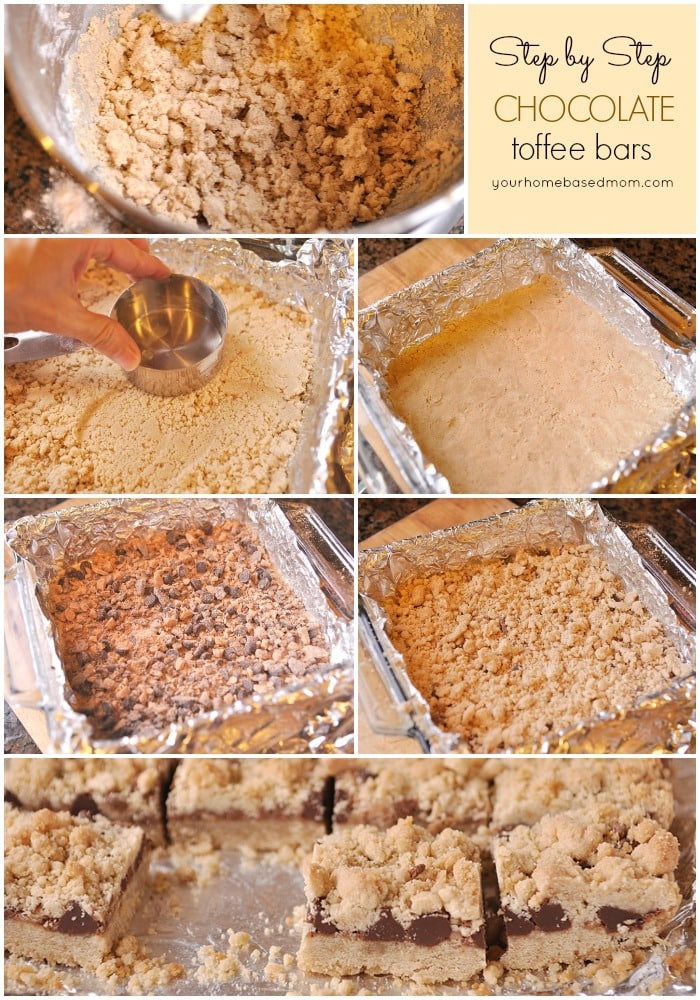 Sprinkle the crust with chocolate chips and toffee pieces ( make sure and use the ones that are covered in chocolate) and then sprinkle the remaining crumb mixture on top!  They are ready for the oven.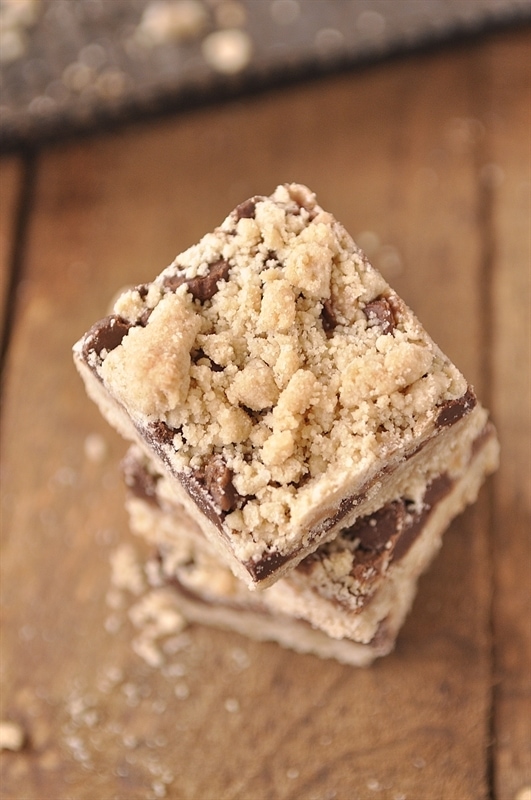 I am pretty sure these are amazing warm out of the oven.  Unfortunately for me as soon as I pulled them out of the oven I had to leave (time for church) so I didn't get to try them warm.  They are delicious cooled as well but I will be making them again so I can try them warm for sure!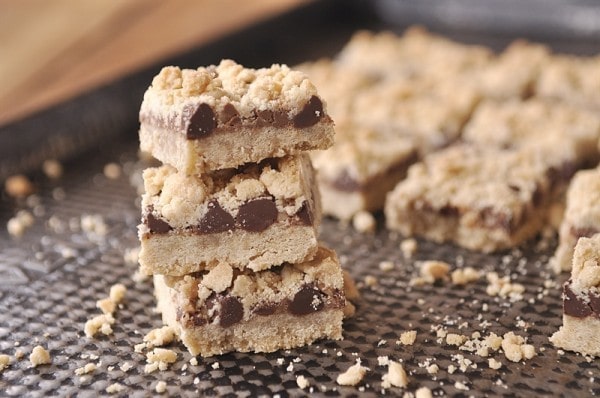 Because you know the best part about being a food blogger !??  The taste testing.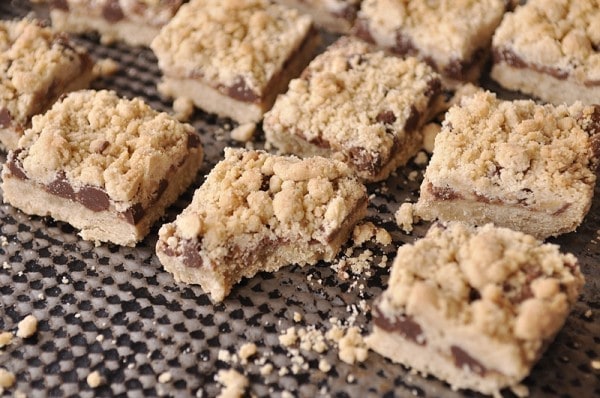 For other yummy chocolate and toffee recipes try these:
Toffee Brownie Bark – Toffee Shortbread – Toffee and Chocolate Chip Cookies
Chocolate Toffee Bar Recipe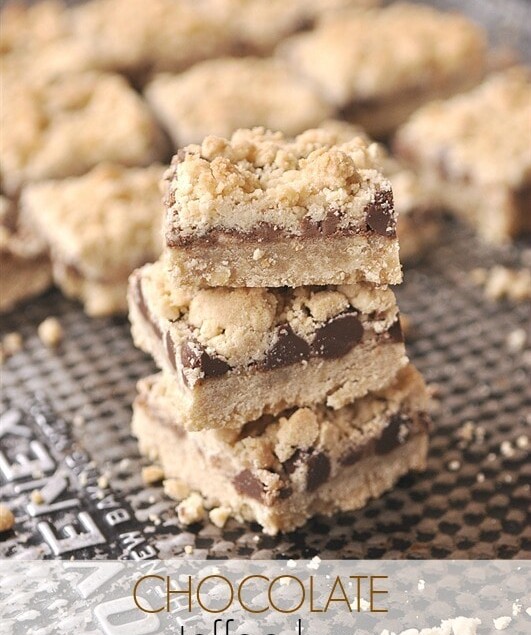 Chocolate Toffee Bars
Ingredients
1 1/2 C all purpose flour
1/4 tsp salt
1 1/4 sticks butter softened (10 Tbsp)
1/3 C packed dark brown sugar
1/3 C powdered sugar
2/3 C chocolate covered toffee bits
1/3 C semi sweet chocolate chips
Instructions
Preheat oven to 375 degrees

Line an 8 x 8 pan with foil and spray with cooking spray

Beat together butter and sugars until light and fluffy. About 3-5 minutes.

Reduce speed and add in flour and salt until large pea sized bits form.

Set aside 1 C of crumb mixture.

Press remaining crumb mixture into bottom of prepared pan.

Press into an even layer.

Sprinkle with toffee bits and chocolate chips

Add remaining crumble mixture on top.

Bake until golden brown - about 25 minutes.

Cool in pan. Remove from the pan using the foil and cut.
 Enjoy!
Leigh Anne
You can also visit me on Facebook, Pinterest, Twitter, Instagram
and Google+