These chocolate raspberry brownies disappeared so fast at the dinner I served them at that I almost didn't get one!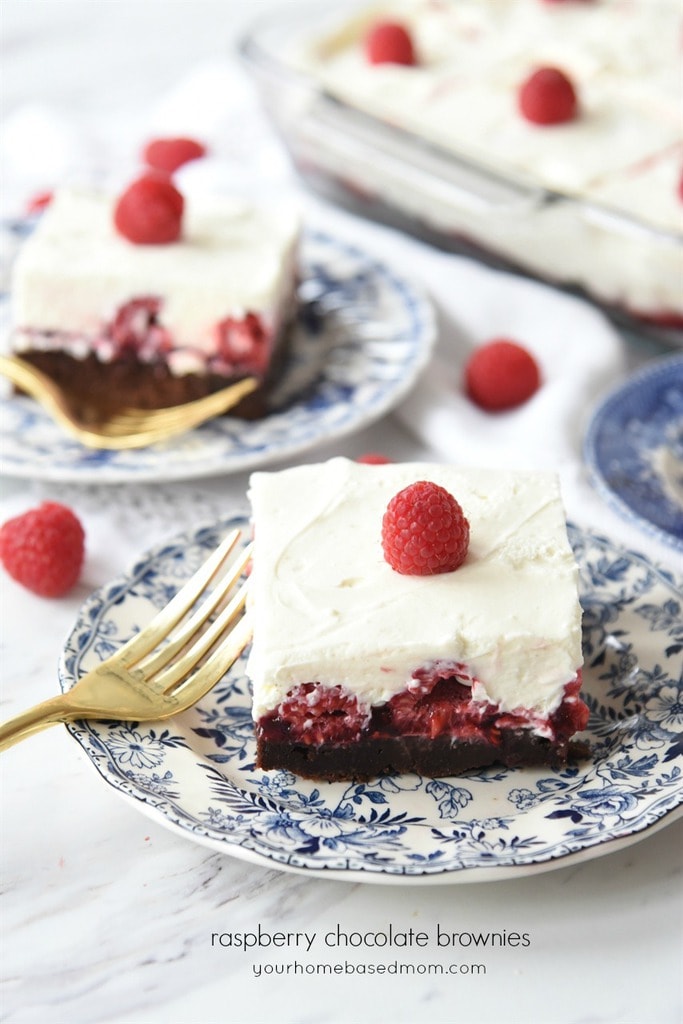 Chocolate Raspberry Brownies were originally posted in December of 2008.  I had been in charge  of organizing the holiday dinner for the women's organization at church.  I have done enough large group cooking that cooking for 100 doesn't scare me any more.  I have cooked for 400 before – now that's scary!
I always gauge the success of a dinner by how many requests I get for the recipes and based on the requests from that dinner it was a huge success!  So as promised, here is the dessert recipes I used for the dinner.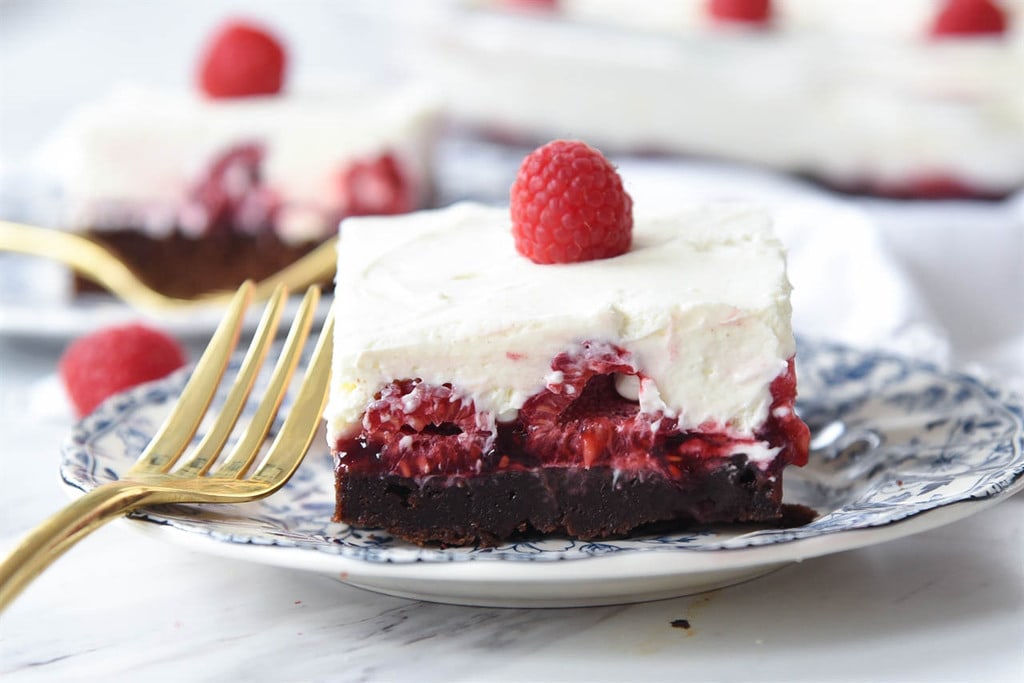 A short story first – if you are a frequent visitor to my blog you know that I like to include pretty pictures of the food I make.  When I originally posted this recipe, I didn't get any good photos of the food we served at the dinner – when you are in the middle of cooking and prepping food for 100 you forget to take pictures!
About the time we were serving dessert I did remember so I found a "pretty" piece of dessert and set it aside inside my roaster oven in the kitchen to take home and take a picture of.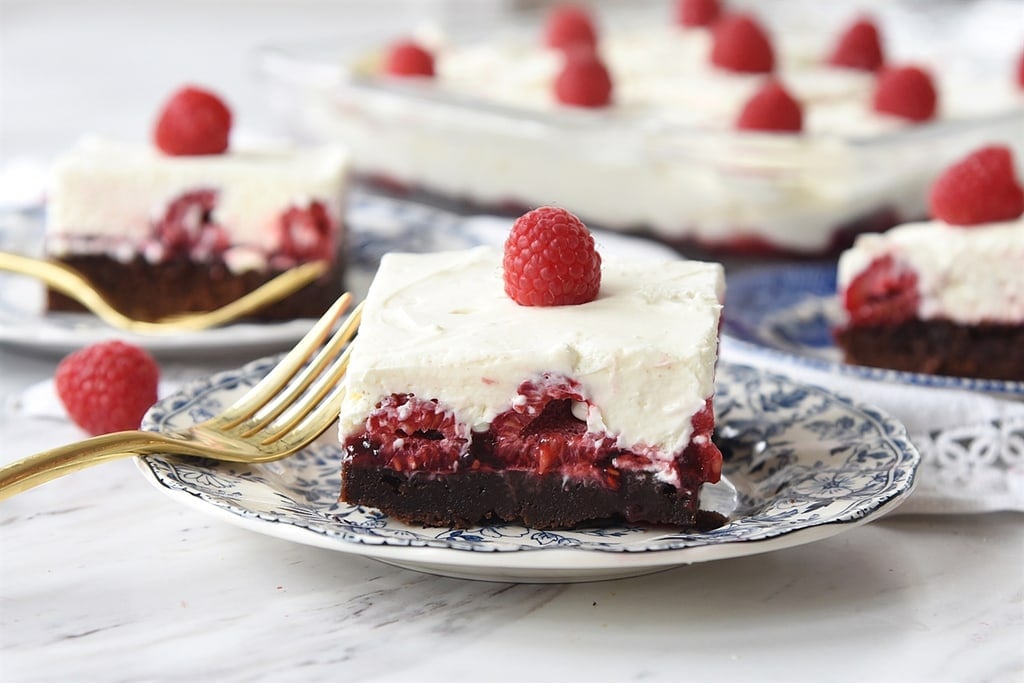 After dessert was served and on the tables I came back into the kitchen and discovered that my "pretty" piece of dessert was GONE!  Yes, someone had taken my "pretty," picture worthy piece of dessert.  By this time the majority of people had already eaten their dessert.  I went back out to the cultural hall and searched through the tables looking for an uneaten "pretty" piece of dessert – I found one that was somewhat "pretty"  and stole it right off the table.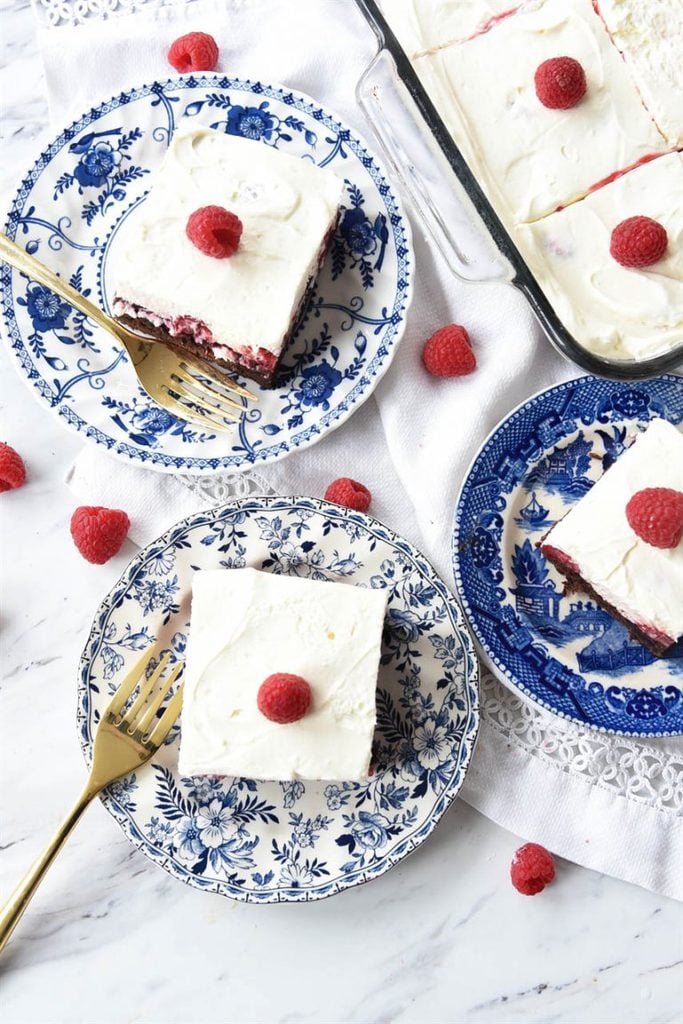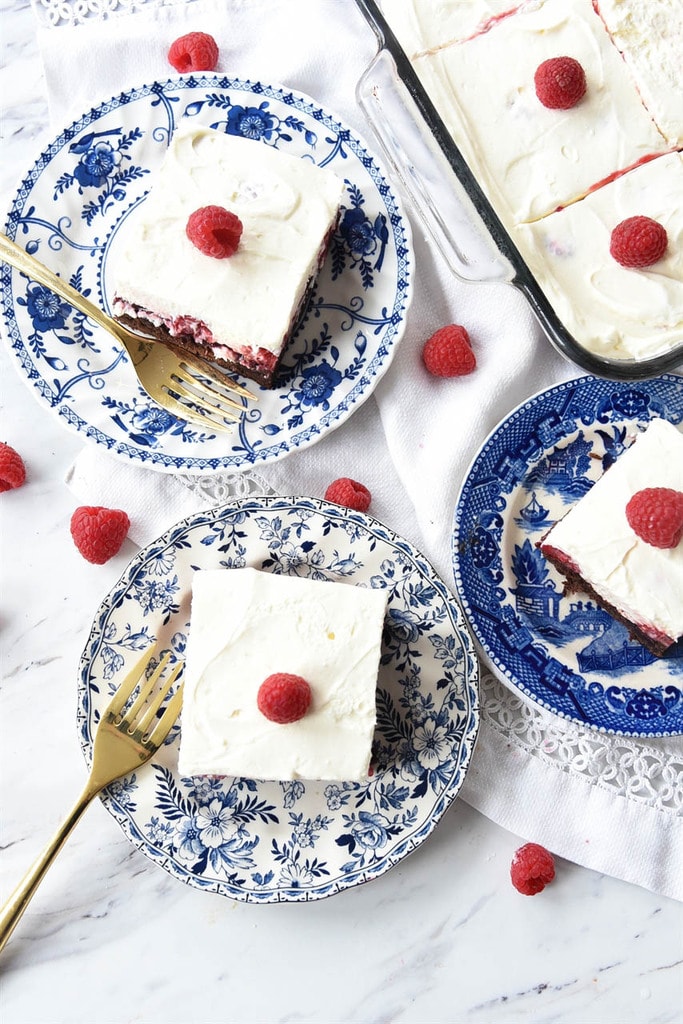 I got the piece of dessert home and put it in the refrigerator until I could take a picture of it the next morning in the light.  By the time I got around to taking a picture of it, it wasn't so "pretty" anymore.   But I promise you, the dessert is so YUMMY that you won't care that the picture isn't "pretty"  In fact it is so YUMMY I couldn't resist and had to take a bite before I took the picture!!
Here is the original not so pretty photo I took!
The dessert recipe came from my friend Melanie over at My Kitchen Cafe.  After I was asked to be in charge of the dinner and a "decadent chocolate dessert" was requested,  I emailed Melanie right away to ask her for some great ideas.  As always, Melanie came through for me and sent me  the recipe for Raspberry Tuxedo Brownie Squares.  She was right – they were wonderful!
The other recipes from the dinner can be found here.
My favorite kitchen items I used to make these CHOCOLATE RASPBERRY BROWNIES:
9 x 13 GLASS PAN – I actually own three of these and they seem to be in constant use.
KITCHEN AID – This is the workhorse of my kitchen and I use it daily!  Couldn't live with out it.
PYREX BOWLS – I love my Pyrex bowls and actually own a couple of sets.  Perfect for mixing or serving.
Chocolate Raspberry Brownie Recipe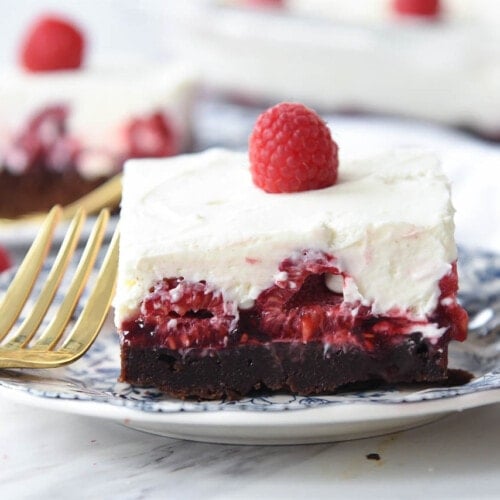 Print
Chocolate Raspberry Brownie
These chocolate raspberry brownies disappeared so fast at the dinner I served them at that I almost didn't get one!
Ingredients
21

oz

brownie mix

(9 x 13 size)

1/2

C

raspberry jam

2

C

raspberries

fresh or frozen whole raspberries without syrup, thawed and drained, divided (I used 1 1/2 cups frozen for the dessert and then used 1/2 cup fresh to garnish the top)

3

oz

white chocolate

melted and cooled slightly

16

oz

cream cheese

softened

1/2

C

powdered sugar

1/4

C

milk

1

C

heavy whipping cream

wh ipped to stiff peaks
Instructions
Preheat oven to 350 degrees

Lightly spray bottom of a 9 x 13 pan with nonstick cooking spray

Prepare and bake brownie mix according to package

Cool completely

Spread jam onto brownies

Reserve 1/2 cup of raspberries for the garnish, arrange the remaining 1 1/2 cups raspberries evenly over jam

Combine cream cheese and powdered sugar in medium bowl, mix well

Gradually whisk in melted chocolate and milk

Fold in whipped cream

Spread carefully over raspberries

Refrigerate 1 hour or until firm

Cut into squares

Garnish with reserved raspberries or chocolate curls

Store, covered in the refrigerator
Nutrition
Calories:
422
kcal
|
Carbohydrates:
50
g
|
Protein:
5
g
|
Fat:
23
g
|
Saturated Fat:
12
g
|
Cholesterol:
57
mg
|
Sodium:
230
mg
|
Potassium:
108
mg
|
Fiber:
1
g
|
Sugar:
34
g
|
Vitamin A:
651
IU
|
Vitamin C:
5
mg
|
Calcium:
62
mg
|
Iron:
1
mg