When you can't decide between a chocolate chip cookie and a piece of cheesecake – don't decide!  Have both with these Chocolate Chip Cheesecake Bars.
A warm chocolate chip cookie is pretty  much my favorite treat ever!  But I also have a hard time refusing a good piece of cheesecake.  Decisions, decisions!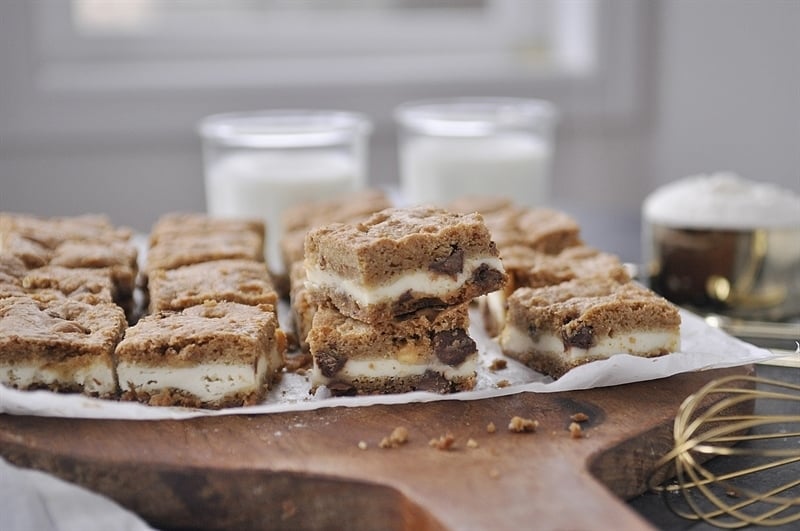 Good News!  I no longer have to decide.  I took my favorite chocolate chip cookie recipe and combined it with cheesecake to make these Chocolate Chip Cheesecake Bars.  A layer of cheesecake sandwiched in between two chocolate chip cookies.  Yes, please!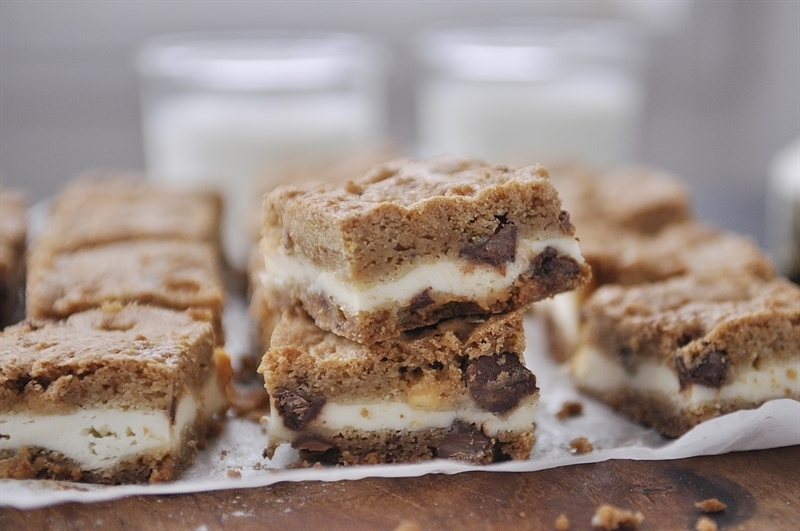 My favorite chocolate chip cookies have both white chocolate chips and milk chocolate chips so that is the combo I used in these bars.  I also like to melt the butter in chocolate chip cookies for a great texture to the cookie.  Put half of the cookie dough in the bottom of a 9 x 13, then a layer of cream cheese mixed with sugar and eggs and then another layer of chocolate chip cookie dough. Of course you can get creative and add in your favorite combo of chips.  I like to line the pan with parchment paper to make it easy to remove the bars.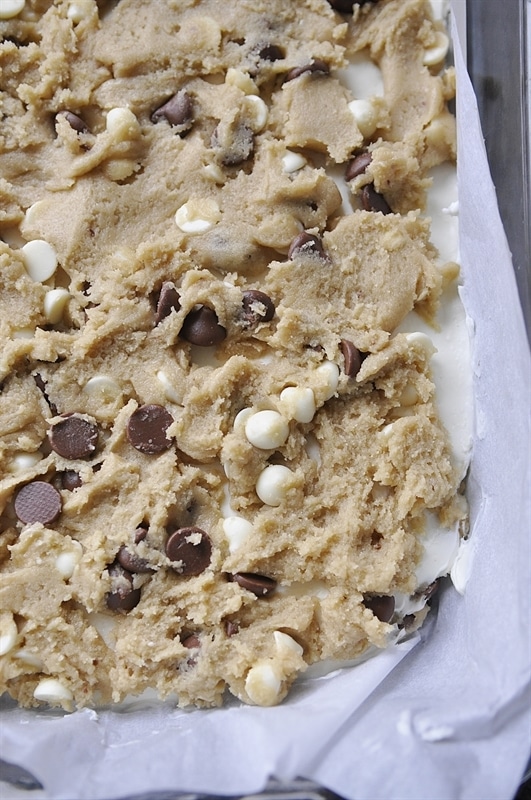 And just 40 minutes later you have the perfect combo!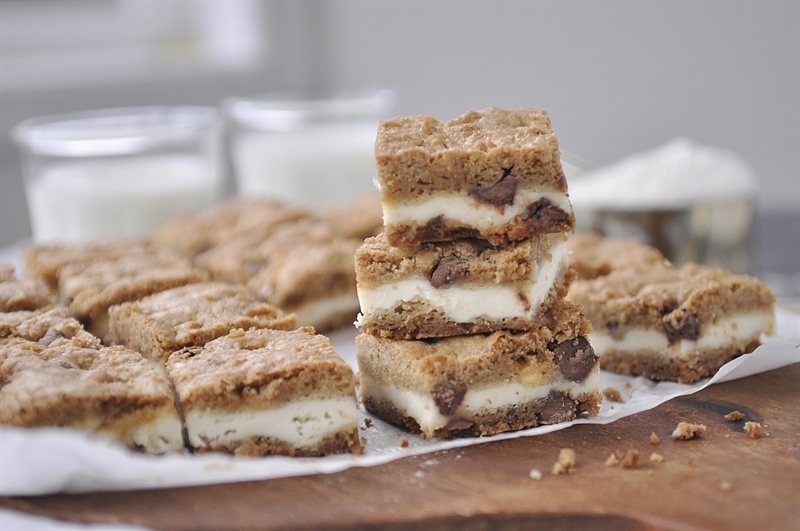 Keep these babies refrigerated if you don't manage to finish off the pan in one seating!
Printable Recipe for Chocolate Chip Cheesecake Bars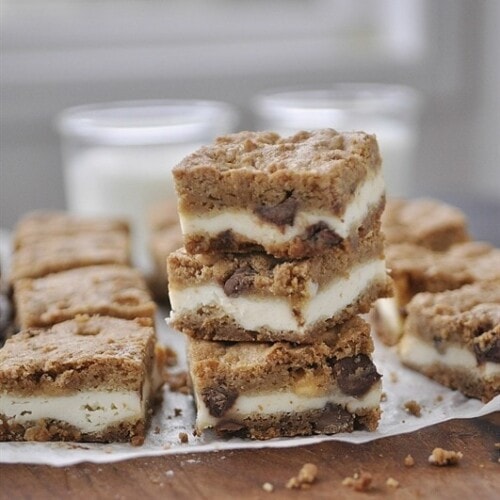 Print
Chocolate Chip Cheesecake Brownies
Ingredients
3/4

cup

butter

melted

1

cup

brown sugar

1/2

cup

granulated sugar

1

Tbsp

vanilla extract

3

eggs

1 egg yolk

2

cups

all purpose flour

1/2

tsp

baking soda

1/2

tsp

salt

3/4

cups

white chocolate chips

3/4

cups

milk chocolate chips

2 8

oz.

packages cream cheese

softened

1/4

cup

granulated sugar
Instructions
Preheat oven to 350 degrees F.

Mix together the brown sugar and 1/2 cup granulated sugar and butter. Add in 1 egg and 1 egg yolk and vanilla.

Add in the flour, baking soda and salt.

Stir in chocolate chips.

In another bowl, mix together the cream cheese and the 1/4 cup white sugar and 2 eggs.

Spread half of the chocolate chip dough in a greased 9 x 13 pan.

Spread cream cheese mixture over the top.

Drop remaining cookie dough batter over filling. There will be gaps in the batter but it will spread as it bakes.

Bake for 40-45 minutes or until lightly browned on top. Allow to cook before cutting.

Keep leftover bars refrigerated.