Apricot Jam Bar Cookies are an old family recipe shared with me by a dear friend. If you don't like apricot use your favorite flavor jam for a delicious treat.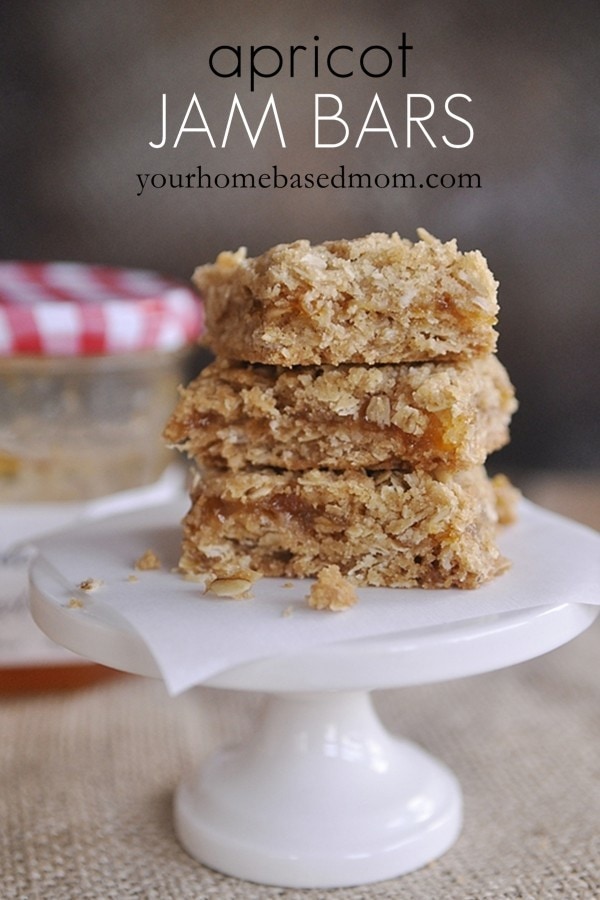 A few weeks ago I was invited to lunch by a dear friend of mine.  She is getting ready to celebrate a milestone birthday and she wanted my help in planning her party.  I love a woman who plans her own birthday party!!   In exchange for my help she fixed me lunch – a delicious lunch!  Not only is Bev a wonderful cook but she has the magic touch when it comes to decorating too.   I could spend hours wandering around her house looking at everything.
For lunch she served a delicious salad with some yummy cheese bread.  For dessert she made apricot jam bar cookies.  During lunch we got talking about recipes, old family recipes and how much we love a hand written recipe.  Bev shared with me the history behind the recipes she had made that day.  I love this idea.  It really gives the recipe life.  I love knowing the story behind the recipe.
Of course I had to ask her for the recipes for the things she made for lunch!
On the back of the recipe for the Apricot Jam Bar Cookies she wrote the following :
"This is a recipe I copied from my mother before I was married in 1962.  I left the "oleo" here in the recipe for fun as you never see that anymore.  So you know this is an old recipe. All my mother's family, who were all great cooks have "oleo" in their recipes.  We are from Ohio.  My family has enjoyed this recipe for 50 years.  Make sure Jim gets his share!" 
How fun is that!  Let's just say Jim did not get his share!!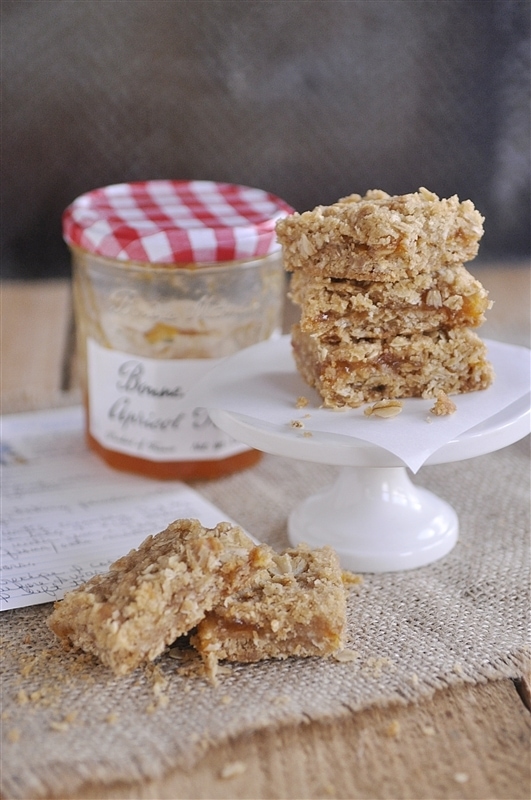 I love this recipe not only because it is delicious but I love it even more because it came from my friend Bev and she shared the history of the recipe with me.
When is the last time you cooked from a handwritten recipe?  When is the last time you gave someone a handwritten recipe?  I have decided it is time to bring back the hand written recipe!!  Next time someone asks me for a recipe I am not going to send them to my blog – I am going to take the time to write the recipe down for them and share the story behind the recipe too.
I have shared with you before how much I love a handwritten recipe.  I love this Chocolate Meringue Pie for the same reasons as the Apricot Jam Bars – it is delicious and it is in my grandmother's handwriting.
Family recipes and cookbooks hold so many wonderful family stories!  I will always treasure my mother's first cookbook which she gave me for Christmas and I love it even more that she shared some of the stories behind the recipes like with the lemon meringue pie.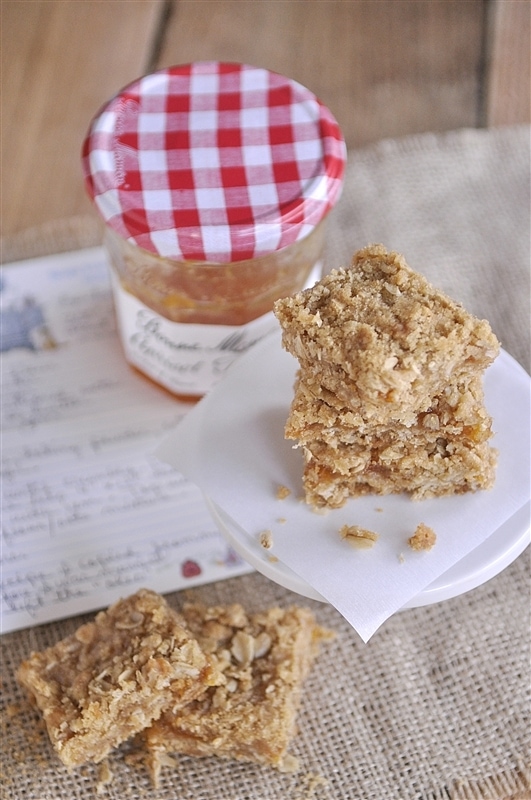 The great thing about this recipe is that you don't have to use Apricot Jam – you can use your favorite flavor.  I have some cherry jam in my cupboard I am going to try next!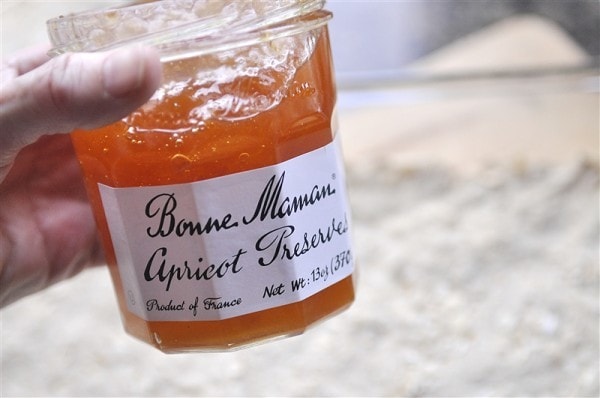 The bars are made with a combination of flour, baking powder, brown sugar, old fashioned oats, and butter (or oleo!)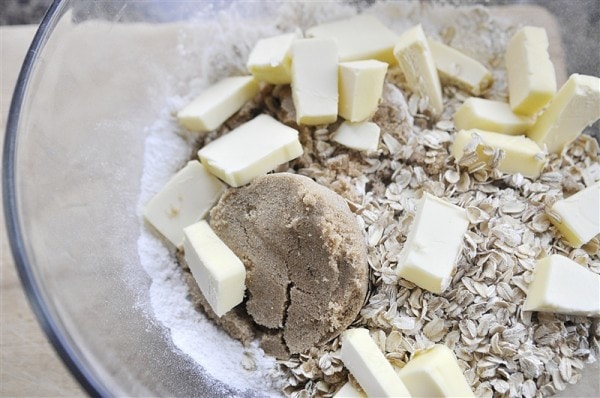 Use a pastry cutter to incorporate all the ingredients until it is nice and crumbly.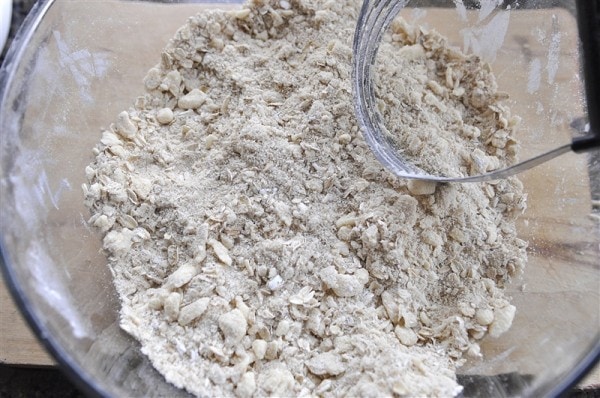 Press 2/3 of the mixture into the bottom of a 9 x 13 pan.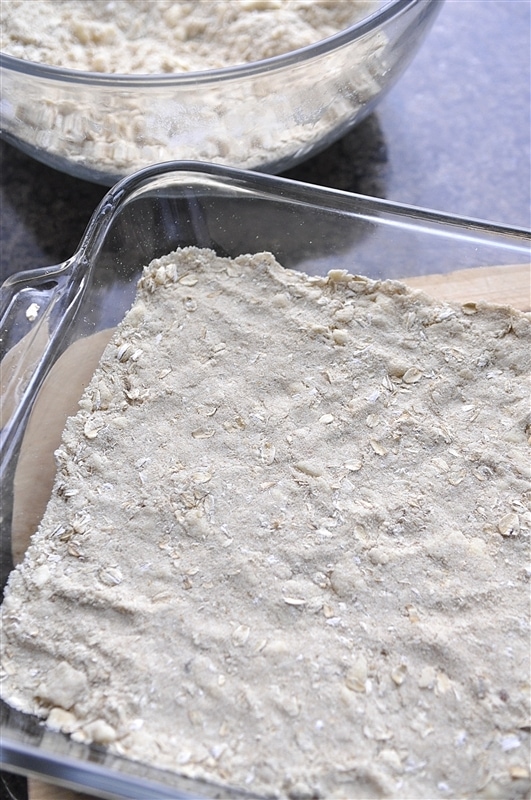 Then cover with 1 cup of your jam and then top with remaining flour/oat mixture.  Bake at 350 for 35 minutes or until nice and golden brown.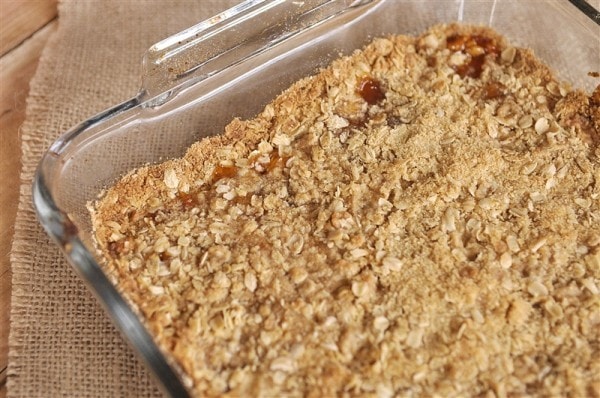 Let them cool a bit and then cut them into bars and then of course enjoy!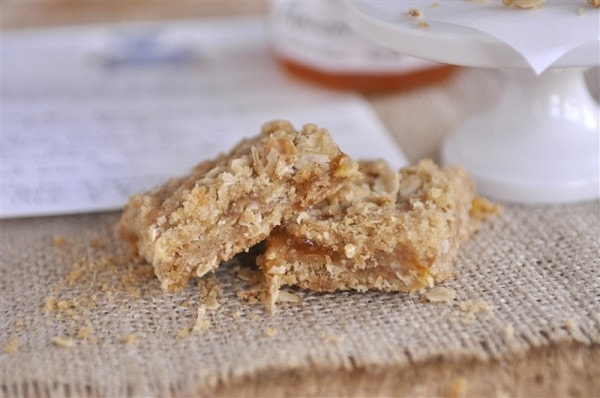 What is your favorite handwritten recipe?  When is the last time you gave someone a handwritten recipe?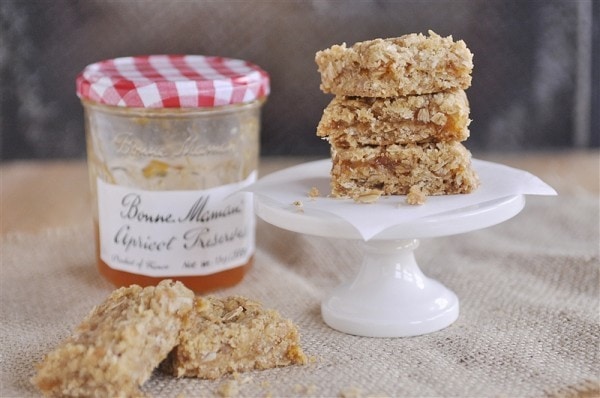 Other bar cookies you might enjoy:
White Chocolate Raspberry Bars
Apricot Jam Bar Recipe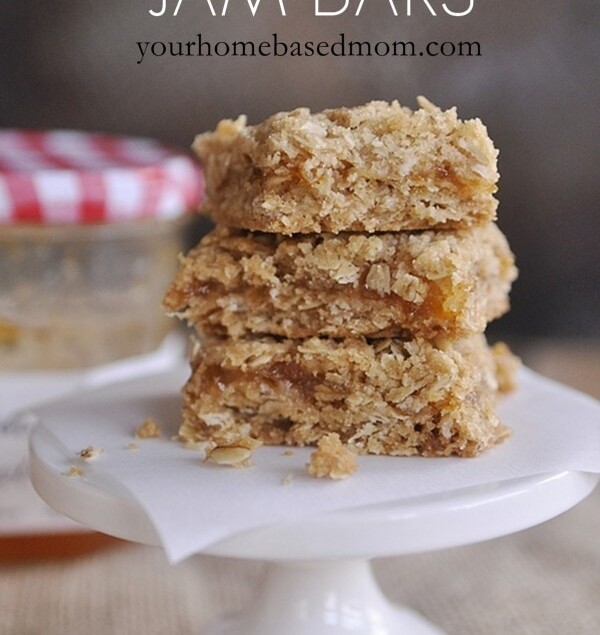 Apricot Jam Bar Cookies
Apricot Jam Bars with an oatmeal topping. All the flavors of your favorite cobbler in a cookie
Ingredients
1 1/2 C sifted flour
1 t baking powder
1 C brown sugar
1 1/2 C old fashioned oats
3/4 C cold butter
1 C apricot jam or jam of choice
Instructions
Mix the flour, baking powder, oats and brown sugar together.

Cut in butter until crumbly.

Pat 2/3 of this mixture into a 8 x 13 baking pan

Spread with jam

Top with remaining flour/oat mixture

Bake at 350 for 35 minutes

Cut into bars.
Nutrition Facts:
Calories: 315kcal (16%) Carbohydrates: 50g (17%) Protein: 3g (6%) Fat: 12g (18%) Saturated Fat: 7g (44%) Cholesterol: 31mg (10%) Sodium: 116mg (5%) Potassium: 130mg (4%) Fiber: 2g (8%) Sugar: 26g (29%) Vitamin A: 395IU (8%) Vitamin C: 2mg (2%) Calcium: 45mg (5%) Iron: 1mg (6%)
* Disclaimer: All nutrition information are estimates only. Read full disclosure here.