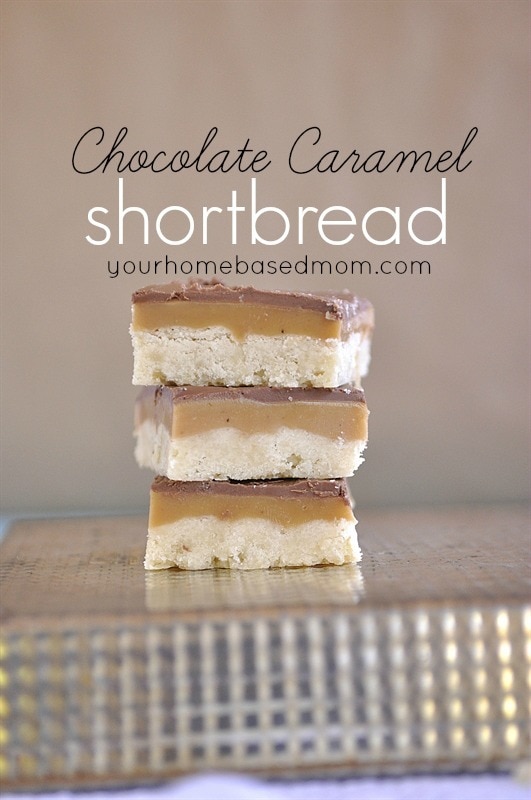 Have you ever gone to an event and eaten something and totally fallen love?  So much so that you can't get it off of your mind.  So much that you have to come home and try and recreate it yourself??
Yeah, happens to me all the time.
Several months ago I attended a  Gymanfa-Ganu.  Now if you have no idea what that is or how to pronounced, no worries.  Either did I.  It is pronounced guh-mahn-vah GAH-nee and it is a Welsh hymn-singing festival.  It literally means "sing gathering."  It is a tradition of song and worship that has been practiced in Wales for centuries. We have a Welsh community just outside of Portland and some friends invited Tessa and I to join them at the annual Gymanfa-Ganu.  Always game for a new adventure we went.  It was held in a small, quaint little white church out in the country.  The church was full and we spent two hours singing beautiful Welsh hymns together.
The main purpose of the event is to bring people together to celebrate and enjoy being Welsh.
After the singing they had a traditional Welsh tea in the Grange Hall down the road.  The food was amazing and my plate was over flowing.  But the best part were these delicious Chocolate Caramel Shortbread cookies. They were so good that I was sad I had only taken one!  My friend Sara bought the little cookbook they had for sale but unfortunately the shortbread cookie recipe wasn't in there – so thanks to Google I was able to find something similar.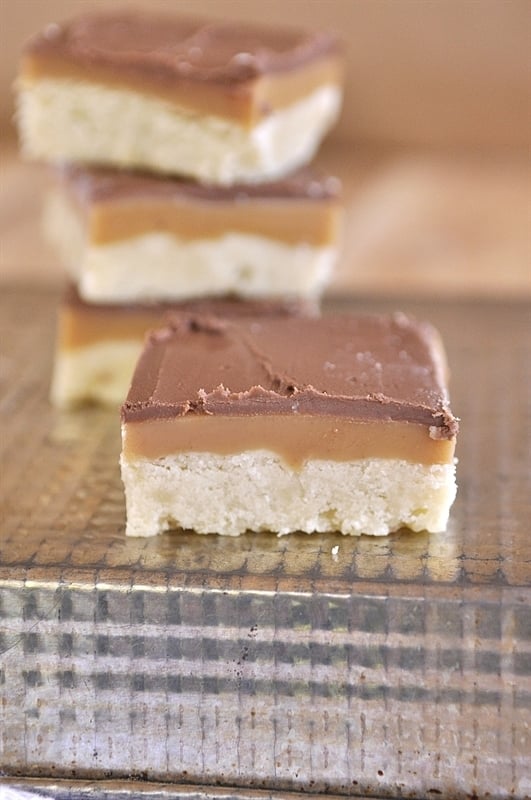 The original shortbread cookie was thinner than the one I am sharing today but I actually think this one might be a bit better!  The process involves three layers – the shortbread, the caramel and then the chocolate on top.
One trick I learned was to refrigerate the bars in between each layer. Makes the caramel stick better and the chocolate spread easier.  If you are a fan of the Twix candy bar you are going to love these.  Twix is one of my favorite candy bars and I think these might just be better.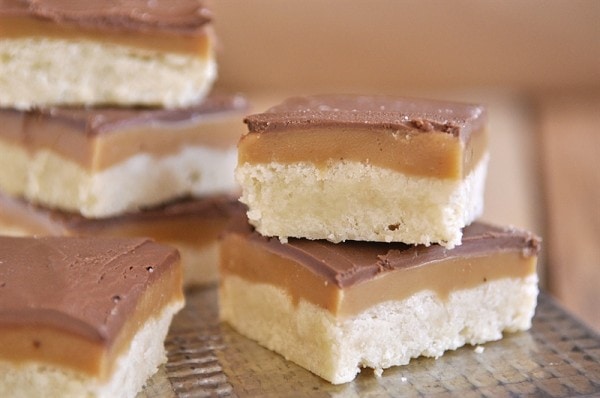 Who can resist chocolate and caramel?  Put that on top of shortbread and you've got pure heaven.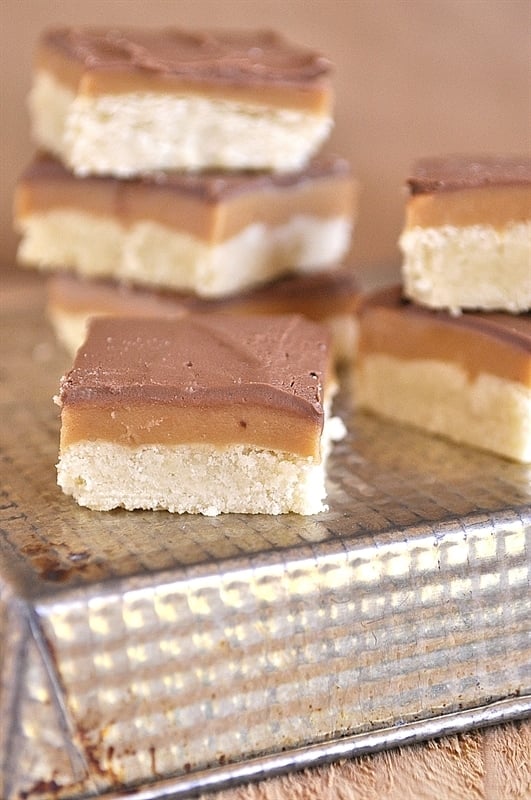 These bars would make a lovely addition to any tea party, holiday cookie plate or just about anything!
This recipe was originally shared over at Today's Creative Blog.
For other yummy sweet treats check out these:
Chocolate Dipped Ice Cream Tacos
Enjoy!
Leigh Anne
You can also visit me on Facebook, Pinterest, Twitter, Instagram and Google+
Chocolate Caramel Shortbread
Ingredients
1 1/3 C butter softened
1/2 C white sugar
2 1/2 C all purpose flour
1 C butter
1 C light brown sugar packed
4 Tbsp light corn syrup
1 C sweetened condensed milk
2 C milk chocolate chips
2 Tbsp butter
Instructions
Preheat oven to 350.

Line a 9 x 13 pan with foil and spray with cooking spray.

Shortbread:

In a food processor pulse together 1 1/3 C butter, white sugar and flour. Pulse until crumbly and combined.

Press mixture into prepared 9 x 13 pan and bake for 20 minutes or until just beginning to brown. Poke with a fork after removing from oven. Cool and then freeze for 30 minutes

Caramel:

In a heavy 2 qt pan combine 1 C butter, brown sugar, corn syrup and milk. Bring to boil and boil for 5 minutes. Then remove from heat and beat for 3 minutes with a wooden spoon. It will thicken up.

Remove shortbread from freezer and pour caramel mixture over the top. Refrigerate until firm and cooled.

Chocolate:

Melt chocolate in a microwaveable bowl for one minutes, check and then continue for 30 seconds at a time until melted. Add in butter and stir until butter melts and chocolate is a good spreading consistency.

Pour over caramel layer and spread evenly.

Chill again. Cut into small squares.

Recipe adapted from www.allrecipes.com
Tips & Notes:
Yes, please pin, but please do not copy and paste the full recipe on Pinterest or FB.