Chocolate Caramel Pretzel Bark is as fun to make as it is to eat.  Love the sweet and salty combo.
One of my favorite parts of the holidays is deciding what treats I am going to make, especially what treats I am going to be sharing with family and friends. But I have discovered that what is even more fun than deciding and making the treats is packaging them up nice and cute. It's all in the presentation (of course it helps if they taste good too!) But seriously, when I receive a gift that is wrapped up fun and cute I almost don't care what is in it – I love packaging!!
But first let's talk treats.
One of my favorite things to make as a holiday treat is candy bark. I think people get cookied out so candy is a nice change. I have been known to get a little carried away with candy bark. I have made a Valentine version, Easter Version, Fourth of July, etc. You name the holiday I have probably made a candy bark for it.
This year I decided to go with the salted caramel rage that seems to be everywhere and I made up a Chocolate Caramel Pretzel Bark.
The ingredients are pretty simple – almond bark, caramel bits (or squares), chocolate chips and pretzels.
Just melt the almond bark in the microwave and spread it on a wax paper covered cookie sheet. Just tap the cookie sheet a few times and the almond bark will spread out in a nice even layer.
Next cover it with a nice layer of broken pretzels. I used about a cup.
Let the almond bark set up, either just let it sit at room temperature or pop it into the refrigerator if you are in a hurry.
Next, melt your caramel bits. I did it in the microwave too and just added about 1 tsp of milk in with the caramels to help them melt smoother. You can also use the caramel squares if you can't find the bits. I melted one cup of caramel bits. Then drizzle over the top of the hardened bark.
The next layer is a drizzle of melted semi sweet chocolate chips (1 cup.)
Then allow that to set up before you package it up.
So, now the fun part – the packaging.
One of my favorite things to use to package food gifts are those restaurant take out containers. I buy them from our local grocery supply – Cash and Carry. Just check your area for a grocery supply. You don't have to have a grocery store to shop there!
The containers come in different sizes and shapes and are really inexpensive. Usually about 30 cents a piece and come in packages of 50!! That may seem like a lot but I use them all the time, all year long.
Can you guess what I used to line the inside of the container with? Yep, those are coffee filters!!
For the "dressing it up" part I like to use things I already have around the house – doilies, scrapbook paper, wrapping paper, string, ribbon etc. Brown paper packages tied up with string…..
Both the paper and the fabric doilies came from the Dollar Store.
Just cut a piece of scrapbook paper or wrapping paper and wrap it around the box with a little ribbon
I used a border punch to create a scallop edge to a piece of scrapbook paper.
Here I just used my stamps to add my favorite word!
The possibilities and pretty much endless – all you need is a little creativity and some stuff!
If you'd like to check out a few other fun holiday candy barks, check these out.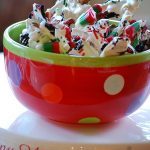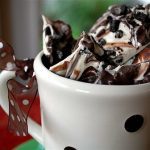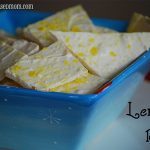 Reindeer Corn Cookie Bark Cookies and Cream Bark Lemon Bark
Chocolate Caramel Pretzel Bark
White chocolate bark with pretzels, chocolate, and caramel.
Ingredients
1 lb. almond bark melted
1 C broken pretzels
1 C caramel bits or caramel squares melted
1 C semi sweet chocolate chips melted
Instructions
In microwave melt almond bark or melts and spread on a wax paper covered cookie sheet.

Cover with broken pretzel pieces.

Allow to set up or refrigerate until set.

Melt caramel pieces and drizzle over the top and then drizzle with melted chocolate.

Allow to set up and then break into pieces.
Nutrition Facts:
Calories: 403kcal (20%) Carbohydrates: 55g (18%) Protein: 3g (6%) Fat: 18g (28%) Saturated Fat: 15g (94%) Cholesterol: 2mg (1%) Sodium: 145mg (6%) Potassium: 136mg (4%) Fiber: 1g (4%) Sugar: 46g (51%) Vitamin A: 16IU Vitamin C: 1mg (1%) Calcium: 38mg (4%) Iron: 1mg (6%)
* Disclaimer: All nutrition information are estimates only. Read full disclosure here.