Chicken Satay makes a fun and delicious appetizer or main dish.  Satay is basically skewered and grilled meat covered in sauce!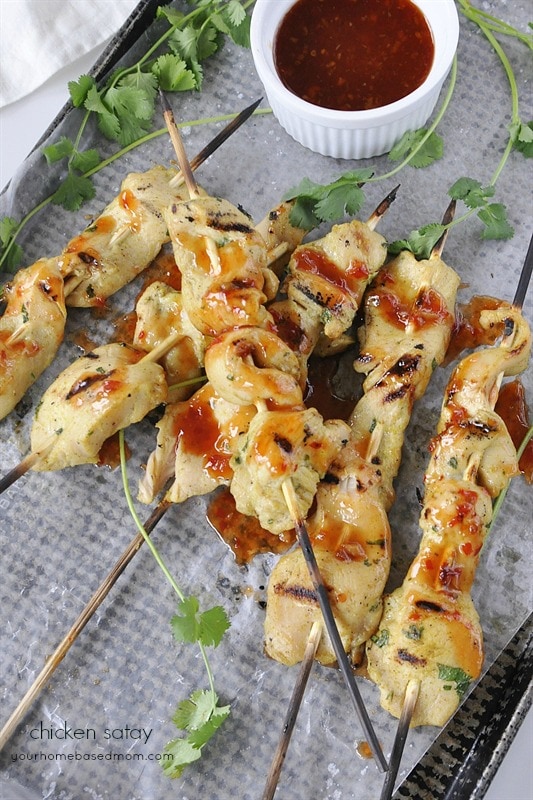 Neighbors who share recipes are the best kind of neighbors.  If you've read my blog for any length of time you know what great neighbors we have and how much we love each other!  They are always my best taste testers and gladly take all the calorie filled goodness I share here on the blog off my hands so I don't eat it all myself.   One of my neighbors, Betty, is an absolute doll.  She is the mom of four littles and whenever I am out of town she always invites my husband over for dinner so he doesn't starve to death!  Betty is a great cook and when I asked her for a couple of her favorite recipes today's recipe was one she shared with me.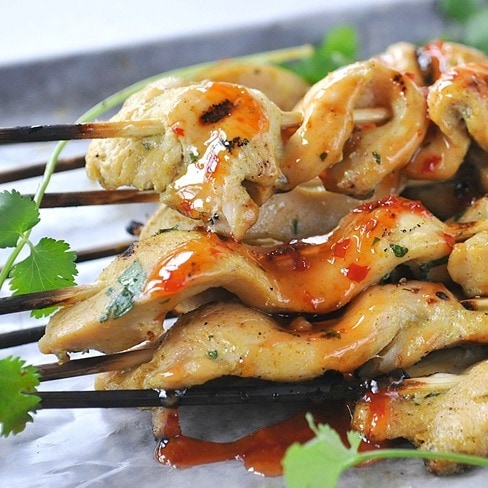 Chicken Satay is an Indonesian dish and you will often find it on the appetizer section of the menu of your local Thai restaurant.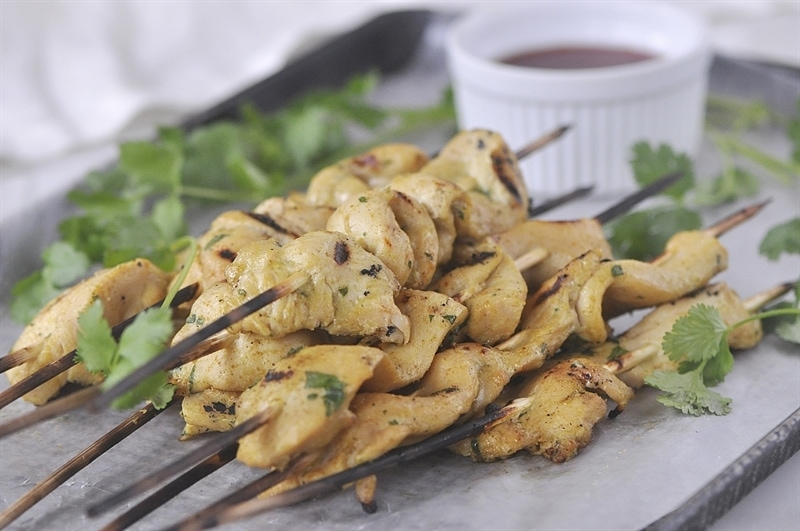 Chicken Satay is traditionally served with a peanut sauce but I'm not crazy about peanut sauce so I serve mine with some sweet chili sauce.  Love the sweet/spicy combo with the chicken.  I don't know about you but I think it is just fun to eat my food off a stick too!
The chicken for this recipe needs to be marinaded and I recommend doing it overnight for the best flavor.  You can let it marinade in the refrigerator for a couple of days if needed and it will be fine.  This recipe calls for Madras Curry Powder.  Not all curry powders are created equal and the flavor of this one is amazing.  You can find it online or at a local asian grocery.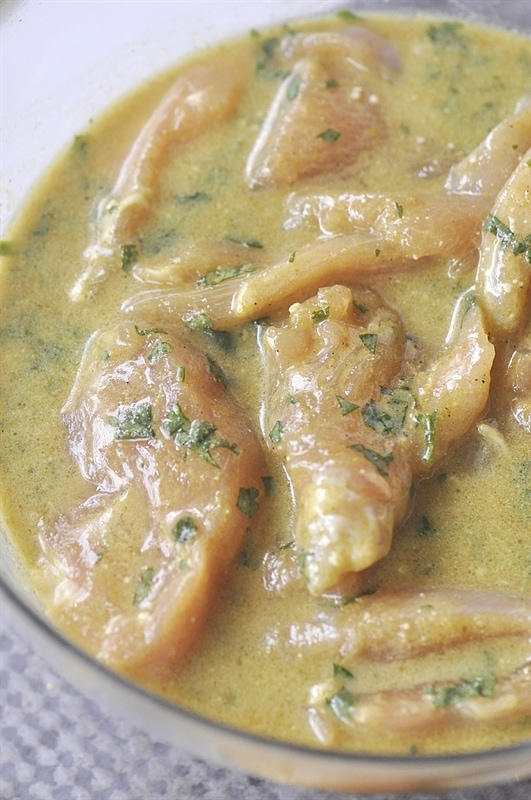 Cut your chicken breast into 1/2 inch thick long slices so that you can easily skewer them on bamboo skewers.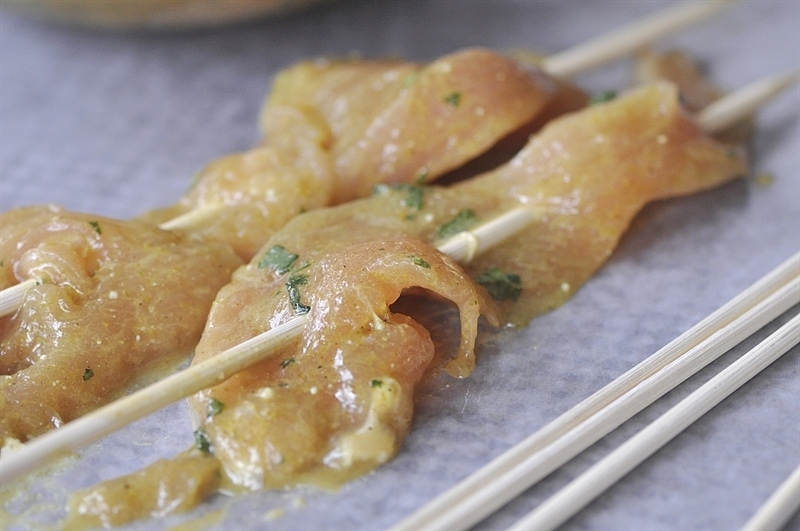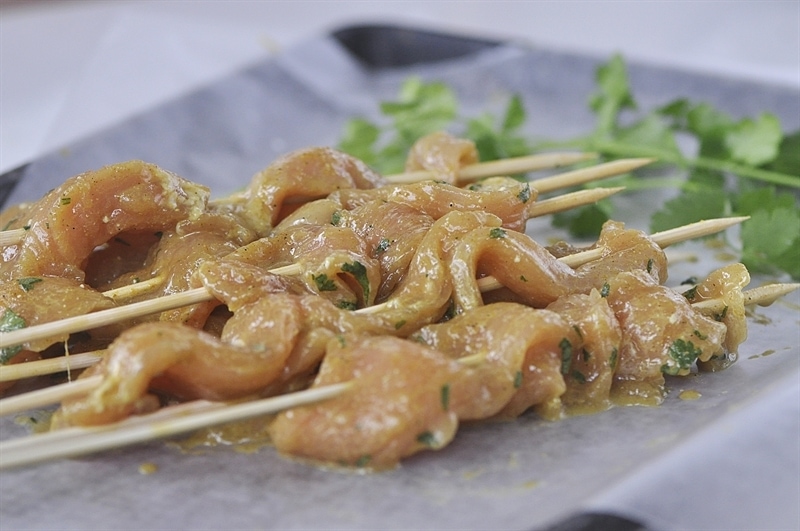 Then pop them on the grill, because the meat is sliced so thin they only take a matter of minutes to cook.  To prevent your bamboo skewers from burning like mine did, soak them in water before skewering your meat.  I forgot to do this so I ended up with burnt skewers!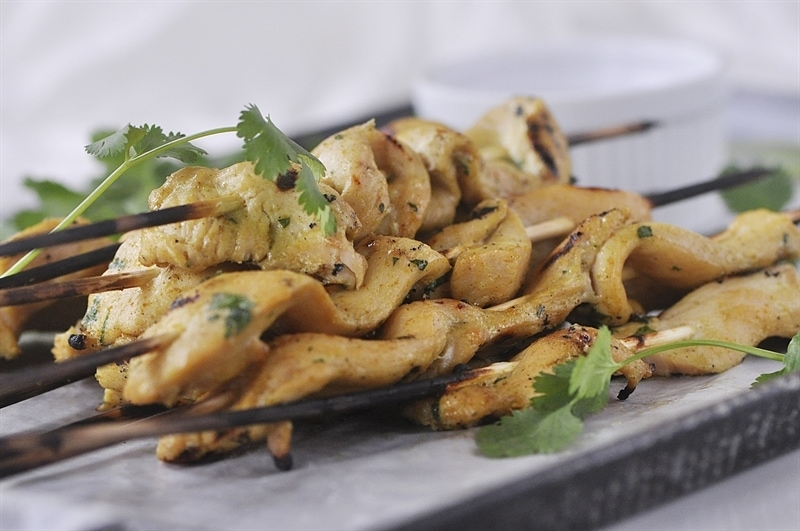 After they are grilled, drizzle or dip them into the sauce.  You can find sweet chili sauce in the asian aisle of your grocery store.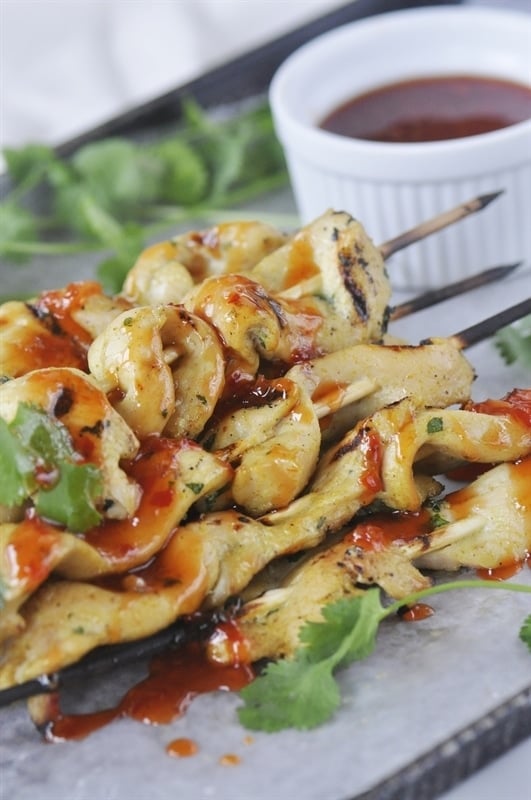 Serve them as an appetizer or as your main dish – either way, people are going to love them.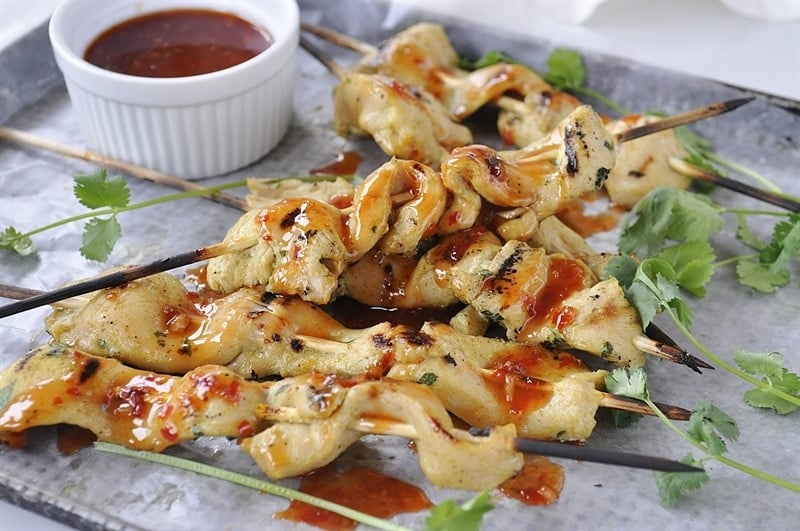 For other fun food on a stick check out these recipes:
Cilantro Lime Coconut Pork Kebobs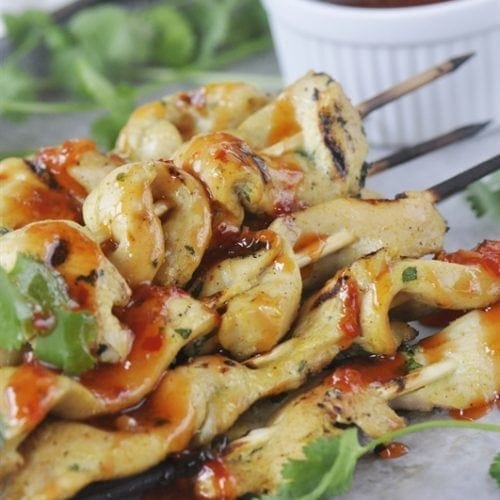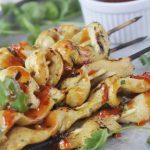 Print
Chicken Satay
Ingredients
3

chicken breasts

sliced into 1/2 inch thick, long slices

1/2

cup

coconut milk

1/4

cup

fish sauce

3

TBS

firmly packed brown sugar

2

TBS

chopped fresh cilantro

1

TBS

Madras Curry Powder

1

TBS

canola oil

sweet chili sauce for dipping
Instructions
Cut chicken into strips about 1/2" wide

in large bowl, mix all ingredients and then add in chicken

Toss so chicken is evenly coated.

Refrigerate overnight, can make it several days ahead and allow to marinade 24-48 hours

Skewer, grill and serve with Sweet Chili Sauce