Create your own delicious Challah Bread at home with this easy to follow step by step tutorial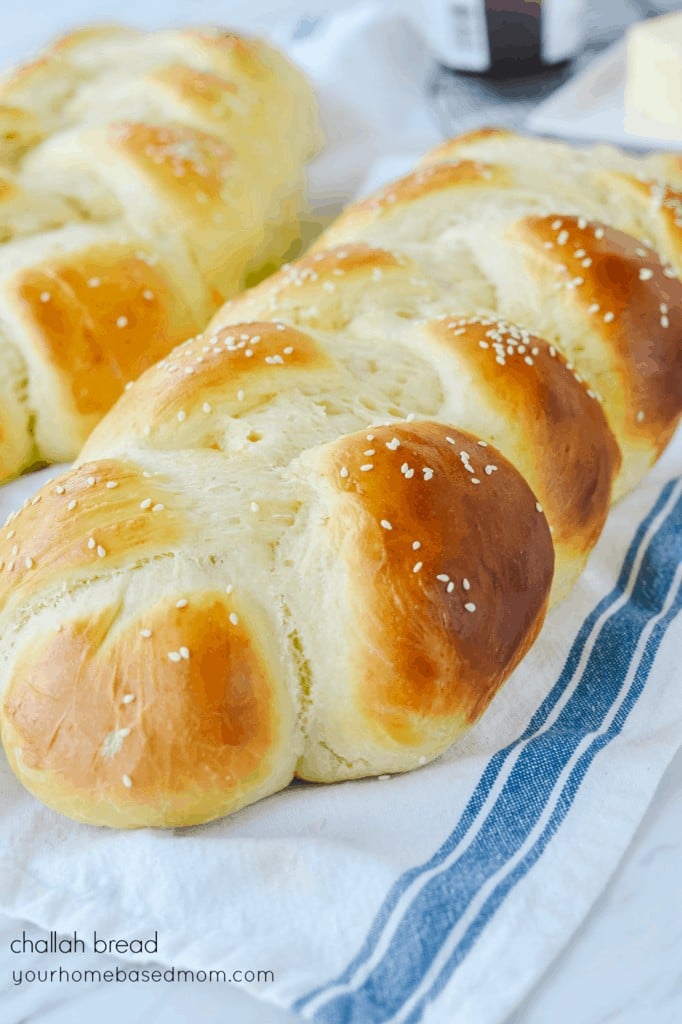 Challah Bread is the perfect addition to any Easter brunch and is also a great accompaniment to a delicious soup. We are a little unsophisticated at our house sometimes and we like to eat this bread as soon as it comes out of the oven. It is so warm and soft, too soft to cut with a knife, so we just use our hands and tear away! It is best served with butter or jam but it tastes amazing all by itself too!
What is Challah Bread?
Challah bread is a traditional Jewish style bread that is often served on the Jewish Sabbath and special holidays.
According to Wikipedia:
…."Jewish tradition, the three Sabbath meals and two holiday meals each begin with two complete loaves of bread. This "double loaf" commemorates the manna that fell from the heavens when the Israelites wandered in the desert for forty years after the Exodus from Egypt. The manna did not fall on the Sabbath or holidays; instead, a double portion would fall the day before the holiday or sabbath.] It is these hunks of bread, recognizable by their traditional braided style (although some more modern recipes are not braided that are commonly referred to as challah."
Besides being a soft, delicious bread, one of the best things about this recipe is that it does make two loaves so with our "reduced size" family that means there is always plenty to share.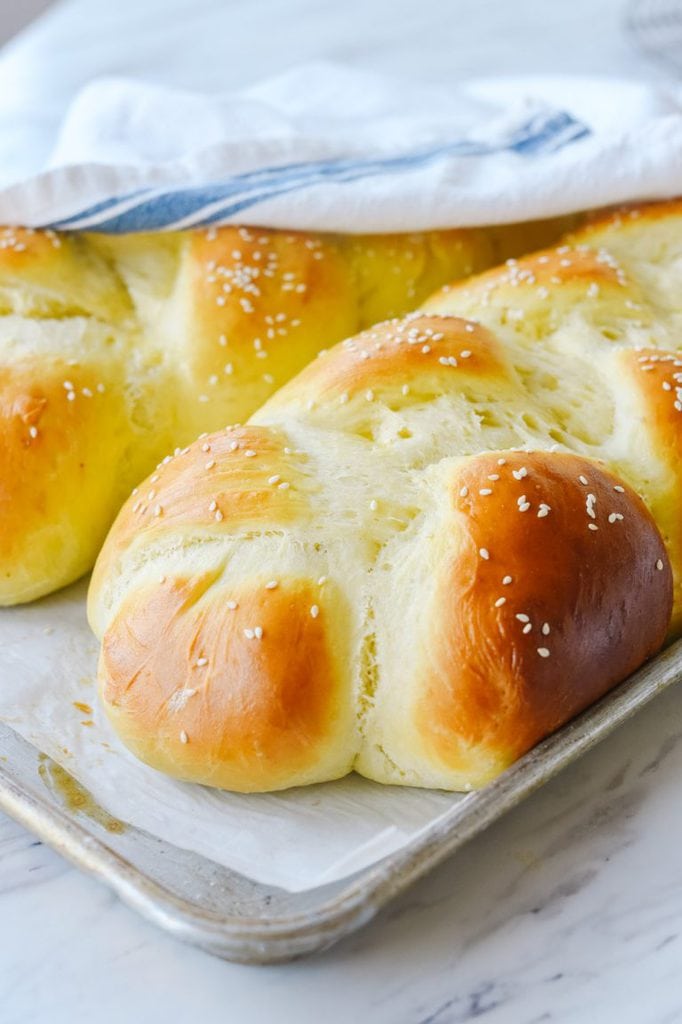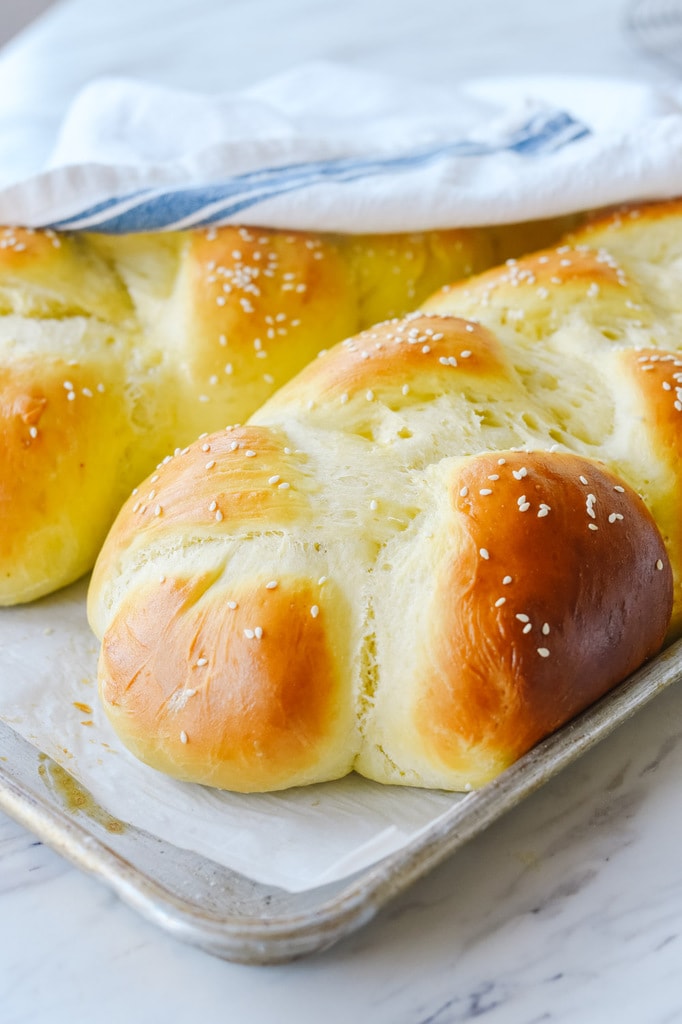 This is one of those posts where I wish you could really smell the recipe too. Nothing smells better than a fresh baked loaf of bread.
How to Make Challah Bread
After mixing up the ingredients you allow the dough to rise. It will double in size in about an hour. The trick to yeast bread is really all in the water temperature. You want your water to be between 105-115 degrees so you don't kill the yeast and so it is warm enough for the yeast to grow. I often use a candy thermometer to test the temperature just to make sure. I have a whole post on how to work with yeast that you can find here.
The next step is to divide the dough in half. One for us – one for someone else. Divide each piece into three pieces each, you will have 6 balls of dough.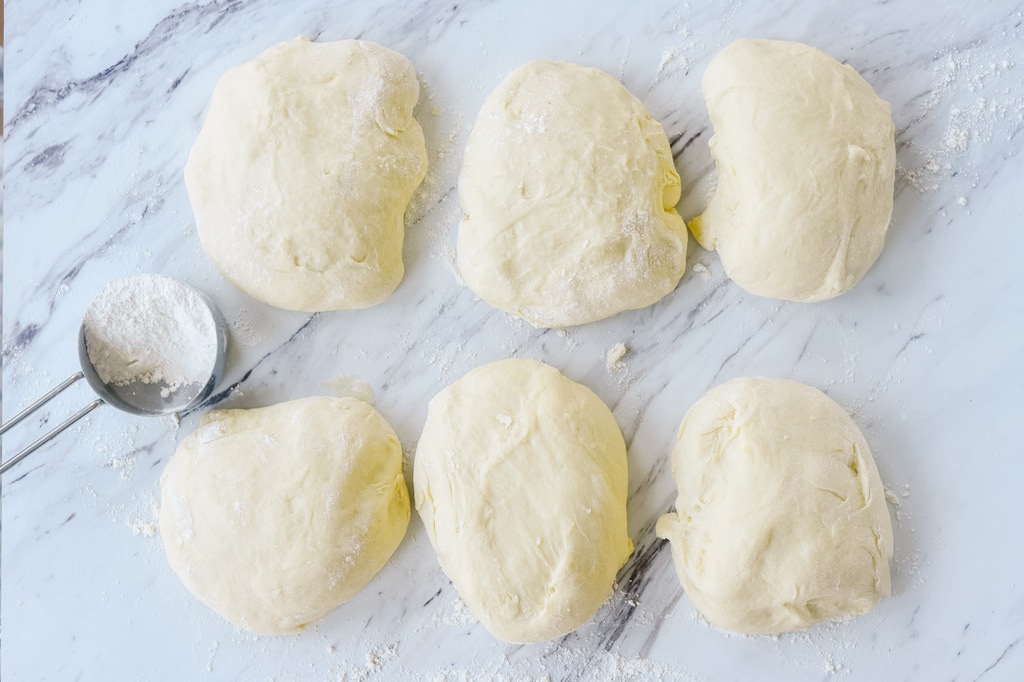 Roll each of these smaller pieces of dough into a rope (about 12 inches long or the length of your cookie sheet) Don't worry if they aren't perfectly shaped and smooth – obviously mine aren't. Braid three of the pieces together. If you don't know how to braid, ask one of your kids. Be sure your ends are tucked in on both ends of the loaf.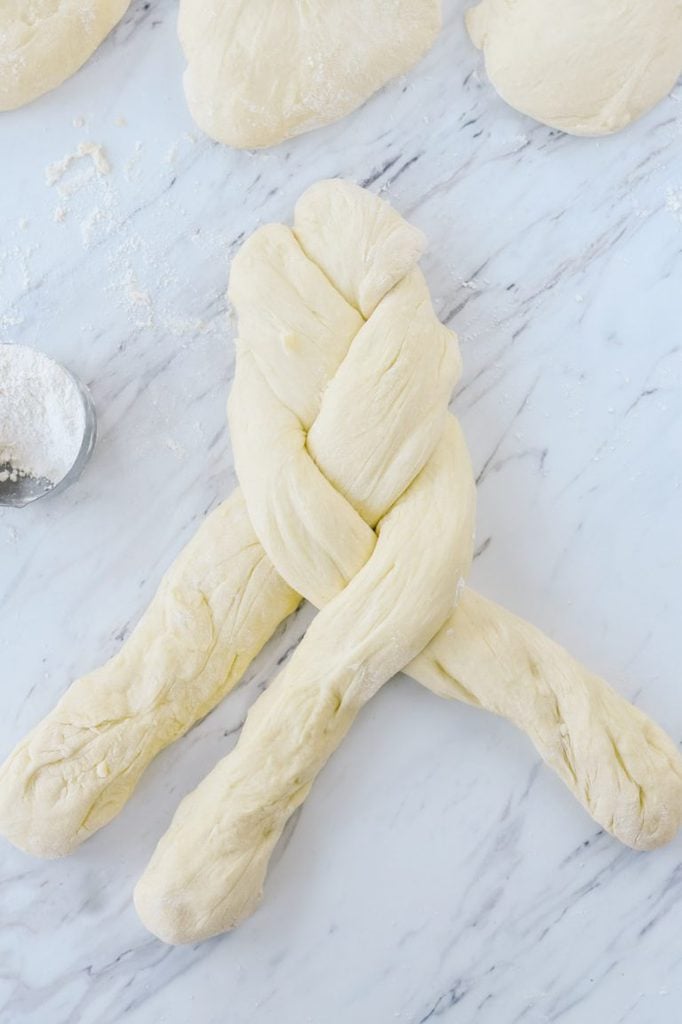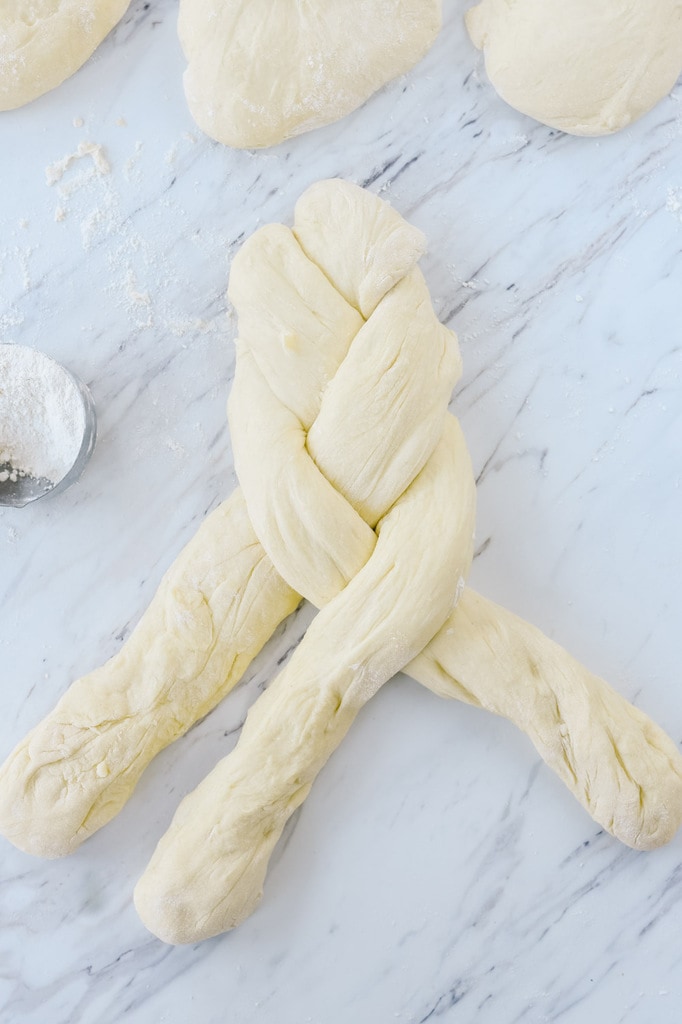 Repeat with the rest of your dough and place both loaves on the cookie sheet, side by side. Let the dough rise one more time, about 30-60 minutes depending on how warm and sunny your room is.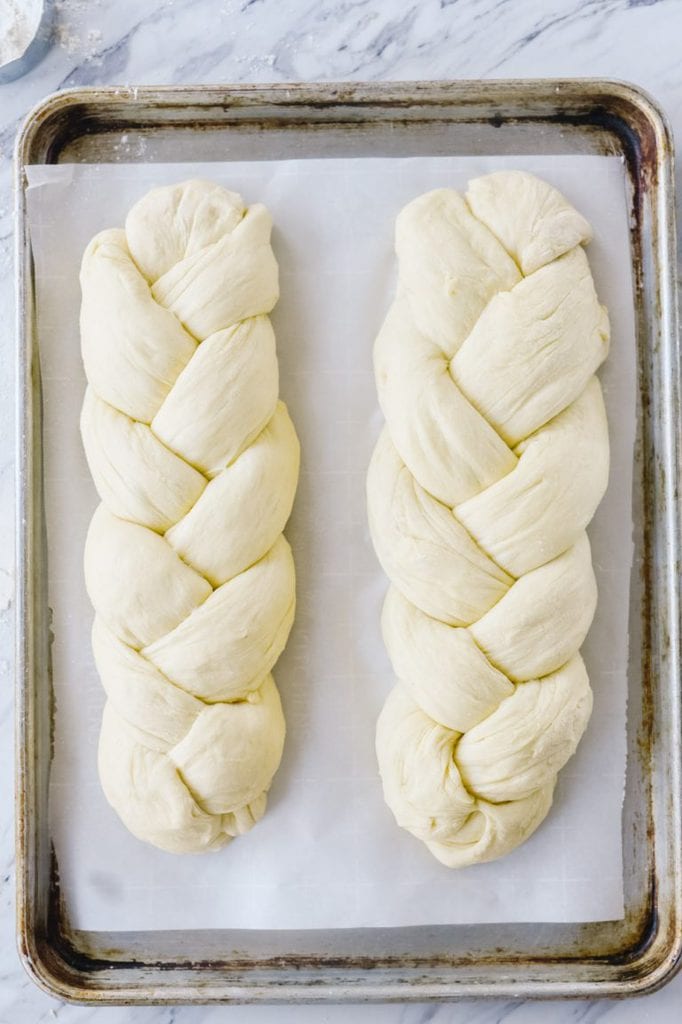 After they have risen give them a nice little bath of beaten egg white so that they shine really pretty. You can also sprinkle them with sesame seeds or poppy seeds.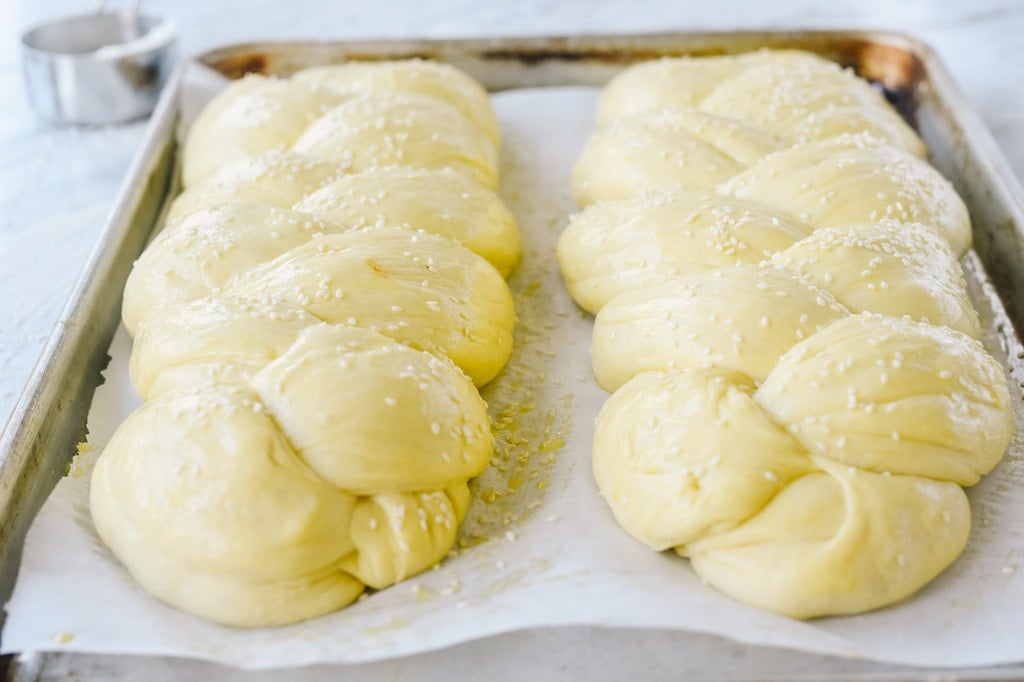 Preheat your oven to 350 degrees F. Place them in the oven and then get ready to drool. The smells coming from your oven will be amazing. You want the bread nice and golden brown. It bakes for about 25 minutes.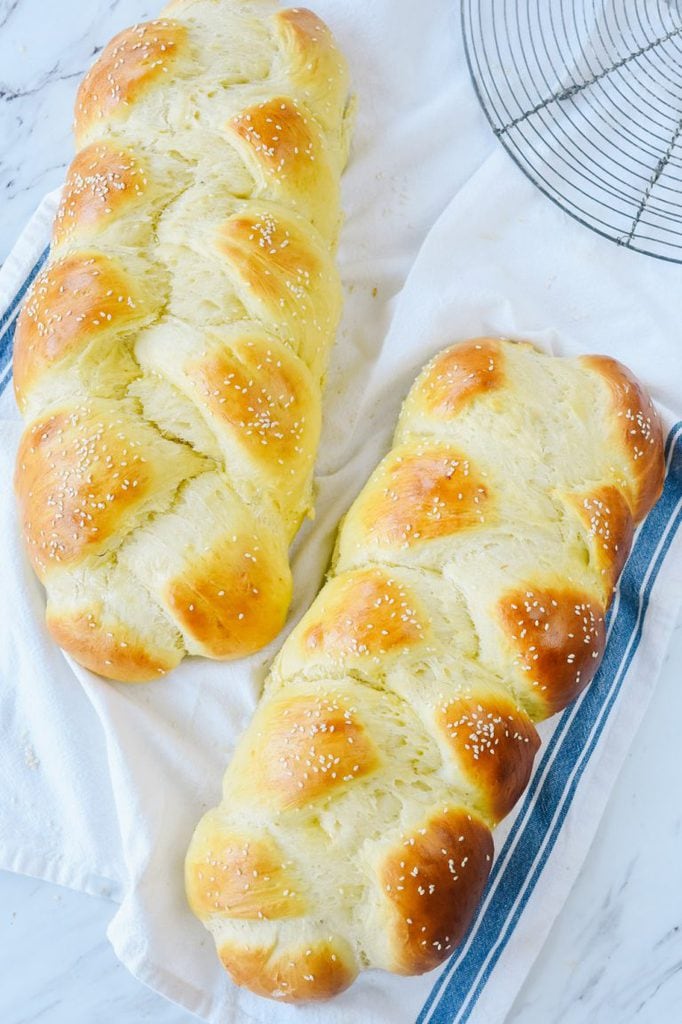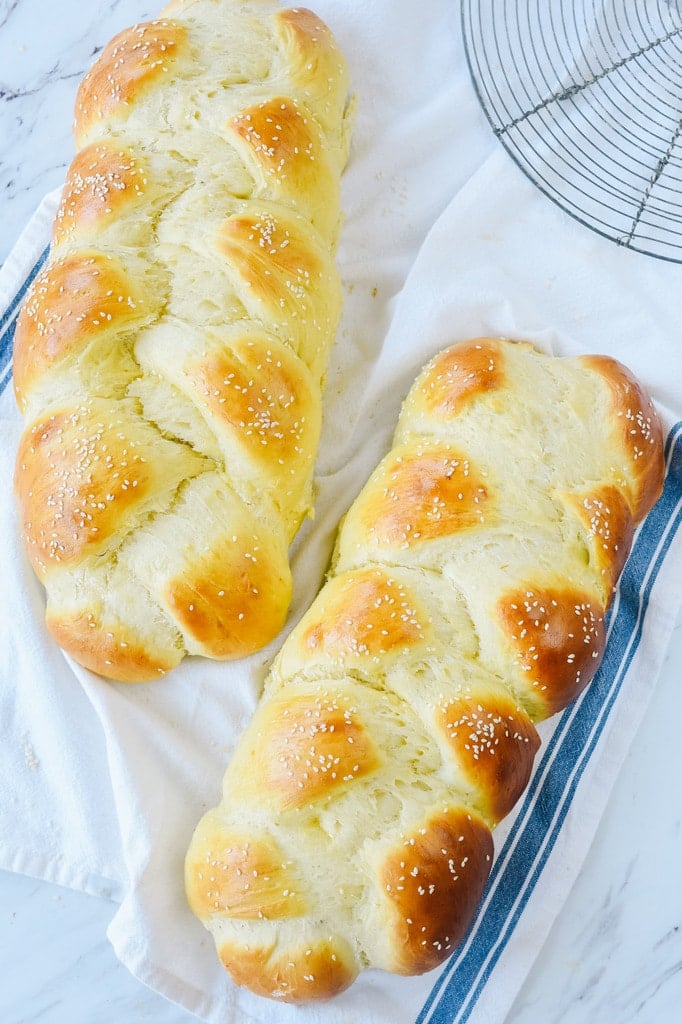 If there are any leftovers Challah bread makes amazing french toast covered with Buttermilk Syrup.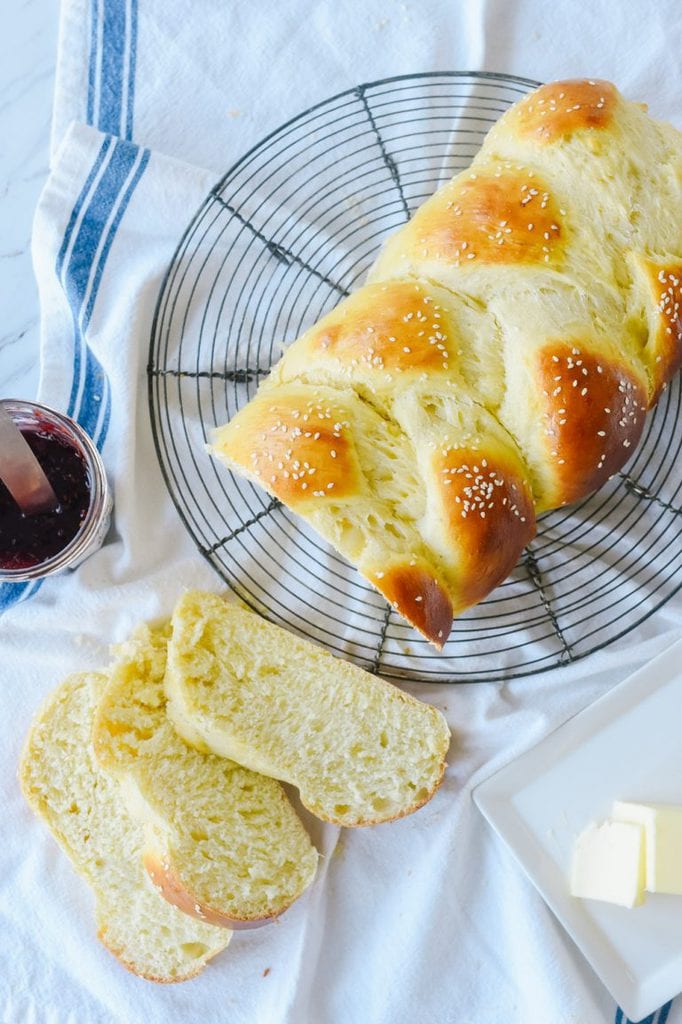 Other delicious bread you may enjoy:
Challah Bread Recipe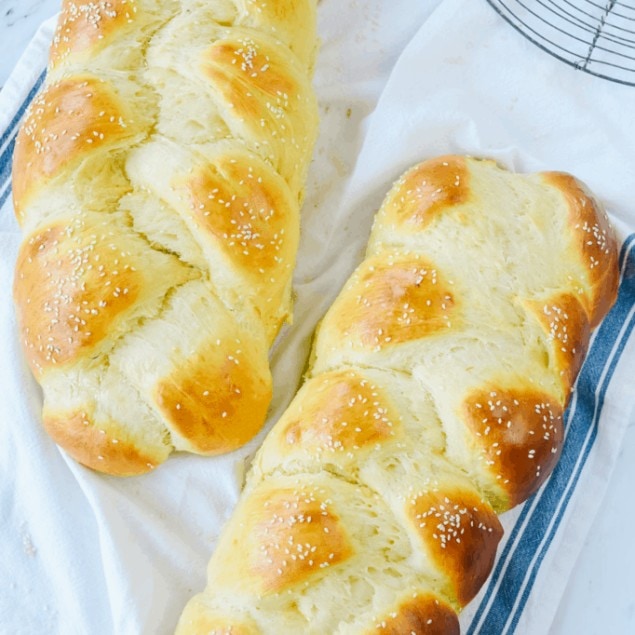 Challah Bread
Delicious braided challah bread made fresh at home.
Ingredients
4.5 tsp active dry yeast 2 packages
2 1/2 C water warm
6 Tbsp sugar
2 tsp salt
1/3 C vegetable oil or canola oil
3 eggs plus white of one additional egg for glaze
8.5 C flour add until dough is slightly sticky 6 1/2 to 8 1/2 cups
Glaze
1 egg white
1 tsp water cold
Instructions
Dissolve yeast in warm water and allow yeast to proof (bubble)

Add sugar, salt, oil eggs and flour in with yeast mixture and mix until slightly sticky. I do this in my Kitchen Aid about 3-5 minutes.

Cover and let rise in a warm place until doubled in size.

Divide dough in half. Take each half and divide into 3 pieces.

Roll each piece into a rope and brain 3 ropes together on a greased cookie sheet.

Place both braids on cookie sheet and allow to rise a second time for 30-60 minutes.

Brush loaves with glaze.

Sprinkle with sesame seeds or poppy seeds if desired.

Bake at 350 degrees for 20-25 minutes until bread is golden brown.
Nutrition Facts:
Calories: 209kcal (10%) Carbohydrates: 37g (12%) Protein: 5g (10%) Fat: 4g (6%) Saturated Fat: 2g (13%) Cholesterol: 20mg (7%) Sodium: 206mg (9%) Potassium: 64mg (2%) Fiber: 1g (4%) Sugar: 3g (3%) Vitamin A: 30IU (1%) Calcium: 11mg (1%) Iron: 2.2mg (12%)
* Disclaimer: All nutrition information are estimates only. Read full disclosure here.
Originally posted April 18, 2011