Now you can enjoy one of your favorite cakes in cookie form with Carrot Cake Cookies!  They are topped with a yummy orange marmalade laced cream cheese frosting.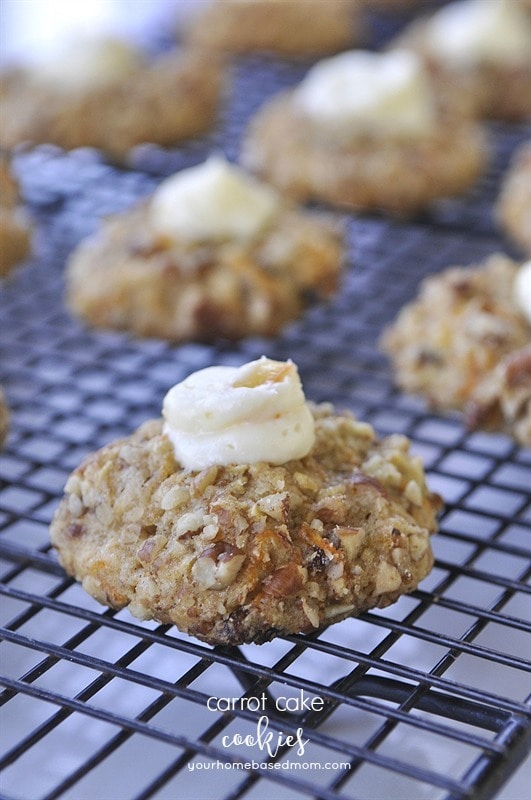 So I've got a funny carrot story for you.  My husband recently got a new job or "calling" at church.  He was in our ward's bishopric but was released a month ago and put in as a Primary teacher.  That means he teaches the 7 turning 8 year olds.  He was so excited.  When he came home after the first Sunday he told me that the previous teacher always brought the kids a treat.  Our church is in the afternoon and it is snack time after all.  That week the other teacher had brought tootsie pops. So this last Sunday he decided that he was going to bring a healthier treat – carrots.  I told him he was crazy.  What 7 year old was going to be excited about raw carrots for a snack. I am not a fan of raw carrots myself.  But he filled his container full of carrots and went off to teach  his class.  When I met him in the church hall after his class his container was empty, not a carrot left.  The kids thought the carrots were great!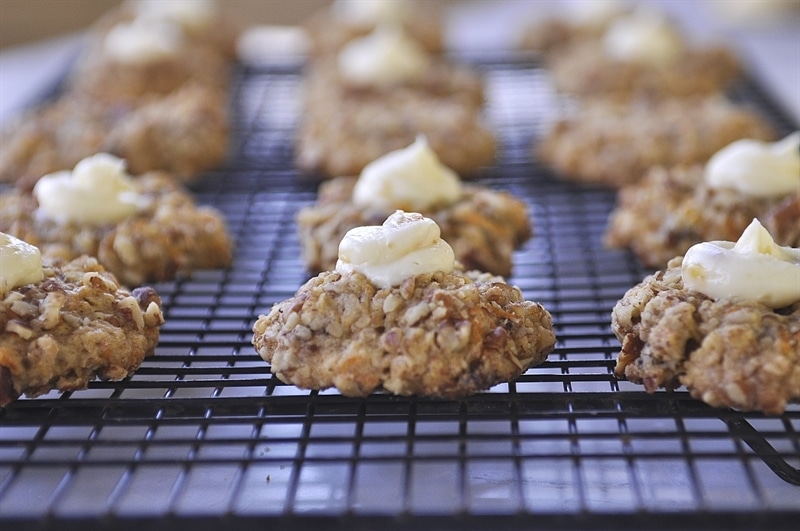 Today's recipe uses those carrots too but I have to say I would much rather eat carrots in the form of a carrot cake cookie than a raw carrot. These cookies are a fun spin on the traditional carrot cake.  You can have  your cake and cookies all at the same time!
The cookies are made with shredded carrots, golden raisins, and pecans.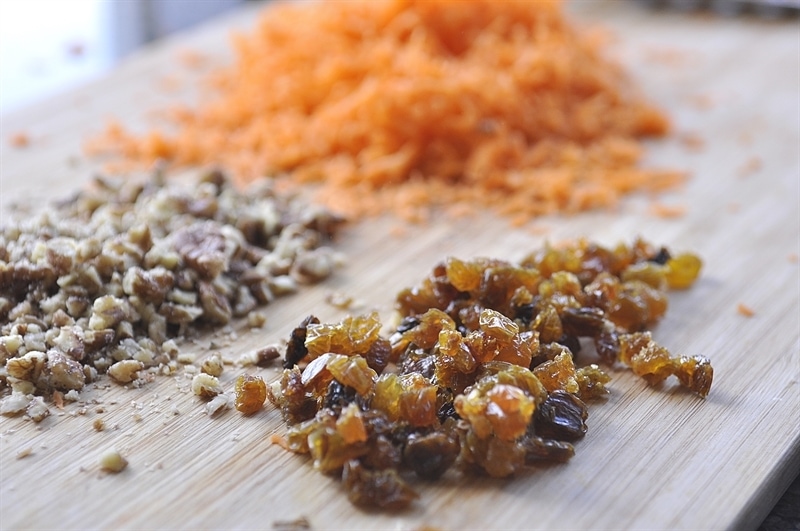 Everything is is mixed up together with some butter, sugar and flour of course and then formed into balls.  The ball of dough is than rolled in the chopped pecans.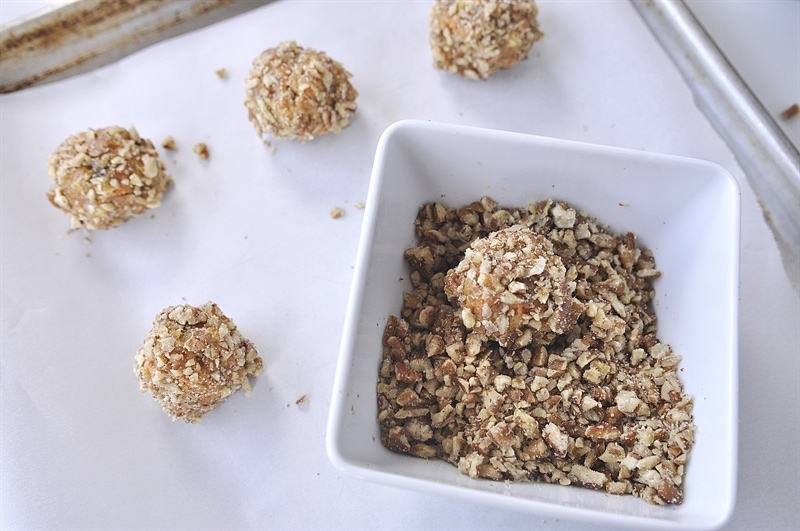 Bake them for about 15 minutes and then pull them out and use the end of a wooden spoon to push a hole in the middle, you need to make an indentation for that yummy cream cheese frosting. Pop them back in the oven to bake some more.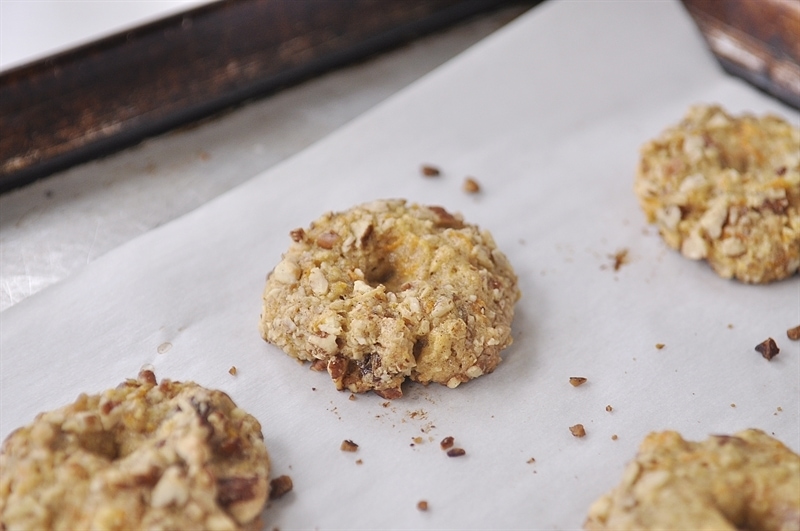 I mixed up the cream cheese frosting, adding in some orange marmalade and then put the frosting into a decorating bag with a medium size round tip.  After the cookies have cooled, fill that hole you  made and the center of the cookie with frosting.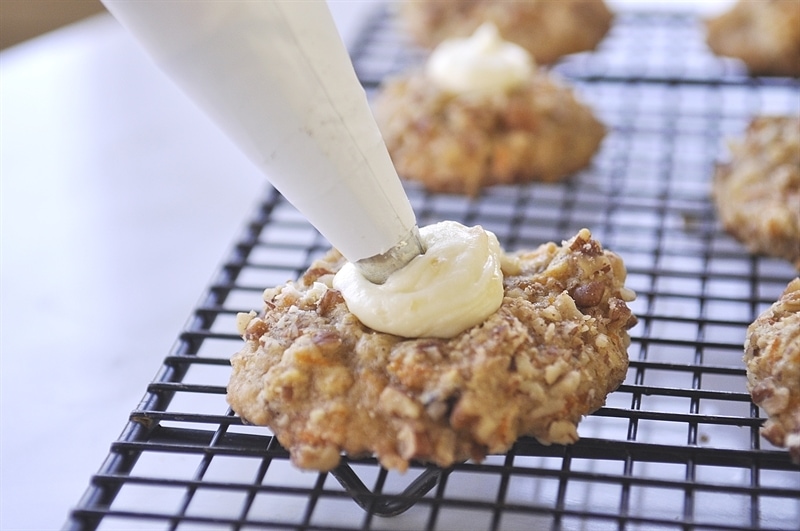 These Carrot Cake Cookies are now ready for enjoying!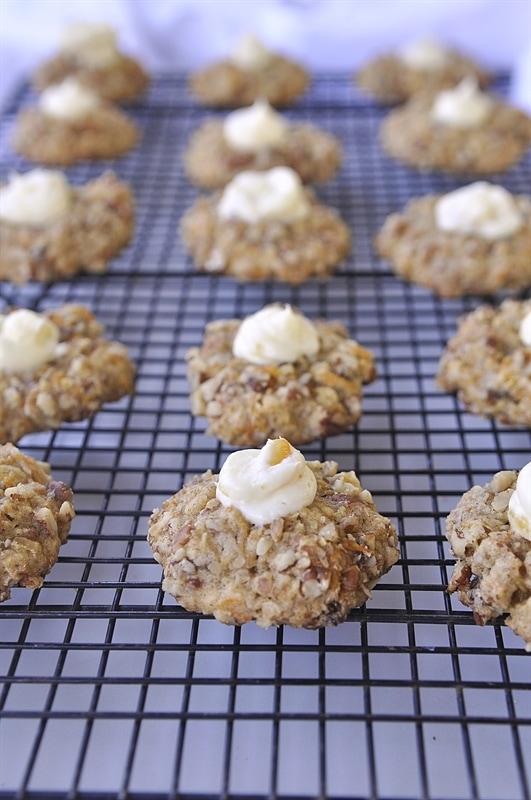 I'll take my carrots in a carrot cake cookie, thank you!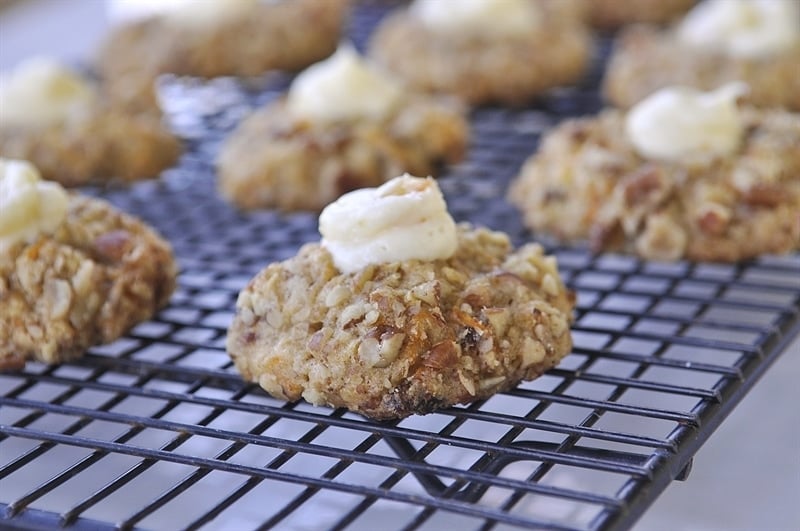 For another yummy carrot cake recipe check out this one!  Or how about some carrot muffins.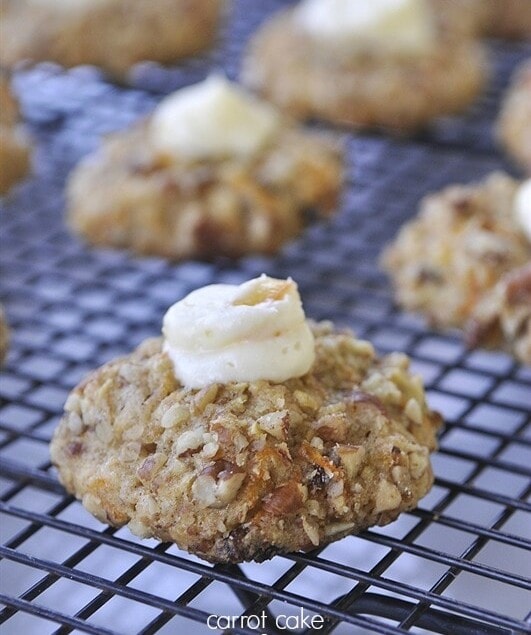 Carrot Cake Cookies
Ingredients
1/2 C butter melted
1//4 C butter softened
1/3 C packed brown sugar
1/3 C granulated sugar
1 large egg yolk
1 C flour
1/2 tsp ground ginger
1/2 tsp ground cinnamon
3/4 tsp salt
3/4 C old fashioned rolled oats
3/4 C packed freshly finely grated carrots
1/4 C golden raisins chopped
3/4 C pecans finely chopped
1/4 C powdered sugar
2 oz. cream cheese room temperature
1 1/2 tsp orange marmalade
Instructions
Preheat oven to 350 degrees F.

In a bowl combine melted butter, sugars and egg yolk,

In another bowl combine flour, ginger, cinnamon and salt.

Stir flour mixture into butter mixture.

Mix in oats, carrots and raisins.

Cover and refrigerate for 30 minutes.

Roll dough into 1 1/2 inch balls and roll in pecans to coat.

Place on parchment lined baking sheet. Bake for 10 minutes

Remove from oven and use the end of a wooden spoon to make an indentation in the center of cookie.

Return to oven and bake for an additional 10-12 minutes or until golden brown on bottoms.

Remove from baking sheet and cool on rack.

In a bowl beat together the 1/4 C butter and powdered sugar until smooth.

Add in orange marmalade.

Filling decorating bag that has a medium round tip and pipe frosting into center of cookie.

Refrigerate any leftovers