I love caramel!  I usually choose caramel over chocolate and never refuse chocolate and caramel together!
Just about anything tastes better when it is covered in caramel. Several years ago we traveled to Argentina.  Each morning at our hotel they served breakfast.  There was always a huge bowl, and I mean huge (punch bowl size) full of dulce de leche which is caramel.  They put it on everything – over their fruit, on their toast.  They know how to eat!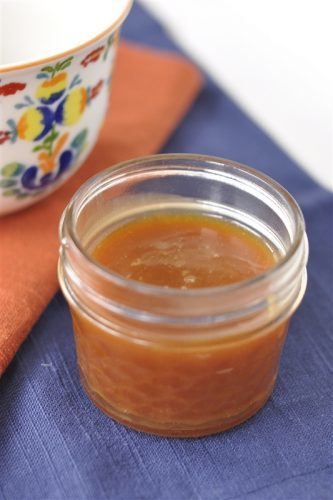 One of the latest food trends is salted caramel.  I love the sweet and salty combination.   Today's recipe is the caramel sauce I have made for years.  It can easily be turned into Salted Caramel Sauce by adding a teaspoon of sea salt!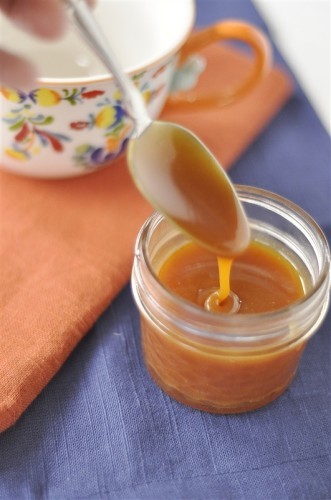 I split the batch in half and added salt to half.  Jim came home from work and tasted the one with salt.  He isn't quite as up on the latest food trends and he was wondering how he was going to tell me that I put too much salt in the caramel sauce!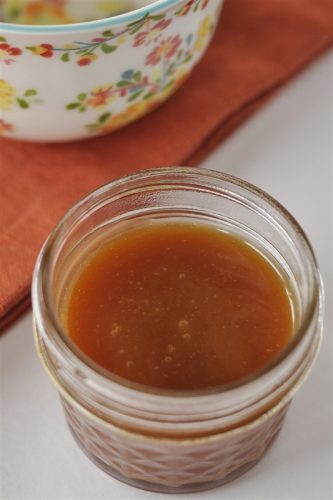 I love caramel sauce on ice cream and this week I will share a few recipes that I love to put the caramel sauce on but sometimes the best way to eat it is straight out of the jar with a spoon!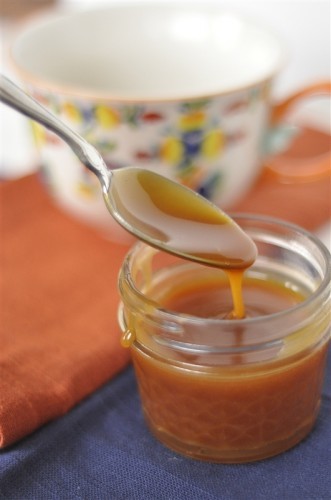 One of my favorite things to put caramel sauce on is apple crisp and ice cream.  The perfect Fall dessert. I love my apple crisp recipe and usually 1 1/2 times the topping because it is so yummy.  It uses oats and graham crackers.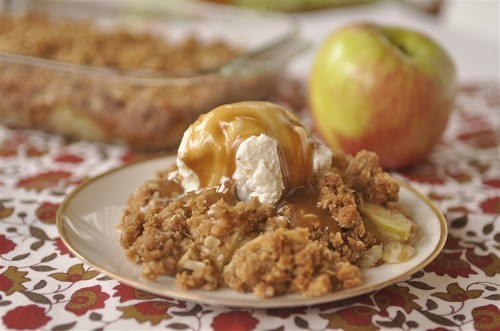 One word of caution:  when you reheat it in the microwave do not allow it to boil.  Warm it up slowly.  If it cooks too much the caramel sauce will get grainy and harden when you put it on ice cream or anything cold.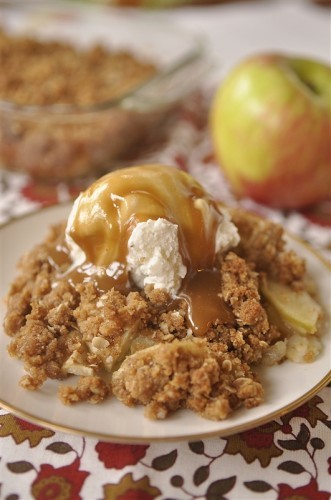 Caramel Sauce/Salted Caramel Sauce
Ingredients
1

C

brown sugar

1/4

C

light corn syrup

1/3

C

whipping cream

3

Tbsp

butter

1

tsp

vanilla

For salted caramel use 1/2 - 1 tsp coarse sea salt. Add salt to desired saltiness.
Instructions
Cook sugar, syrup and whip cream over medium heat for 5-6 minutes or until it reaches 230 degrees on a candy thermometer.

Stir in butter and vanilla.

Serve warm.

Refrigerate.

When reheating do not allow it to boil or it will get grainy and harden when put on ice cream.
Stay Updated!
Need more recipes and creative ideas? Sign up and get a FREE copy of my ebook! Do you think your friends would love this too? Please share my blog with them. Thanks!