These bacon wrapped dates will fly off the plate at your next party! They are sweet and crispy on the outside and there is a special surprise waiting inside of them too!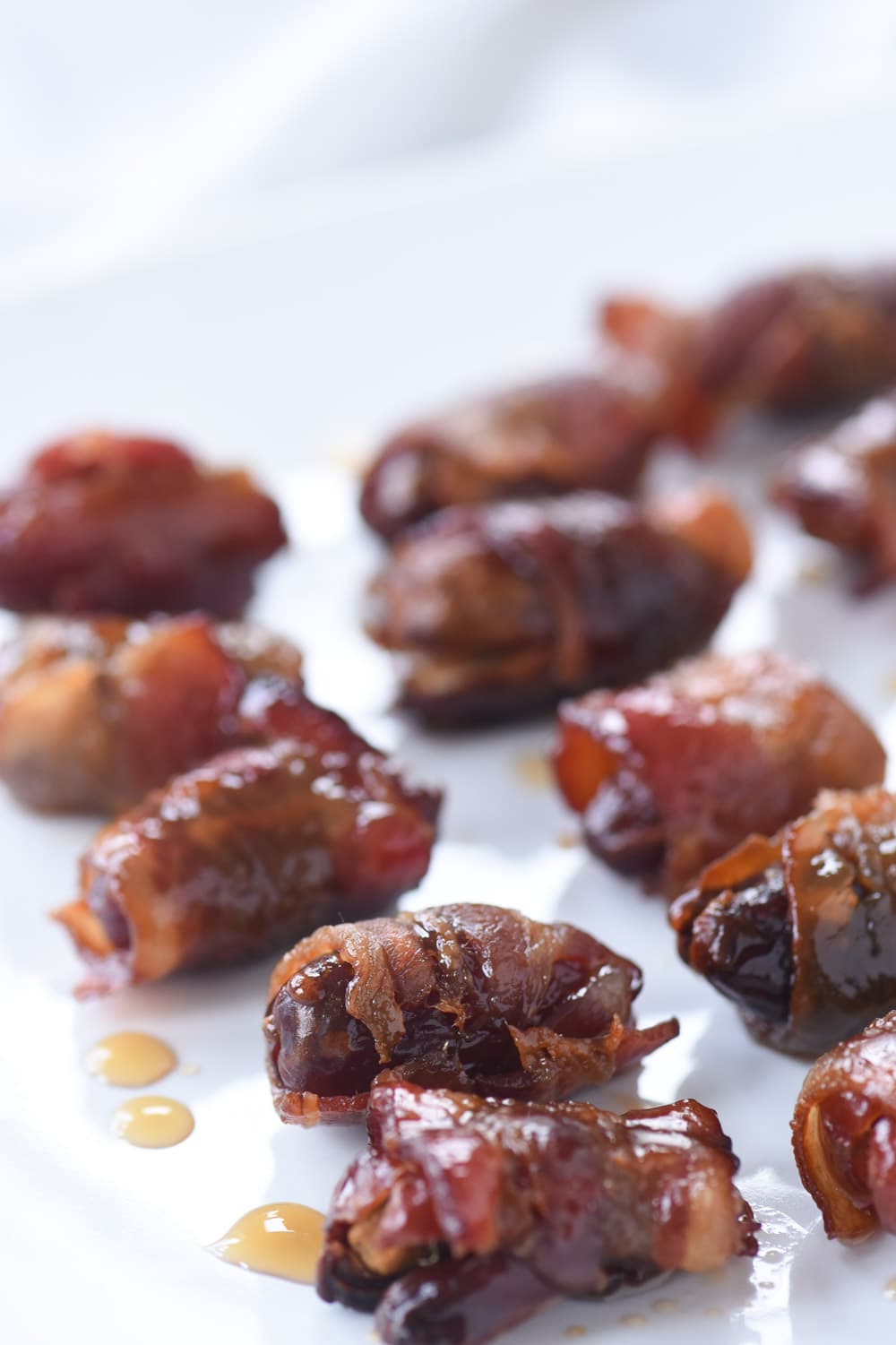 Why You'll Love This Recipe!
So I thought I didn't like dates. But I was wrong. At least when it comes to Bacon Wrapped Dates with Maple Syrup, I was wrong.
I first enjoyed perfect party appetizer at a Halloween party hosted by my neighbor. Jim tried them first and fell in love. He brought one to me and insisted that I try it, without telling me what it was. It tasted just like candy!
They are a quick and easy party appetizer that is easy to prepare ahead of time and bake right before you are ready to serve them.
They taste great warm and they are also delicious at room temperature so that makes them perfect for a party.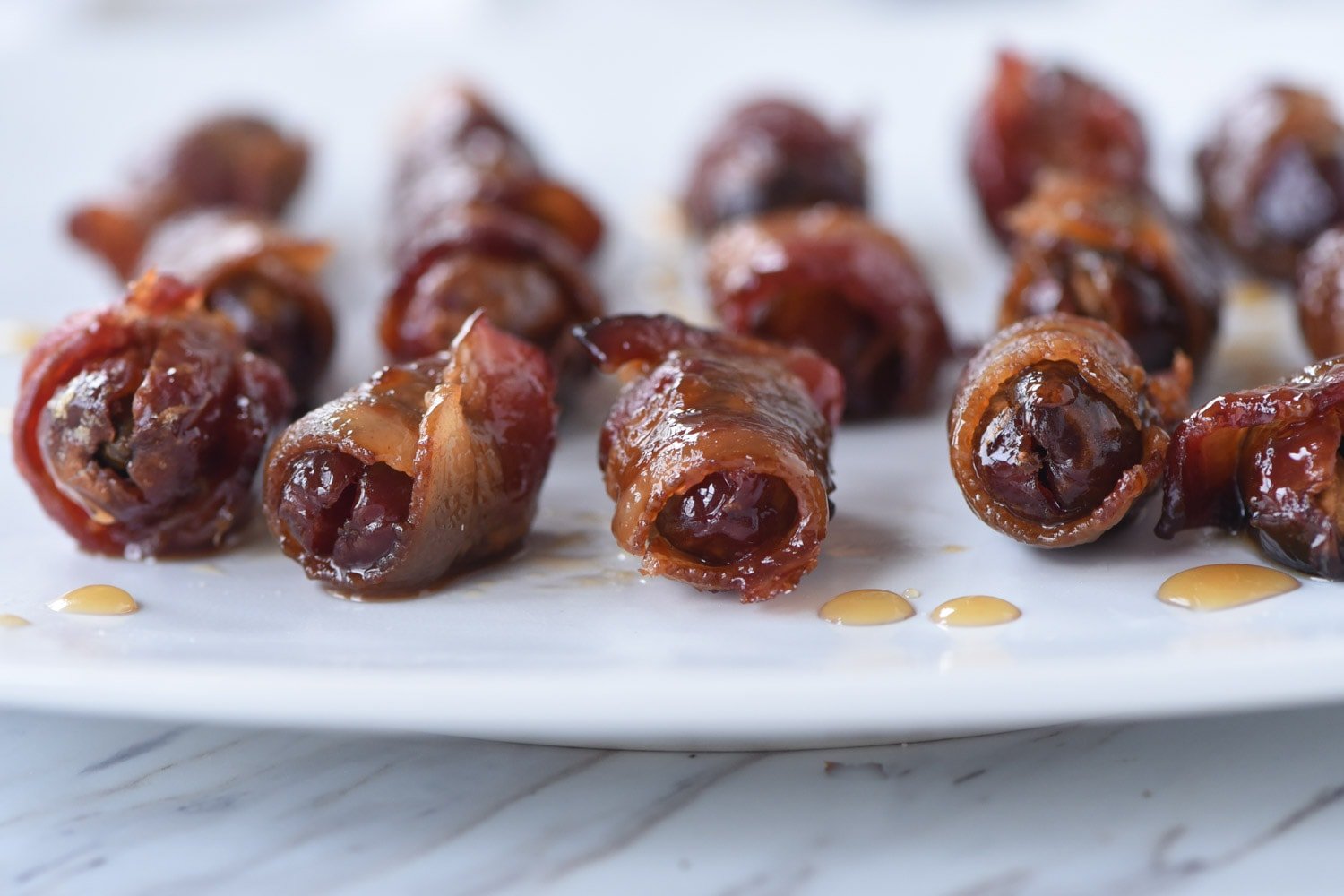 Ingredients Needed
Dates. I use Medjool dates. You want pitted dates so if they come with the pits, be sure and remove them.
Nuts. I used shelled pistachios but you could also use whole almonds or pecans.
Bacon. Use a thin bacon or prosciutto.
How to Pit a Date
With a small paring knife, make a slit into the date, about 1/8 inch deep or until you hit the pit. You don't want to cut all the way through. Open up the slit and pull out the pit.
You can also buy pre-pitted dates at the store which makes this an even quicker party appetizer.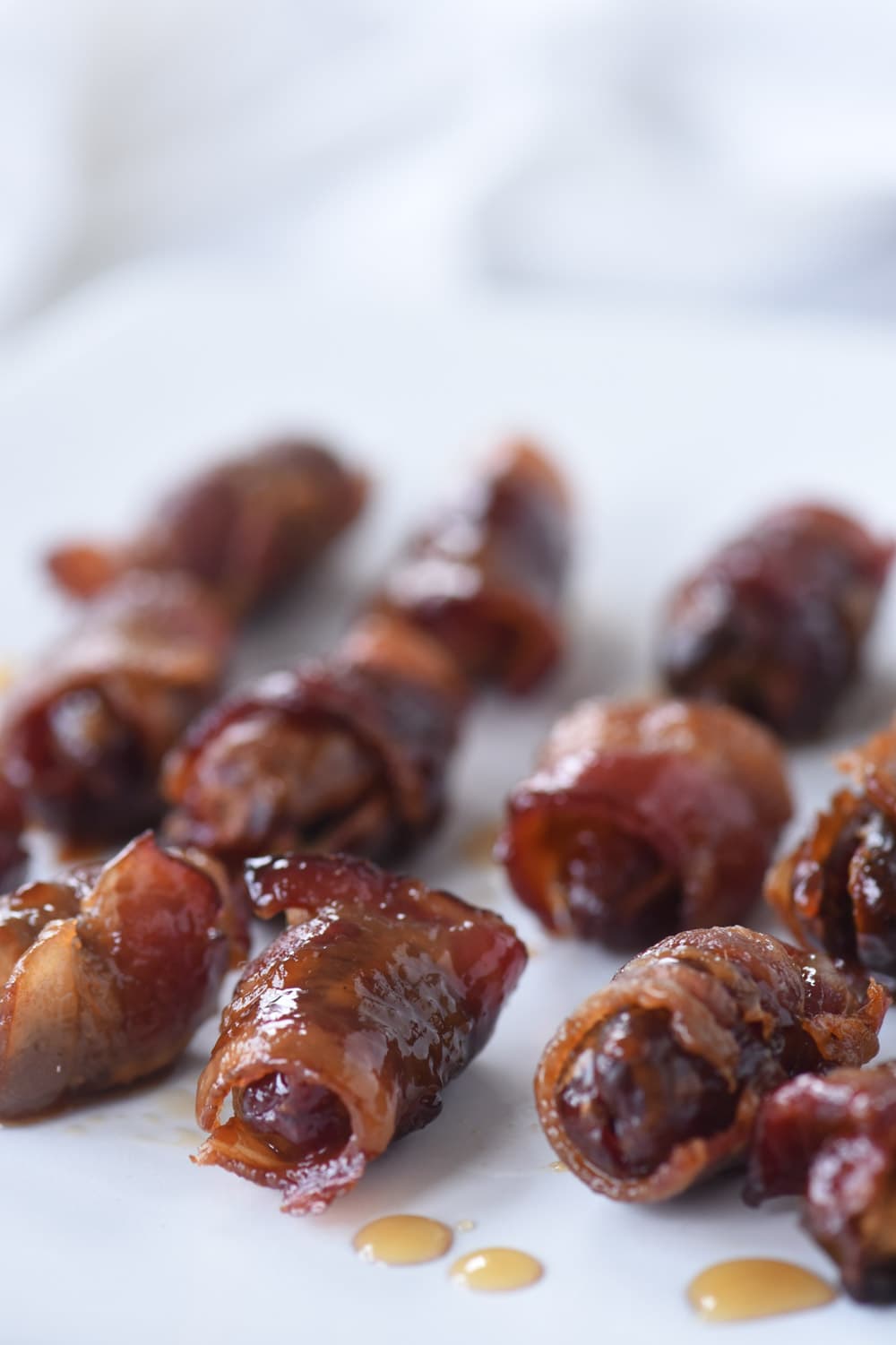 How to Make Bacon Wrapped Dates
Open up the slit and place 1-2 pistachio inside.
Press the dated closed.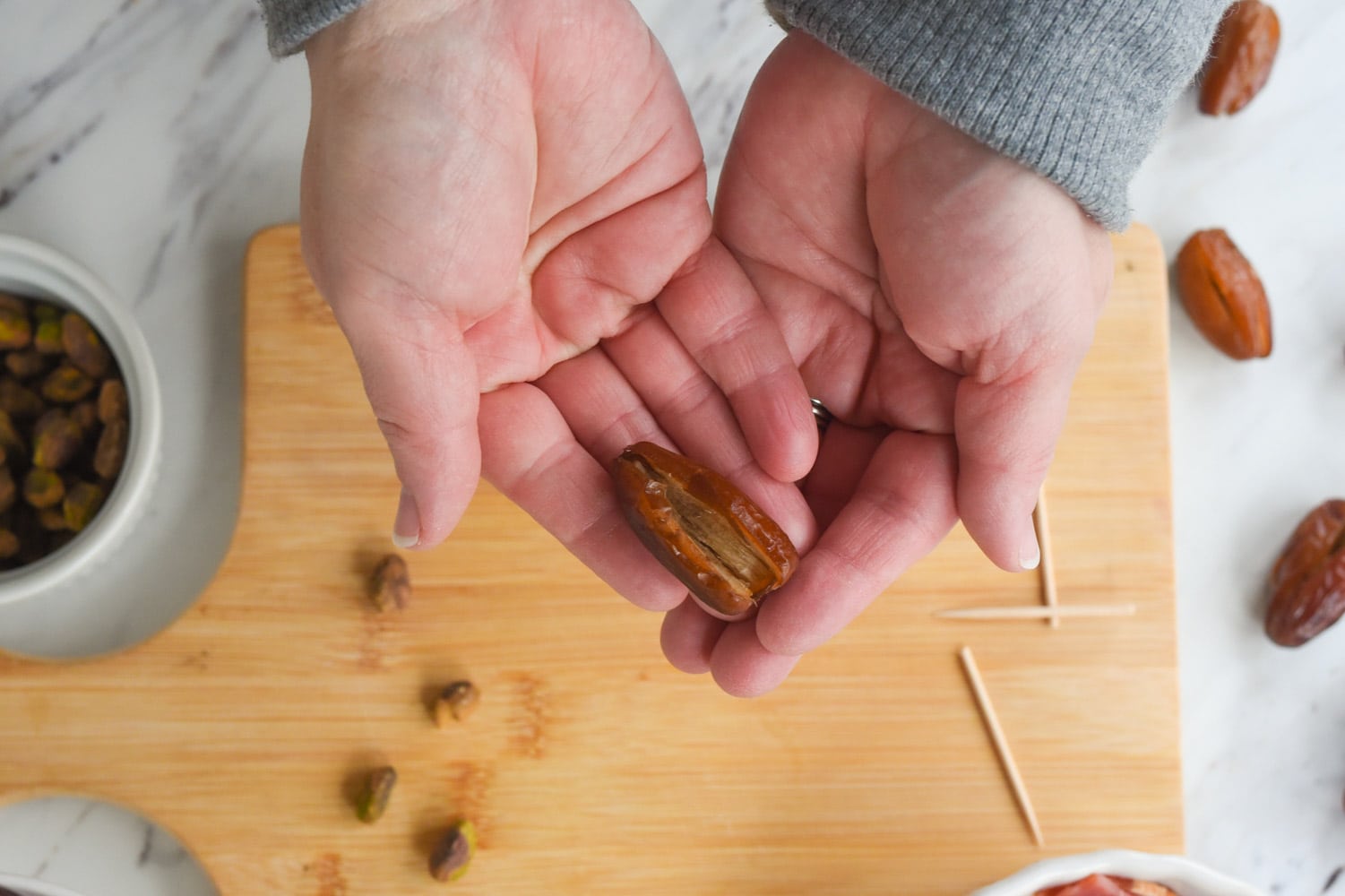 Cut each slice of bacon into 3-4 pieces. If you are using larger dates you will cut it into 3 pieces. Use thin bacon as thicker bacon takes longer to cook. You want the bacon to be long enough to wrap around the date with a little overlap and thin enough that it will cook quickly.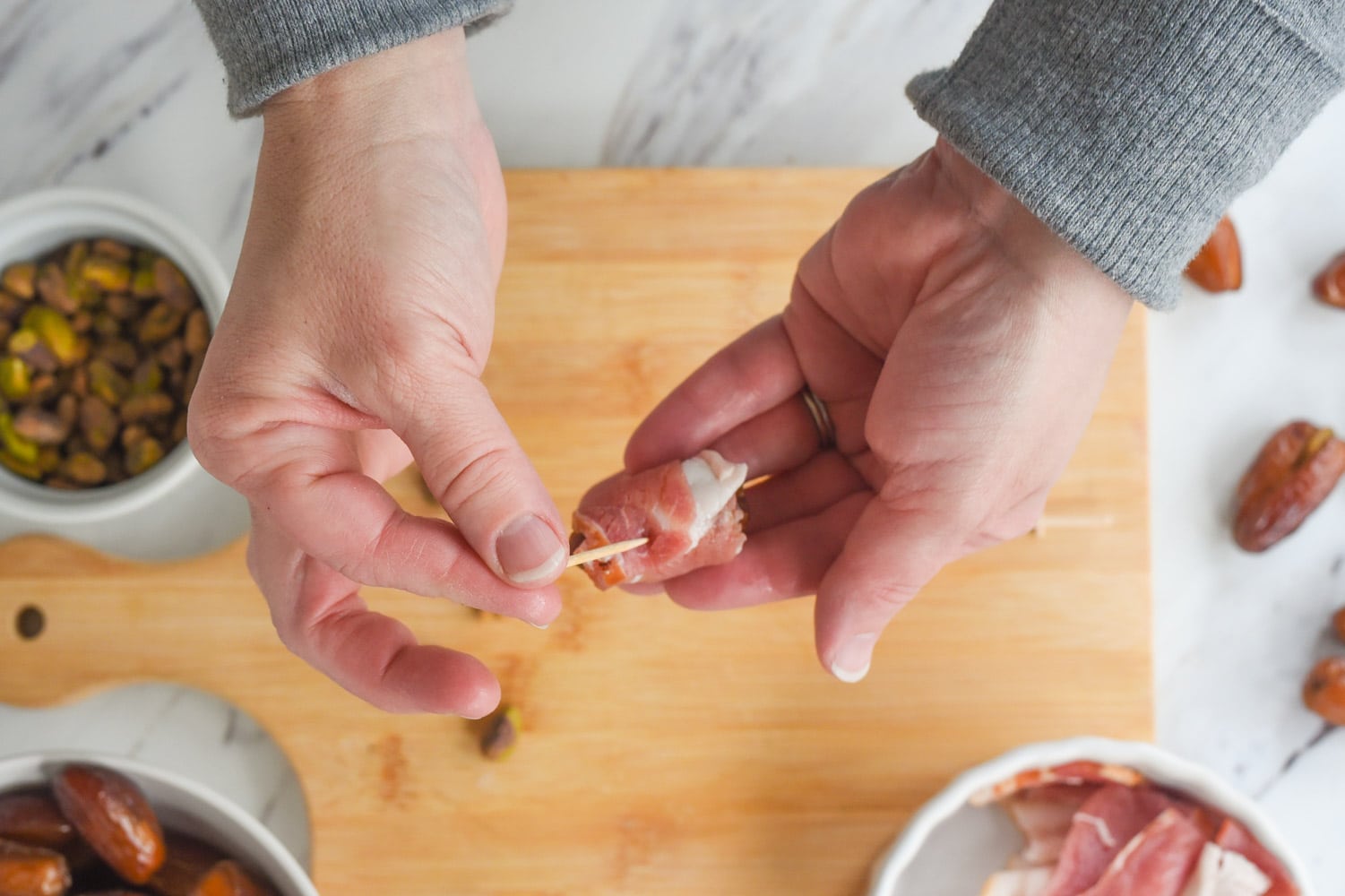 Place the bacon seam side down on a parchment paper lined baking sheet. Some of your bacon may come slightly unwrapped during the baking process but that's o.k.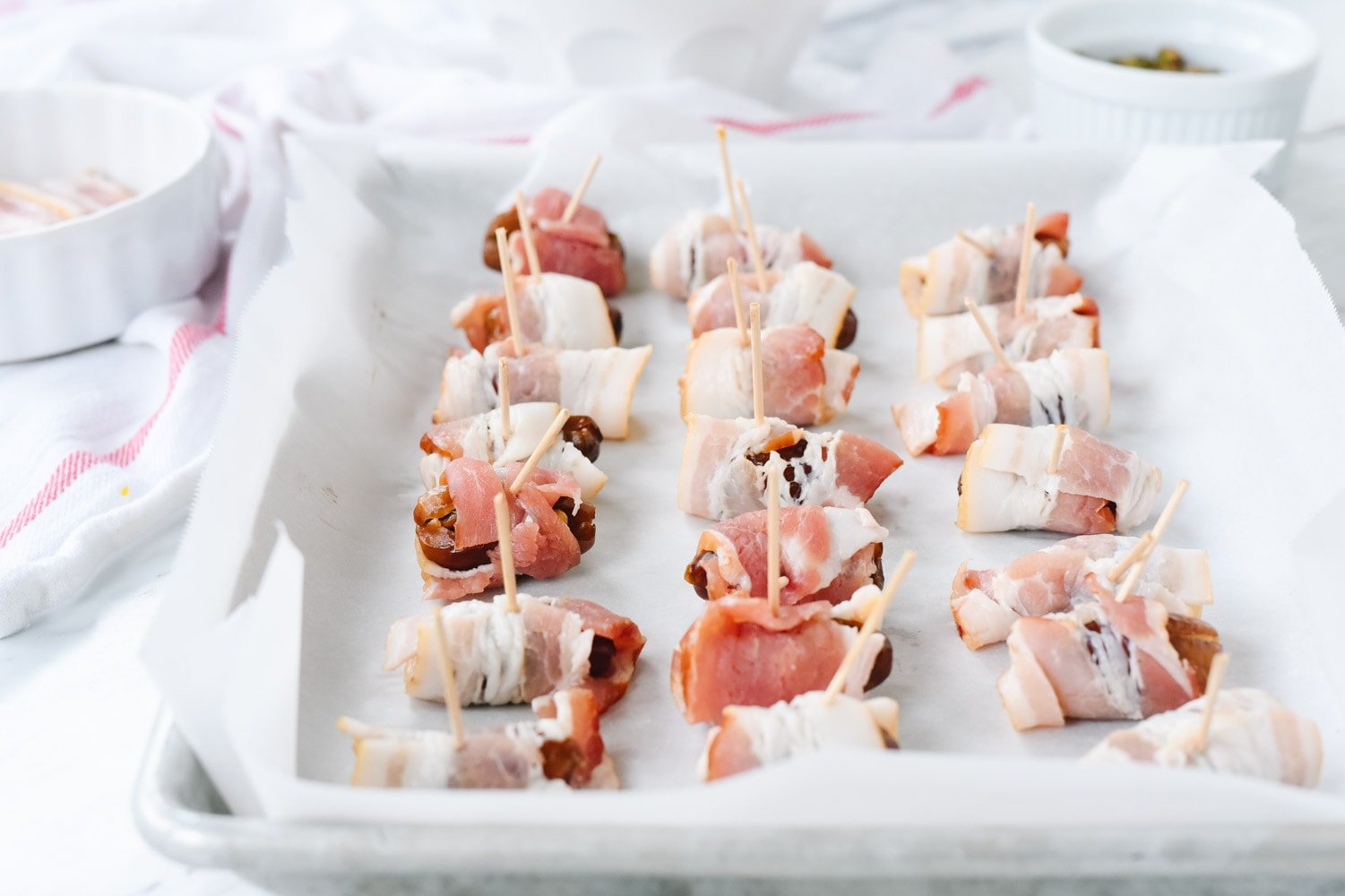 With a pastry brush, coat the bacon slices with some real maple syrup. It adds a nice touch of sweet and helps to caramelize the bacon.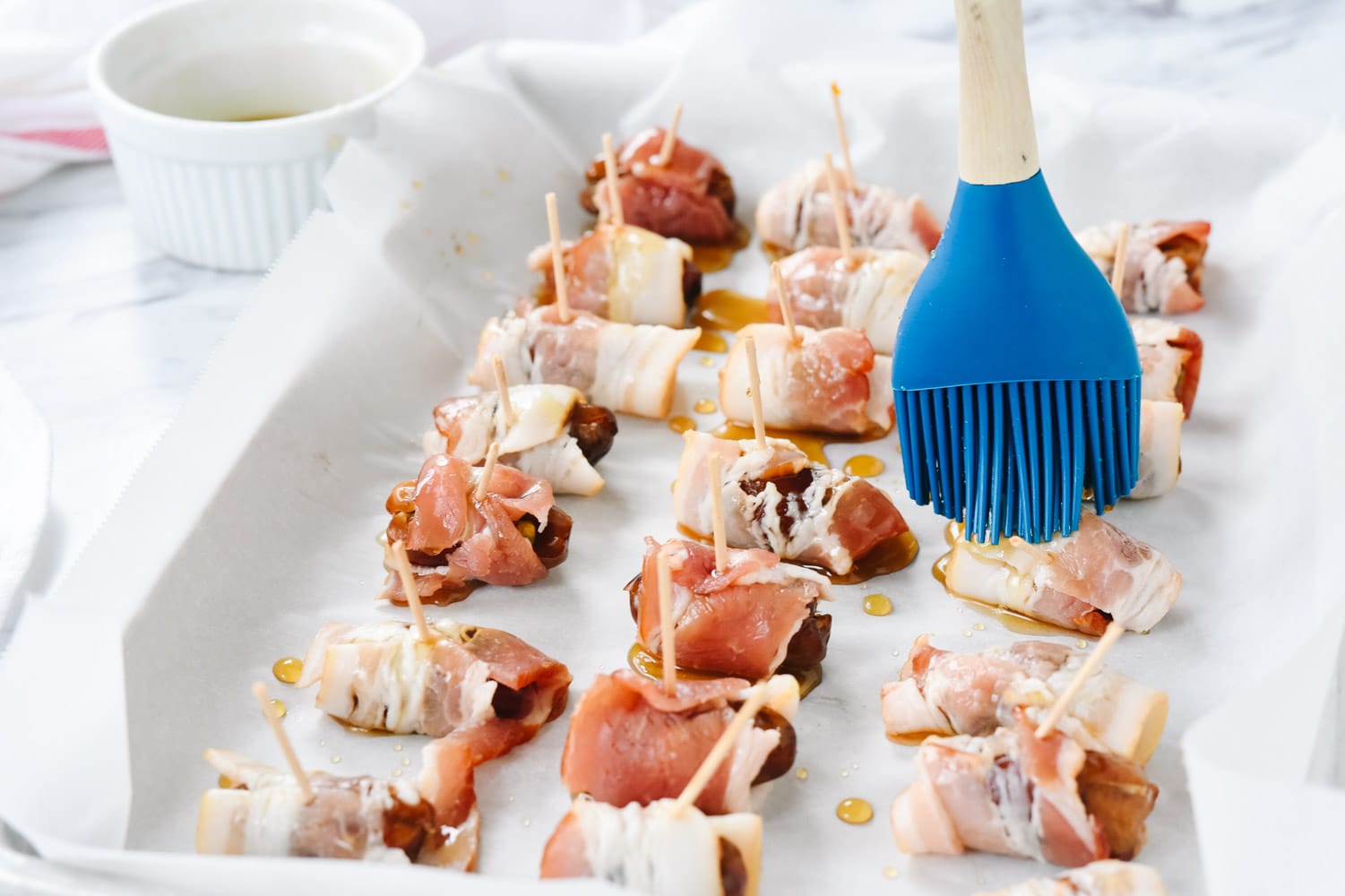 Bake them at 350 degrees F until crisp. The length of time will depend on the thickness of your bacon. I baked mine about 5 minutes and then flipped them over with a fork for another 5 minutes.
How to Reheat Bacon Wrapped Dates
Remove dates from the refrigerator and place on a sheet pan. Bake at 350 degrees F for 5-7 minutes or until dates are warmed through bacon has crisped up.
Stuffed Dates Variations
Stuff your dates with:
Goat Cheese
Cream Cheese
Blue Cheese
Wrap your dates with: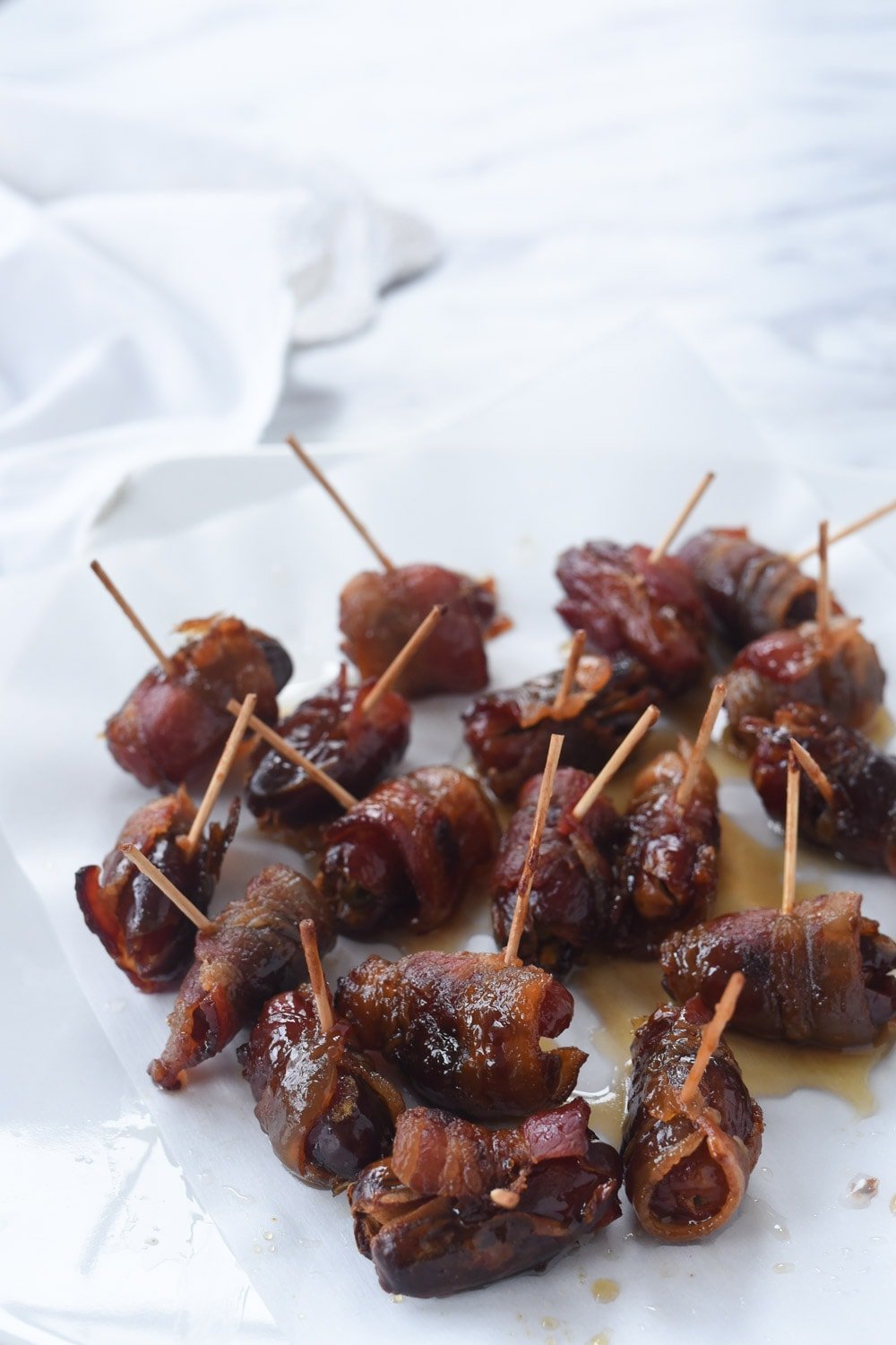 Frequently Asked Questions
Can I make bacon wrapped dates ahead of time?
The dates can be stuffed and rolled with bacon and then placed in an airtight container into the freezer. This makes for a quick make a head appetizer.  They will just take a bit longer to bake if they are frozen. Brush them with the maple syrup before putting them into the oven.

They can be made up to 8 hours ahead of time and kept in the refrigerator before baking.

Store any leftover baked dates in an airtight container in the refrigerator.
Where do you find dates in the grocery store?
They are usually found in the produce section of the grocery store.
Should I serve them with the toothpicks in?
You can serve them with the tooth picks in or without the tooth picks, which ever you prefer.  The toothpicks make it a little easier for your guests to grab one, or two or three!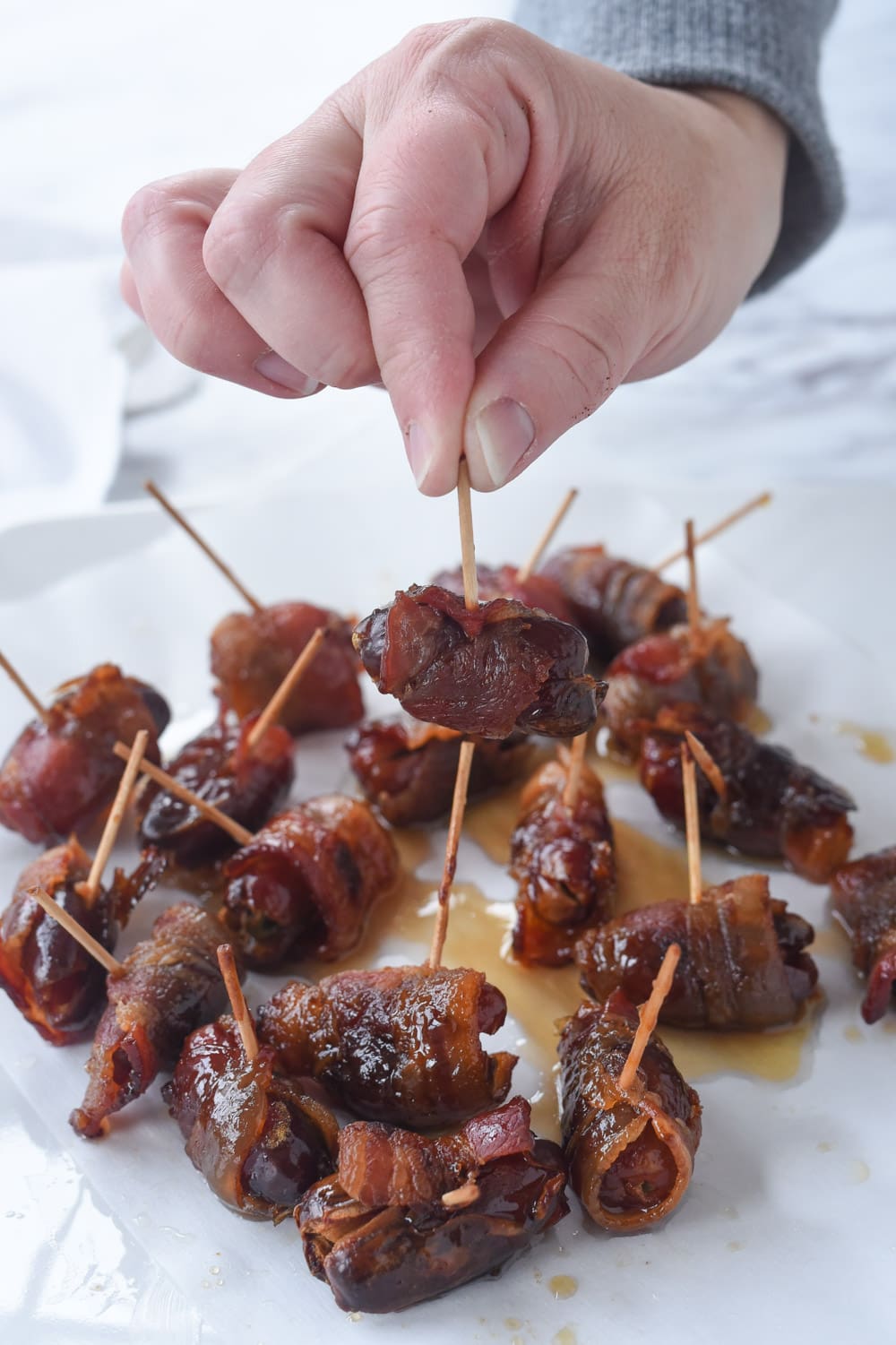 Some other favorite appetizers:
Be sure and follow me over on You Tube for weekly cooking demos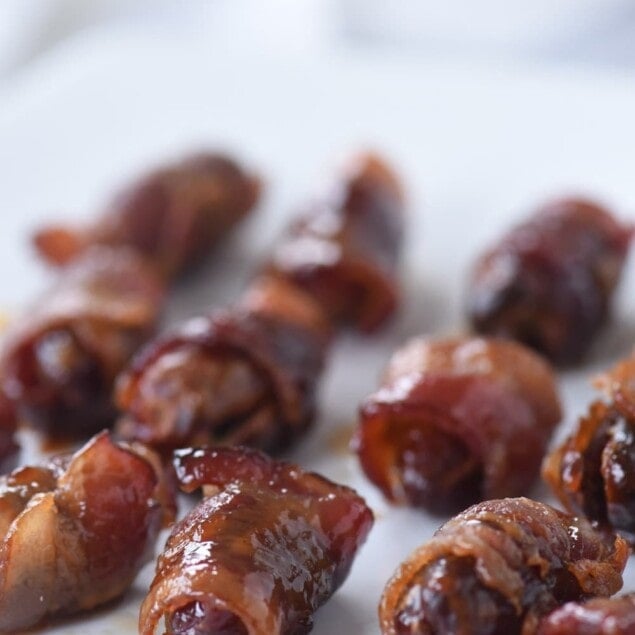 Bacon Wrapped Dates
These bacon wrapped dates will fly off the plate at your  next party!  There is a special surprise waiting inside of them too!


Ingredients
32 pitted dates or however many you want to make
32 shelled pistachios (32-64) 1-2 per date
1 lb. lean thin bacon, each strip cut into 3-4 pieces depending on size of date
1 cup maple syrup for drizzling
Instructions
Preheat oven to 350 degrees.

Make a slit in each date, if there isn't one already and stuff with 1-2 pistachios. Remove the pit if they are pitted.

Wrap each date with a piece of bacon so that the bacon just overlaps. Close with a toothpick.

Place seam side down on the cookie sheet.

Brush lightly with maple syrup.

Bake until bacon is crisp, about 5 minutes each side.

Dates can be made ahead of time and frozen.

Bake for 8-10 minutes per side if frozen.

Drizzle with additional maple syrup if desired.
Nutrition Facts:
Calories: 72kcal (4%) Carbohydrates: 12g (4%) Protein: 3g (6%) Fat: 1g (2%) Saturated Fat: 1g (6%) Cholesterol: 9mg (3%) Sodium: 10mg Potassium: 128mg (4%) Fiber: 1g (4%) Sugar: 11g (12%) Vitamin A: 4IU Vitamin C: 1mg (1%) Calcium: 16mg (2%) Iron: 1mg (6%)
* Disclaimer: All nutrition information are estimates only. Read full disclosure here.