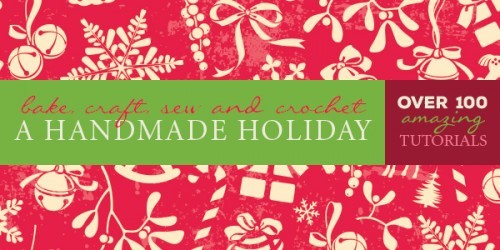 Today we are welcoming FoodApparel as part of our Bake Craft Sew series!  Be sure to visit their  blog to enter the Blendetec Giveaway and then check out what Mique and Cindy are sharing as part of the Craft and Sew!
Love Almond Roca but don't love the price tag? Well, it's your lucky day! Now you can make amazing Almond Roca at home!
Hi All! We're Tam and C from FoodApparel.com. And guess what? We love food! The focus of our food blog is to learn how to alter recipes to fit your unique style: from busy worker mom, to yoga fitness guru, to gourmet foodie fanatic!
We are so excited to be contributing this recipe to the Holiday Bake Craft Sew 2014. When you talk about edible Christmas Gifts, we are all game! In fact, candy making and the sorts are kind of one of our crazy passions. There's nothing like a homemade touch on all of the treats and goodies. We're always whipping up something from Soft Caramels, to Peppermint Marshmallows, to a nice batch of Orange Pecan Biscotti to dip into your hot drinks.
Today we are sharing with you a delicious little candy recipe for Almond Roca. This popular toffee-based treat gets eaten up like mad during the holiday season. But guess what? It usually comes with a hefty price tag. Not so with homemade! Five ingredients: butter, sugar, corn syrup, almonds, chocolate. It's made on the cheap, but is the real deal!
Guess what else? If you think you like the packaged stuff, you'll rave over the homemade! Fresher is better, right?
Now perhaps candy making sounds intimidating to you. You've heard many a story of a crystallized mess of sugar and burnt pan bottoms. But have no fear. We're including some tips and tricks (and pictures) to help you come out with the perfect batch! And also, this can just be a great excuse to "practice" a few times to make sure you get it down.
The hardest part about this recipe is knowing when to get the mixture out of the pan and quickly onto the sheet pan and spread out without scraping the pan. It's absolutely crucial that you have a candy thermometer so when it hits that perfect temperature you are jumping into action. Once you get the hang of it, your eyes and nose will also be of great assistance, with the candy thermometer simply acting as the final assurance. When that happens, the only hard thing is being able to resist eating way too much!
Tips and Tricks:
Use a "heavy metal" pan. Non-stick doesn't work so great for candy making. Heavier pots promote more uniform heat distribution and help prevent burning.
Heavy pot, wooden spoon, and candy thermometer work wonders!
Having the butter in with the sugar from the get-go helps tremendously with preventing crystallization. However, we do recommend using just a little bit of corn syrup (which is an invert sugar) that also aids with this.
Stirring in figure eight pattern is great. Caramel streaks means almost done!
Another tip to avoid crystallization or weird texture issues is that when stirring, use a figure eight pattern to simply swirl everything around. DO NOT SCRAPE SIDES OR BOTTOM OF PAN. There will be a couple ooey gooey sticky and perhaps burnt caramely spots in the pan when you're done and that's okay. You just don't want that getting in the roca.
Avoid the temptation! Don't scrape!
Have your greased cookie sheet and spreading tools ready in advance. You want to be 100% prepared when the candy hits the right temp – like, the second it hits the mark, you want to take it off the heat, add the chopped almonds, pouring that stuff out and spreading, like BAM BAM BAM! The mixture cools quickly, so there is no time to waste.
BAM….
BAM….
BAM….
and BAM!
Specific Tools & Ingredients That We Use And Love (if you want specific links for these products, head over to our blog):
Digital Candy Thermometer
Metal Offset Spatula
Ghirardelli Dark Chocolate Chips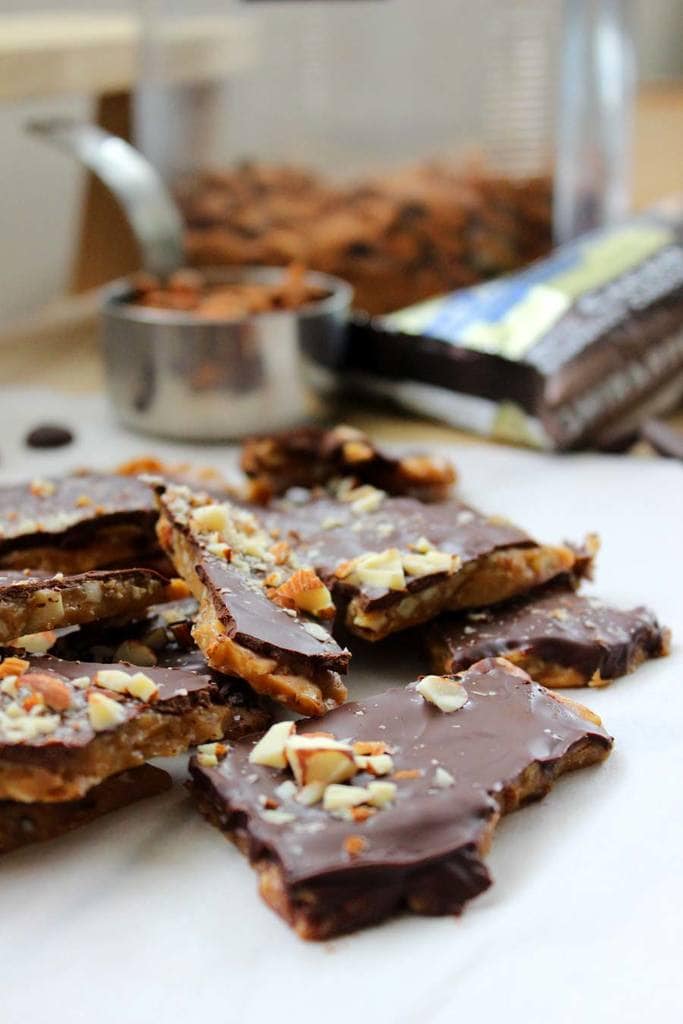 Almond Roca
Homemade Vanilla Extract | Maple Cinnamon Roasted Almonds | Soft Caramels | Chocolate Biscotti with Cinnamon and Cocoa Nibs
We're also be posting some new candy recipes that we are currently developing starting the first week of December that will be fun and delish so make sure to come back and visit often!
Get my Weekly Menu Plan for FREE!
Receive my FREE "What's for Dinner?" Meal Planning Course, a copy of my FREE ebook that includes my most popular recipes and my FREE weekly Meal Plan.