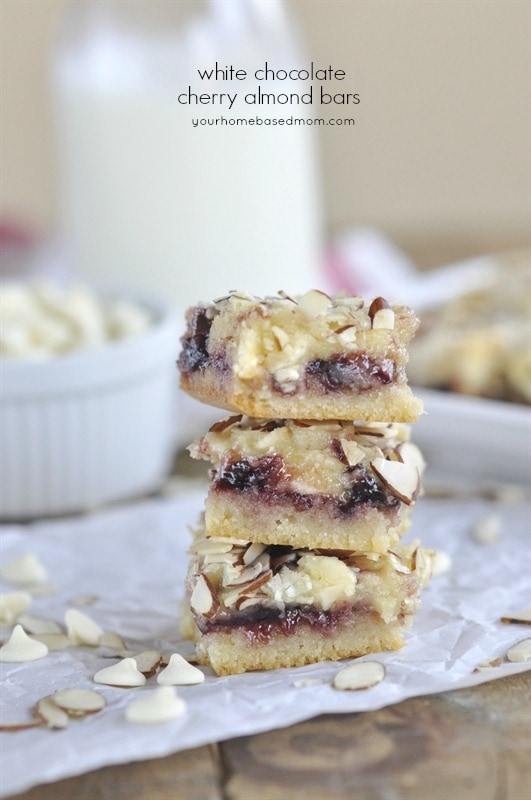 The countdown is on and I am more ready this year for Christmas than I think I have every been.  I'm not sure what's wrong with me??!!  My shopping is done and wrapped.  Yikes!  The only problem with that is I have a tendency to keep shopping.  Oops!
We had a wonderful Thanksgiving and I loved every minute having all five kids home.  They have all returned to their respective homes and the sheets are washed and beds are made and ready for most of them to return the week before Christmas.  We are in full Christmas mode around here and I bet many of you are too.  With the Bake Craft Sew series in November we shared lots and lots of yummy holiday treat ideas so I hope you found some great ideas to try out.  If you didn't I am sure you will today!  I am joining together with some of my favorite bloggers to bring you a virtual Christmas Cookie Exchange.  I haven't been to a real, live cookie exchange in years but this virtual one is almost as fun.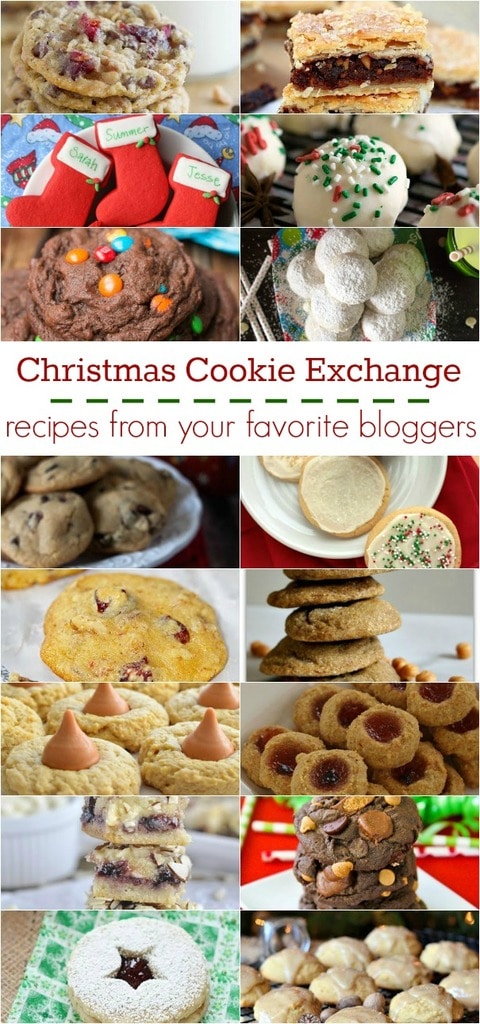 Be sure and v isit all my blogger friends and check out what they are bringing to the cookie exchange.  Me?  I brought white chocolate cherry almond bars!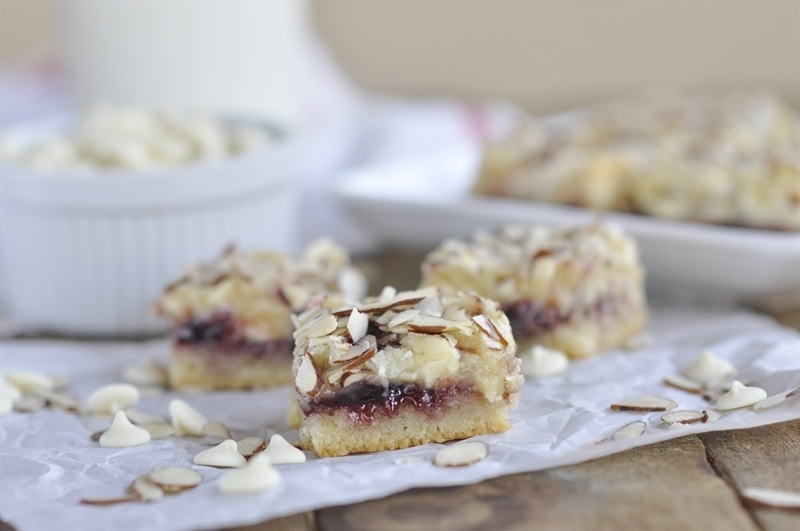 These White Chocolate Cherry Almond Bars are delicious and would be perfect for your holiday cookie plates and exchanges.  I love making bar cookies when I'm doing a lot of baking because I can bake it all at one time and it helps with oven space.  These bars use cherry preserves (buy yourself a good quality brand,  I like Bonne Maman brand the best. )
The base of the bars is a mixture of butter, sugar, eggs, white chocolate, almond extract and flour.  You press half the mixture into the bottom of your pan and bake for about 20 minutes.  Then top with your cherry preserves.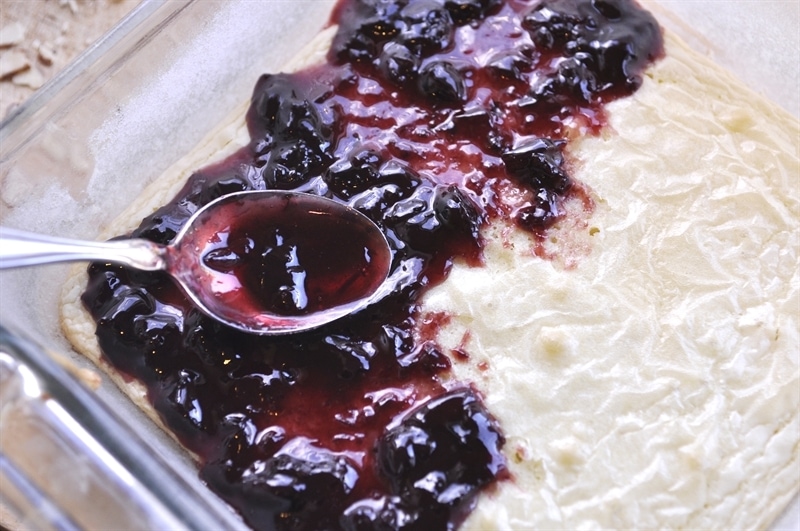 Add in some more white chocolate chips into the remaining batter and place over the top of the preserveds.  Then sprinkle with sliced almonds and return to the oven.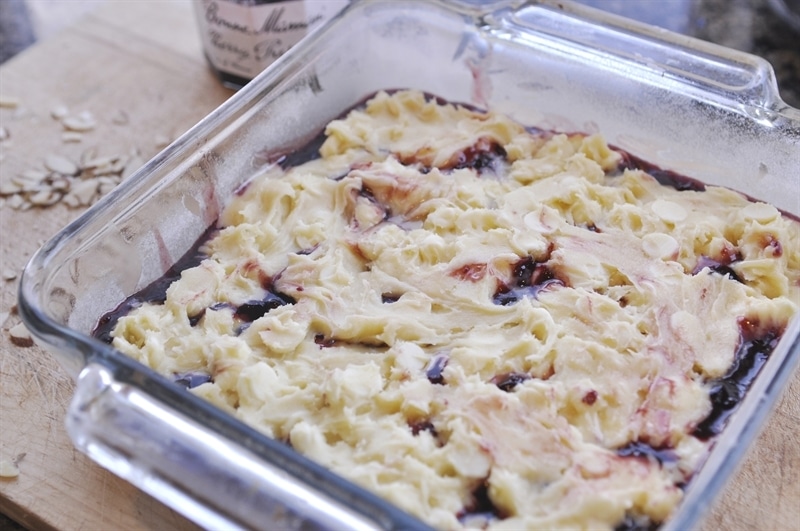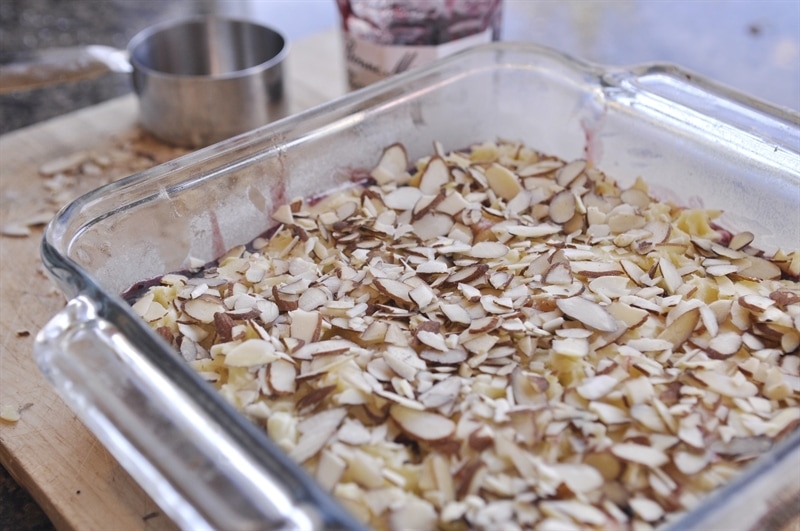 Allowing them to cool before slicing will be a lot easier!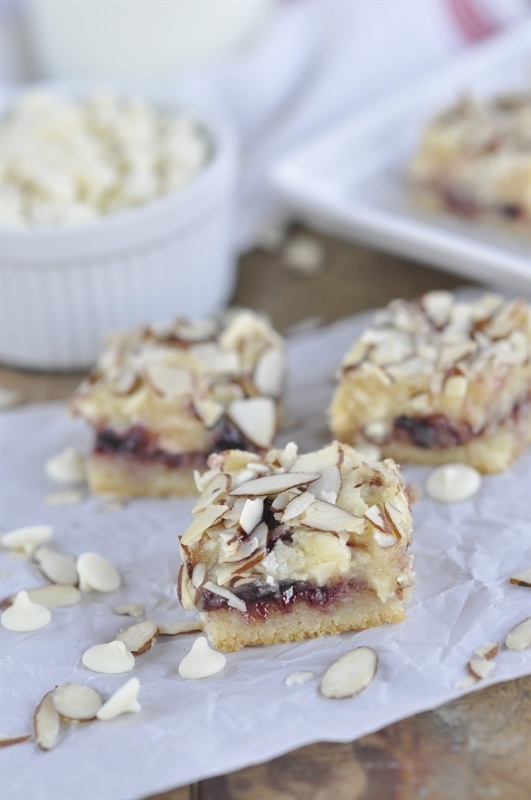 These bars are pretty and delicious!  Enjoy!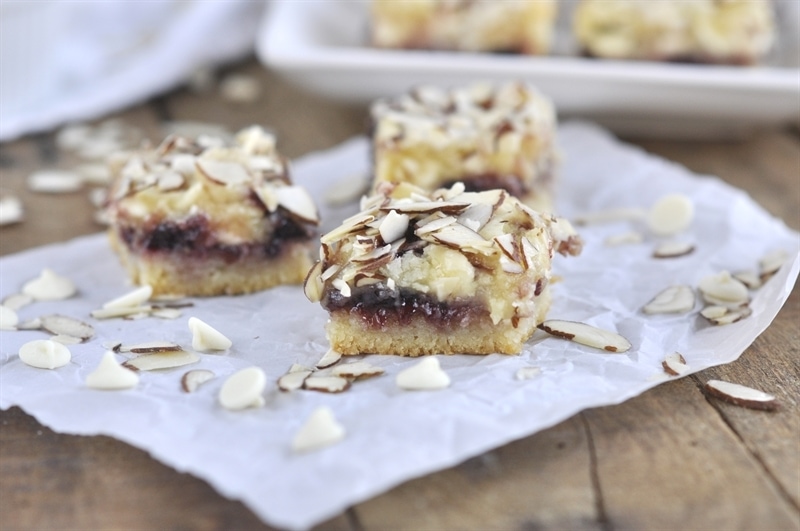 I also want to mention a great charity that I hope you'll check out. It's Santa's Milk Drive and they are part of the Great American Milk Drive. They urge people to donate more milk to local food banks. Food banks are in need of milk and the best part is that you can donate right on your computer.  It's very simple and a big plus is when you go  to the site to donate, you simply type in your zip code and the donation and the milk will be distributed to a food bank in your local area. You know you will be supporting your own community.
Now go visit all my friends!
Caramel Filled Chewy Ginger Cookies from 365 Days of Slow Cooking
Italian Anisette Cookies from A Family Feast
Cranberry Orange Nut Cookies from Apron Strings
Orange Cranberry White Chocolate Stuffed Cookies from Barbara Bakes
Soft Pumpkin Cookies + Pumpkin Spice Kisses from Bless this Mess
Soft Maple Sugar Cookies from Crumbs and Chaos
Graham Cracker Log from Hoosier Homemade
Rugelach Bars from Let's Dish
Pepper Jelly Cornmeal Thumbprints from Letty's Kitchen
Chocolate Peanut Butter Cup Cookies from Love from the Oven
Linzer Cookies from Mandy's Recipe Box
Surprise-inside Christmas Stocking from Munchkin Munchies
Chocolate M&M Cookies from Oh, Sweet Basil
White Chocolate Pecan Snowball Cookies from Rose Bakes
Chocolate Toffee Cranberry Cookies from Taste and Tell
White Chocolate Cherry Almond Bars from Your Homebased Mom
Spiced Eggnog Cookies from Will Cook for Smiles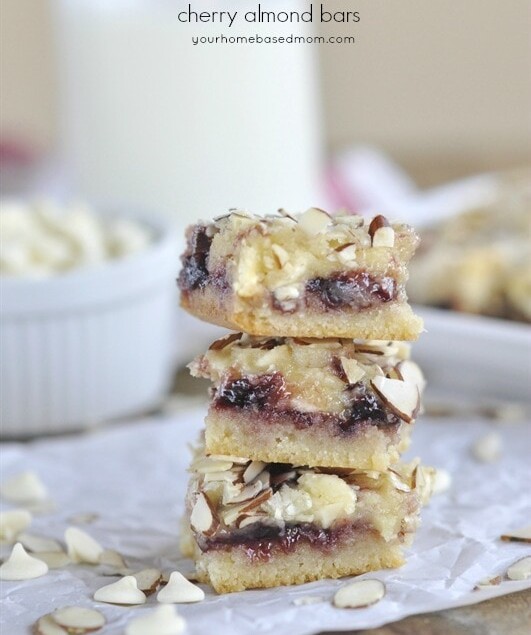 White Chocolate Cherry Almond Bars
Ingredients
1/2 C butter
1 12 oz. pkg. white chocolate chips divided
2 eggs
1/2 C sugar
1/2 tsp almond extract
1 C all purpose flour
1/2 tsp salt
2/3 C cherry preserves
1/2 C sliced almonds
Instructions
Preheat oven to 325 degrees.

Grease and flour a 8 x 8 pan.

Melt butter in a pan over low heat.

Remove from heat and add in 1 C white chocolate chips, do not stir.

Beat eggs in mixer until foamy.

Add in sugar, mix until blended.

Add in white chocolate mixture and almond extract. Mix until blended.

Add in flour.

Spread half of batter into prepared pan.

Bake at 325 degrees for 20 minutes or until golden brown

Melt cherry preserves in a sauce pan over low heat.

Spread over partially baked bars.

Add in 1 C white chocolate chips into remaining batter.

Spread over top of preserves.

Sprinkle with almonds

Bake at 325 degrees for 25 more minutes or until lightly browned.

Cool completely and slice.