A complete packing list and guide for what to pack for a Scandinavian Cruise.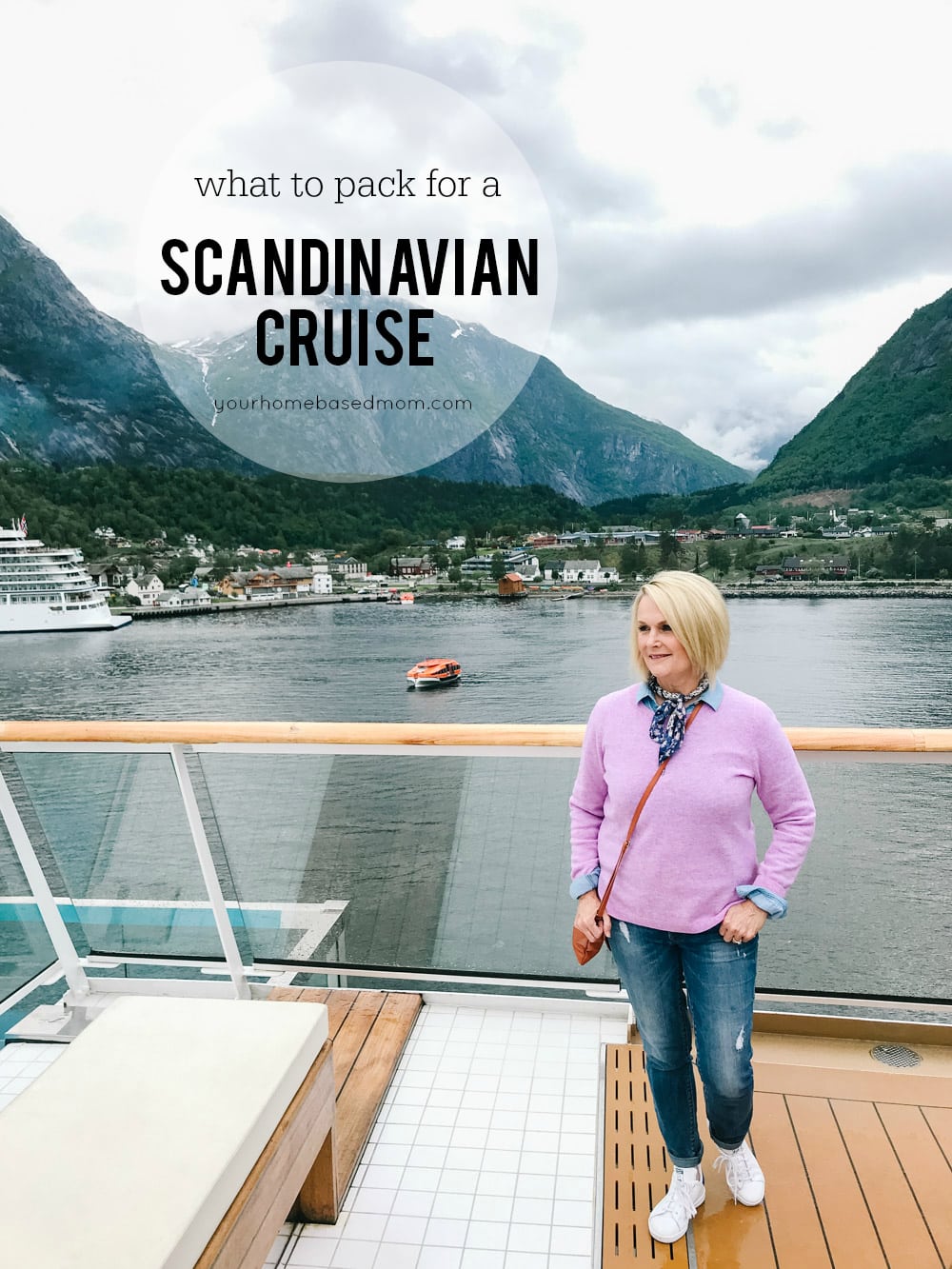 Last week my husband and I returned from a Scandinavian Cruise with Viking Cruises. We took the Majestic Fjords and Vibrant Cities Ocean Cruise. Neither of us had ever been to this part of the country so we were excited to explore and visit.
As we traveled, I shared photos in my Instagram stories and I got lots of questions about what I wore on the cruise so today you are getting a post on what to pack for a Scandinavian Cruise. Having never been to that part of the world before, I was a little unsure of what the weather would be like. One thing I learned was, whatever the weather forecast says the weather will be, you can pretty much plan on it being something different! A few days before the cruise, my husband printed off a 15 day weather forecast to help with what we should pack. Pretty much every day's weather was different from what the forecast said it would be!
Packing Tip:
The number one tip I have for packing for a Scandinavian Cruise and how to dress for travel in Scandinavia is LAYERS! We had weather anywhere from 75 degrees to 45 degrees with both rain and sun. Sometimes we had that temperature fluctuation all in one day!
So my best tip for packing for a Scandinavian Cruise is be prepared, be flexible and dress in layers!
When traveling internationally, I often try to pack everything in a carry on. It makes moving from city to city easier, but since we were cruising and would be staying in one place (the ship) I decided to check a bag. Since I had to bring clothes for cold weather and warm weather, having more space in a checked bag was really nice.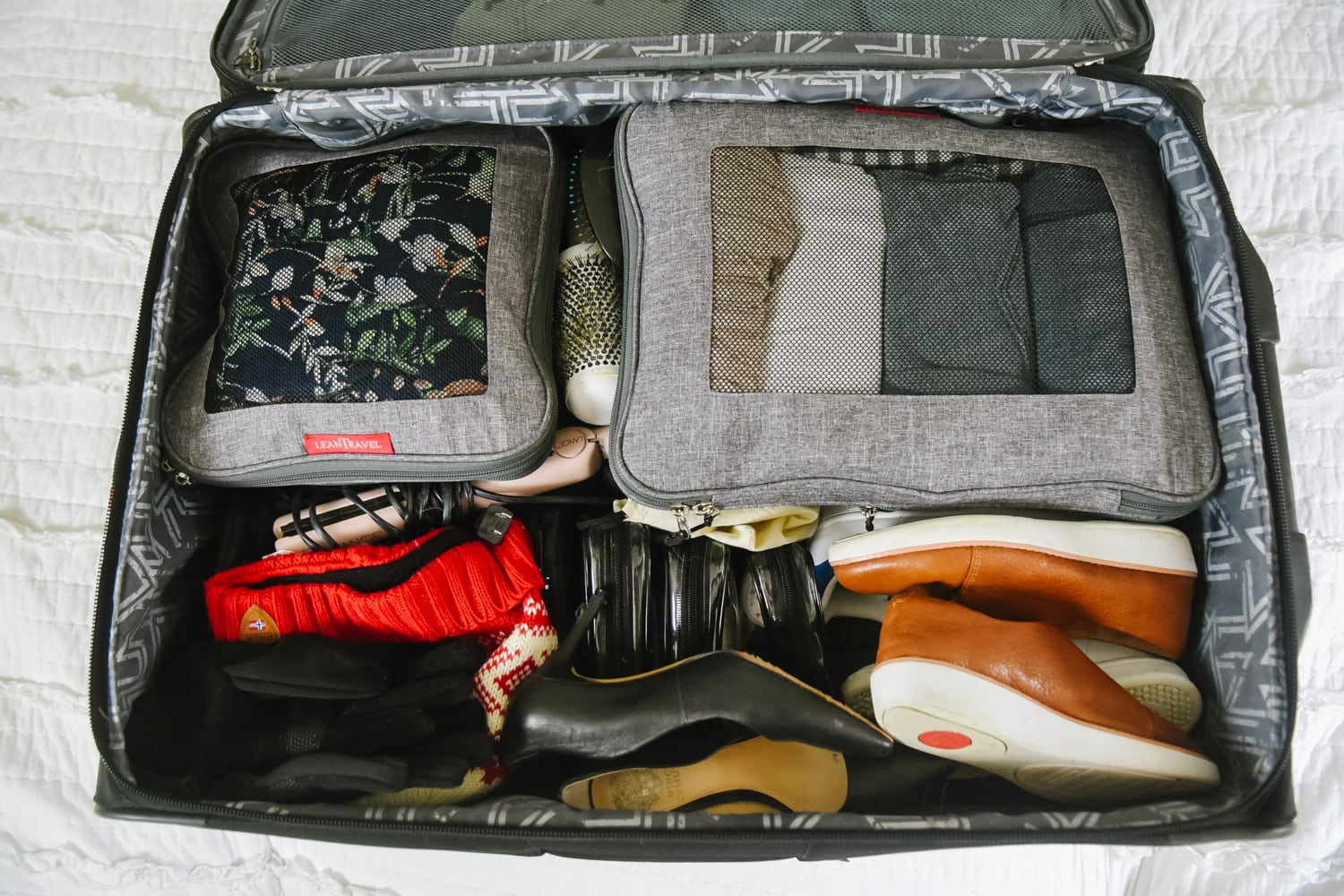 When we returned from our trip, I showed a photo of my suitcase on Instagram. One comment I got was, how does your suitcase look so neat and tidy! My secret is packing cubes. A friend introduced me to them several years ago and it has revolutionized my packing!
What are Packing Cubes?
They are the ultimate luggage organizers. Not only do they maximize the space in your suitcase but they keep everything organized. You get more clothing into less space and your clothes are less wrinkled. Here is what my suitcase looked like when I returned from our trip.
I used two sets of the Lean Travel Packing Cubes. My husband also has his own set of packing cubes which he loves too.
The cubes have a double zipper extra compression feature which reduces the packing cube thickness from four inches down to 1 – 1 1/2 inches, giving you more space in your suitcase!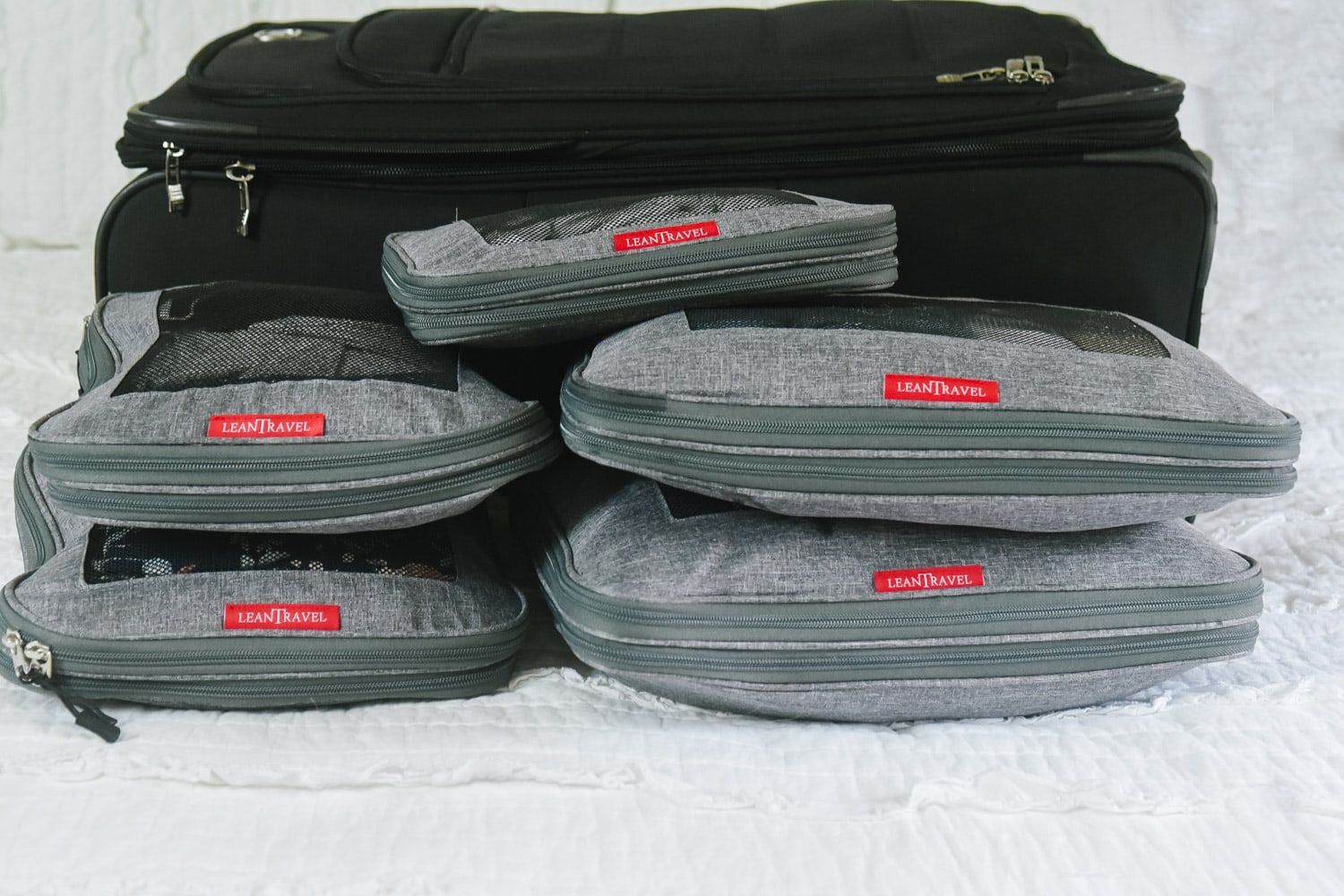 How to Use Packing Cubes
You can either roll your clothes or just fold and layer them in the cubes. I have done both and found that both ways work fine. If I am moving from place to place on a trip I just leave everything in my packing cubes but on the cruise, I did take my clothes out of the cubes and put them into drawers and the closet.
Note: All photos of outfits were taken on my phone so the quality isn't the greatest.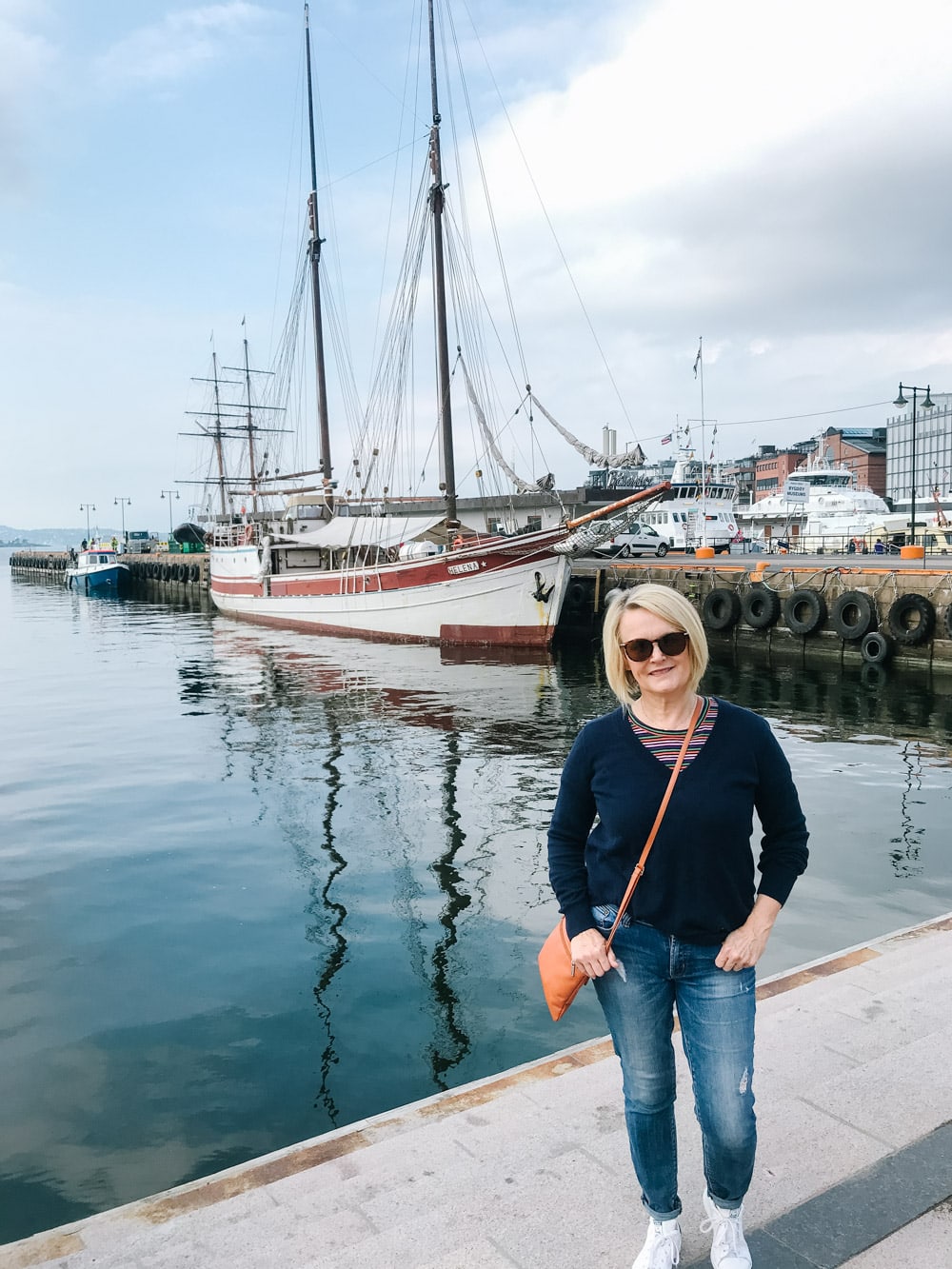 What to pack for a Scandinavian Cruise?
Our cruise included stops in Denmark, Germany, Sweden and Norway and we were traveling in May. As I mentioned, the weather fluctuated a lot so I needed to be prepared for just about everything so I brought a lot of layers! I brought long sleeve and short sleeve tops and sweaters that could be layered and worn with each other.
Pick a color scheme: Pick 3-4 colors. I went with navy, pink and tan. Each sweater/top could pretty much be worn with each pair of pants I brought.
Lay everything out on a bed so you can see the big picture – I like to do this about a week before the trip so that I can have time to look things over and play with outfit possibilities and also see if there is a hole where I might need to buy something new.
Mix and match your outfits, make sure every piece goes with at least 2-3 other pieces – the only exception to this rule is dresses although I make sure they also go with the jackets I am taking.
Put together outfits and take pictures of them on your phone – this is super helpful and a great way to simplify things.
I definitely could have gotten away with fewer items but I had the space and I like having options! If you are trying to fit everything in a carry on you could bring 1-2 fewer of each item.
Light weight sweaters:
The sweaters could be worn by themselves or could be layered over the short or long sleeve t-shirts or shirts I brought.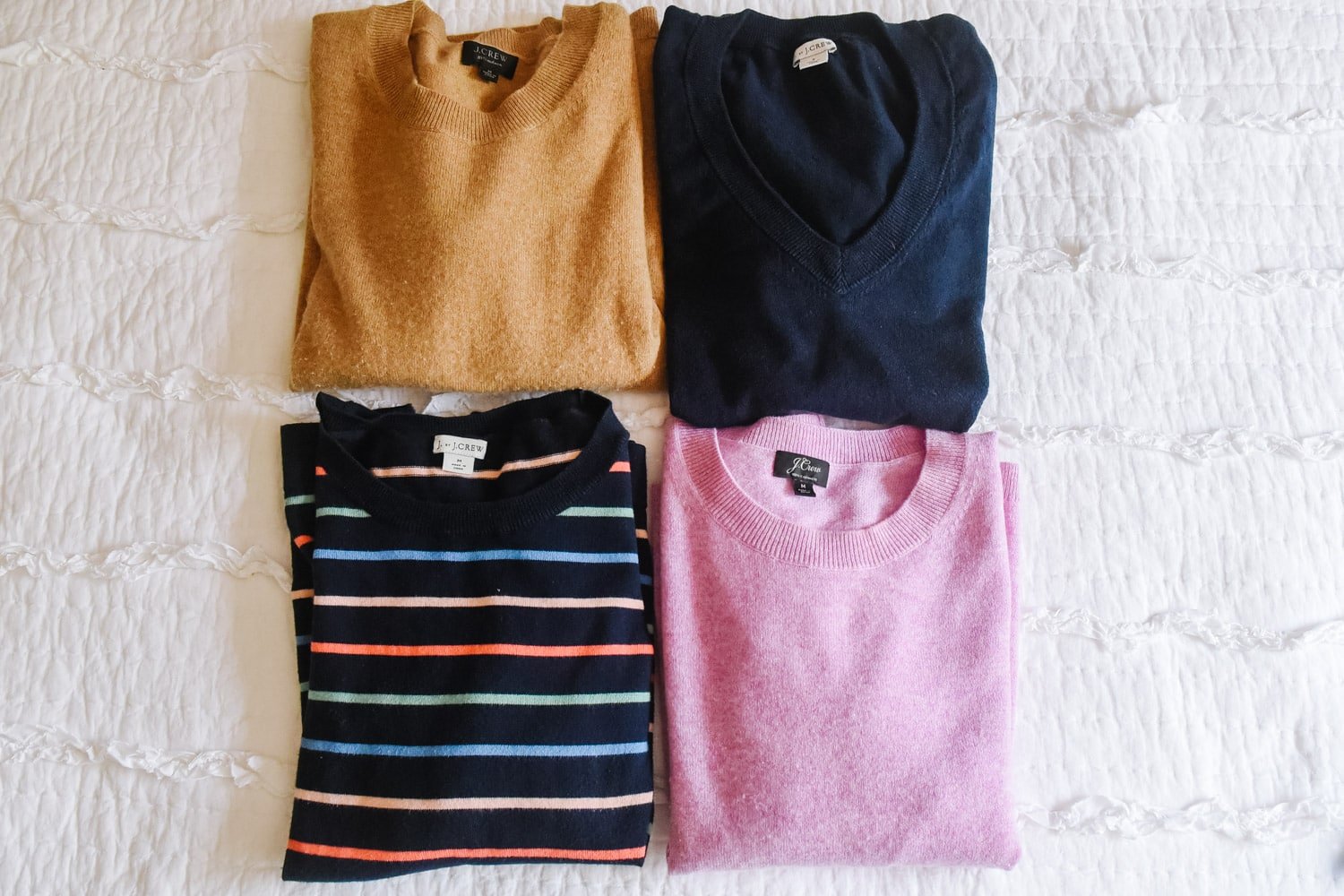 Tan and Pink Cashmere Sweater/ Striped Sweater ( last year from Jcrew Factory) /V-Neck Sweater
T-shirts and Tops:
I brought two short sleeve t-shirts (bottom right), one long sleeve t-shirt (blue and white stripe) as well as two short sleeve tops (white and floral) and a long sleeve chambray shirt. Each shirt could be worn with at least 3 pair of pants, and the t-shirts and chambray shirt would be worn layered with the sweaters.
White top/ Striped Long Sleeve T-Shirt (similar)/ Chambray Shirt / Floral Top (similar) / Stripe T-shirt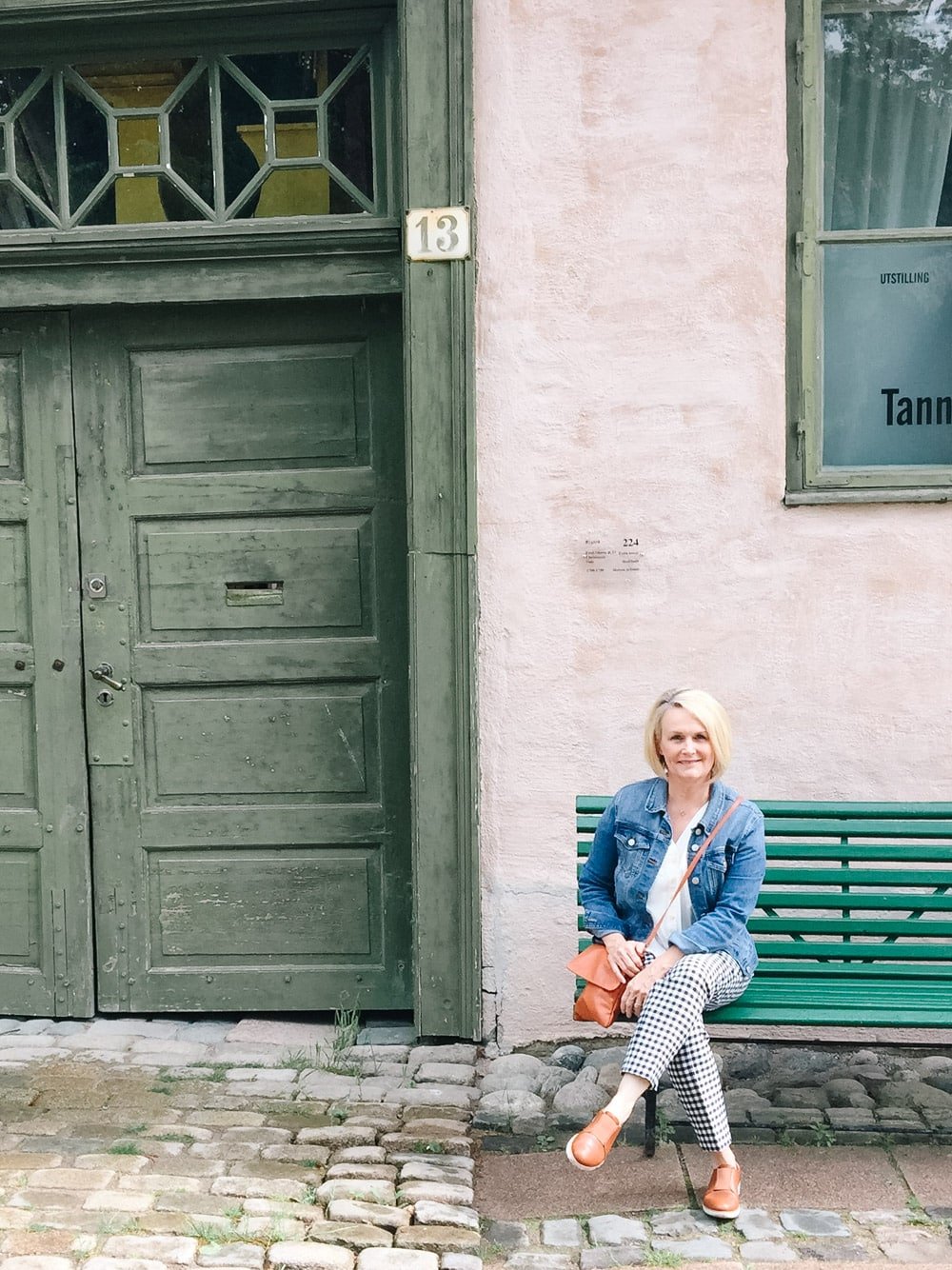 Layering is the key!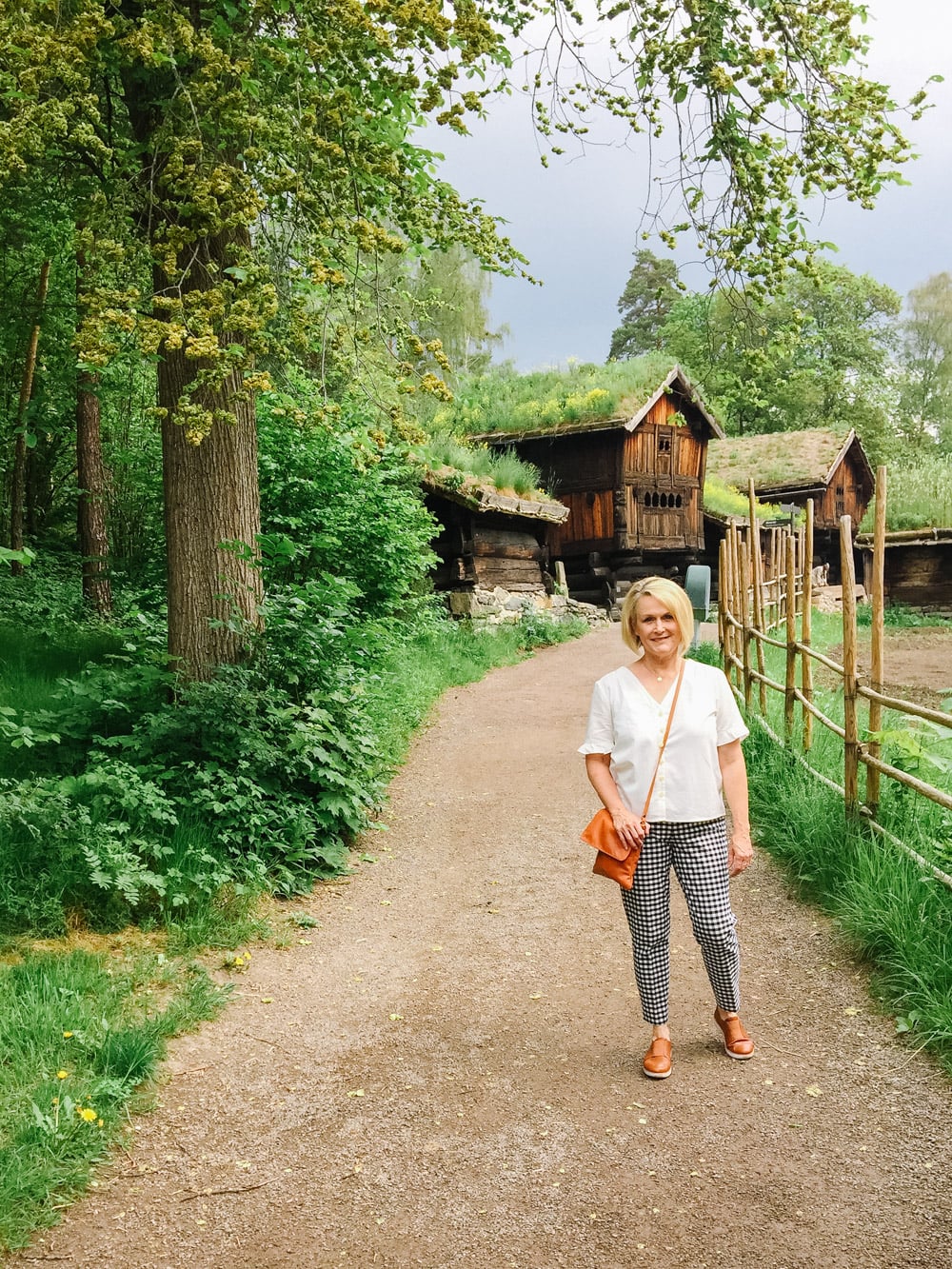 Four Pair of Pants:
I often wear skirts instead of pants when traveling in warmer months but because it would be cooler I took pants and no skirts. I also took a pair of black knit pants which I wore on our travel days. (not pictured below)
White Jeans/ Blue Jeans/ Gingham Checked Pants (similar)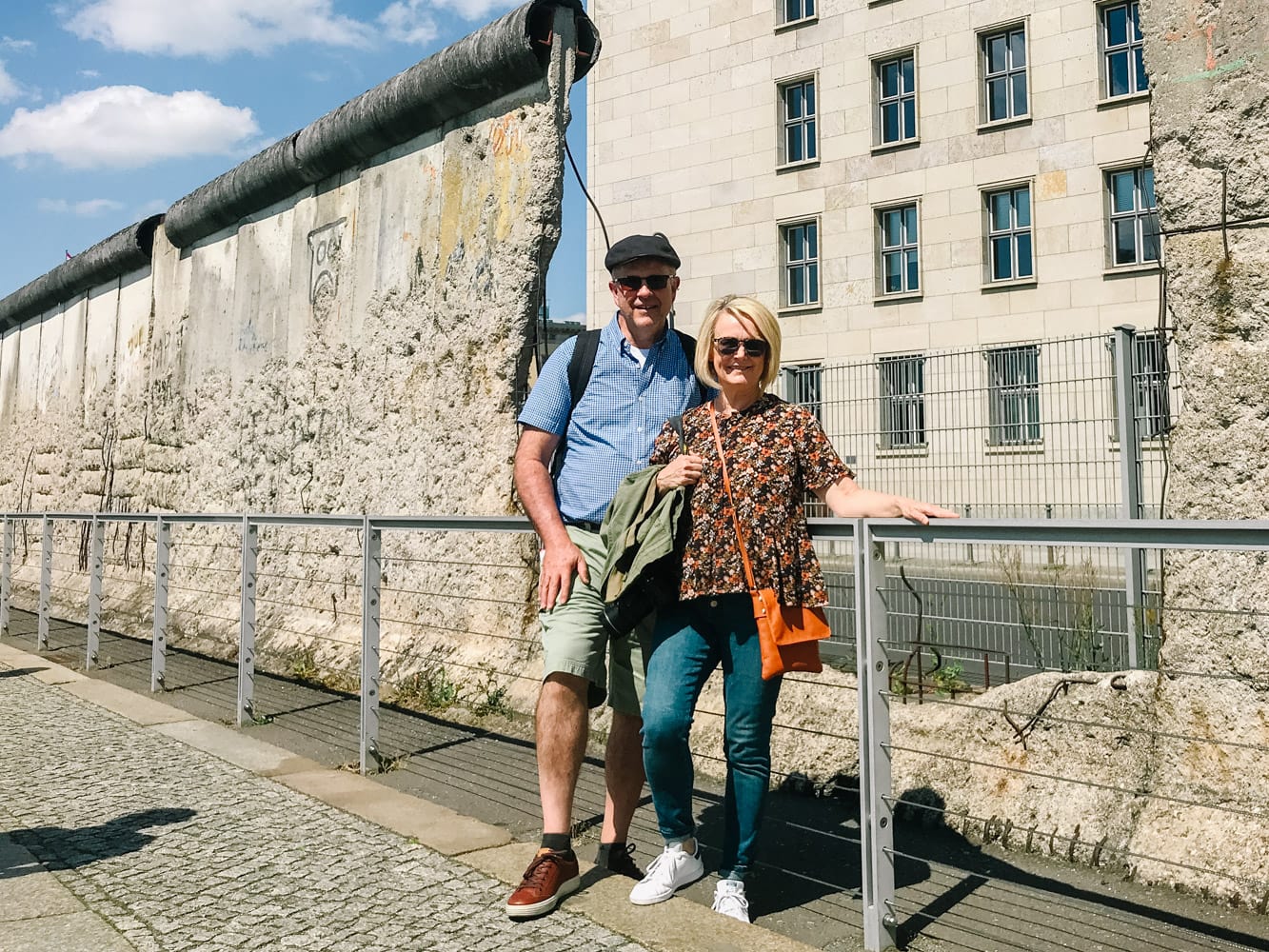 Coats:
I had to cover all my bases with coats – lightweight, medium and heavy! Having a coat with a hood is a must for those last minute rain showers! I also packed some gloves and ended up buying a Norwegian knit cap while I was there to keep my head warm on a boat ride. I took one long scarf to wear with my coats.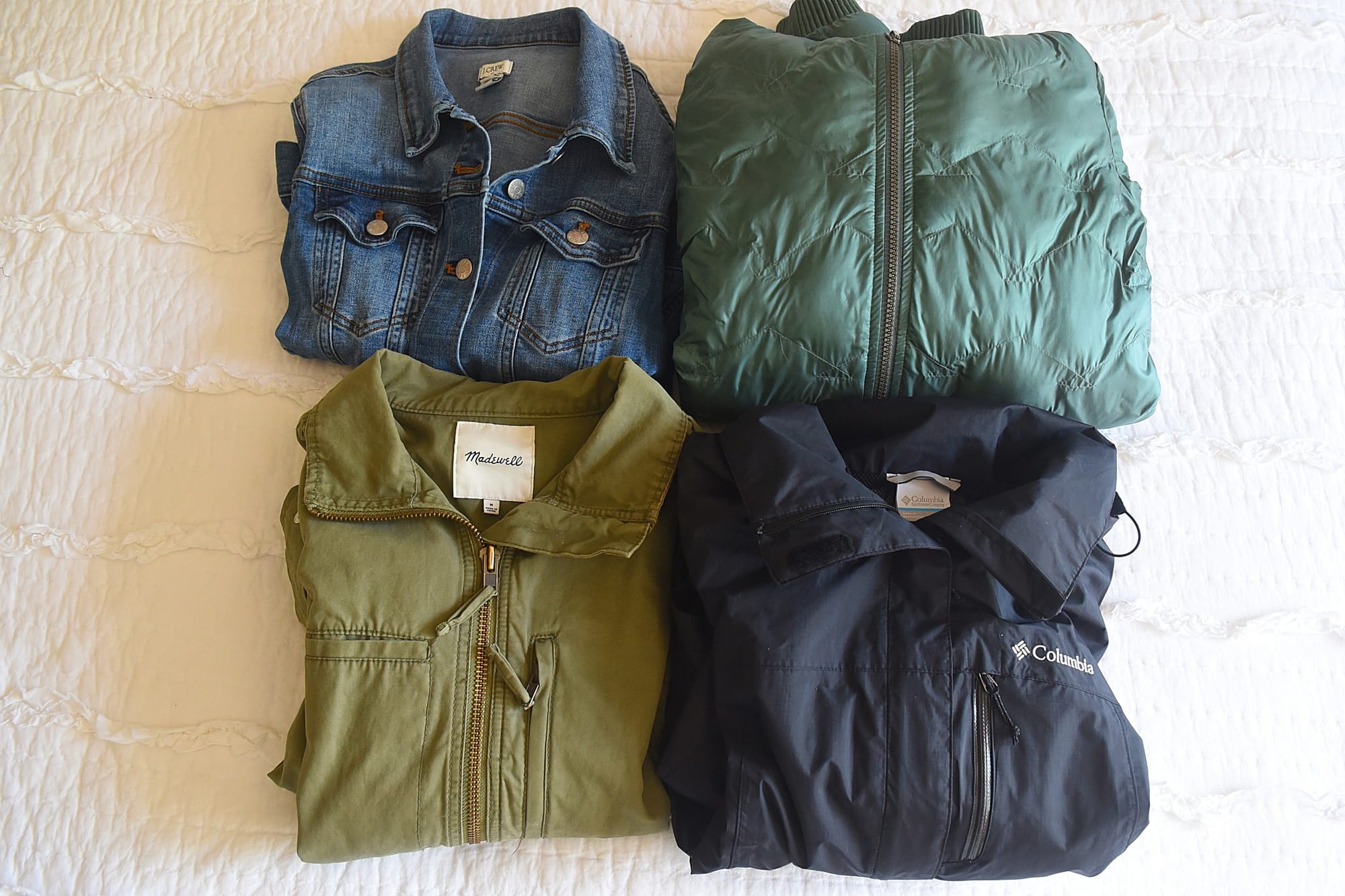 Green Coat / Black Rain Jacket/ Army Surplus Jacket (I could have lived without this one)/Denim Jacket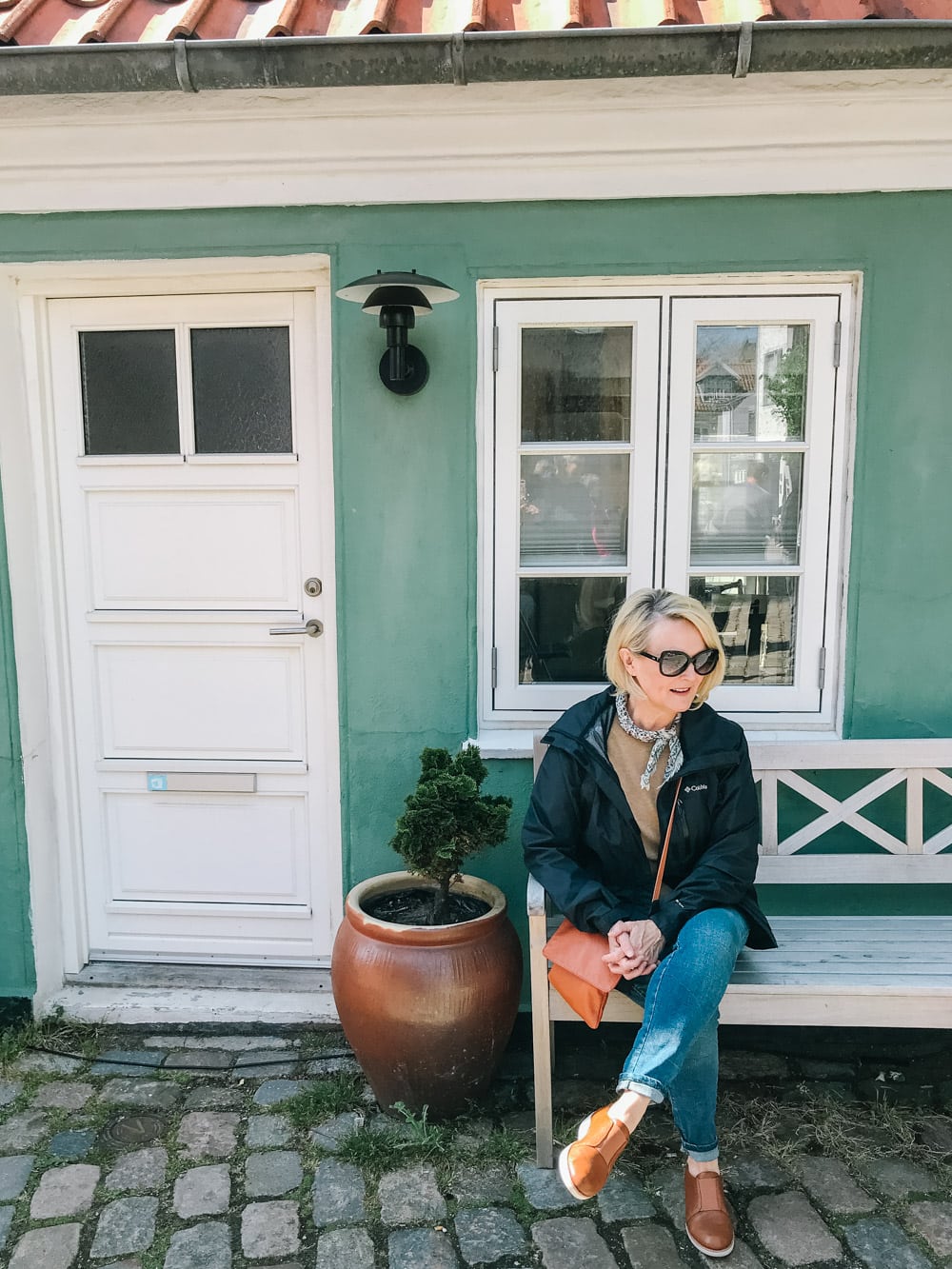 Shoes:
Shoes are always a crucial part of your travel wardrobe. You must have comfortable shoes but my rule is they must also be cute. It is possible to have cute and comfortable shoes!!
I brought five pair of shoes with me and could have gotten away with four pair but since I had room, I took five. (my travel day shoes are not pictured here, see travel outfit featured below) My favorite shoes and the ones I got asked about the most on the trip by you and by fellow travelers were the brown slip-ons. So comfy!! I wore them more than any of the other shoes. The heels were for evenings on the ship. We had a couple rainy and colder days so I was glad I had the boots. I've shared some of my favorite summer travel shoes here.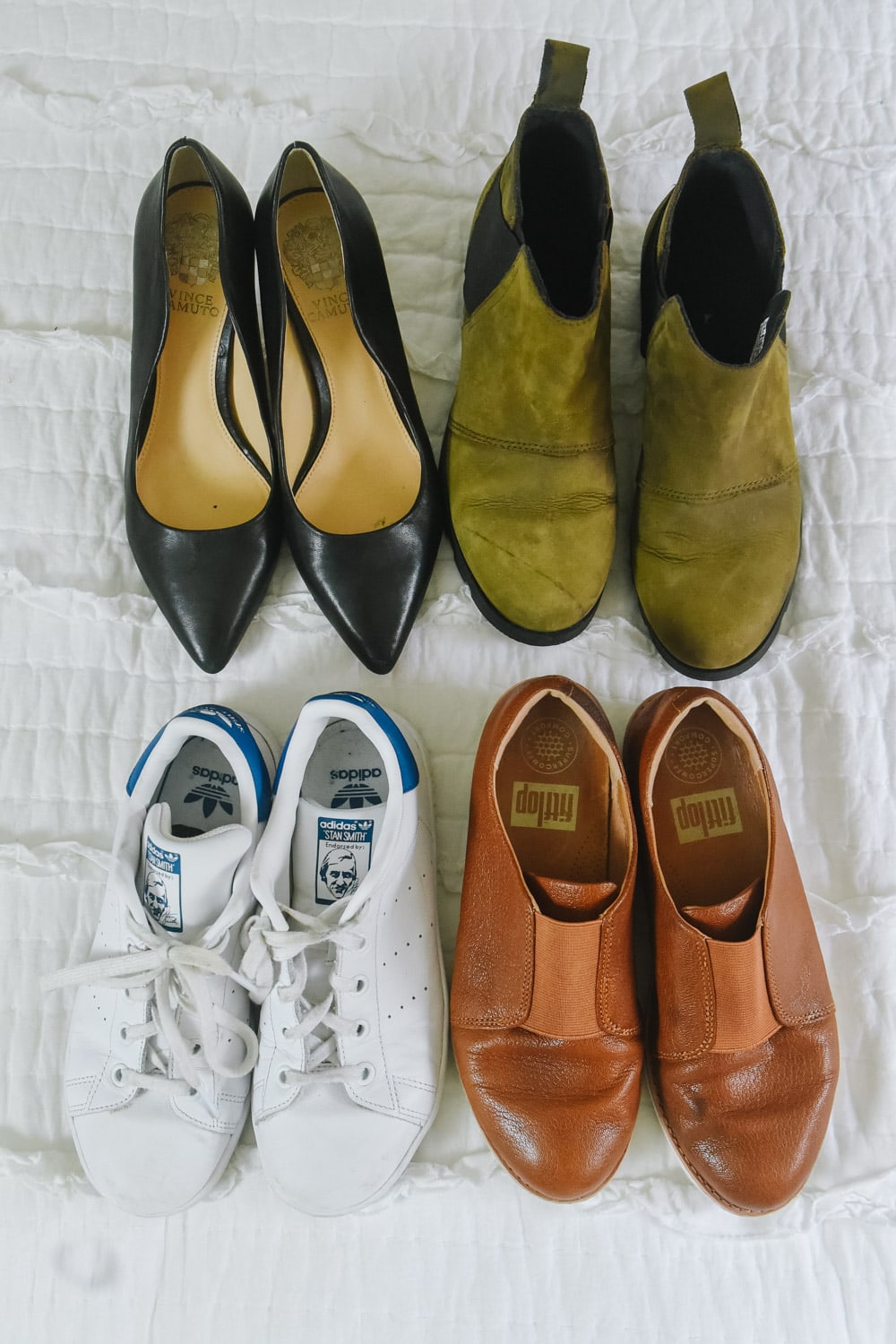 Black pumps/ Sorel boots/ White Adidas/ Brown slip ons.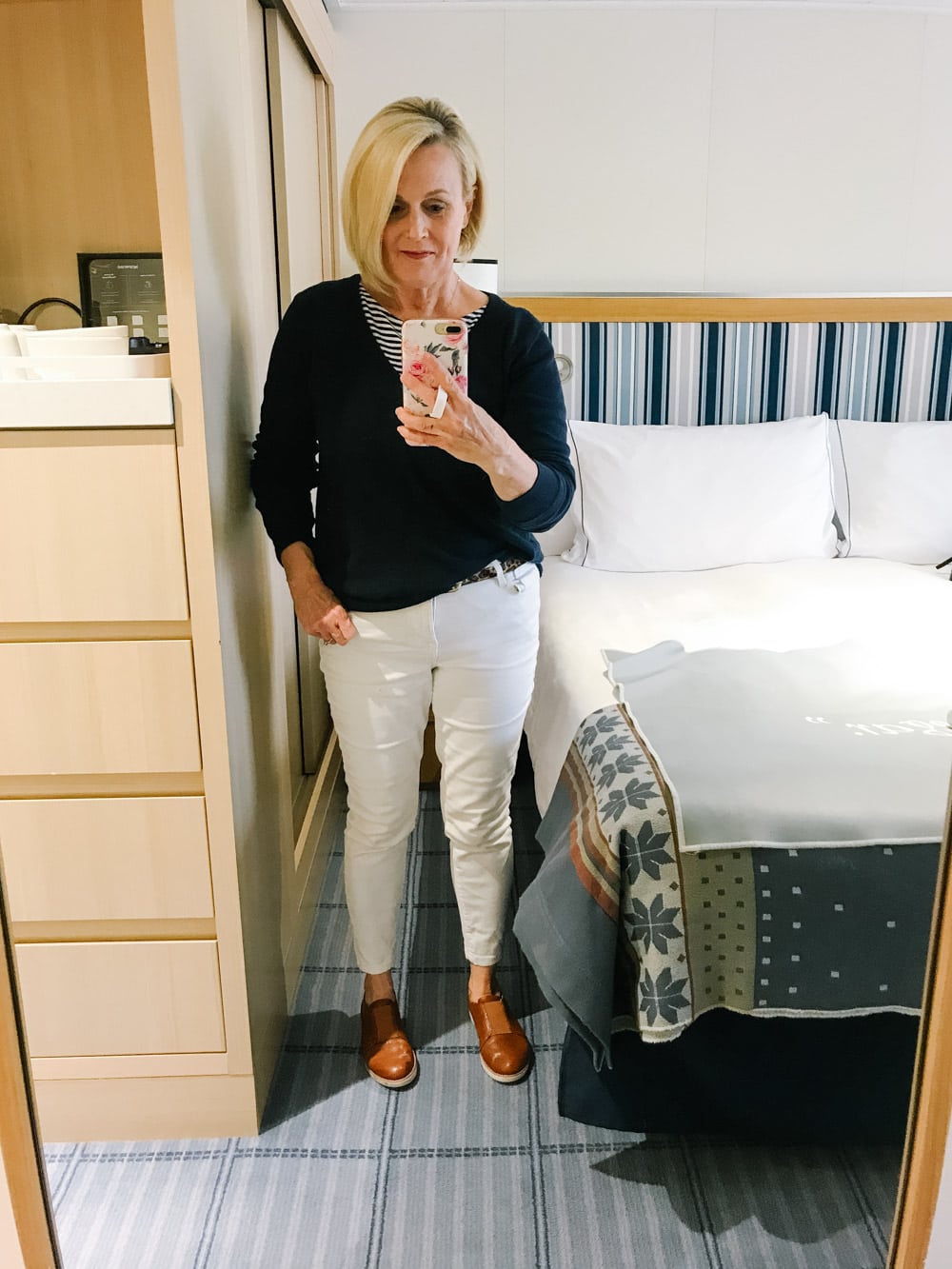 Dresses:
The cruise line requested that jeans not be worn in the dining room so I took along four dresses for evening. Business Casual was the dress for dinner and there was no formal night on the cruise.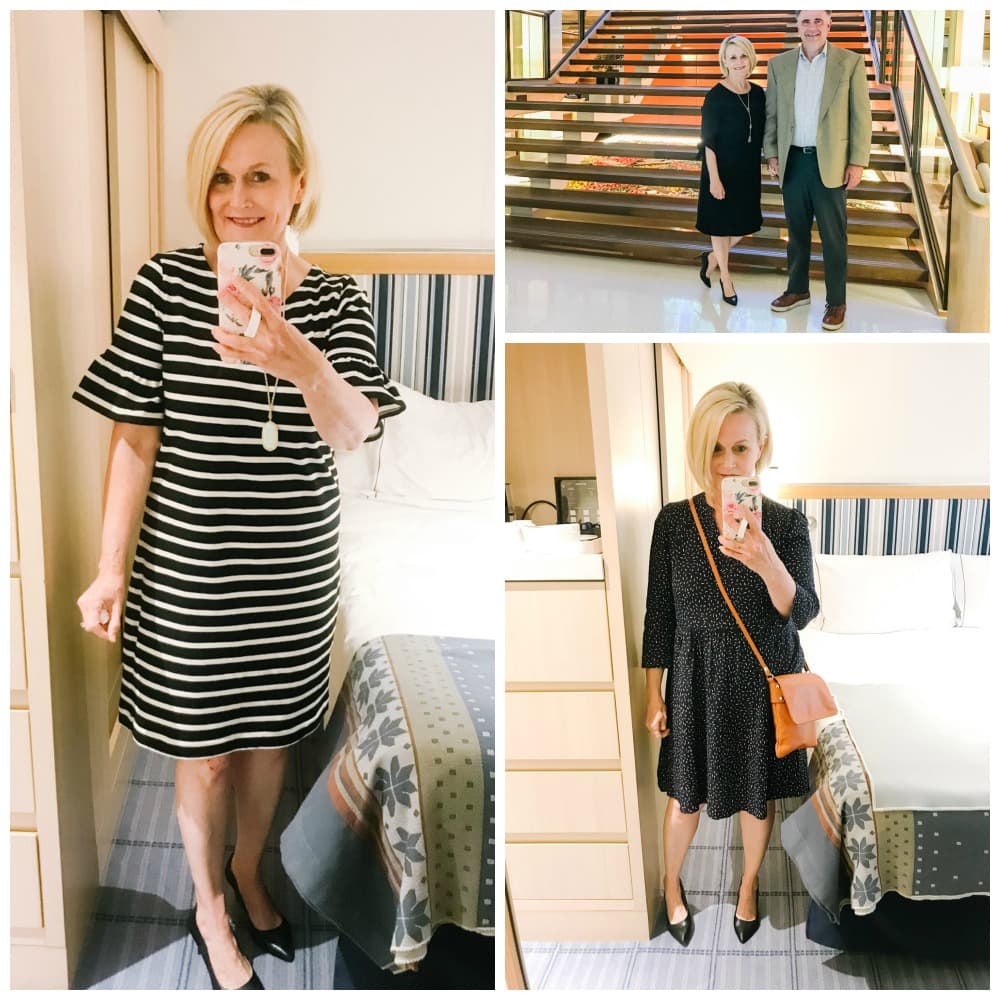 Black Dress/ Stripe Knit Dress (similar)/ Grey Knit Dress (similar)/ Navy Baby Doll Dress (similar)
I didn't get a photo of myself in the grey dress, but I wore my denim jacket with the grey knit dress. Also, I paired my white jeans and gingham pants with a sweater to dinner. Just bring along a few necklaces to dress up some of your casual outfits. Wearing heels with the pants also helps.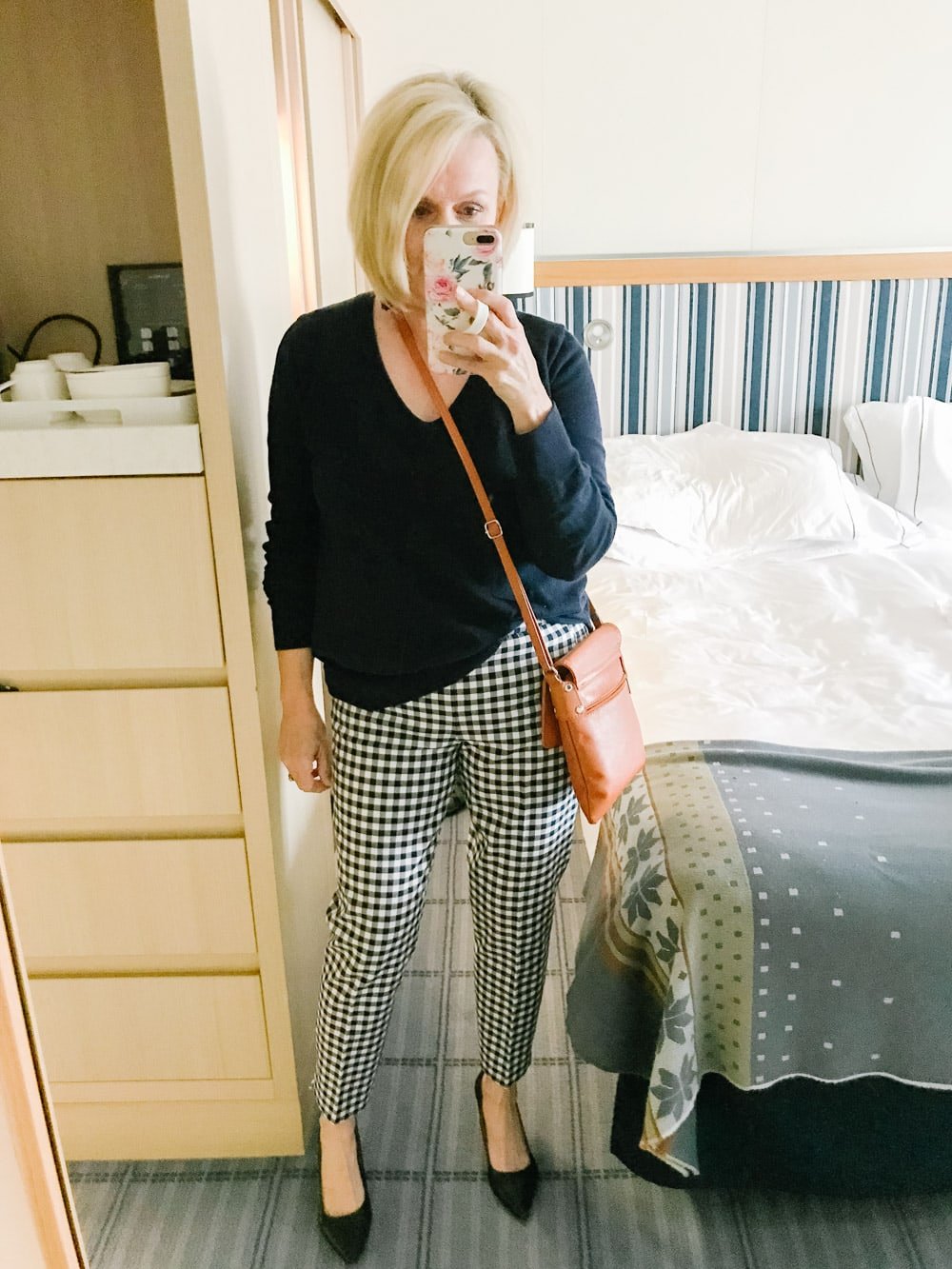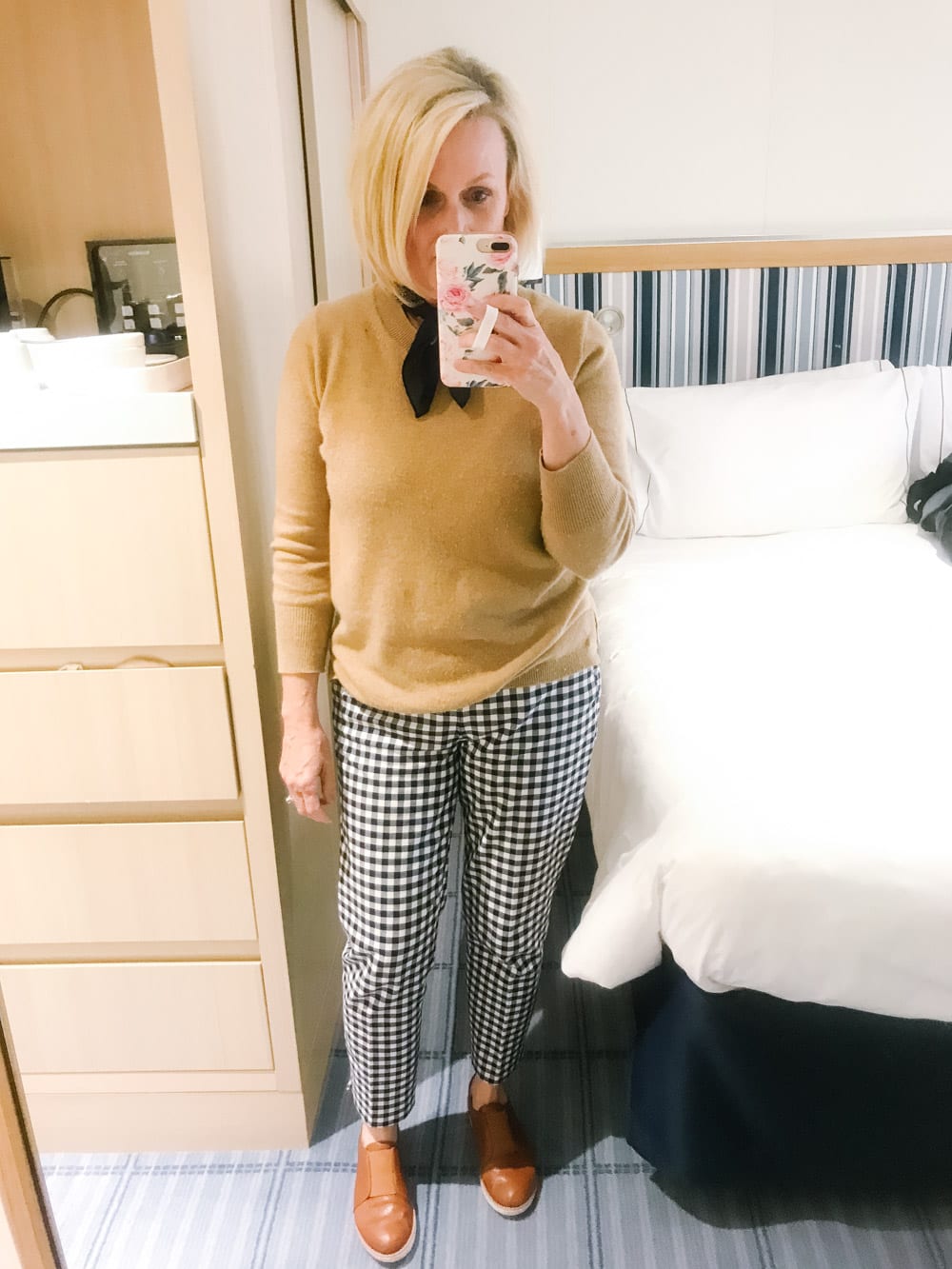 Other:
I also took a swim suit and cover up for the hot tub and pool on the cruise ship. I brought three neck scarfs that I wore with my sweaters and one long scarf (not pictured) that I wore with my coats. Of course, I took some jammies, underwear and socks too!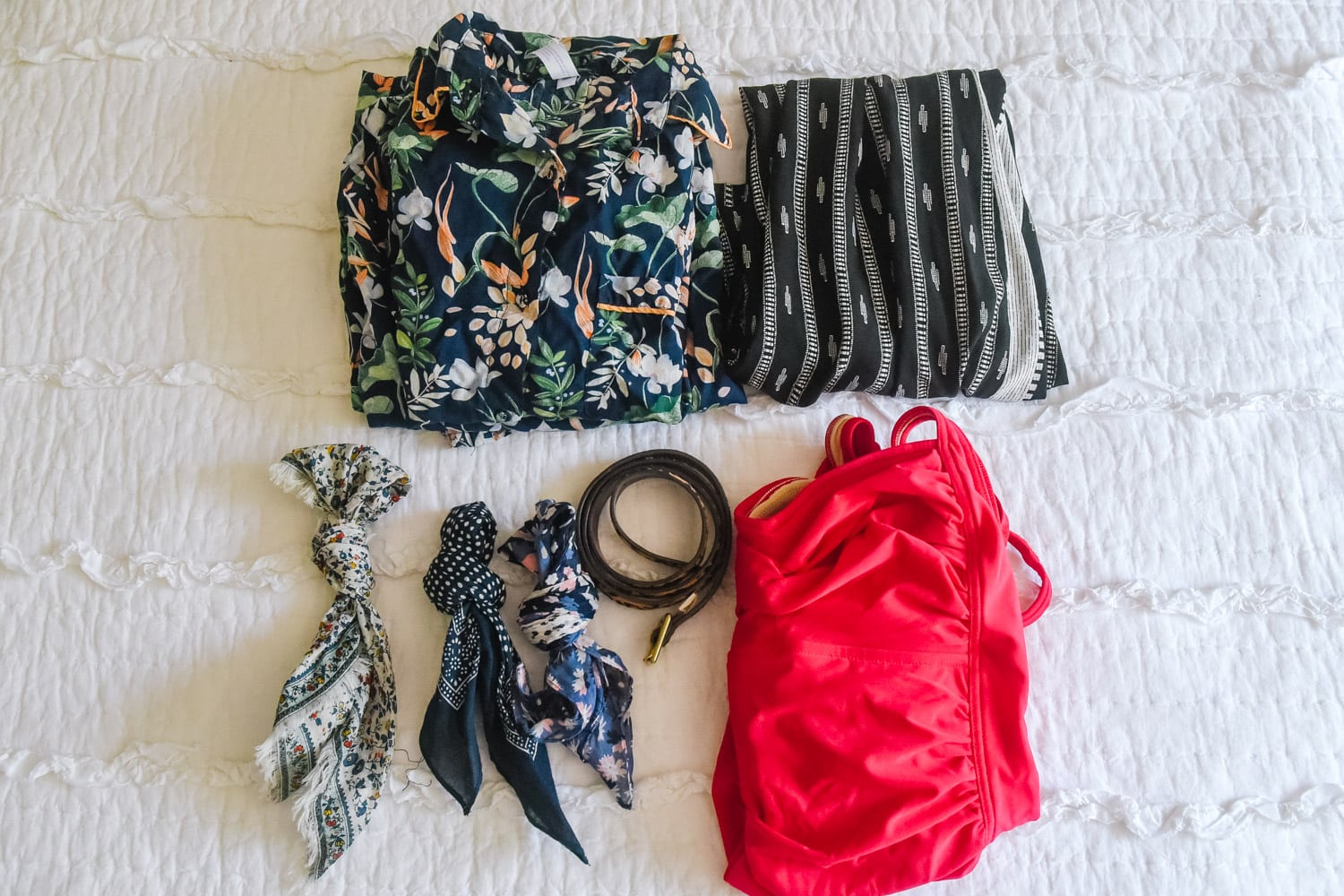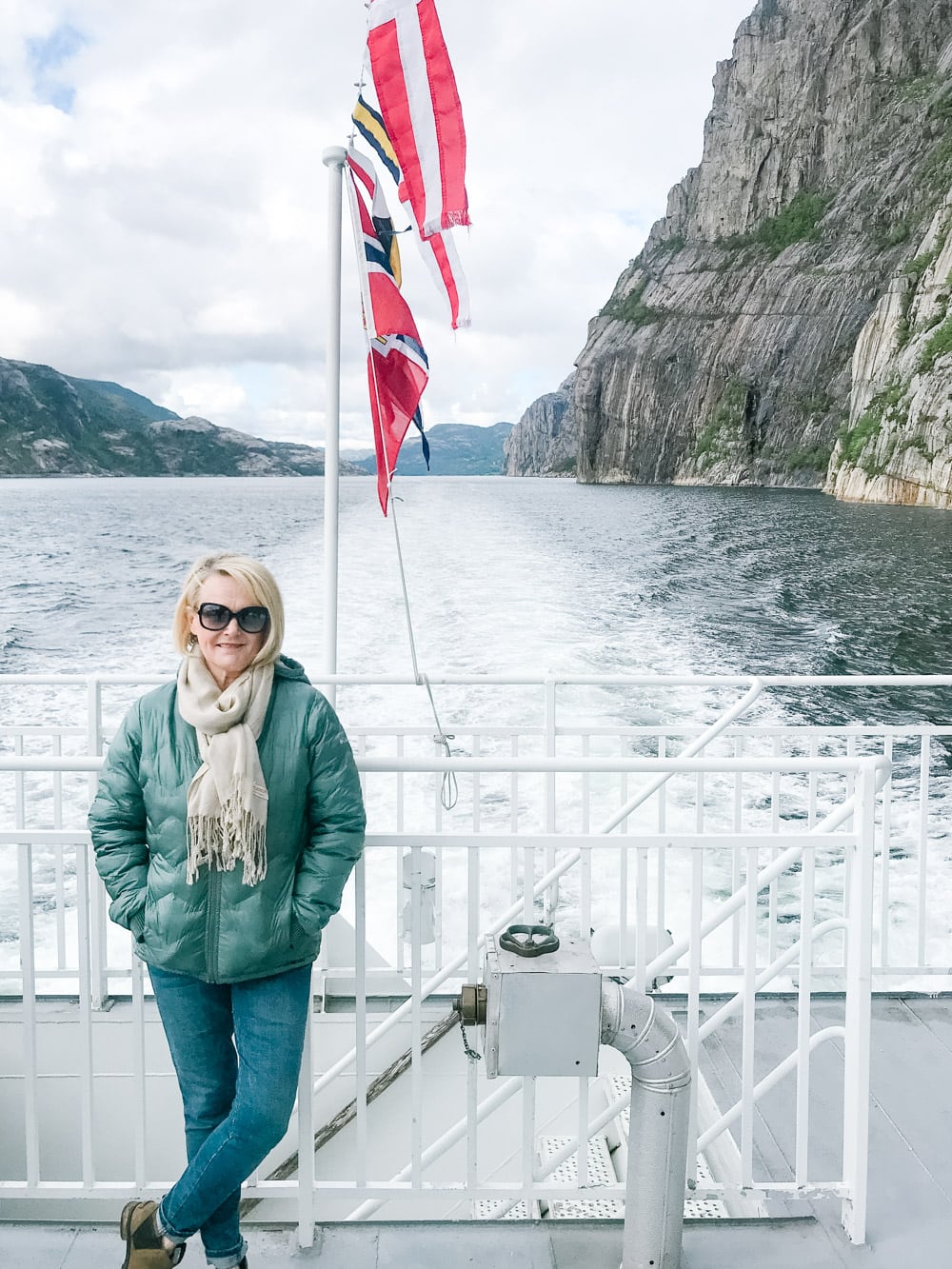 Travel Day Outfit
We had two long travel days. Going there we were up for 30 hours straight and for over 24 hours on the way home. When I travel I usually wear the same outfit on both travel days, a stretchy, comfy pair of black knit pants, a soft lightweight sweatshirt top, a jacket (I'm always cold on a plane) and some comfy shoes. I'm in love with my new Allbirds. Not only are they super comfortable but they are very lightweight and they are machine washable!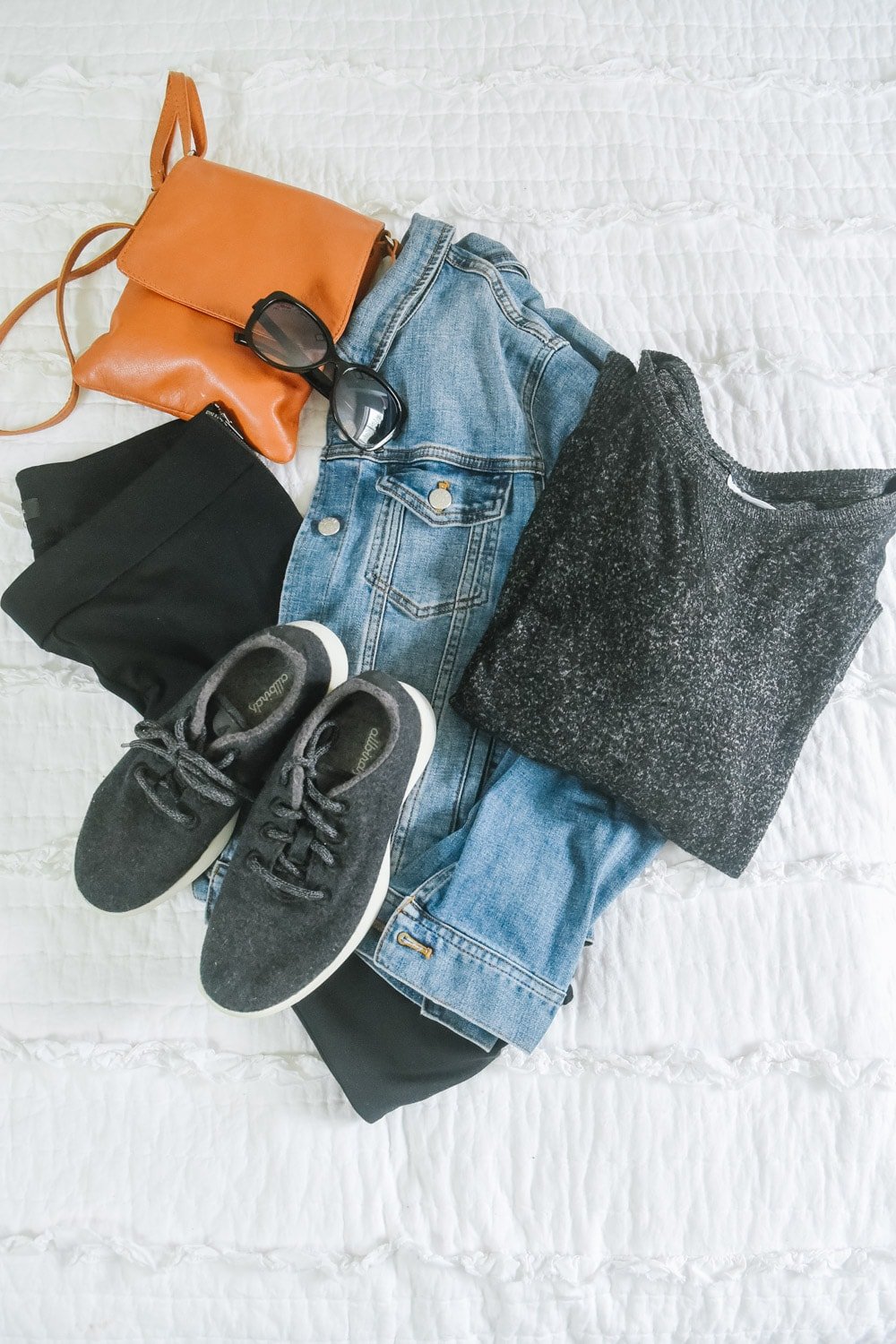 Jean Jacket/ Black Knit Pants/ Top/ Shoes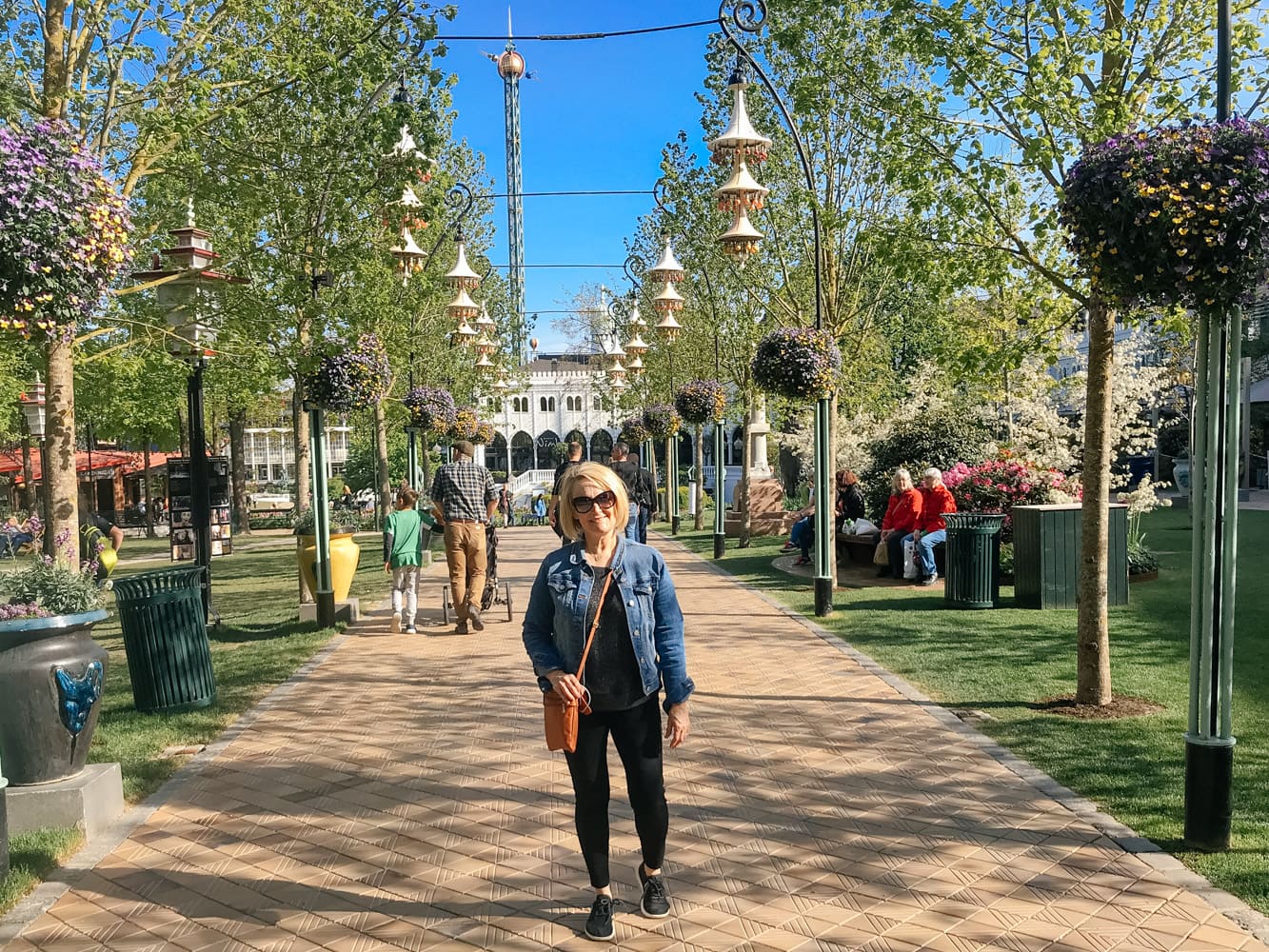 We arrived in Copenhagen about noon so we hit the ground running and walked around the city in our travel clothes.
For my toiletries, I love this bag from Amazon where I put my makeup and skin care. I also use these small clear plastic bags for different things like travel size hair products, medications etc.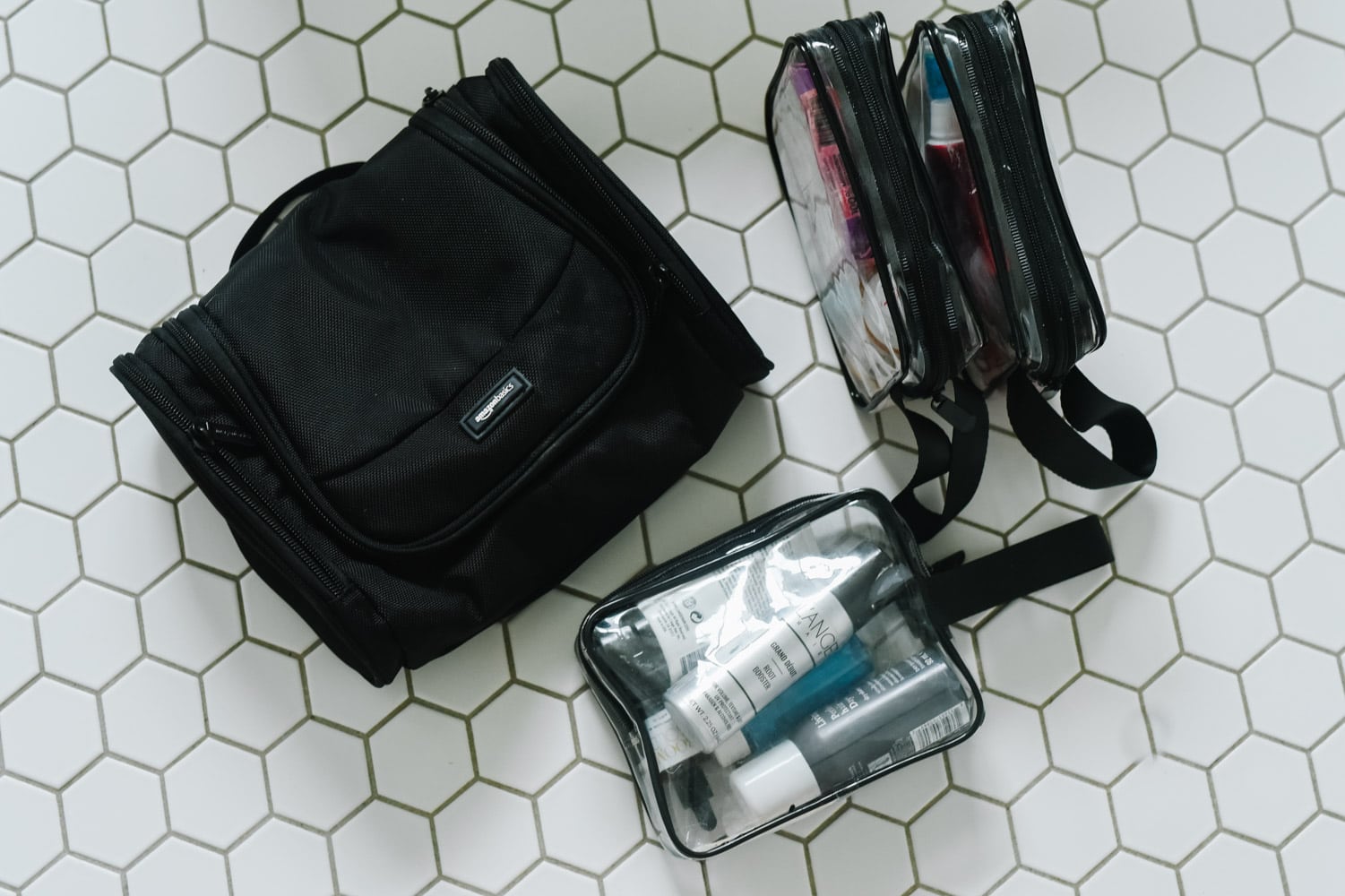 Phew, that was a long post and a lot of photos.  I hope it helps and if you have any questions please leave me a comment!