So after the sugar load of the holidays I had decided I wasn't going to post any sweet recipes – at least for a week or two.  Well, I lasted about one day.
But you see.  I woke up this morning and decided to…
Because you see it is my birthday today and I decided to make myself a birthday cake because I also believe that it is o.k. to ….
from ramblewild
Especially on your birthday.
I really wouldn't mind if someone wanted to give me this cute little Kate Spade number for my birthday either!
I think I may just have to settle for eating cake for breakfast though.
I found a cake recipe for 3 of my favorite things in the Food Network Magazine – vanilla ice cream, angel food cake and malt.  I couldn't pass up the Vanilla Malted Ice Cream Cake.  Especially since it's my birthday!!
I baked an angel food cake from a box mix and then sliced it into thin slices.  Try and remove as much of the brown outer edge as possible.  It makes for a much prettier cake when it is all white.
Layer those piece in the bottom of 10 inch tube pan (angel food cake pan).  Use about half of the cake
Pour a mixture of 1/2 cup whipping cream and 1/4 cup of malt powder over the cake.
Top with a layer of softened ice cream.
Repeat the process with the cake/liquid/ice cream.
Use an offset spatula to get an even layer of ice cream.
Cover with plastic wrap and freeze the cake for at least 4 hours or as long as five days if needed.
Remove from the pan and invert onto a platter.
Whip together 1 cup of whipping cream and 2 Tbsp malted milk powder for frosting.  Whip until a stiff peak forms.  Spread over the top and sides of the cake.
Then  if it's your birthday add a candle.
And if you want to get really fancy because it's your birthday, add some washi tape flags too!
Then just sing Happy Birthday to me, Happy Birthday to me!!!
 Enjoy!
Leigh Anne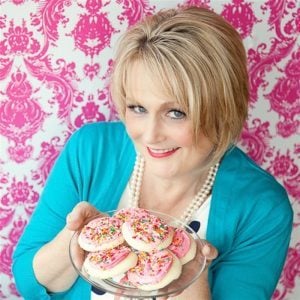 You can also visit me on Facebook, Pinterest, Twitter or Instagram.
Vanilla Malted Ice Cream Cake
Ingredients
1 12 ounce store bought angel food cake or one made from a cake mix
1 /12 C cold whipping cream
1/4 C plus 2 Tbsp malted milk powder
cooking spray
1 and 1/2 containers of vanilla ice cream 1/2 gallon size My favorite is Breyers
white sprinkles if it's your birthday
Instructions
Bake angel food cake according to directions on box.

Trim the brown crust off the cake as much as possible.

Slice cake into thin slices.

Whisk 1/2 C whipping cream with 1/4 C malted milk powder in a bowl. Let sit for 5 minutes and then whisk again. It will thicken somewhat.

Lightly spray the 10 inch tube pan with cooking spray.

Press about half of the cake slices into the bottom of the pan.

Drizzle half of the cream mixture over the cake.

Soften ice cream and spoon half of it over the cake. Use an offset spatula to get an even layer.

Repeat with cake, cream and ice cream.

Cover with plastic wrap and place in freezer for 4 hours or up to 5 days.

When ready to serve, remove from pan and invert onto a cake plate.

Beat 1 C whipping cream and 2 Tbsp malted milk powder with a mixer until stiff peaks form.

Frost cake sides and top with mixture.

Add sprinkles
Recipe adapted from Food Network Magazine
Shared at:Brassy Apple* Skip to My Lou  *The Girl Creative  *Sumo's Sweet Stuff * Melt in Your Mouth Monday*Keeping it Simple*
Busy Monday* On the Menu Monday* Mix It Up Monday* Made by You Monday*Recipe Sharing Monday*Sugar Bee Crafts *Mandy's Recipe Box **
Chef in Training Home Stories A2Z   *Naptime Creations *Trick or Treat Tuesday
Whisk Away Wednesday *Hungry Little Girl *Kreations by Kara