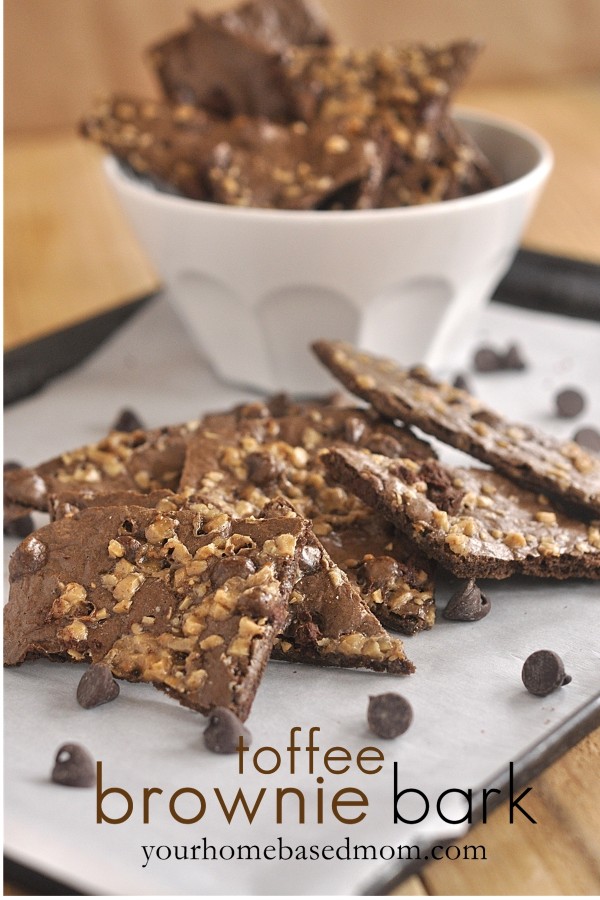 Now that our nest is empty I am not a big Costco shopper. In fact, Jim is usually the one who makes our Costco runs to stock up on Green Smoothie ingredients and toilet paper once or twice a month. Well, over the holidays I needed to make a trip to Costco and I discovered something pretty amazing. It was something called Brownie Brittle Yea, pretty amazing stuff!
I put it out at a holiday party in a bowl – it doesn't look like anything special but let me tell you once people started eating it they couldn't stop. If you like the edges of brownies, you know the crispy stuffy, you are going to LOVE this. I promise.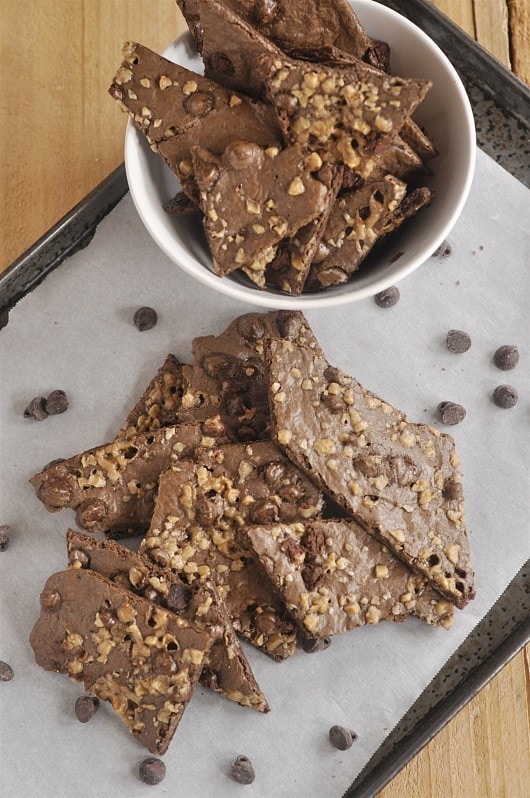 So of course I had to see if I could figure out how to make it myself. It's just this thing I do. Thanks to Cookie Madness I didn't have to work too hard! I adapted my version from her recipe. She calls it Bark instead of Brittle. I tweeked her recipe just a bit and just added a coating of toffee bits to turn it into Toffee Brownie Bark. Already thinking up some other fun combinations.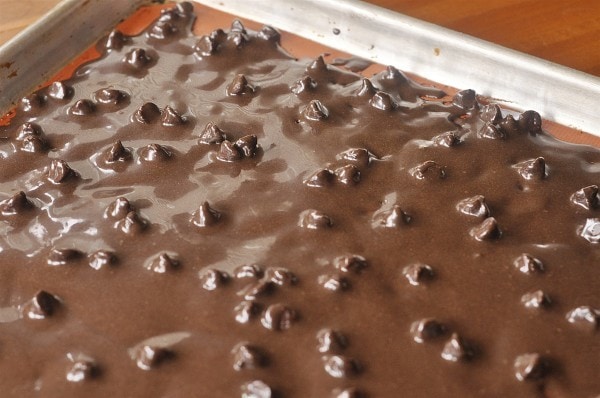 The biggest trick is to get the batter spread as thin as you possibly can in your pan. I used my 13 x 18 cookie sheet and lined it with a silphat. You can also use parchment paper. I then sprinkled it with toffee bits for extra goodness.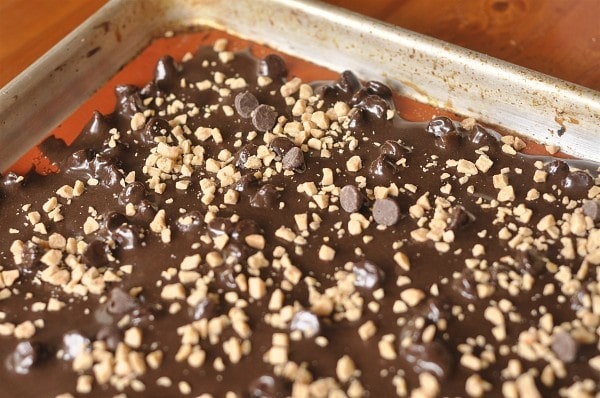 After baking for 20 minutes you remove it and cut it with a pizza cutter into "shard" shaped pieces. Then put it back in the oven to bake a bit longer.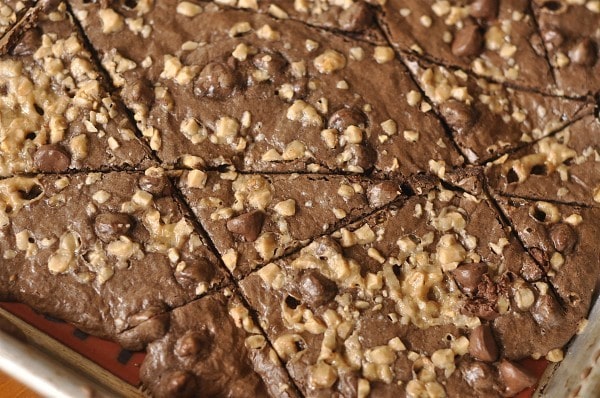 Let it cool completely and then break it into pieces. It comes out nice and crispy!!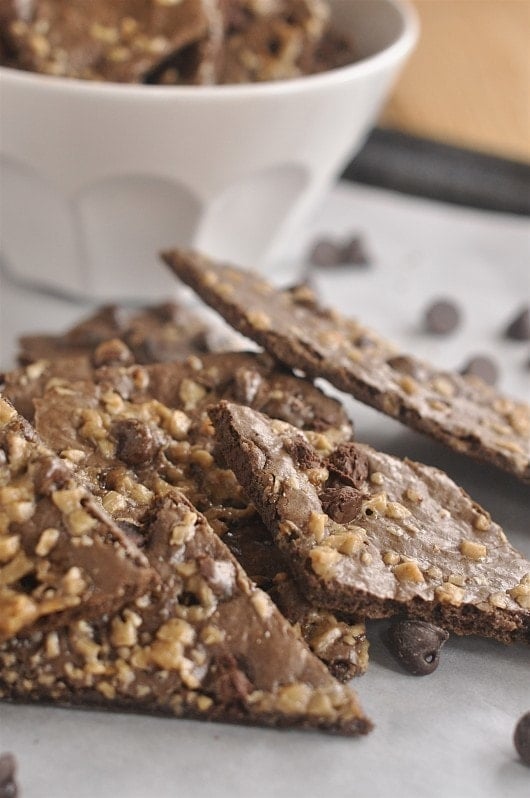 My husband said it was great but didn't taste exactly like what I had bought at Costco but really, who can remember exactly how something tasted that you ate 5 months ago. I just remember it being delicious and I thought my version was pretty darn good and so did the neighbor kids when I took a bowl out to the basketball game going on in the cul de sac. There were no complaints from them! Maybe I'll have to buy another bag from Costco and do a taste test.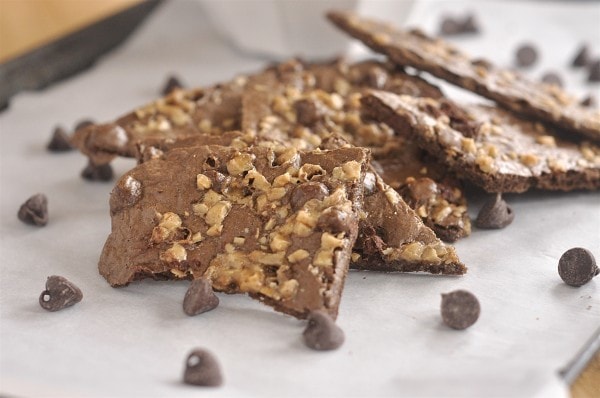 For more chocolate brownie goodness check out these recipes:
Mint Cookie Brownies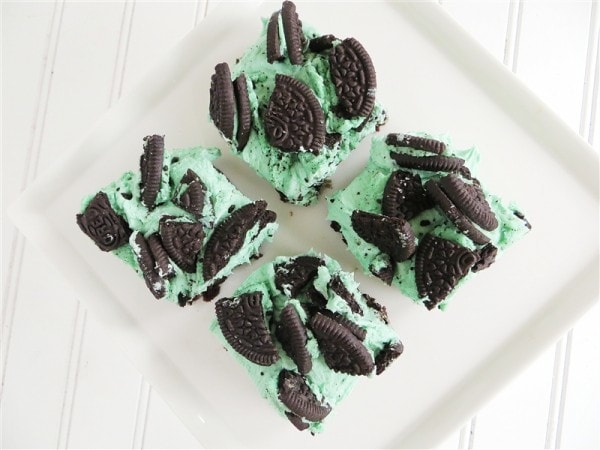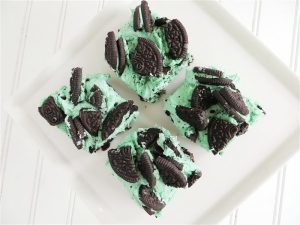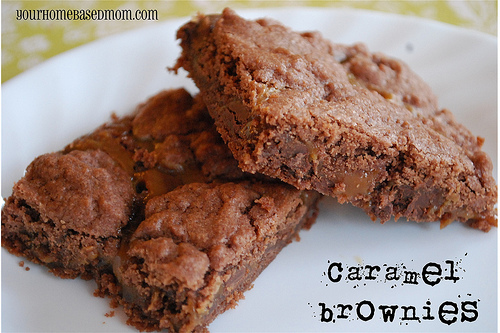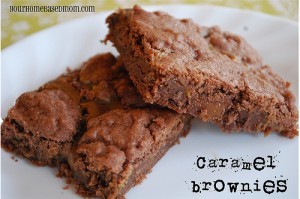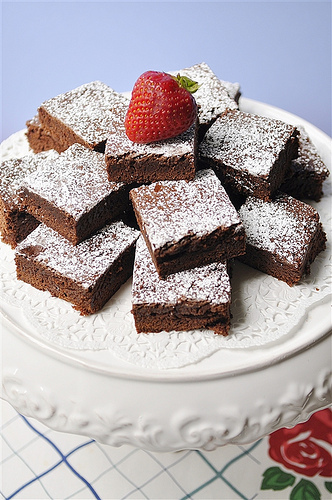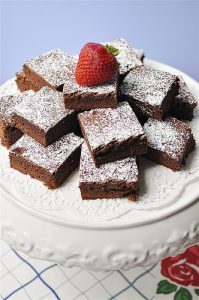 Enjoy!
Leigh Anne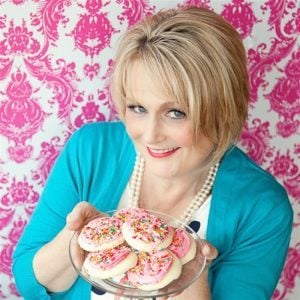 You can also visit me on Facebook, Pinterest, Twitter or Instagram.
For a list of where I Link Up each week go here.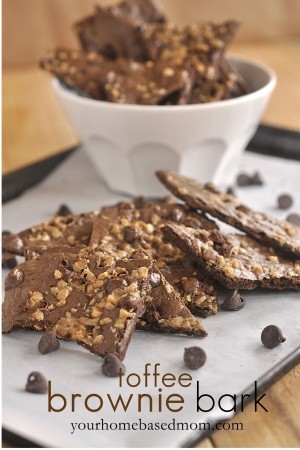 Toffee Brownie Bark
Ingredients
2 egg whites
2/3 C sugar
2 Tbsp dark cocoa powder
1/4 C canola oil
1/4 ts vanilla
1/4 tsp salt
1/4 tsp baking powder
1 Tbsp non-fat dry milk powder
1/2 C flour sift before measuring
1/2 C chocolate chips plus extra for sprinkling on top
1/2 C toffee bits
Instructions
Line a cookie sheet with a silphat mat or parchment paper.

In a bowl whisk the egg whites until foamy

Add in sugar and then cocoa powder, oil and vanilla until smooth.

Add in salt, baking powder and powdered milk

Add the flour and stir until smooth.

Add in 1/2 C chocolate chips

Pour batter onto lined cookie sheet and spread as thinly as possible with back of spoon.

Sprinkle with a few more chocolate chips to fill in the holes and then sprinkle with toffee bits.

Bake in a 325 oven for 20 minutes.

Remove from oven and use a pizza cutter to cut into "shrad" shaped pieces.

Return to oven for 5 more minutes.

Remove form oven and cool. Break into pieces.

If any of the pieces are too thick and chewy you can return them to the oven at 250 degrees for 20 more minutes and then re-cool.

If your batter is thin enough though you shouldn't have a problem.