This Spicy Honey Chicken is covered in a rub of spices, grilled and then brushed with a sweet honey glaze for a perfect combination of sweet and heat.
Some of our other favorite recipes to grill are this Grilled Caesar Salad, Grilled Flank Steak and you can even grill this delicious Pound Cake.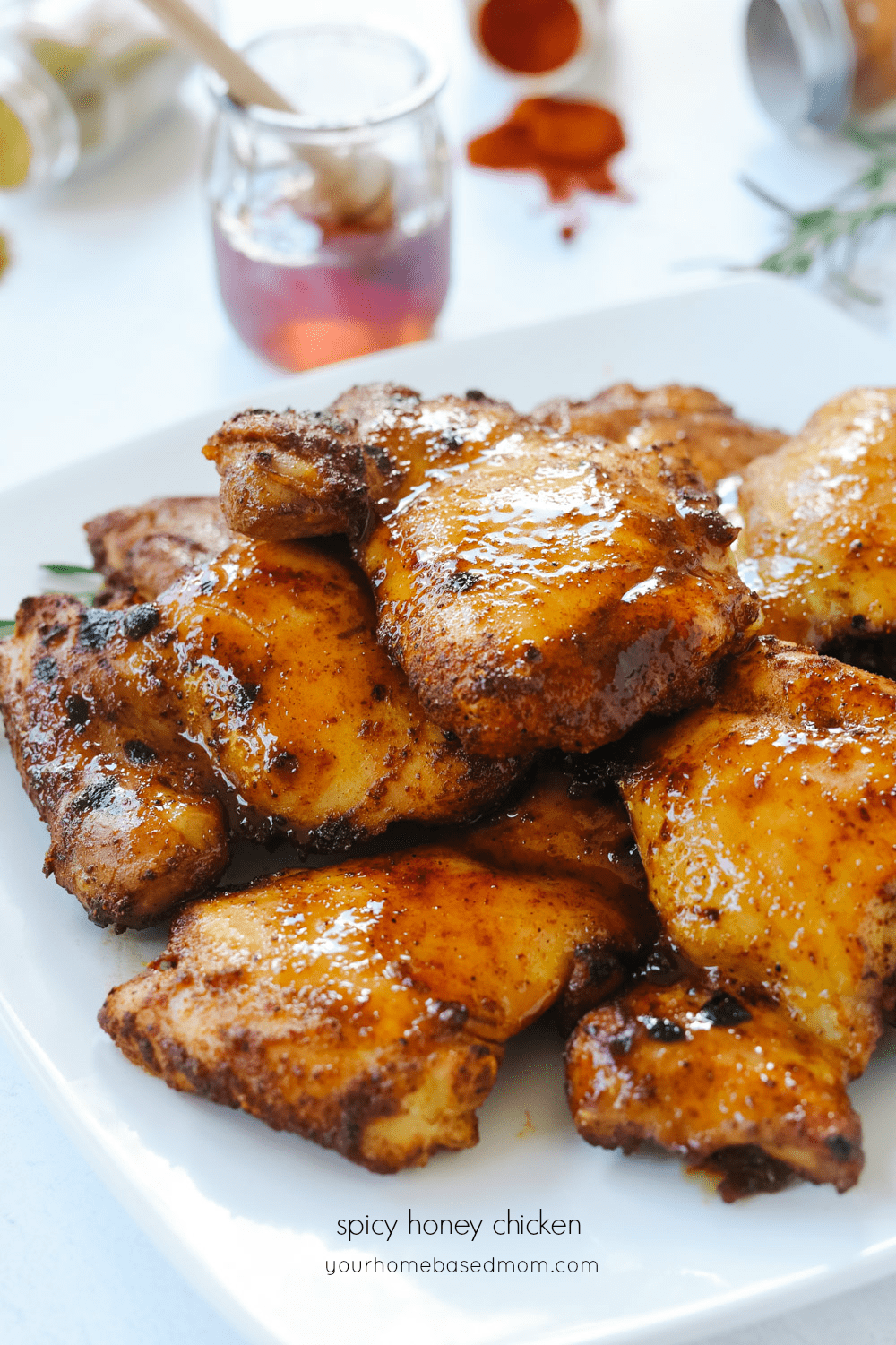 Year Round Grilling
We can grill pretty much year round here in Portland, Oregon. Sometimes we have to stand under an umbrella but it's totally doable! I'm not sure how I'd feel about standing in a few feet of snow to grill! But no worries, this recipe can be done on the grill but it can also be done in the oven if you don't have a grill or it's just too cold, wet or snowy outside. Grilling should not be reserved just for summer!!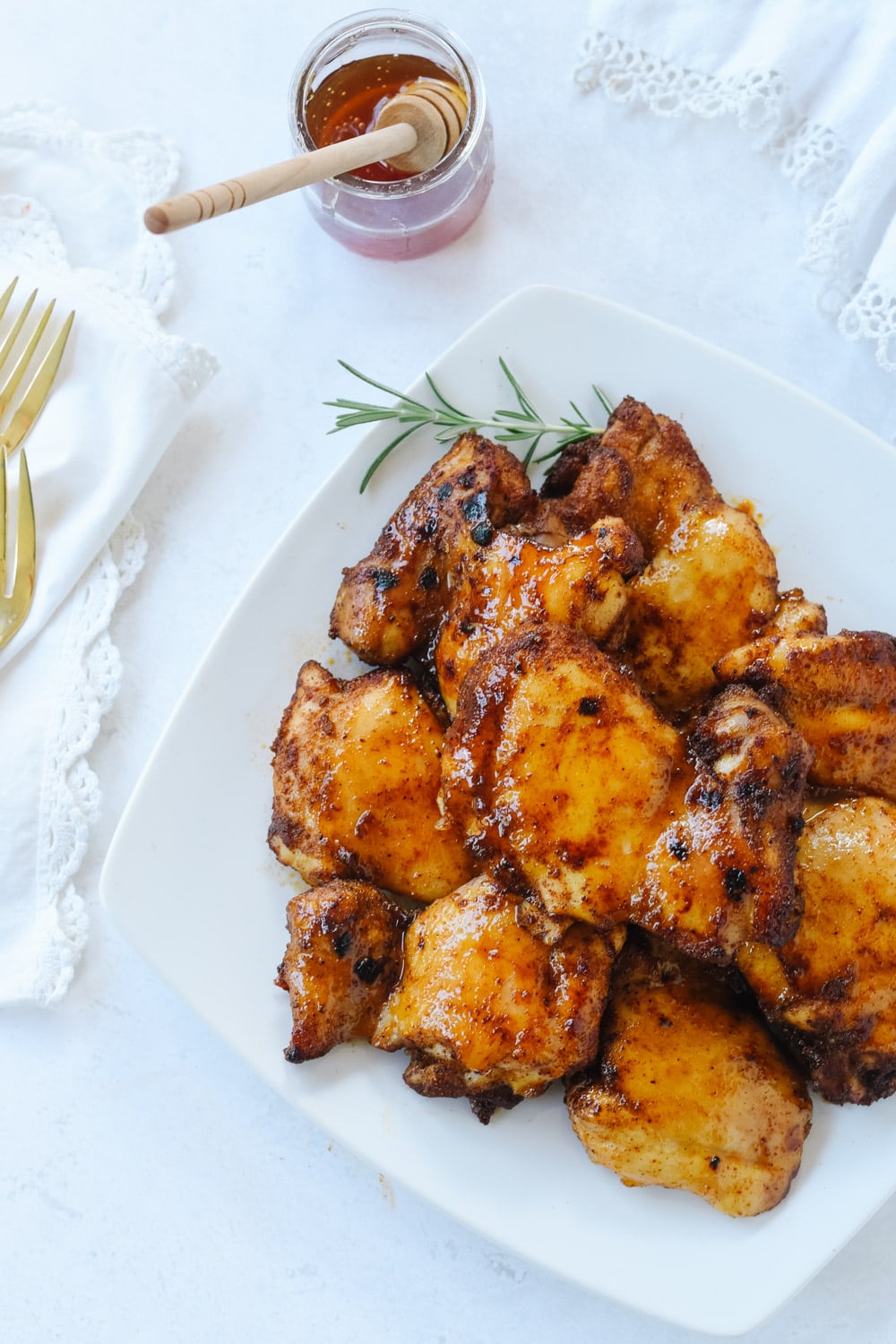 Best Chicken for Grilling
I love to use boneless, skinless chicken thighs for this recipe but you can also use chicken breasts. If you use a chicken breast, pound the chicken to make it more even in thickness. It will cook more evenly this way. A few other great chicken thigh recipes are Sticky Coconut Chicken and Asian BBQ Chicken. Not only is thigh meat nice and moist it is also inexpensive!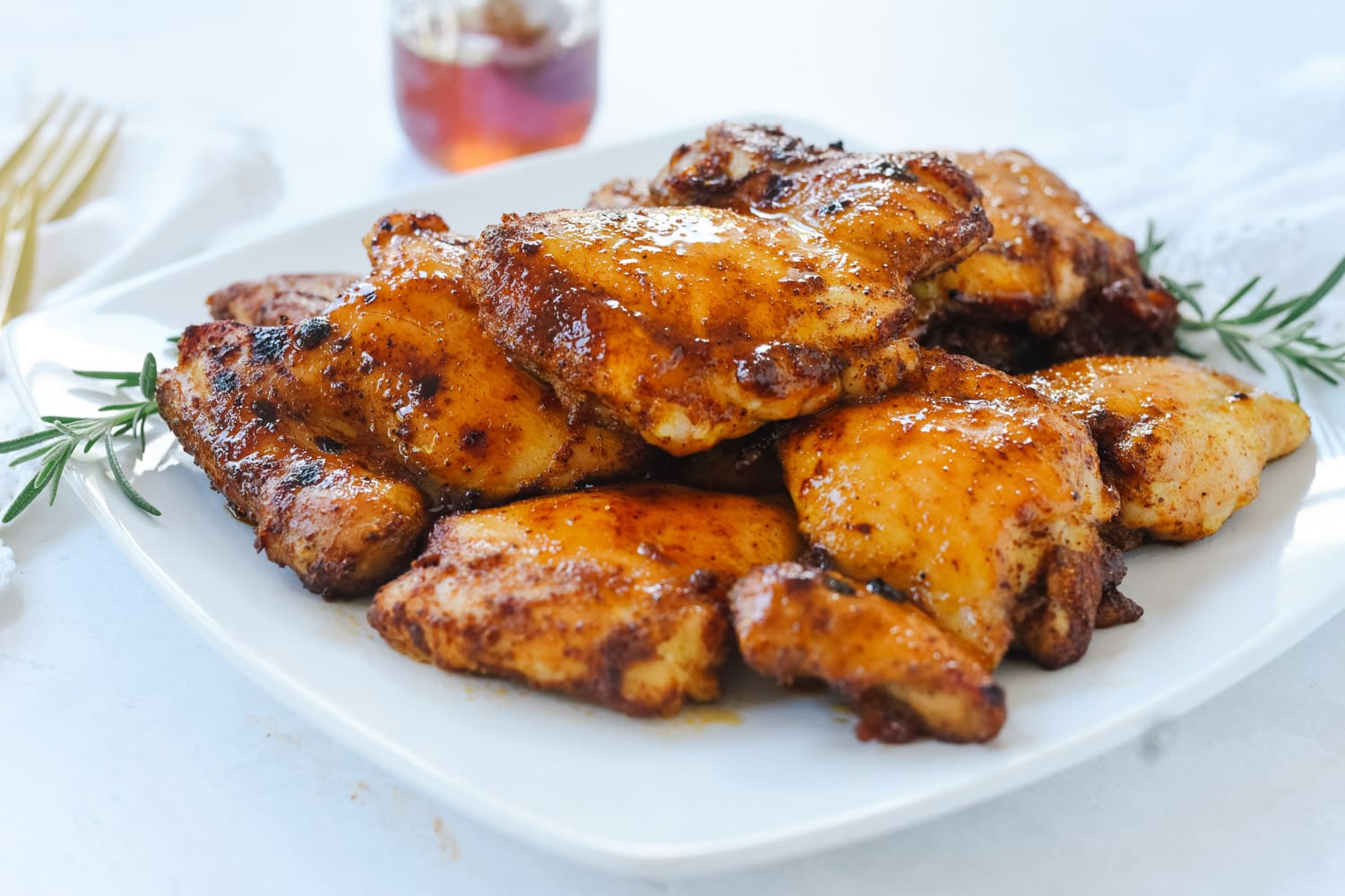 How to Make Spicy Honey Chicken
This chicken is easy to prep in the morning and then just bake or grill right before you are ready to eat.
Mix together spice rub of paprika, cumin, garlic powder, chili powder and cayenne. The cayenne gives it some heat so if you don't want heat, leave it out or reduce the amount you use.
Toss chicken with rub and make sure chicken is coated on both sides.
Mix together honey and vinegar for glazing.
Heat grill and brush with oil to prevent chicken from sticking.
Grill chicken for about 3-4 minutes per side or until the temperature reaches 160 degrees F.
Brush both sides of the meat after 1-2 minutes of grilling with honey and vinegar mixture.
If you are grilling your meat, reduce the temperature of the grill so that the sugar in the glaze doesn't burn. You want it to thicken and caramelize and create a delicious coating on the chicken. If you are baking the chicken in the oven, place the chicken with the glaze on it, under the broiler until the glaze bubbles and caramelizes, watch it carefully!
Allow meat to rest for 5 minutes after removing from the grill so that it reaches 165 degrees F.
I always use my Thermoworks Thermapen to check the temperature of my meat. Don't cut into it with a knife to see if it is done as you release all those yummy juices that keep the meat moist and give it flavor. Use a meat thermometer.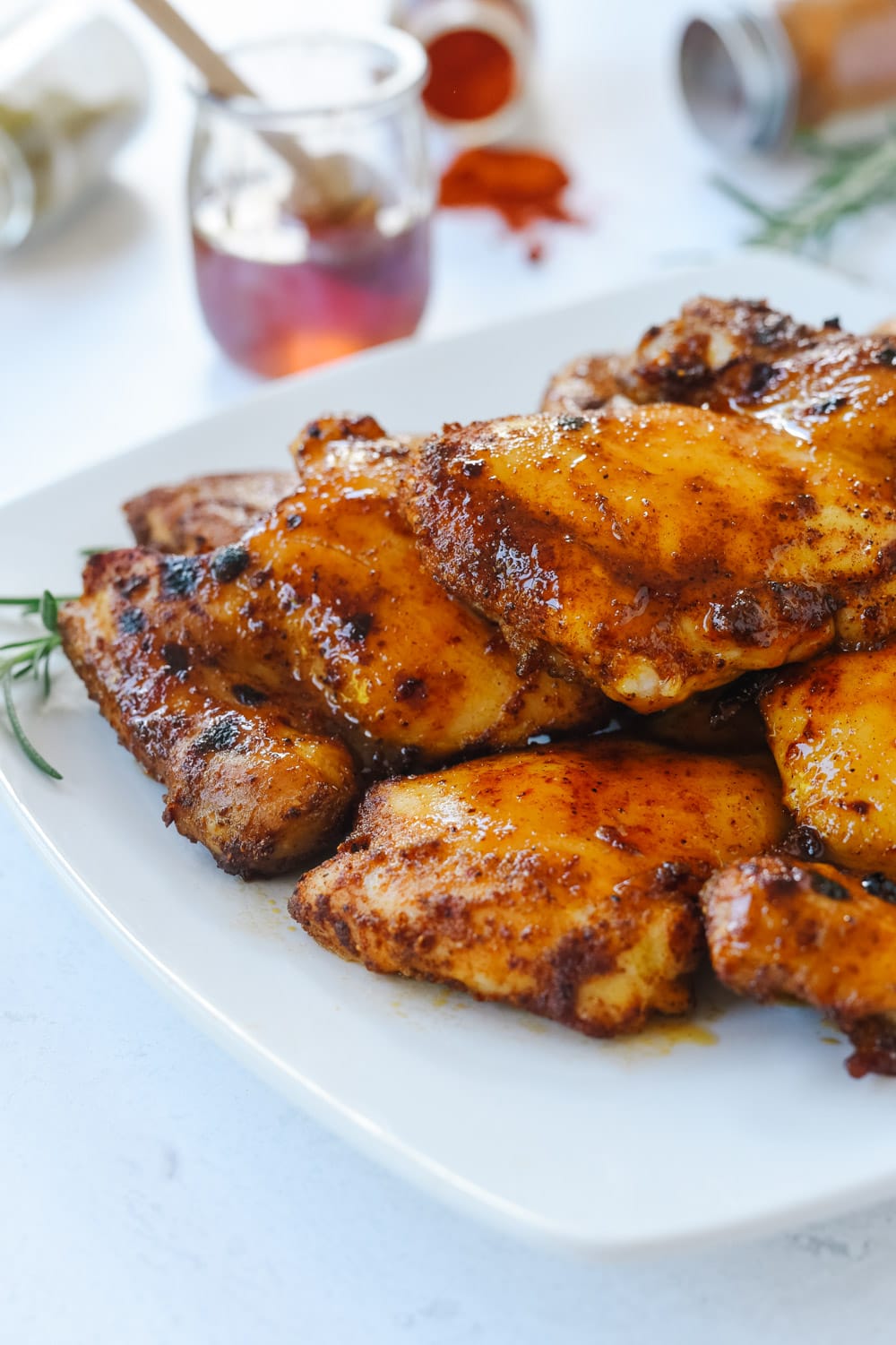 Can I Bake The Chicken Instead of Grilling?
Yes you can, you just won't get those charred edges and grilled marks but it will still be delicious.
Bake the chicken in a 425 degree oven, basting with honey and vinegar mixture several times. Bake for 3-4 minutes on each side.
What do I serve with Spicy Honey Chicken?
This recipe comes from one of my favorite food blogs – Our Best Bites. The spicy part of the recipe is moderate and you can raise or lower the heat by adjusting the amount of spices used.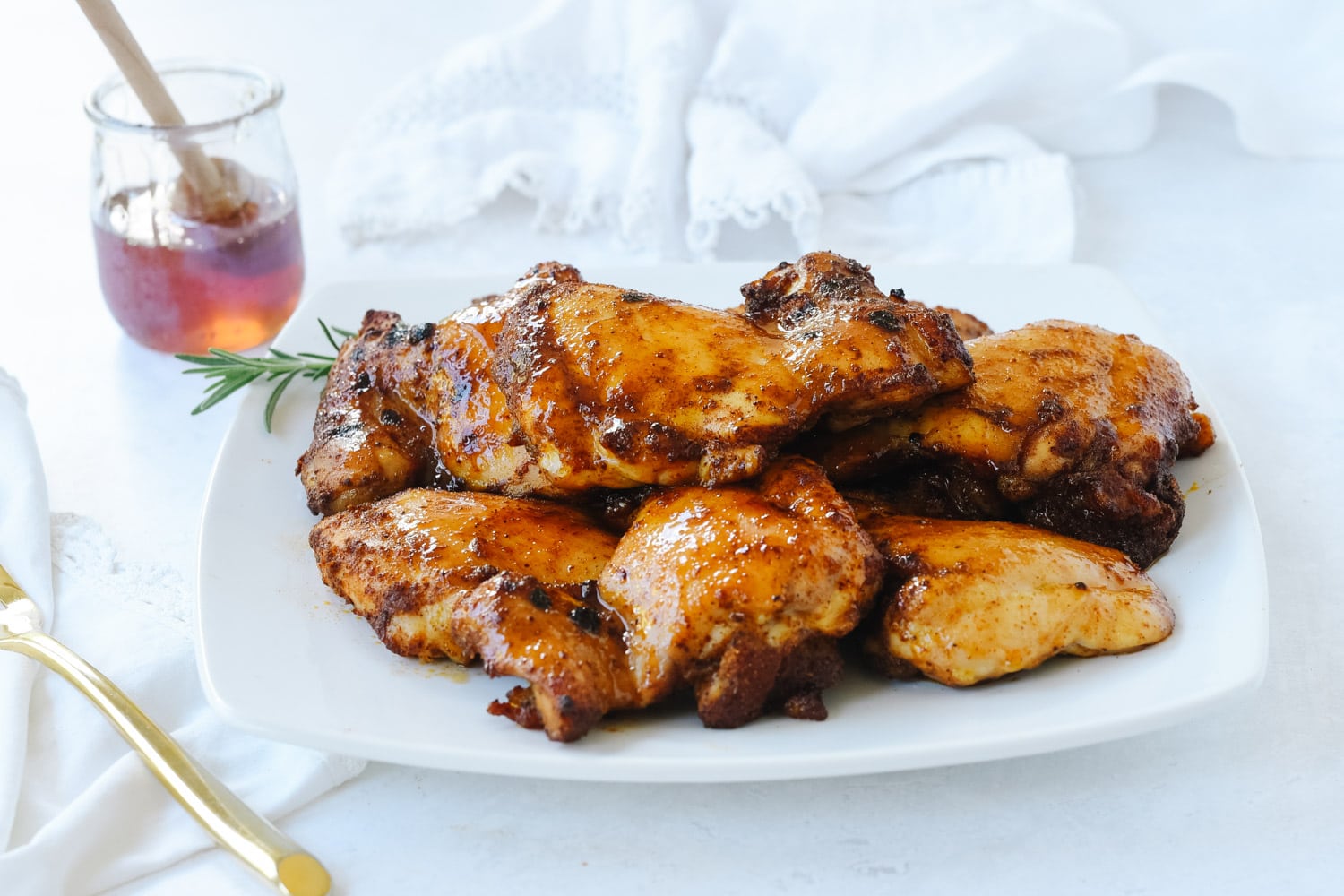 Spicy Honey Chicken Recipe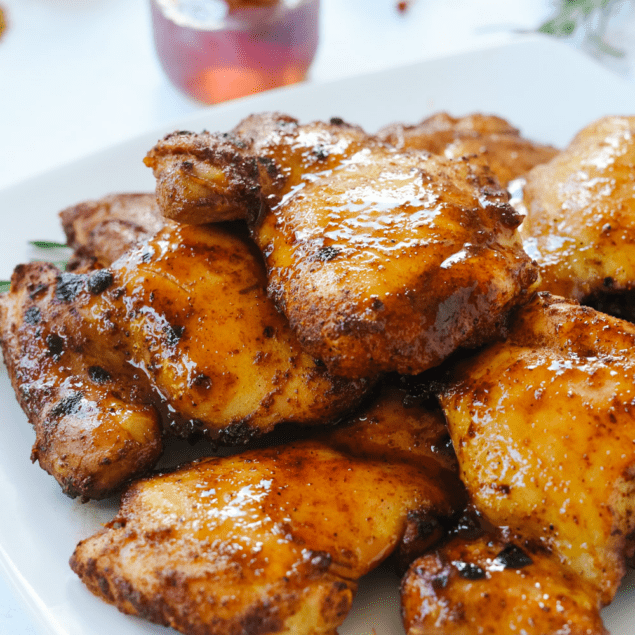 Spicy Honey Chicken
This Spicy Honey Chicken is covered in a rub of spices, grilled and then brushed with a sweet honey glaze for a perfect combination of sweet and heat.


Ingredients
Rub:
2 tsp Garlic Powder
2 tsp Chili Powder
1 tsp Salt
1 tsp Ground Cumin
1 tsp paprika
1/4-1/2 tsp Cayenne pepper depending on how hot you like it
8 boneless skinless chicken thighs
Glaze:
6 Tbsp Honey
2 Tbsp Cider Vinegar
Instructions
Combine first 6 ingredients (all the spices) in bowl and mix well.

Use kitchen shears (or a pair of clean scissors) to trim off any excess fat from the chicken pieces.

Toss chicken with spice rub to coat all sides well.

Brush grill surface lightly with oil.

Grill chicken a few minutes on each side, until cooked through. Or bake in a 450 degree oven.

Combine honey and vinegar in a small bowl, stirring well until combined.

Brush mixture on chicken (both sides) in the final moments of grilling.

Now because the glaze is sugar-based, you'll want to turn the heat down so it doesn't burn, but let it cook for a few minutes to caramelize. If you are using an oven, place the glazed chicken under the broiler for a minute or so.
Nutrition Facts:
Calories: 378kcal (19%) Carbohydrates: 28g (9%) Protein: 44g (88%) Fat: 10g (15%) Saturated Fat: 2g (13%) Cholesterol: 215mg (72%) Sodium: 808mg (35%) Potassium: 637mg (18%) Fiber: 1g (4%) Sugar: 26g (29%) Vitamin A: 785IU (16%) Calcium: 29mg (3%) Iron: 2.7mg (15%)
* Disclaimer: All nutrition information are estimates only. Read full disclosure here.
Need some help figuring out what's for dinner tonight?
Come join our Facebook Group! Join hundreds of others who love sharing dinner time ideas. You don't want to miss out on the fun!

You'll find lots of ideas for dinner from all our awesome members and you can share your ideas too! Join the Family Dinner Table today.