This Slow Cooker Chipotle Copycat Barbacoa Beef is perfection!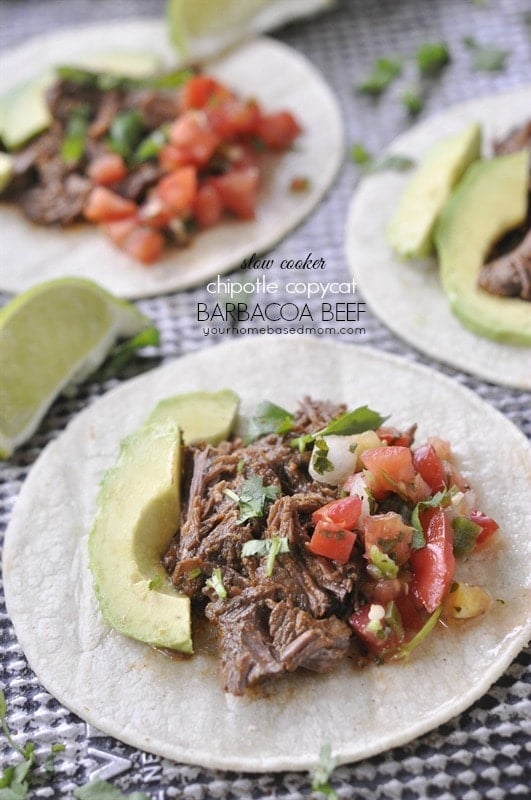 ***If you love EASY and DELICIOUS meals that you can make for your family in your slow cooker, please join me over on Instgram where I share ALL slow cooker recipes!  Hope to see you there!  Find me on Instagram at @slowcookerrecipelove ***
Fall is here and I'm breaking out the slow cooker!
There is nothing better than arriving home on a cool, rainy afternoon and smelling dinner cooking away in the slow cooker.   I love that smell anytime of year but especially in the fall.  Makes me all warm and cozy.
Today's recipe is a copycat recipe for one of my favorite fast food places – Chipotle. I am not much of a fast food kind of girl  but when I am running around and need lunch now, Chipotle will always be my fast food of choice.  I must admit I don't usually get the Barbacoa Beef when I visit Chipotle because it is a little too spicy for me.  I usually get the chicken.  I decided to create my own, not quite so spicy version at home.  Of course you can make your version as spicy as you like by the number of chipotle peppers you  put in.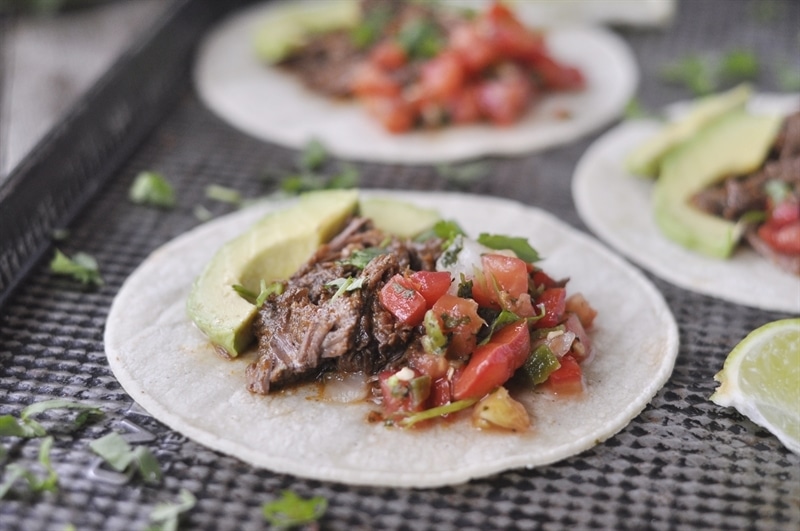 This recipe uses chuck roast or pot roast.  I cut the roast into chunks and then browned those in a pan over medium high heat until the pieces are browned.  They then get put into the slow cooker along with the rest of the ingredients and cook away for about 6 hours on high or 8-10 on low.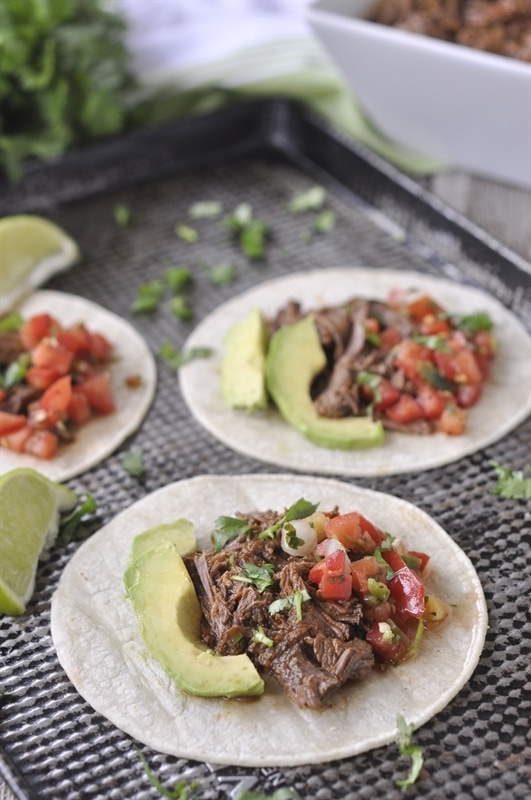 All that is left to do then is shred the meat up.  I do so about an hour before I am going to serve it and then let it sit in the juices in the slow cooker for another hour to absorb more flavor.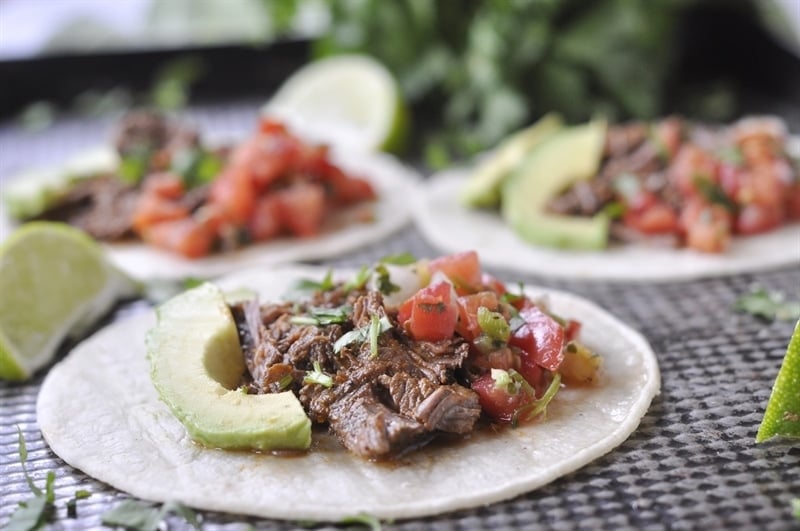 You can use this meat all kinds of ways – in a taco, a burrito, a quesadilla, an enchilada or just it straight out of the slow cooker!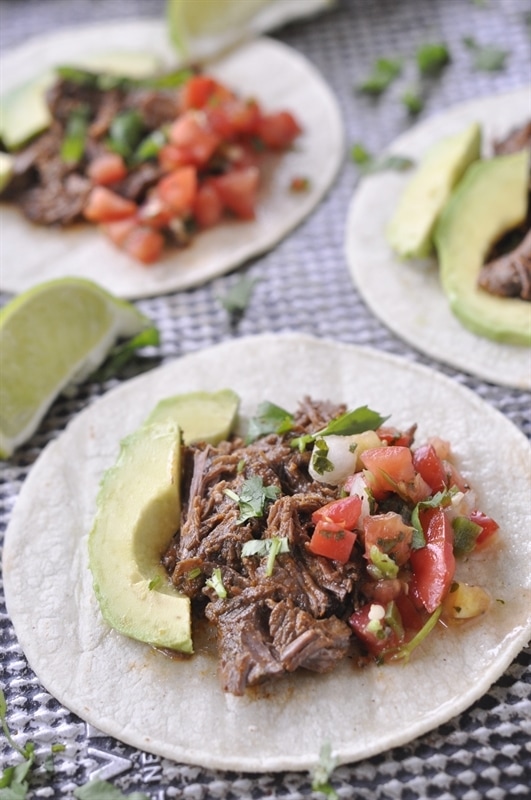 Just be warned this dish does have some heat.  I like just a little heat so I cut down on the peppers I put in so judge according to your desired level of heat!
For other yummy slow cooker recipes try these:  Slow Cooker Chicken & Dumplings  – Slow Cooker Salsa Chicken – Slow Cooker Pork Chile Verde
***If you love EASY and DELICIOUS meals that you can make for your family in your slow cooker, please join me over on Instgram where I share ALL slow cooker recipes!  Hope to see you there!  Find me on Instagram at @slowcookerrecipelove ***

Slow Cooker Chipotle Copycat Barbacoa Beef
Ingredients
1/3 C apple cider vinegar
5 tsps garlic minced
4 tsp cumin
3 tsp oregano
1 tsp black pepper
1/2 tsp salt
1/4 tsp ground cloves
1 C chicken broth
3 Tbsp fresh lime juice
1-2 Chipotle Chilies in adobo for mild add 1 for moderate heat add 2 and for spicy hot add 3-4.
2 Tbsp olive oil
4-5 lb. chuck roast or pot roast
Instructions
Mix together chililes, vinegar, lime, garlic, cumin, oregano, pepper, salt and cloves in blender and blend until smooth.

Remove excess fat from meat.

Cut into large chuncks. I cut my 4 lb. roast into about 6 pieces

Add oil to heavy pan and heat.

Brown meat over medium heat until browned all sides.

Place meat in crockpot and add sauce

Pour in chicken broth and stir to combine.

Cook on high for 6 hours or low for 8-10

Shred meat and allow to sit in juices for 30-60 minutes