Another favorite Christmas tradition at our house is Shepherd's Night.  We usually do this the Monday before Christmas.
On Shepherd's Night we eat "shepherd" like food, eat dinner under the stars (the Christmas tree lights) and think about what it must have been like for those shepherds on that very special night.
Please excuse the poor photos but I took these under my  kitchen lights as we were getting ready to eat.  No staged food for you this time!  This is real life.
Our meal consists of a variety of cheeses, meats, fruits, nuts and olives.
I am not a cheese expert so I went to Trader Joe's and found someone who worked there that knew their cheeses and asked for their recommendations.
Our favorite was this soft, triple cream French cheese.  So yummy!  I am also a big fan of Beecher's Cheddar that is from Seattle.
We also had a selection of bread and crackers.  We had a baguette, some rosemary flat bread (from Costco) and some crackers.
My favorite thing to serve with cheese is Fig Preserves.  So yummy.  I love putting a slice of Beecher's sharp cheddar on a cracker with a spoonful of fig preserves topped with a Marcona Almond.  So yummy!
I also went to Whole Foods and got a selection of olives (again I asked someone who worked there for recommendations)  We had some dried figs, a bowl of Marcona almonds and some oranges.
I bought a few different salamis and then Jim decided we needed to add something new to the menu this year although I'm pretty sure the shepherds didn't eat this but we grilled some salmon too!

We are not wine drinkers so we had some sparkling apple juice instead.  Some fun flavors.  My favorite was the mango!

We also had some gluten free crackers and bread and a selection of goat cheeses for our gluten free/dairy free girl!
We each loaded up our plates and then sat together under the stars in the living room.
We are grateful for those shepherds who so many years ago stood watch and saw that special star that brought the message that Jesus Christ was born!
For other Wilkes family Christmas traditions:

Annual Cookie Baking Day –Christmas Hot Chocolate Bar –Breakfast with Santa –Christmas Minute to Win It Games
Enjoy!
Leigh Anne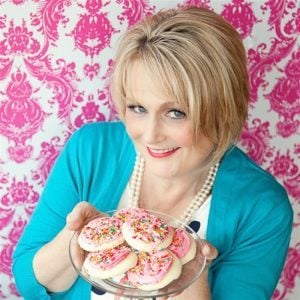 You can also visit me on Facebook, Pinterest, Twitter, Instagram
and Google+
For a list of where I Link Up each week go here