Even though Christmas has now come and gone I thought it might be fun to share with you what we do here at the Wilkes house on Christmas Eve.
As you know, we are big on tradition. We have basically been doing the same thing on Christmas Eve since we have been married – and I did it with my family before that. That's a long time.
Dinner is always fondue.
We do a meat fondue which consists of hot oil ( you can do hot broth also) with steak, little sausages and mushrooms. We also do a cheese fondue which I purchase from a local German restaurant along with a selection of breads to dip in to it. This is my favorite!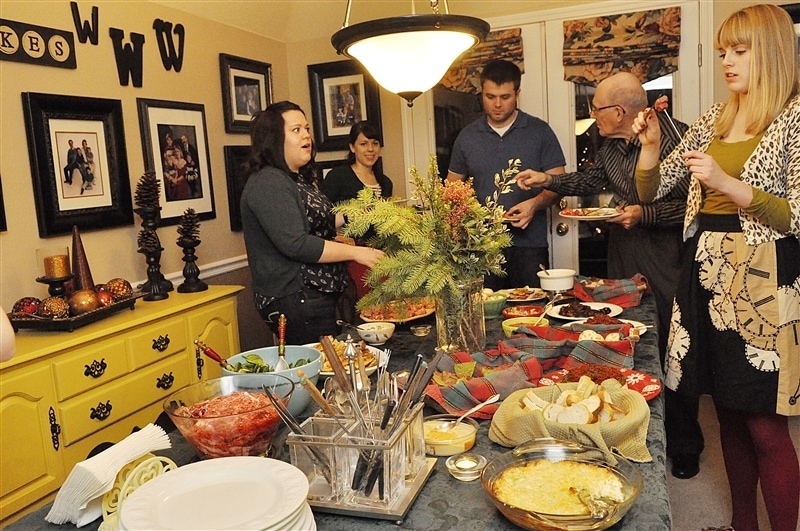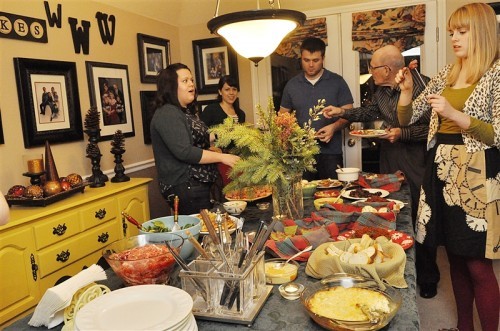 Of course there is lots of other food. We have several friends and family members join us so everyone helps out and brings things. There was a yummy spinach salad, jello salad, potato skins with salsa and guacamole, artichoke dip, cranberry salsa, a store bought pesto/sundried tomato torta and a chocolate fountain for dessert. I also tried a new appetizer I'll be sharing later this week that will be perfect for New Year's Eve.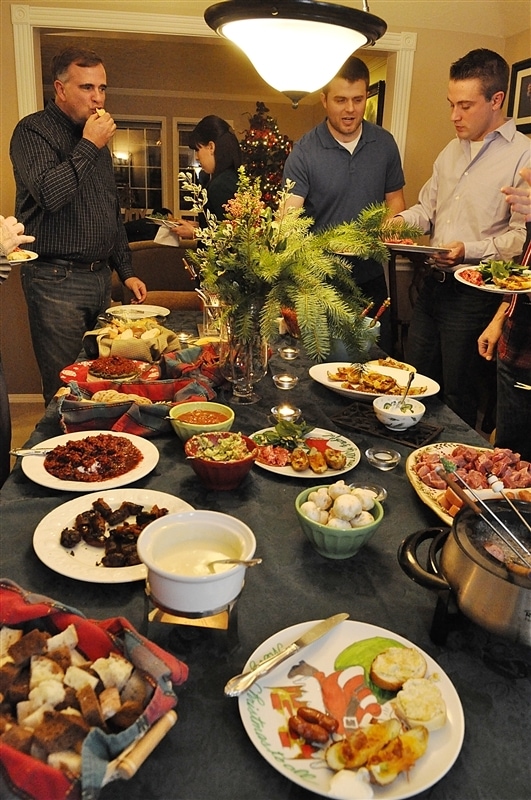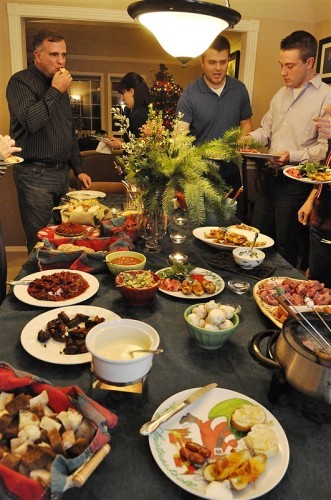 We still eat on the same plates we ate on when I was a child. My mother made them!
Everyone sits around in the living room and enjoys their dinner. We pull out the wicker trays for this special occasion!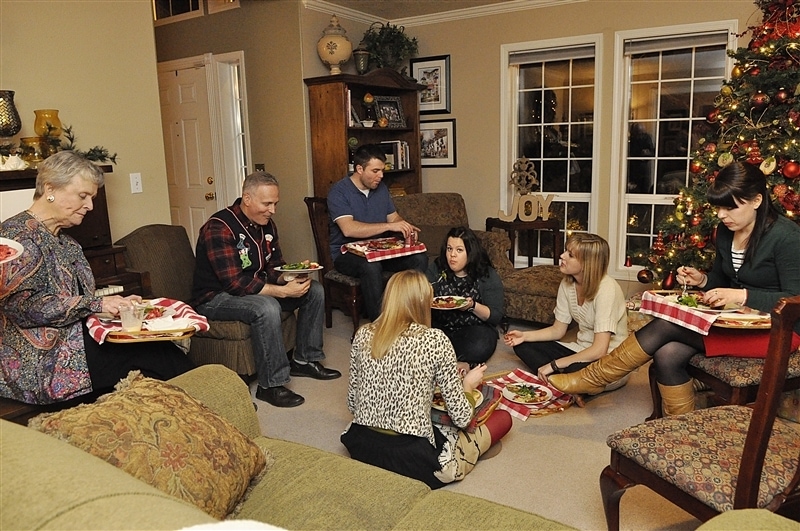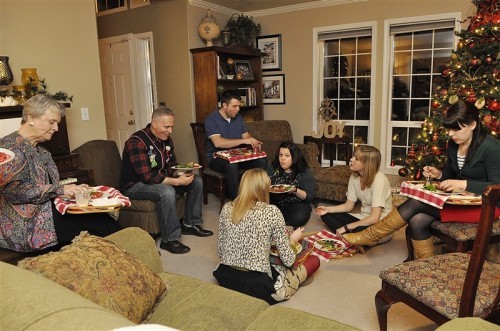 After dinner it is time for chime playing. This year we had a momentary crisis when I couldn't find the music for the chimes. For some reason last year I put it away in a different place than I have for the last 17 years and I some how forgot. Fortunately after tearing my closet apart and a little anxiety and stress I found them and the evening could continue on!!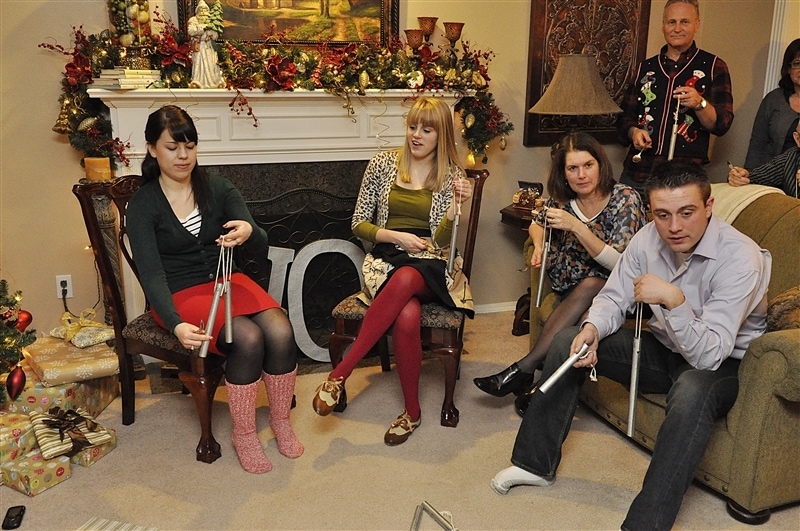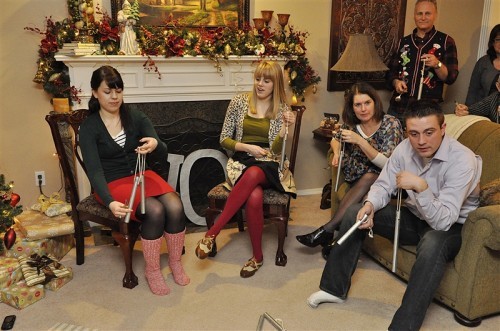 I am always the director of the chime playing.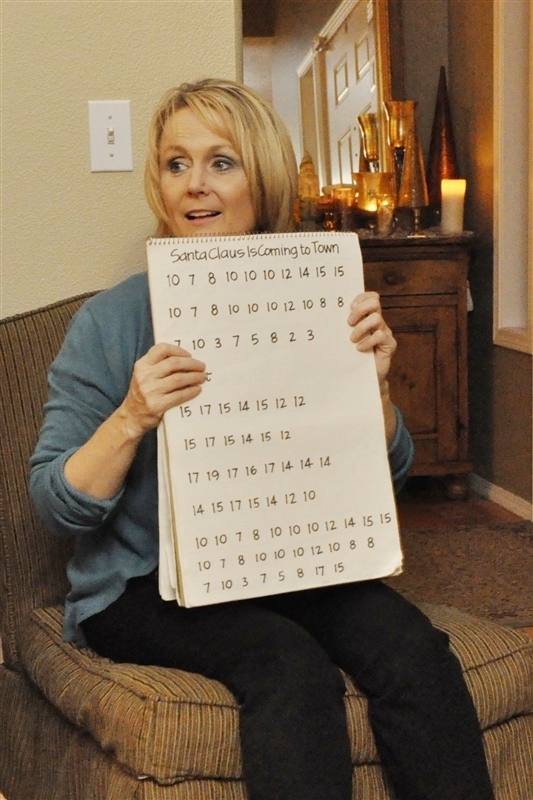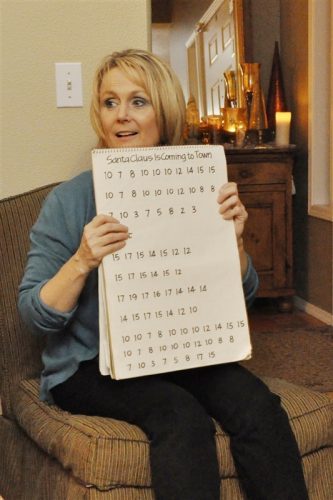 After that we had the traditional acting out of the nativity. Complete with costumes and dramatic flair. Remember I have a house full of thespians! Our friends Larry and Marsha graciously played the part of Mary and Joseph.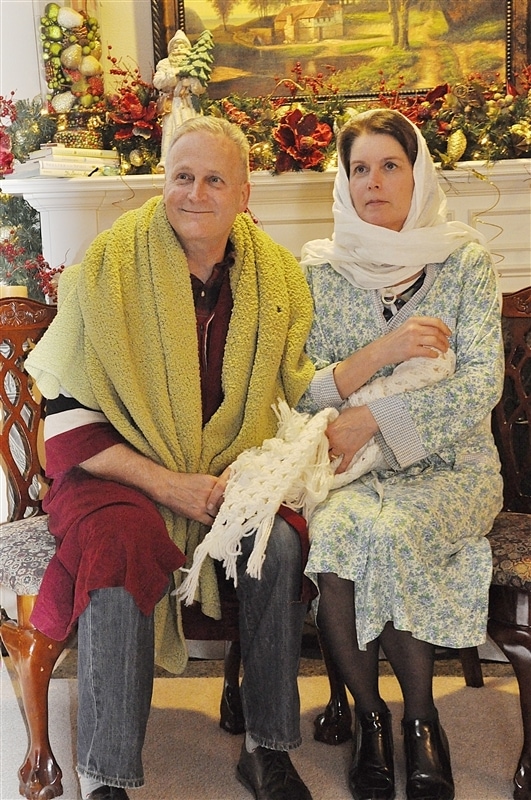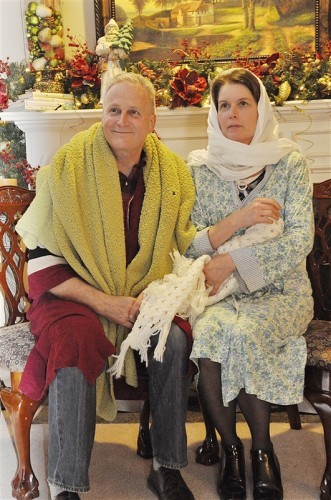 The shepherds were sore afraid!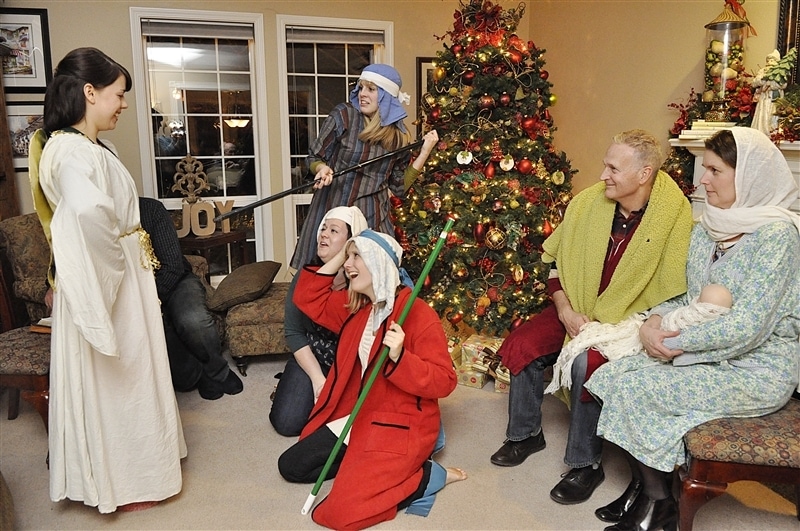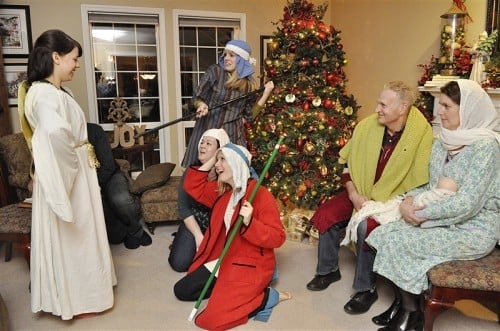 Those Joy letters came in handy for the Angel of the Lord.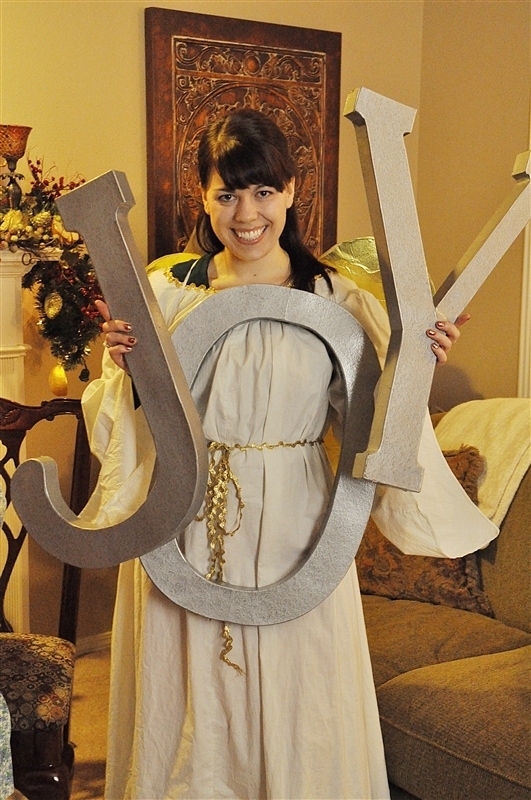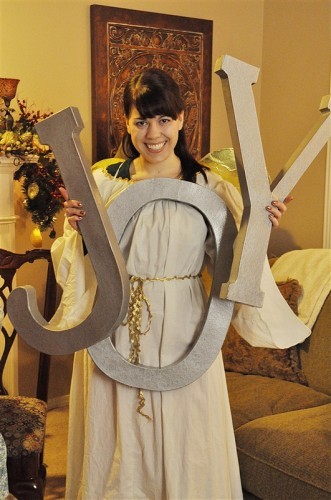 The Three Wise Men arrived from the East bearing gifts.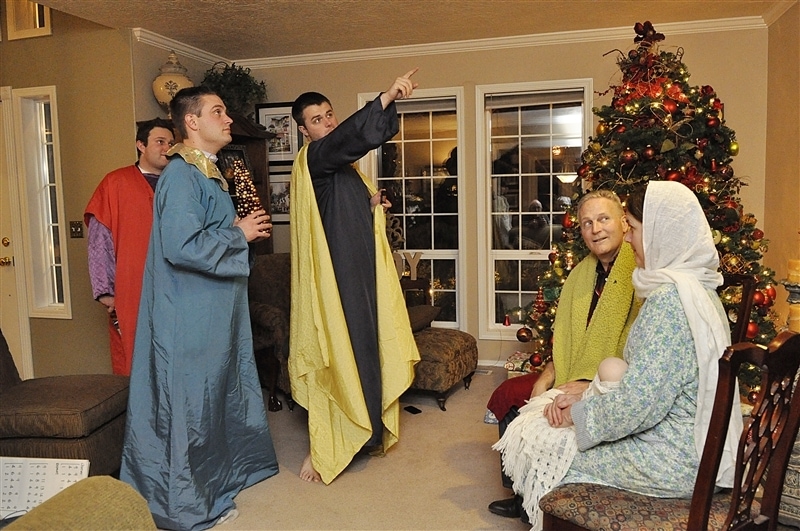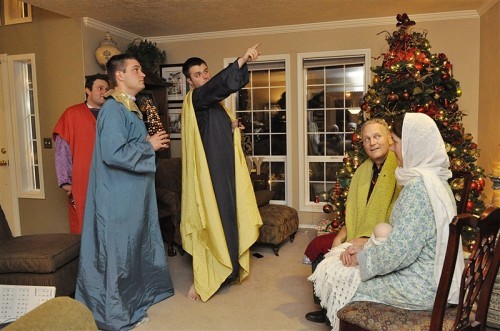 Our Nativity.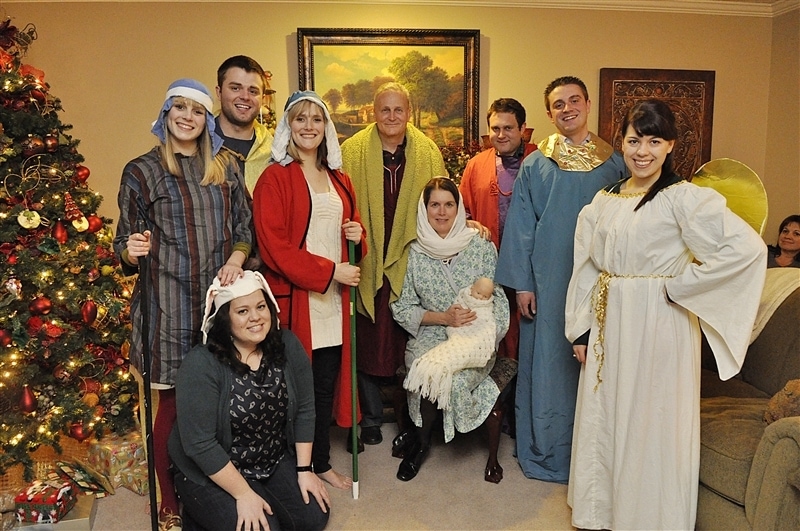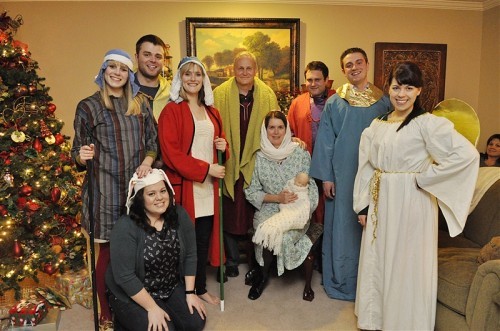 After the Nativity we had a little fun with some Minute to Win it games.
For the first one you had to move a cookie from your forehead to your mouth using only your facial muscles! It was hilarious. Would make a great New Year's Eve activity too!!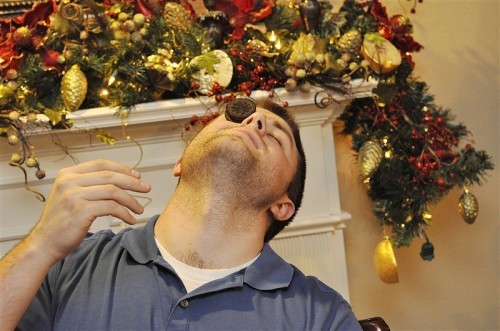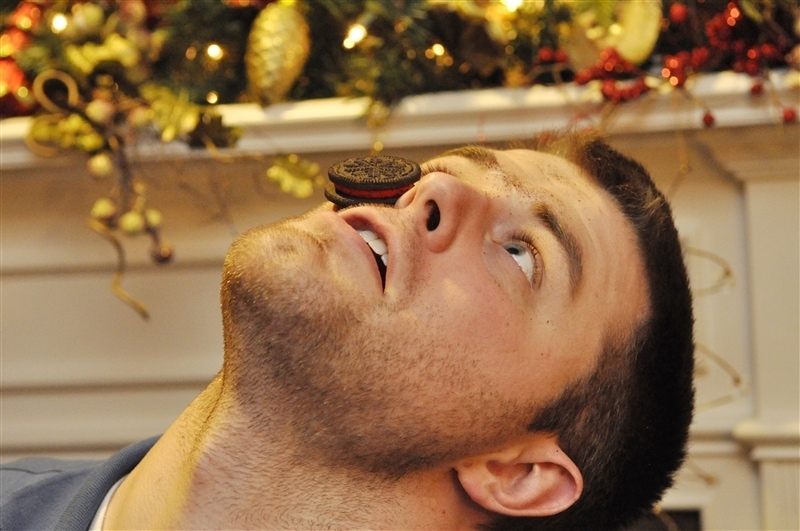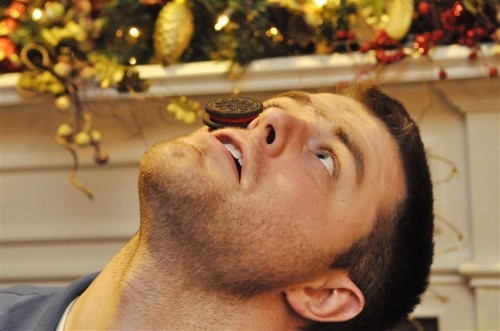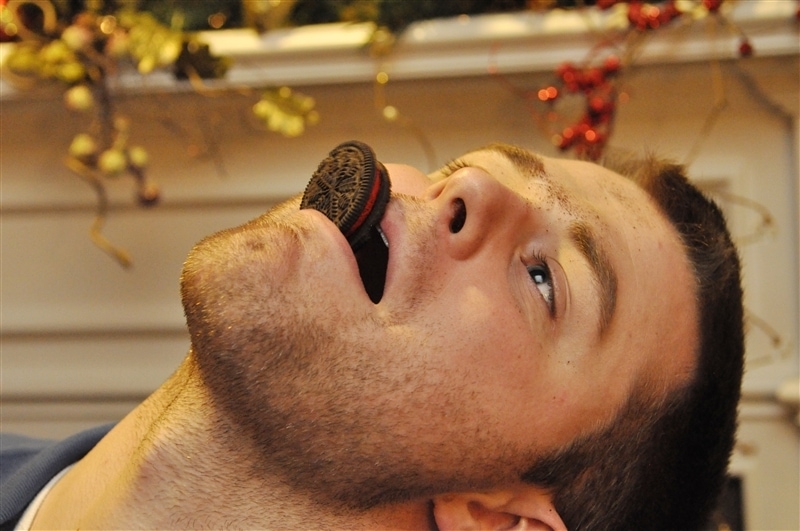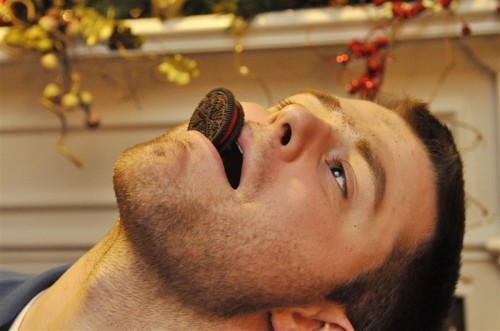 I think the girls beat the boys in this one!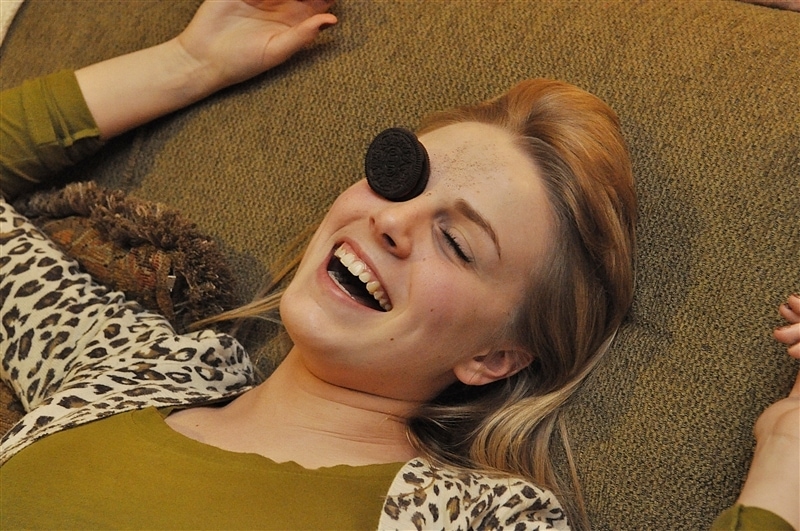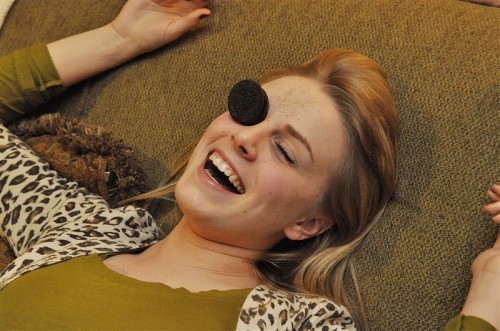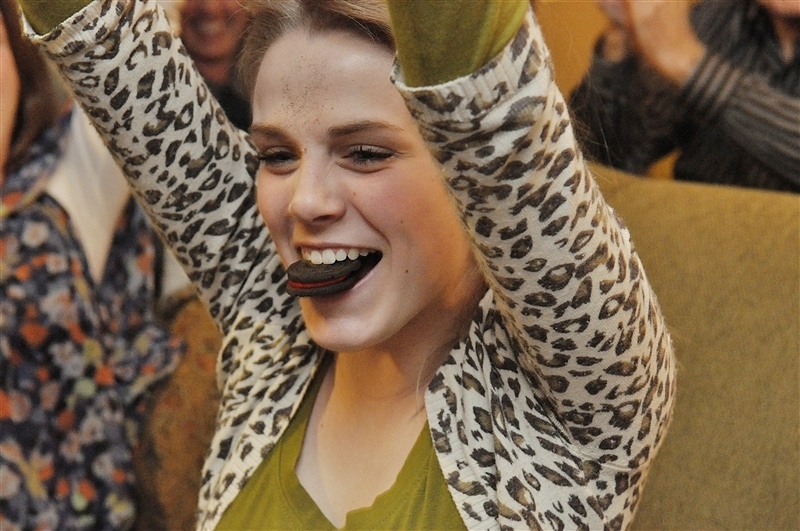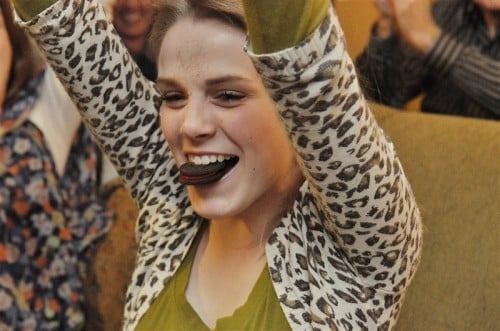 Another game was trying to get the pom pom stuck on your vaseline covered nose. This one was actually harder than the cookie game!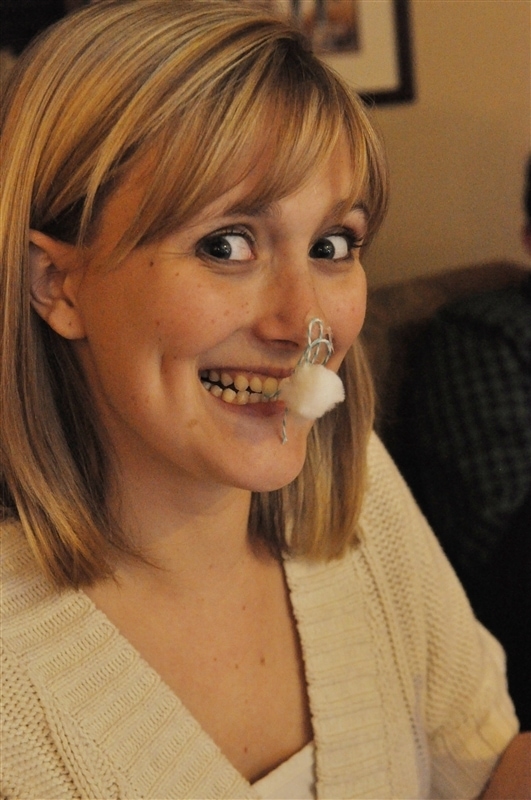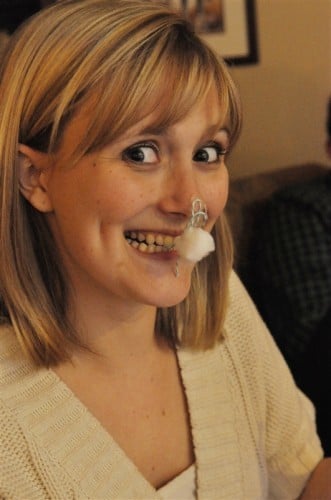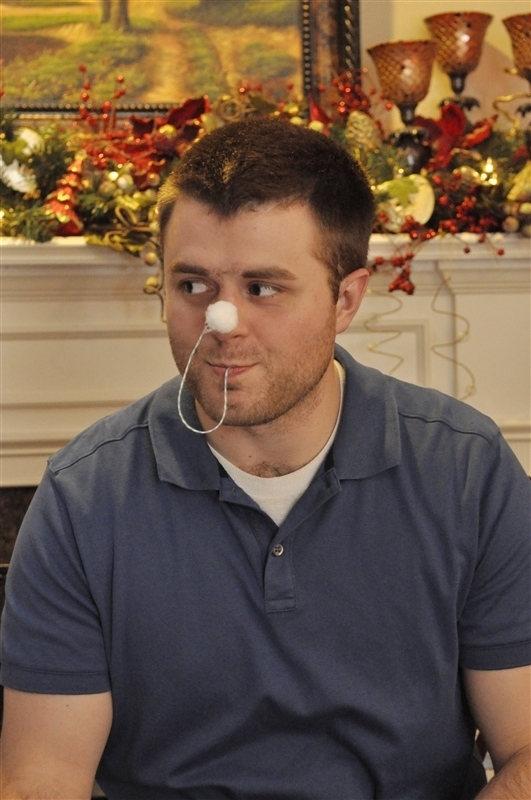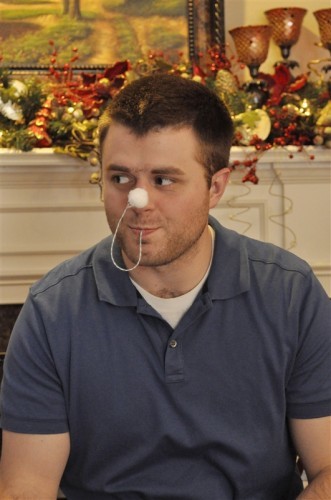 It was a fun, family and friend filled evening.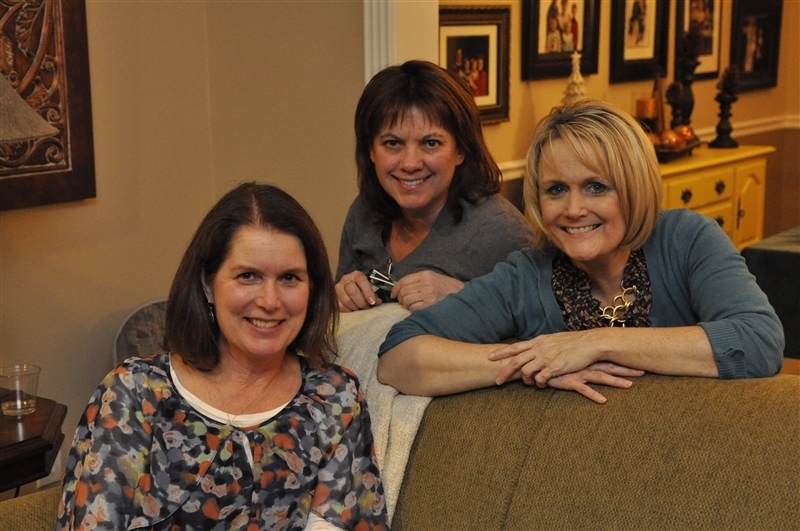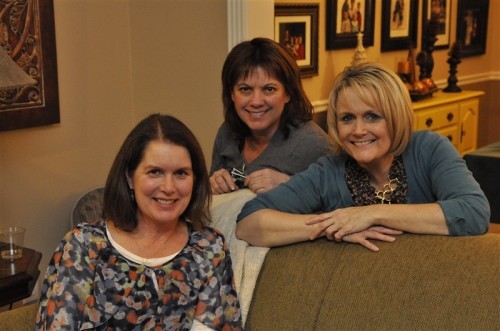 After our guests left Santa elves left a surprise at the door, just like they have for the last 27 years! New pajamas for everyone!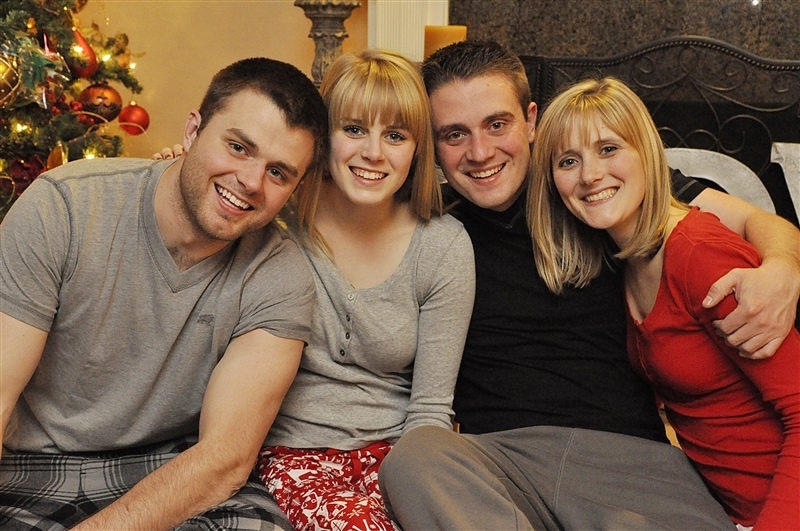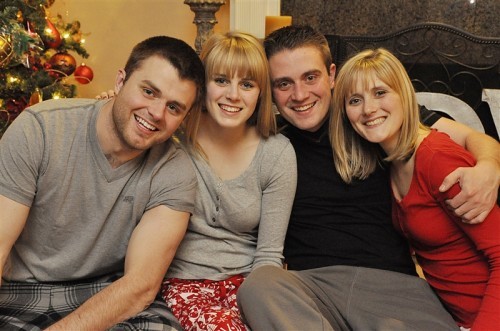 The gifts were then carried down to the tree. No gifts are allowed under the tree before Christmas Eve because people shake and poke them too much!!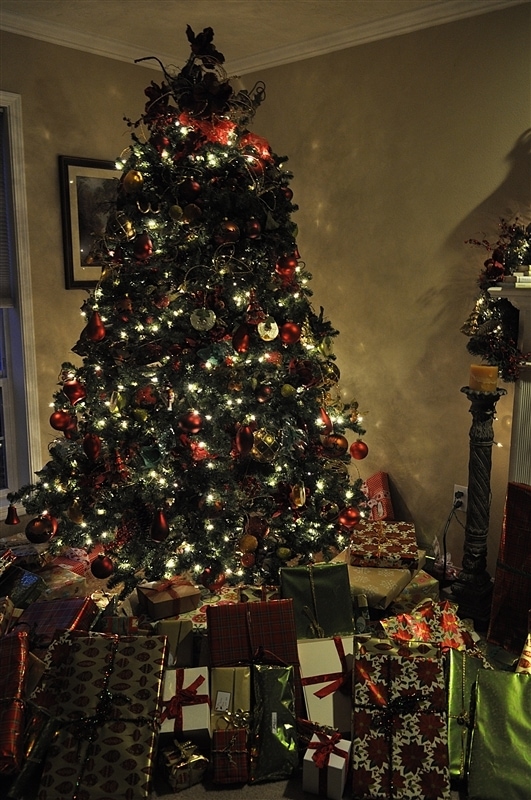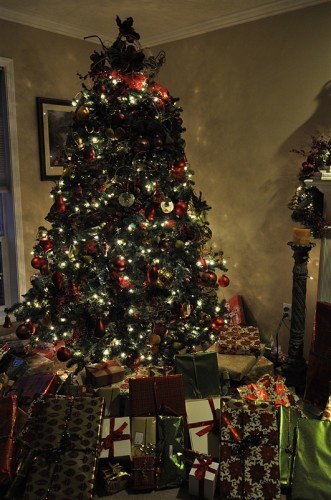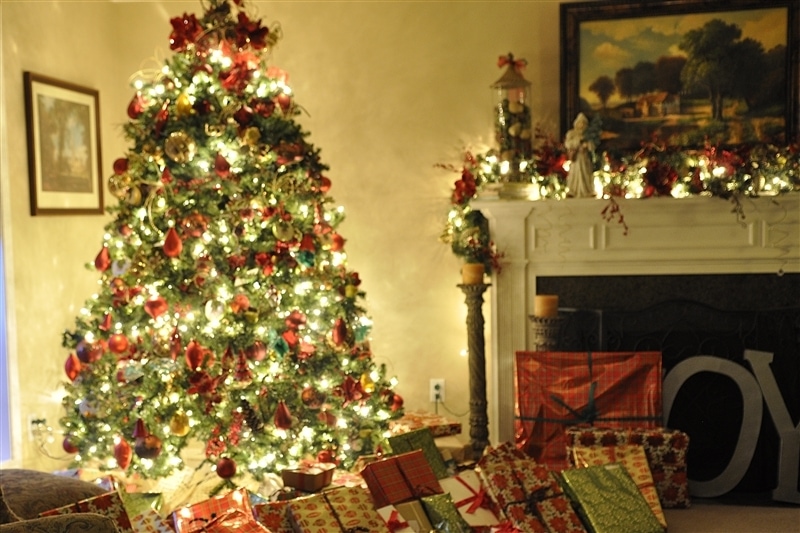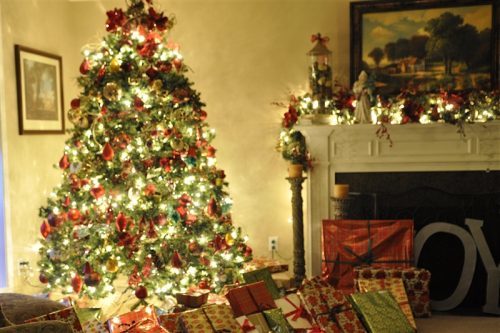 Then the children were all tucked in their beds while visions of sugar plums danced in their head……
Actually, at our house mom and dad went to bed and the kids hung out downstairs for a while!!