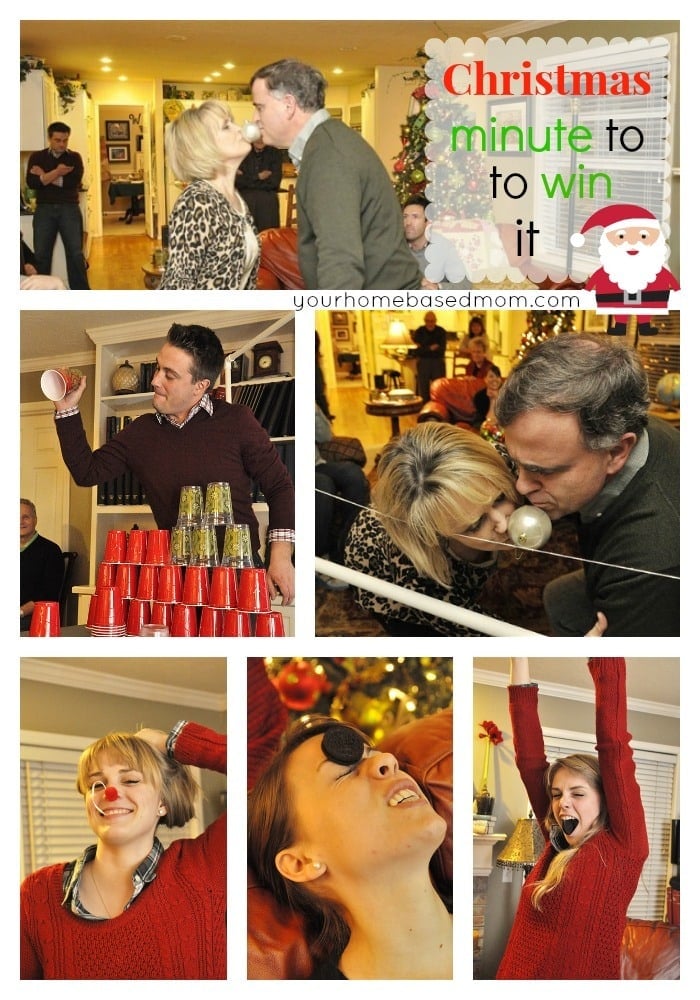 For Christmas Eve this year we had our traditional fare – fondue followed by the playing of the chimes and acting out of the nativity.
We added in a fun new twist this year with some games.  Many of you may be familiar with the TV show Minute to Win It.   It is a variety of fun little games that you compete in within a minutes time.
We put together a few of them for a Christmas version of Minute to Win it Games and it was a total blast!  They would also be fun to play on New Year's Eve.
Christmas Minute to Win It Games
 Holiday Kiss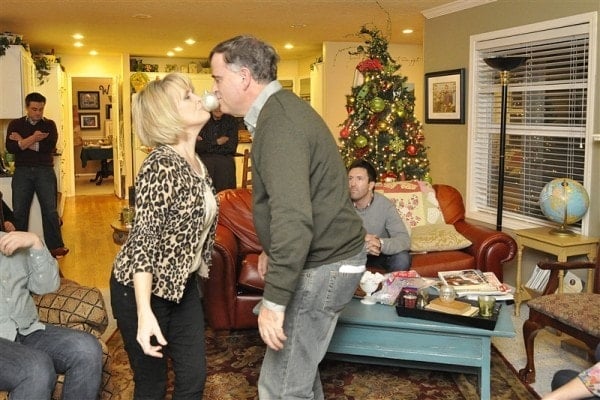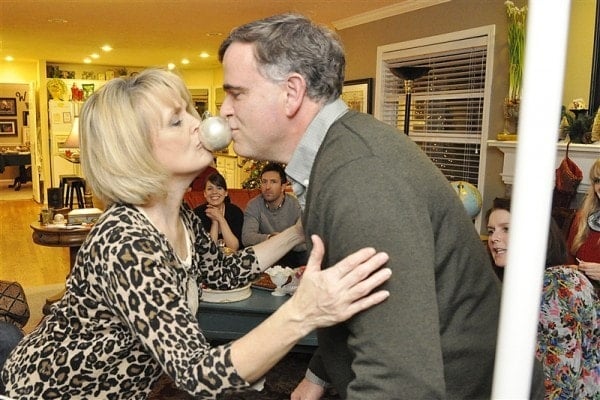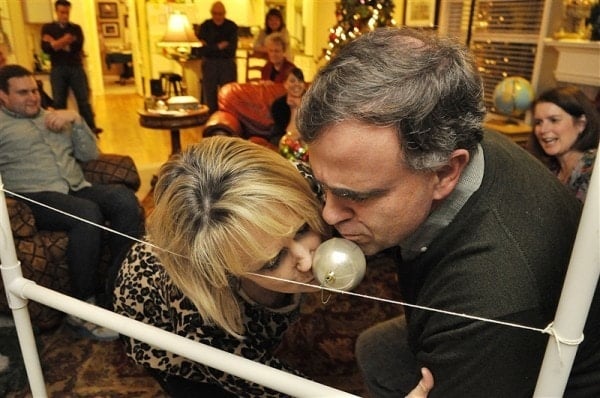 Required Items:
Length of string
 at least 3 feet long secured between 2 poles
3 ornaments
 with hooks
Two Contestants place Christmas ornament between their lips and to the string line 6 feet away. Try to get all three ornaments on the line.
Should the ball drop, contestants will be unsuccessful at the Holiday Kiss Challenge.
A time allocation of 60 seconds will apply.
Contestants must not use any part of their body to support the ball other than with their lips.
 Deer Nose Dive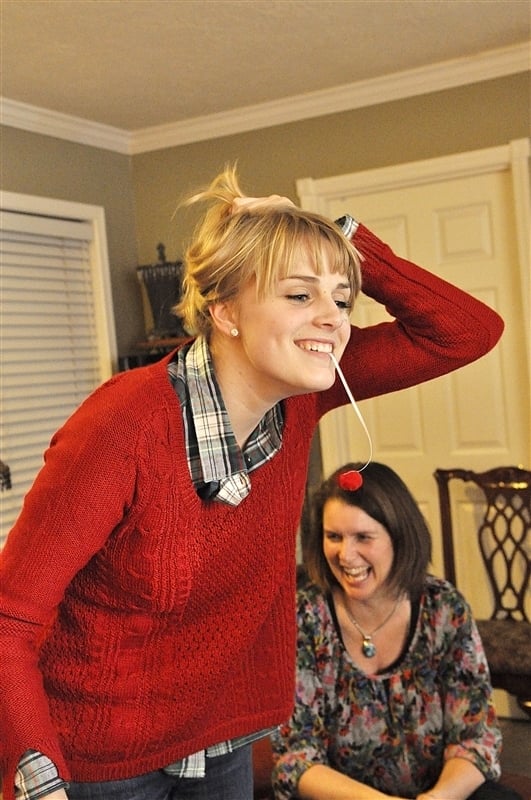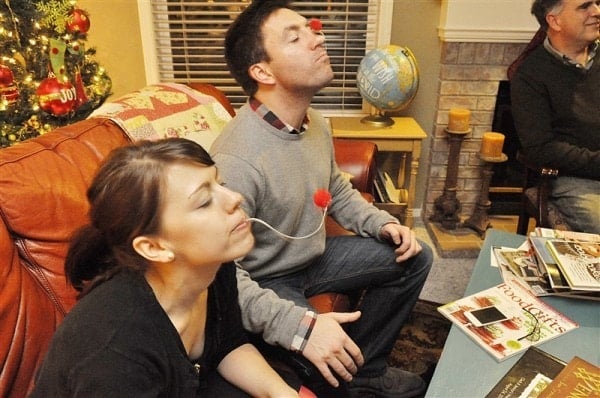 Required items:
Vaseline
(Petroleum jelly)
Ribbon cut to length approx 7-8 inches. Red craft pom pom
 (medium size) stuck on end of ribbon.
Each contestant applies a dab of Vaseline to their nose.
Contestant must swing the ribbon/red nose and successfully land "stick" the red nose on his/her nose.
Contestant must land the red pom pom onto the nose without coming into contact with any other body part or object.
If a player touches the red pom pom with the hands they will be disqualified.
Contestants may not touch their face with their hands or any other body part.
To complete the game, contestant must successfully land five red nose pom pom onto their nose as described above, within the 60-second time limit.
Face the Cookie
Some people get really excited when they win!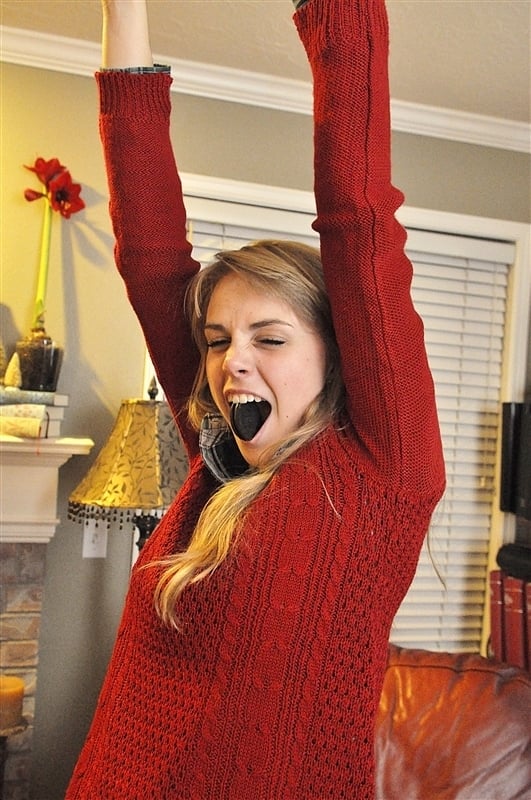 Required Items:
Cookie for each contestant.  Round cookies work best.
When the clock starts, player may grab the first cookie and place it on the forehead.
The cookie must remain in contact with the face (i.e. player may not toss the cookie from the forehead and catch it in the mouth).
If a cookie falls, player may reset an intact cookie on the forehead for the next attempt.
To complete the game, the player must hold an intact cookie 3 times with his or her mouth within the 60-second time limit.
Christmas Tree Stack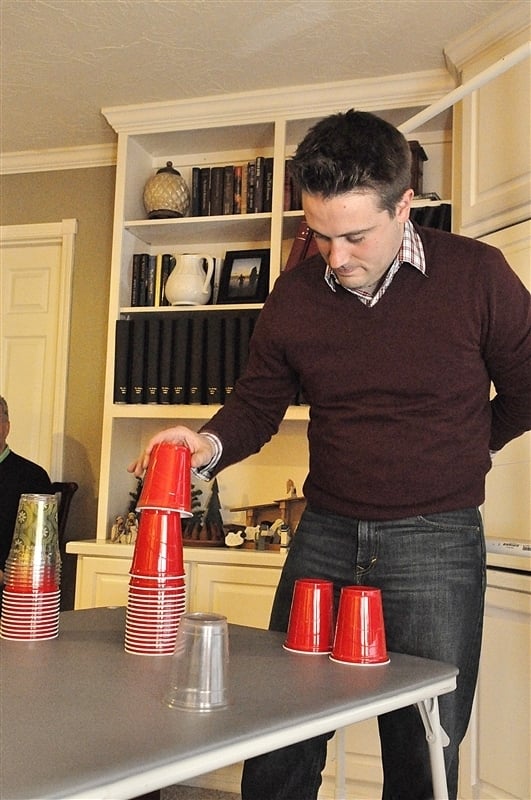 Required items:
36 plastic cups
 all the same size
When the clock starts, player may begin stacking cups into a pyramid shape.
When the triangle is complete, with 1 cup at the top, 2 cups below it, and so on, the player may begin to get the cups into a single stack.
To complete the game, the player must build a complete pyramid using all of the cups, then get all the cups back into a single stack within the 60-second time limit.
Note:  Be sure and use cups that are all the same size – much easier!
Wreath Toss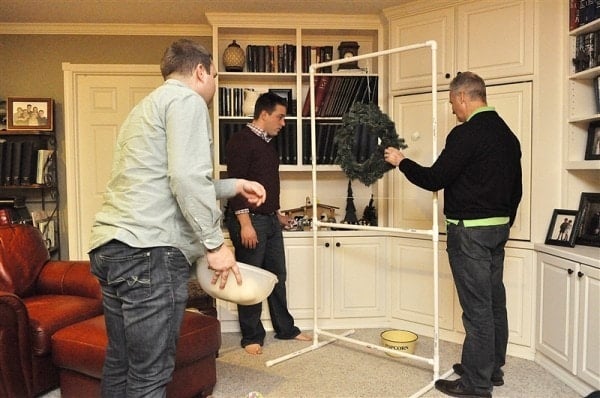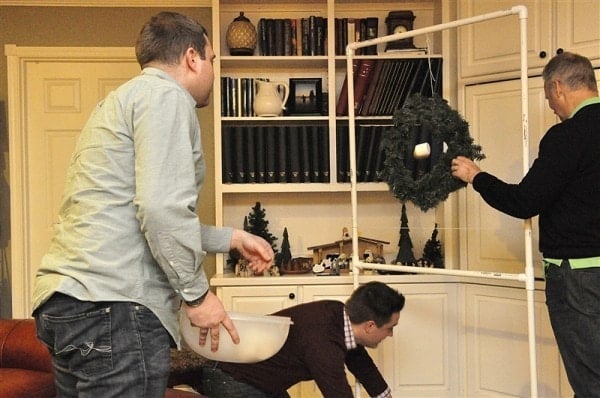 Required Items:
Wreath, Large Marshmallows, Bowl, String to hang wreath with
Hang a wreath from somewhere ( I had this PVC pipe frame leftover from our Wedding Carnival)
Place a bowl or bucket behind it on the floor.
See how many marshmallows (we used the jumbo size) you can throw through the wreath and have them land in the bucket in a 60 seconds.  We had it set up so the marshmallows rebounded off the cabinet making it easier to get them in the bowl.  To make it harder don't have a backdrop.
For More Christmas Minute to Win it Games go here.
And Even More Christmas Minute to Win it Games here.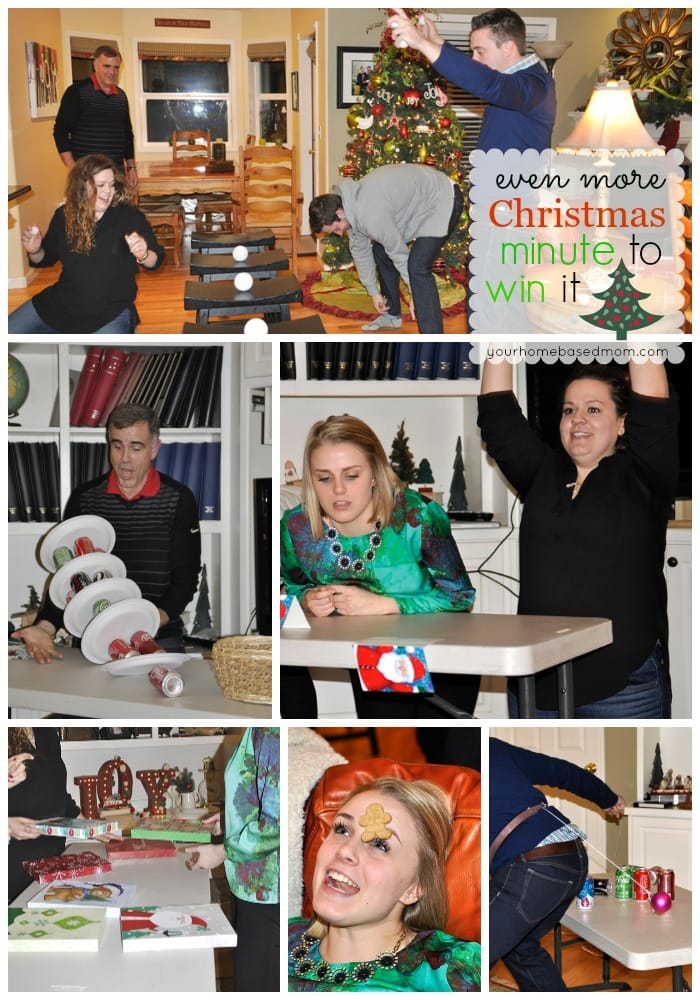 Enjoy!
Leigh Anne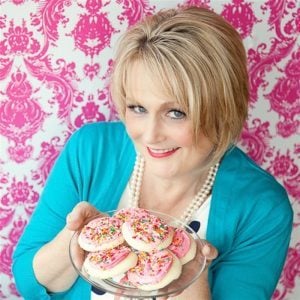 You can also visit me on Facebook, Pinterest, Twitter or Instagram.
Get my Weekly Menu Plan for FREE!
Receive my FREE "What's for Dinner?" Meal Planning Course, a copy of my FREE ebook that includes my most popular recipes and my FREE weekly Meal Plan.