Pecan Topped Sweet Potatoes are always a welcome guest at the holiday table.  People aren't quite sure if it's a vegetable or dessert!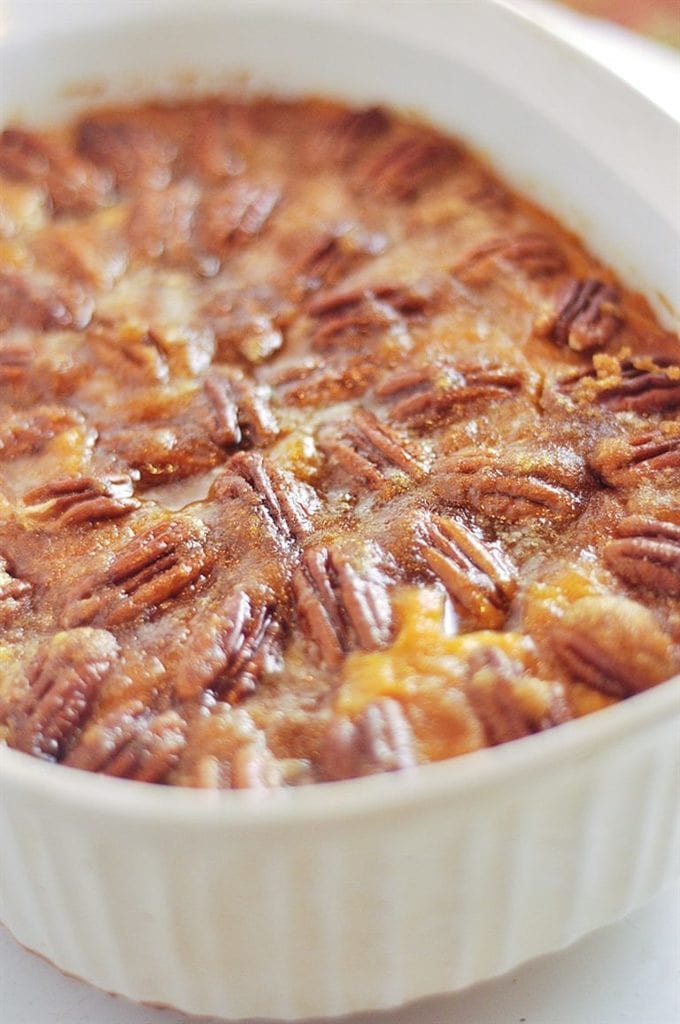 Over the next few days I am going to be sharing some of our favorite Thanksgiving menu items!
We'll be spending the holiday with the four kids and about 40 of Jim's family in Utah.  We volunteered to host dinner.  Fortunately my lovely niece Emily (love that girl!)  is letting me use her house and kitchen!  I also have some amazing sister in laws and mother in law who have volunteered to help!
Today's recipe is one that was shared with me about 25 years ago by Jim's Aunt Dawn.  When the boys were little we spent Thanksgiving with them one year and she served this side dish.  I love family recipes. Not only are they usually some of the best recipes but I love using them and thinking about the family member who shared it with me.  Several of my favorite recipes have come from Aunt Dawn and although we don't see her or Uncle Glen often, I think of her each time I make one of  her recipes.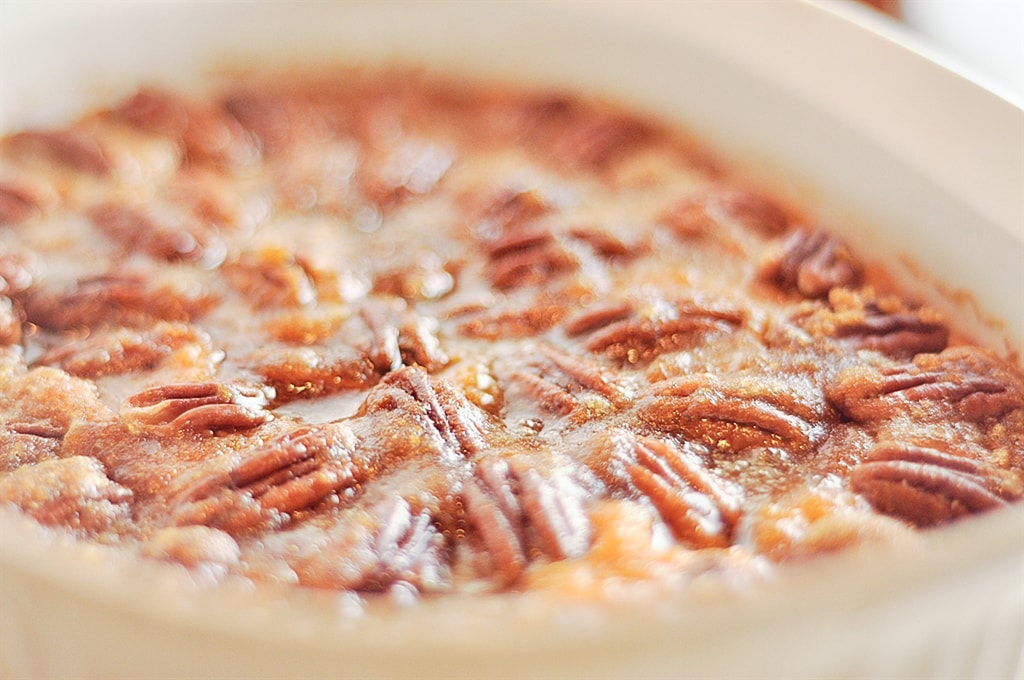 Not only is this recipe delicious but it is a great "make ahead" dish which helps cut down on the work and stress of the actual day.  Make it a day or two ahead of time and just keep it in your refrigerator.
Even if you think you don't like sweet potatoes give it a try – what's not to like about butter, brown sugar and pecans!?!?!
The recipe uses canned sweet potatoes – a large can and a small can.  The large can is 29 oz. and the small can 15.5 ounces.  After you drain them you can mash the sweet potatoes to your desired consistency.  Leave them lumpy if you like lumpy and smooth if you like smooth!
The addition of cinnamon, orange juice and brown sugar make for a nice sweet sweet potato!
After filling your 1 1/2 to 2 qt. dish arrange a pretty layer of pecans on the top.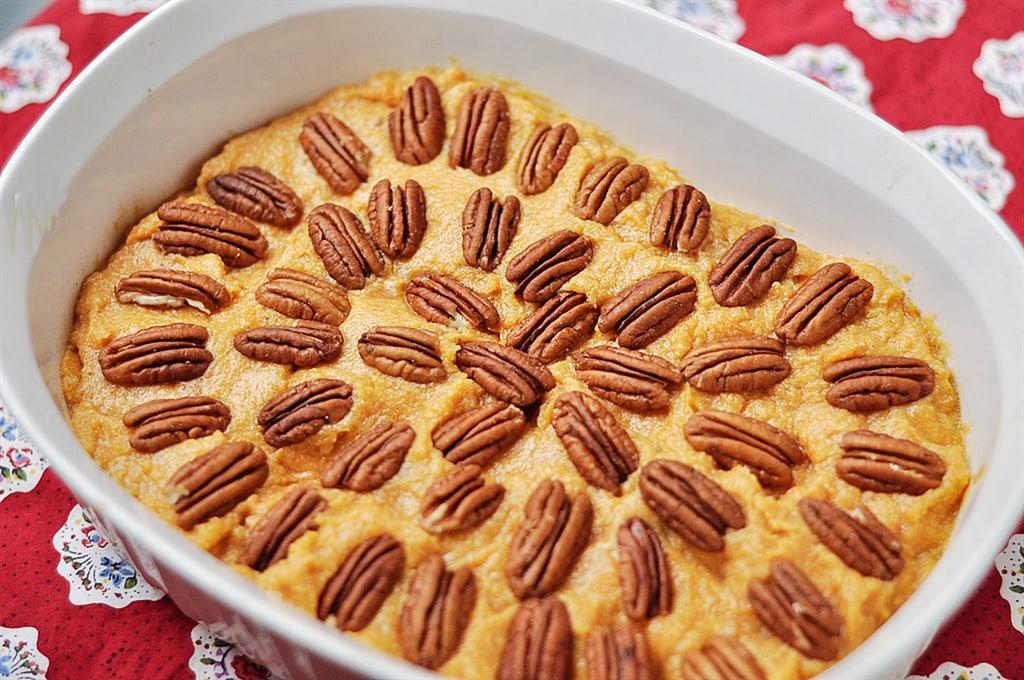 And then some more brown sugar and butter on top – yum!
Then bake away.
The butter and sugar form a nice sweet, crunchy topping.
Pecan Topped Sweet Potato Recipe
Pecan Topped Sweet Potatoes
Ingredients
1

large

29 oz. and 1 small can (15.5 oz.) sweet potatoes, drained and mashed to desired consistency (they should already be peeled)

2

eggs

1/4

C

brown sugar

1/4

C

butter

melted

1

tsp

salt

1

tsp

cinnamon

1

C

orange juice

I used reconsituted
Topping:
1

C

pecan halves

1/2

C

brown sugar

1/4

C

melted butter
Instructions
Into mashed sweet potatoes beat in eggs, brown sugar, butter, salt and cinnamon.

Add orange juice until mixture is moist and fluffy.

Put in 1 1/2 - 2 qt. baking dish.

If making ahead you can refrigerate at this point.

Before baking arrange pecan halves on top, sprinkle with brown sugar and drizzle butter over top. Bake uncovered in 375 oven for 20 minutes or until heated through.
Stay Updated!
Need more recipes and creative ideas? Sign up and get a FREE copy of my ebook! Do you think your friends would love this too? Please share my blog with them. Thanks!