Enjoy a delicious taste of fall with this Pear Pecan Snack Cake with Cinnamon Drizzle.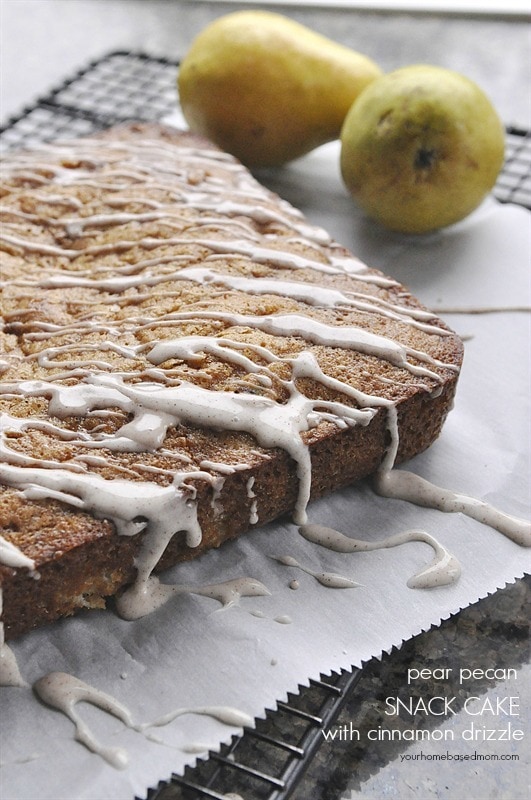 I am excited to be a  Bake a Little Extra Blog Ambassador and the following blog post is sponsored by Karo® Syrup.
I love to bake and when I can , I try to bake a little extra to share with my friends and neighbors.  In fact, I shared today's recipe for this yummy Pear Pecan Snack Cake at a neighborhood party this past weekend and it was a big hit.  Folks kept coming back to sneak a piece and the neighborhood kids were kind enough to keep asking if it was okay to have seconds.  Nothing says, "that was delicious" quite as well as an empty plate.
Packed with juicy pears and yummy fall flavors like pecans and cinnamon, it's not hard to see why it went quick.   This recipe was adapted from a Karo®  recipe for Apple Snack Cake.  Although it's called a snack cake, it's just not for snacking.  It would be great as a breakfast treat or as the main dessert after dinner.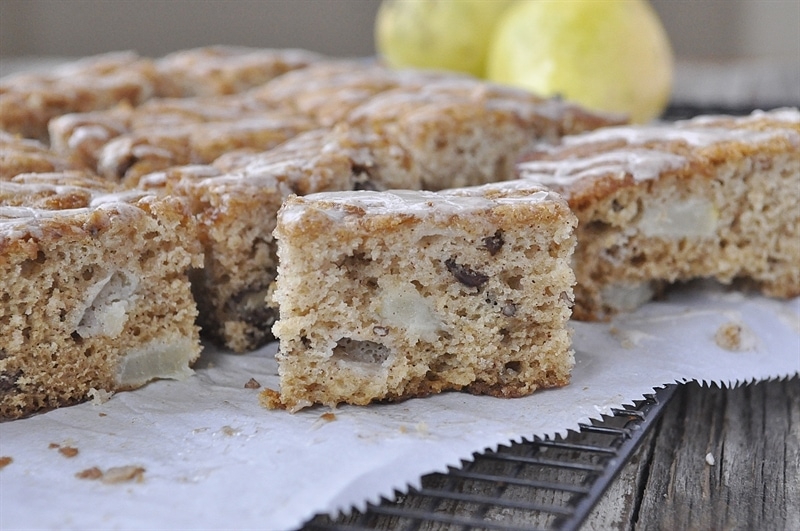 Here's how I put it together:
I started by combining the dry ingredients and setting them aside.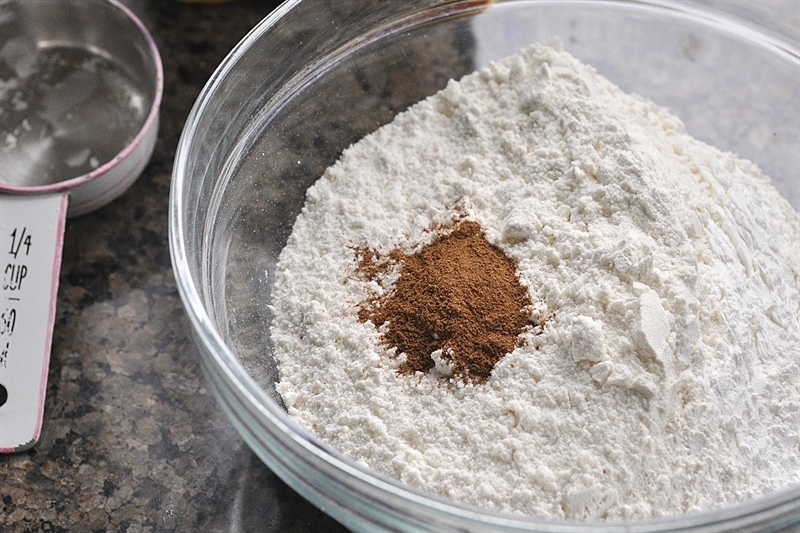 Then I mixed together the wet ingredients which include buttermilk, eggs, Karo® Light Corn Syrup , oil and vanilla.  The sweetness and texture of the syrup helps create a moist and delicious cake.  Karo Syrup is pretty much a staple in my pantry, especially during the holiday baking season.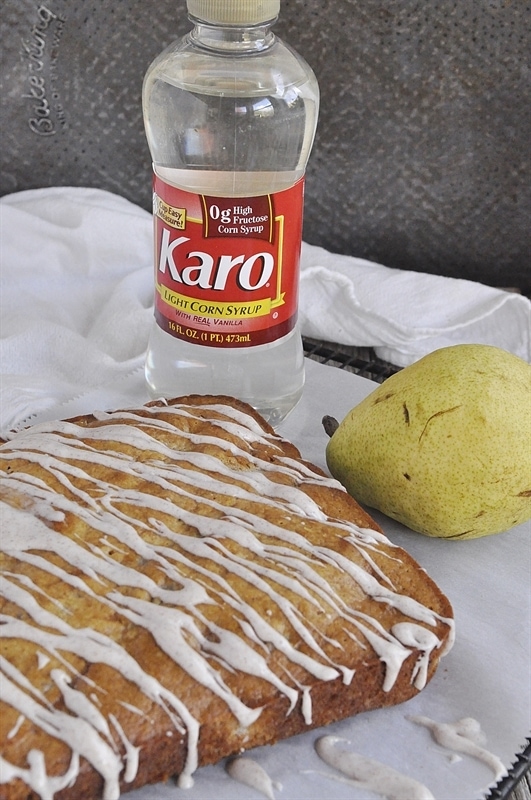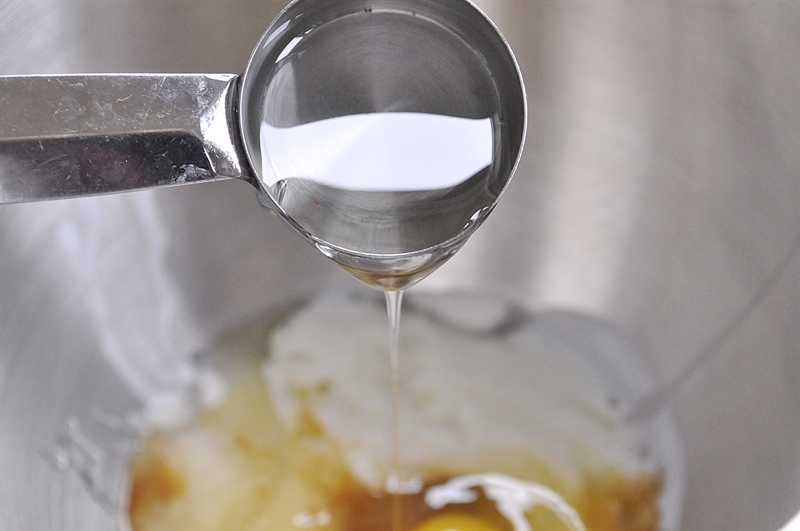 Next, you fold in the pears and the nuts into the batter and pour into a greased 8 x 8 pan.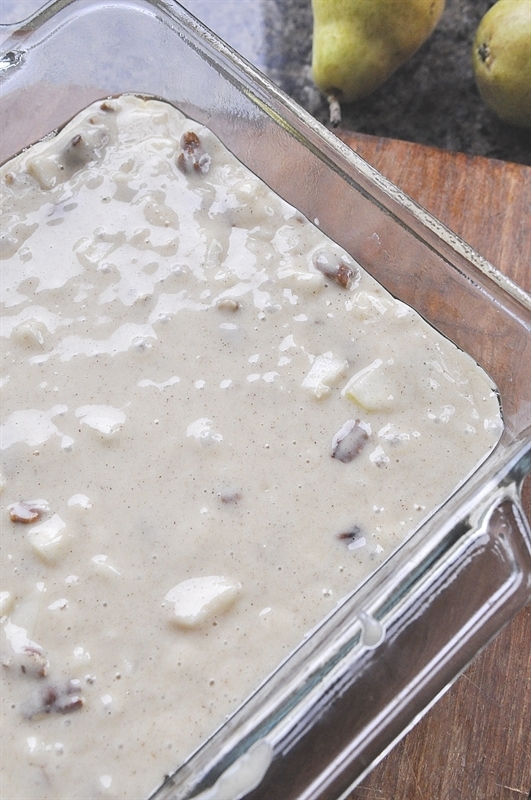 Bake at 350 degrees F and then allow it to cool.  After it has cooled, drizzle it with the cinnamon glaze for extra goodness.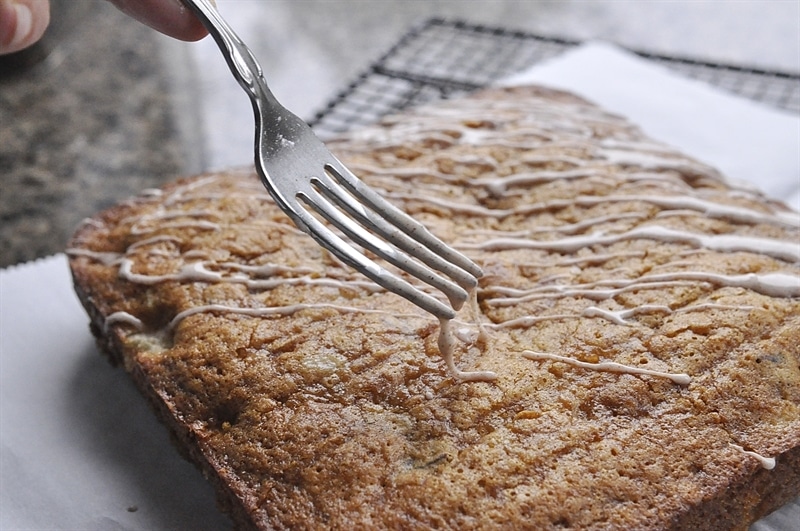 Then of course all that is left to do is to enjoy it with friends.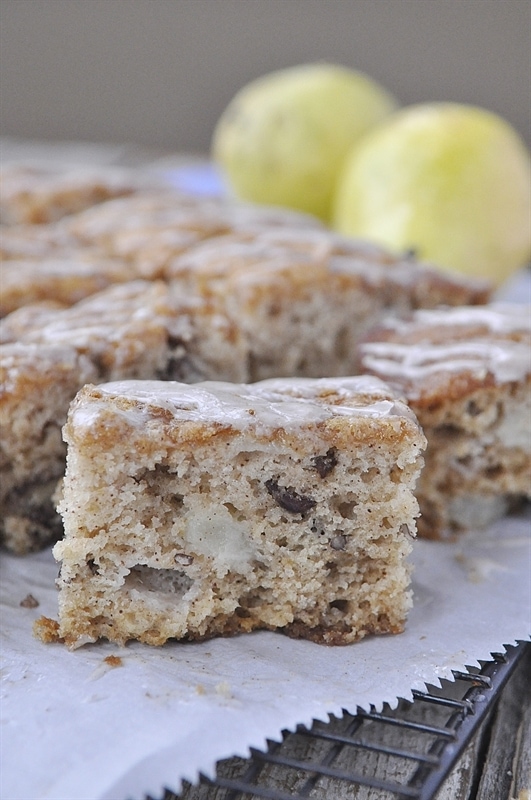 Pear Pecan Snack Cake with Cinnamon Drizzle
Ingredients
1 cup all-purpose flour
1/4 cup Argo® Corn Starch
1/2 teaspoon Argo® Baking Powder
1/2 teaspoon baking soda
1/2 teaspoon salt
1/2 teaspoon Spice Islands® Ground Saigon Cinnamon
2/3 cup sugar
1/3 cup buttermilk
1 egg
1 egg white
1/4 cup Karo® Light Corn Syrup
3 tablespoons Mazola® Corn Oil
1 teaspoon Spice Islands® Pure Vanilla Extract
2 cups chopped peeled pears
1/2 cup chopped pecans
GLAZE: (optional)
1/3 cup powdered sugar
1 to 2 teaspoons milk
1/2 tsp cinnamon
Instructions
Preheat oven to 350°F.

Combine flour, corn starch, baking powder, baking soda, salt and cinnamon in a small bowl. Set aside.

Whisk sugar, buttermilk, egg, egg white, corn syrup, oil and vanilla in a large bowl. Gradually stir in flour mixture until smooth. Fold in apples. Pour into a greased 8-inch square baking pan.

Bake 35 to 40 minutes or until toothpick inserted in center comes out clean. Cool in pan on wire rack.
GLAZE: Combine powdered sugar and milk; stir until smooth. Drizzle over cooled cake, if desired.