The addition of marshmallows to these peanut butter cookies takes them over the top!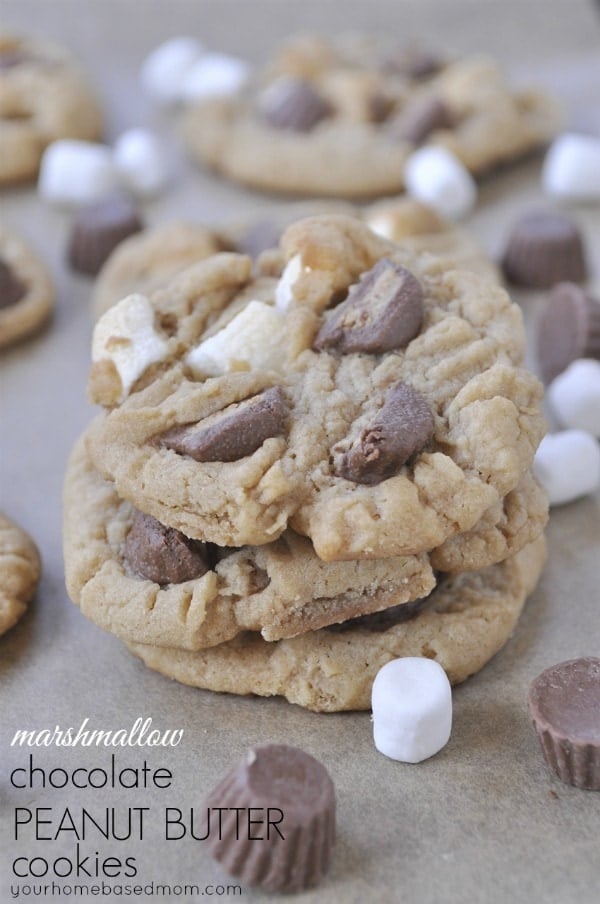 Some recipes are classics.  They are as good today as they first appeared years ago.  I am sure you  have several in your recipe collection.  Many times those recipes came from the back of bags or packages instead of the Internet as they do now. They are the recipes your grandmother used, your mother used and now you use.  You keep thinking there is a better one out there so  you pin and pin away but you soon realize that you already have the best.
One of those recipes  you might just have in your collection is the Jif® Irresitible Peanut Butter Cookies. This recipe has been made and enjoyed by family's for generations and is truly an iconic cookie.  I'm pretty sure you have probably made it as well as your mother and grandmother! Jif® invited me to share this recipe with you and remind you what a classic it is.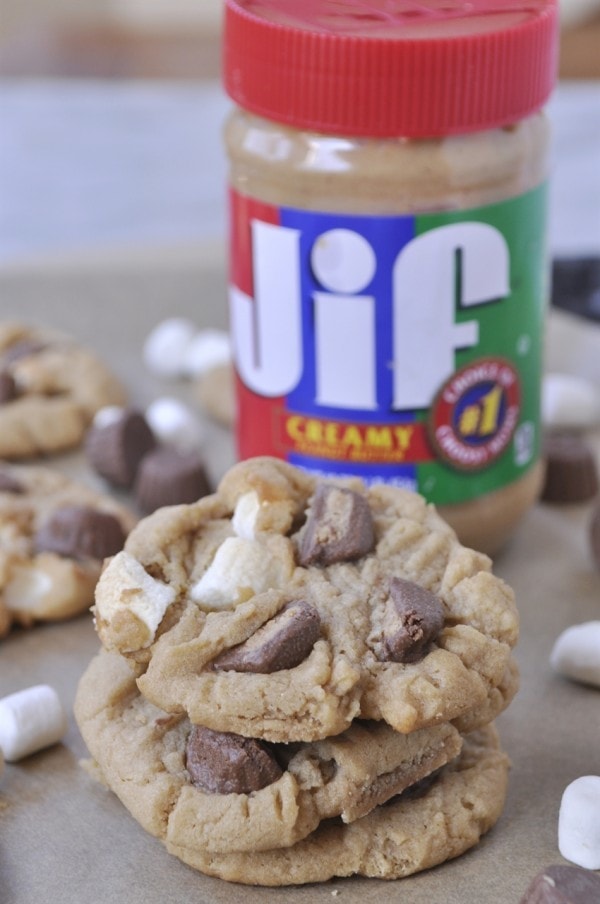 But because I sometimes have a problem with leaving good enough alone I had to add in a few things.  I didn't change the recipe, just added in some extra goodness in the form of marshmallows and chocolate peanut butter cups.  You could use your favorite form of chocolate!  I just happen to be on a bit of chocolate/peanut butter kick.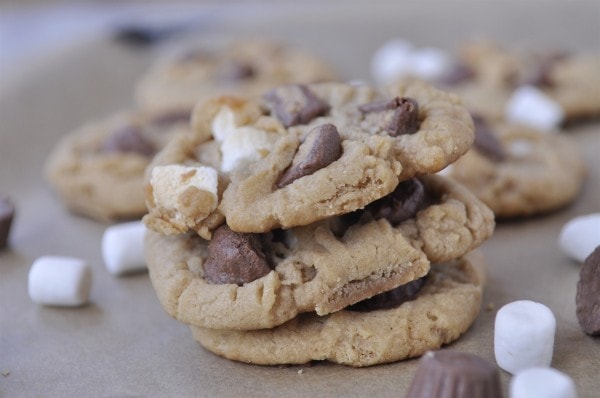 These cookies are nice and chewy all on their own but the addition of  marshmallows gives them a little extra chewiness which is always a good thing in my book.  I just made a ball of dough and then flattened it and placed 3 mini marshmallows on top.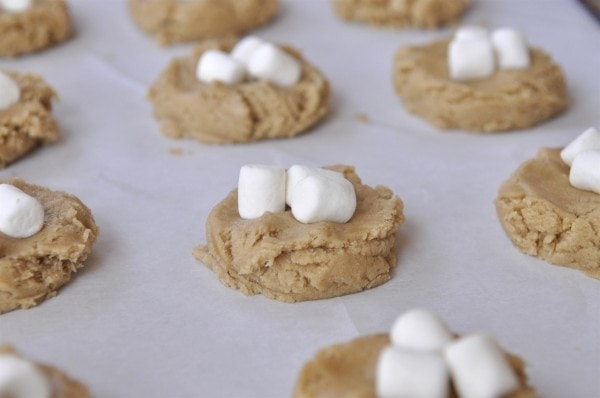 Roll it all up into a ball again and make sure the marshmallows are covered with the dough.  Then flatten it again with your fork.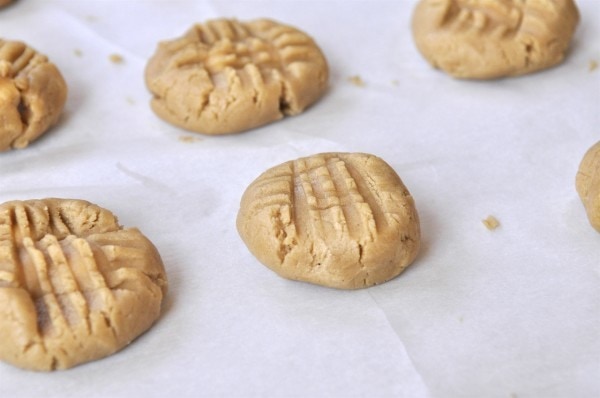 Then press your chocolate into the top and bake!  Don't they look pretty and delicious?!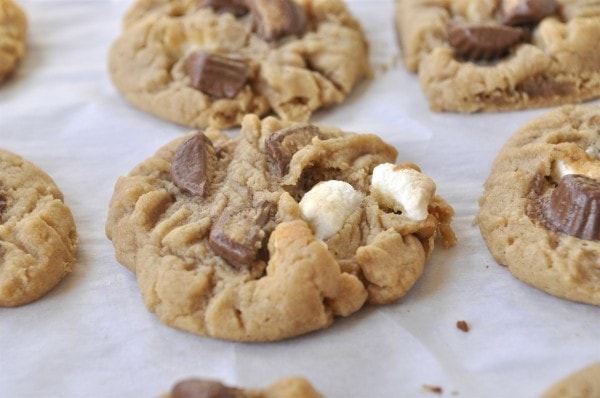 This recipe is a good one and definitely a keeper. If this recipe isn't in your collection it should be!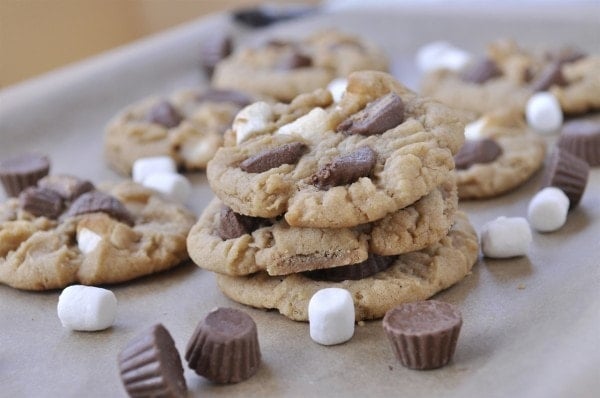 This post was sponsored by  Jif® Creamy Peanut Butter but all opinions are my own.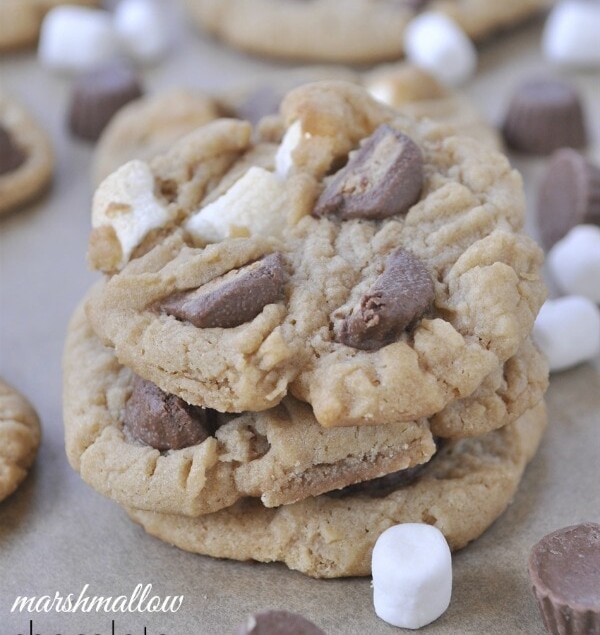 Marshmallow Chocolate Irresistible Peanut Butter Cookies
Ingredients
3/4 cup Jif® Creamy Peanut Butter
1/2 stick Crisco® Baking Sticks All-Vegetable Shortening
Or 1/2 cup Crisco® All-Vegetable Shortening
1 1/4 cups firmly packed brown sugar
3 tablespoons milk
1 tablespoon vanilla extract
1 large egg
1 3/4 cups Pillsbury BEST® All Purpose Flour
3/4 teaspoon baking soda
3/4 teaspoon salt
108 mini marshmallows
108 small chocolate pieces
Instructions
HEAT oven to 375°F.

Combine peanut butter, shortening, brown sugar, milk and vanilla in large bowl.

Beat at medium speed of electric mixer until well blended.

Add egg. Beat just until blended.

COMBINE flour, baking soda and salt. Add to creamed mixture at low speed.

Mix just until blended.

Drop by rounded tablespoonfuls 2-inches apart onto greased baking sheet. Flatten slightly

and add 3 mini marshmallows.

Roll back into a ball making sure marshmallows are covered with dough.

Flatten again and use a fork to form a criss cross pattern on top.

Add 3 pieces of chocolate into top of dough.

BAKE one baking sheet at a time 7 to 8 minutes, or until set and just beginning to brown.

Cool 2 minutes on baking sheet. Remove cookies to cooling racks to cool completely.