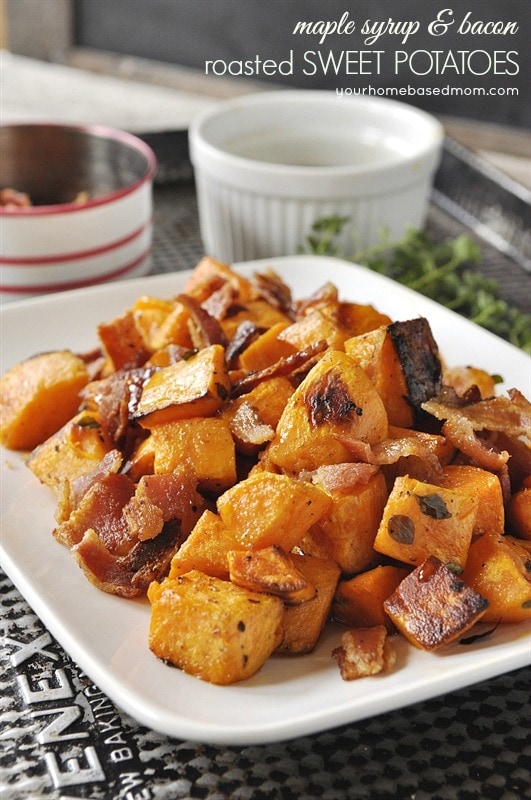 I have not always been a vegetable lover. I think I have shared with you before that as a child clear through college until I got married the only vegetable I really ate was green beans – out of a can. Fortunately for me my taste buds developed more as I aged and I now I eat my vegetables. Still don't eat peas but I'm pretty good with everything else. The newest vegetables to join my vegetable repertoire are brussels sprouts and sweet potatoes. I have been fixing lots of both lately. In fact today's recipe can be made with either brussels sprouts or sweet potatoes.
Recently I was asked to be an Ambassador with the Pompeian #PantryInsiders Program. I get to share with you all the amazing products in the Pompeian line. Pompeian has been bringing olive oil to the American table for over 100 years. Their olive oils are perfect for sautéing, grilling, baking, frying, roasting and in salads, soups, sauces and marinades. They are also naturally gluten free and non-allergenic.
Last month, as part of the Ambassador program I shared with you my herb infused balsamic vinaigrette. This month we got to learn more about their amazing line of olive oils. We even had a Google Hangout with an olive oil expert – Dr. Luisito Cercaci. He talked about the different types of olive oil, what each is good for and we even got to taste each of them. I was amazed by the different flavors of the different oils.
I also learned that the different olive oils have different purposes. If you are making a salad dressing or marinading you should use Extra Virgin Olive Oil. And if you are going to be roasting you should use their Classic Olive Oil. Because it has a higher smoke point the Classic Olive Oil was perfect for today's recipe for Maple Syrup & Bacon Roasted Sweet Potatoes. The flavor of the oil enhances the dish rather than overpowering it.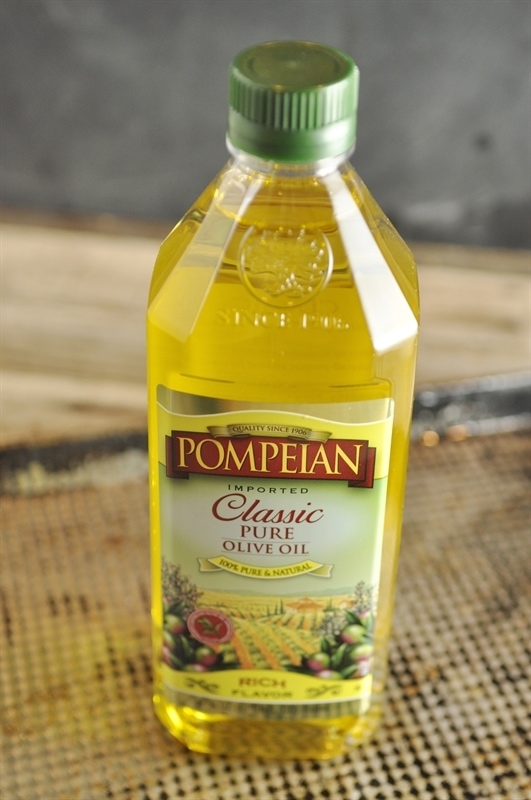 For today's recipe I used sweet potatoes, real maple syrup, bacon, fresh thyme and Pompeian Classic Olive Oil.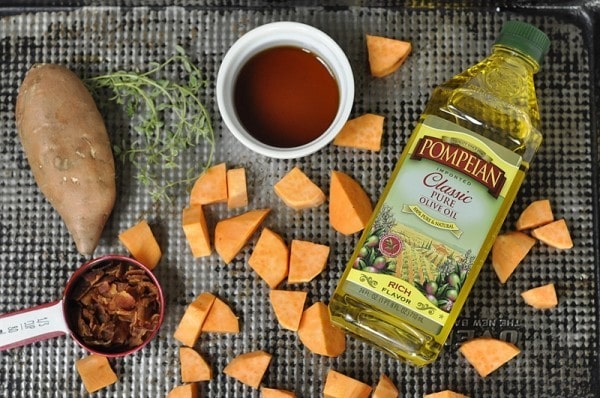 After dicing up the sweet potatoes I drizzled them with olive oil and added in salt and pepper and some fresh thyme.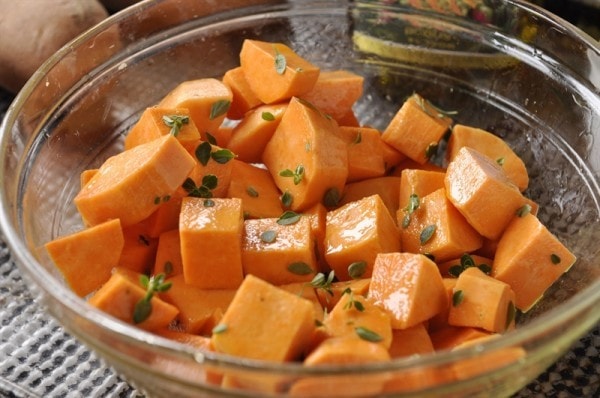 I then placed them on a parchment lined baking sheet and put them in the oven at 400 degrees.
After the first 15 minutes I tossed them around a bit and then roasted them for about another 10 minutes or until they were tender. I then put them into a bowl, added the bacon and drizzled them with real maple syrup.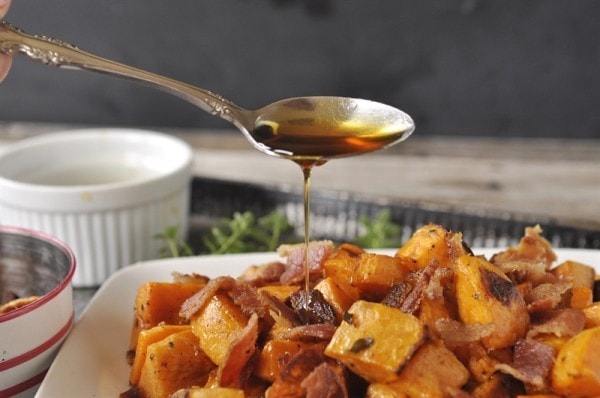 I used a tablespoon or two of maple syrup but you can use as much as you'd like, according to how sweet you'd like them.
I love the sweetness of the maple syrup with the saltiness of the bacon. Remember, this recipe is delicious with brussels sprouts too!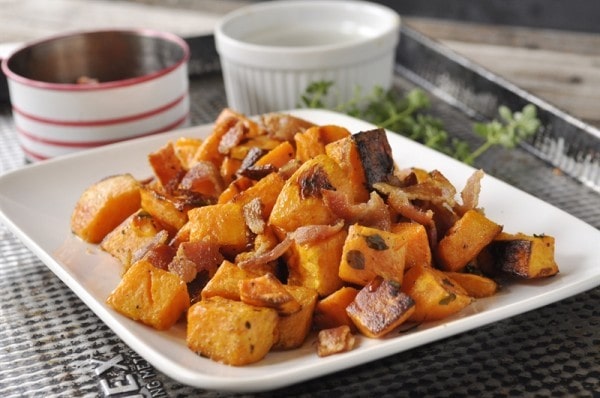 And of course if you are living dangerously, add just a bit more maple syrup!

For other yummy vegetable recipes try these:
Teriyaki Glazed Brussels Sprouts – Lemon Roasted Brussels Sprouts –Roasted Broccoli
Maple Syrup & Bacon Roasted Sweet Potatoes
Ingredients
3 sweet potatoes peeled and diced
8 slices of bacon cooked and diced
1 Tbsp of fresh thyme
salt and pepper
1/4 C maple syrup
olive oil
Instructions
Drizzle olive oil over sweet potatoes and stir to coat.

Place on a parchment lined baking sheet.

Bake at 400 degrees for 15 minutes and toss.

Bake for an additional 10 minutes or until tender.

Place in bowl and add bacon and thyme.

Drizzle with maple syrup to taste