Instead of spending money on candy eyeballs at the store, I will show you how to make edible googly eyes!   This quick and easy recipe will have you decorating all of your treats with homemade candy eyeballs before you know it!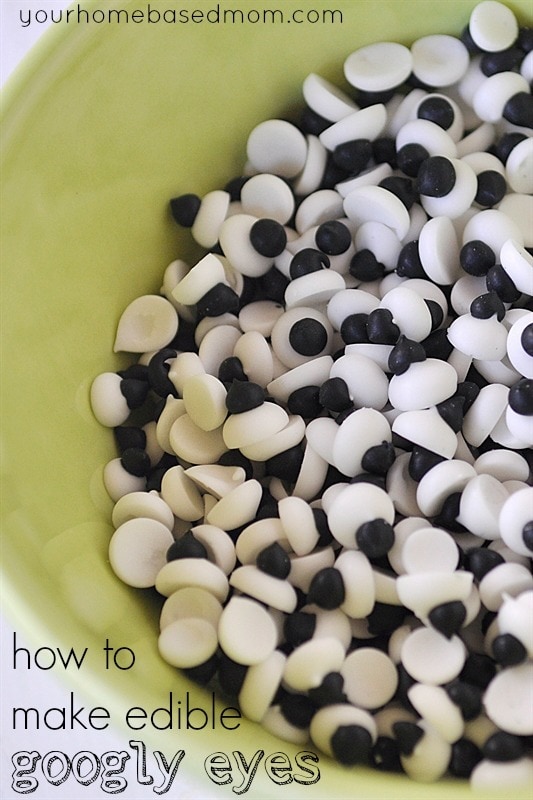 You may have noticed that there are a lot of fun Halloween ideas out there on Pinterest and your favorite blogs lately.  Many of those ideas use edible googly eyes – you know, those little white eyes with black pupils that are made out of royal icing.  You can purchase them at the craft store or the cake decorating store, but a little bag of them can be a little pricey.  And if you need a lot, that may be  more money than you are willing to spend!  So today I am going to show you how to make edible googly eyes so you can make as many as you want for just pennies!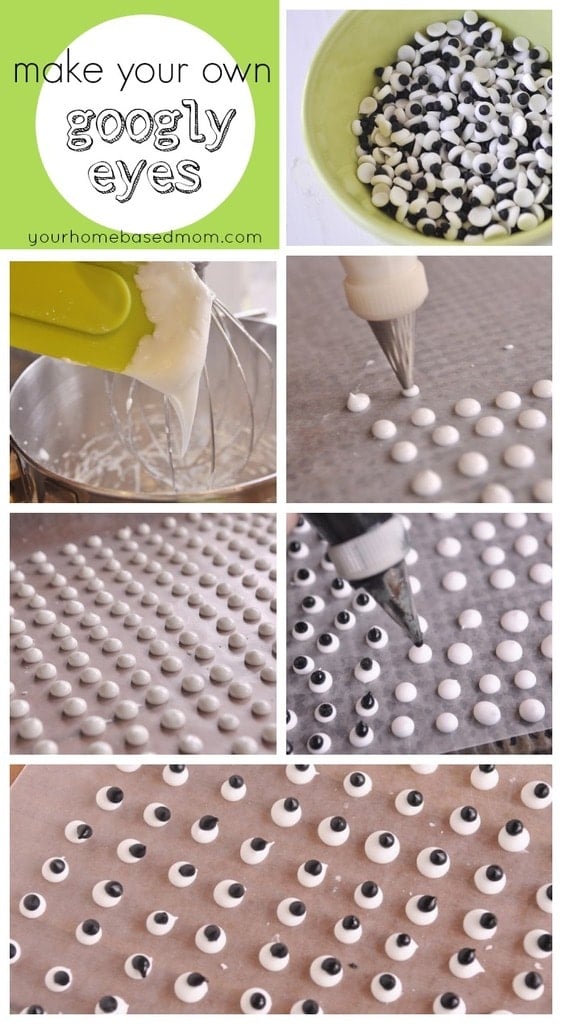 I started with a bag of royal icing mix that I purchased at our local cake decorating shop but it is also available at craft stores in their cake decorating sections.  Using a mix is the easiest way but if you can't find the mix I'll also share a recipe with you that you can make at home from scratch. You can literally make hundreds of googly eyes for what you would pay for one small bag of them at the store.
How to Make Royal Icing
The trick with using royal icing is getting it the right consistency.  Not too thick and not too thin.  One trick is to dip a spoon into the icing and let some of the icing fall back into the bowl.  You want that icing you just dripped in to disappear into the icing in the bowl within about 10 seconds or so.  If it takes longer add a teeny, tiny bit more water. Only a few drops at a time.  I used 1 Tbsp water for every 1/2 C of royal icing mix.
After making the royal icing, add black food coloring to 1/3 of the batch.  I like to use the Black Americolor Food Color.  Make sure to keep it covered with a damp paper towel so it won't set up or dry out.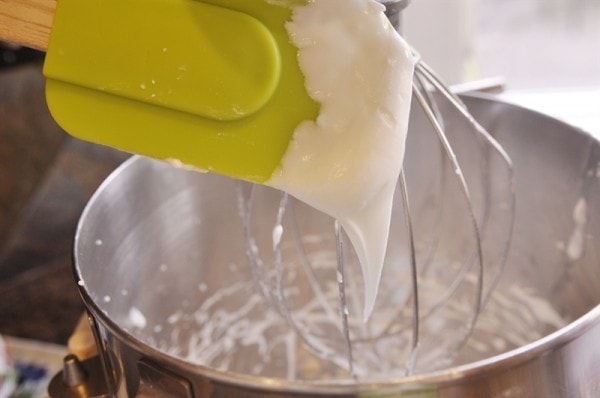 Candy Eyeballs
Cover a cookie sheet with wax paper.  Attach a number 4 tip onto a disposable cake decorating bag and fill with white royal icing.  Then, holding the bag straight up, make dots of icing.
If your icing is the right consistency the little point that is left will settle back down into the eye.  But if it doesn't, add a few more drops to your icing.  If the eye spreads too much, your frosting is too thin.  Just add a little more of the mix.
And be sure and keep your tip clean by wiping it off often. Royal icing sets up quickly and it will start to harden on the outside of your tip.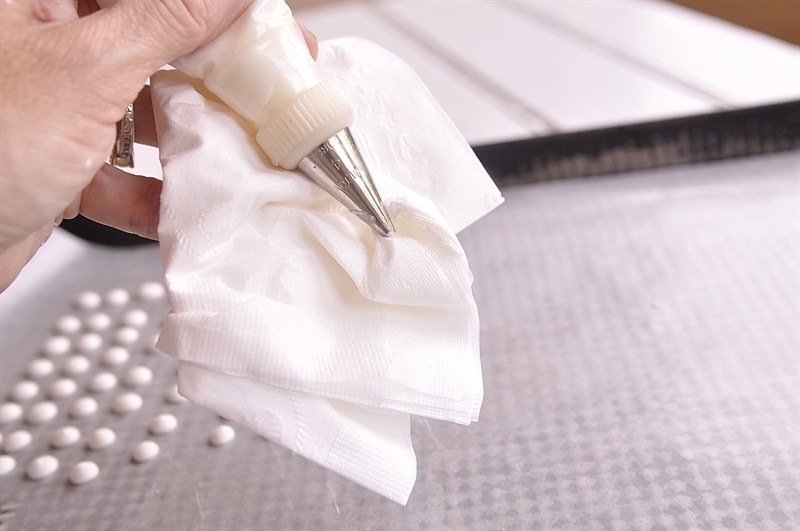 I used about 1 1/2 C of royal icing mix and got a cookie sheet and a half out of it.  That is a lot of candy eyeballs!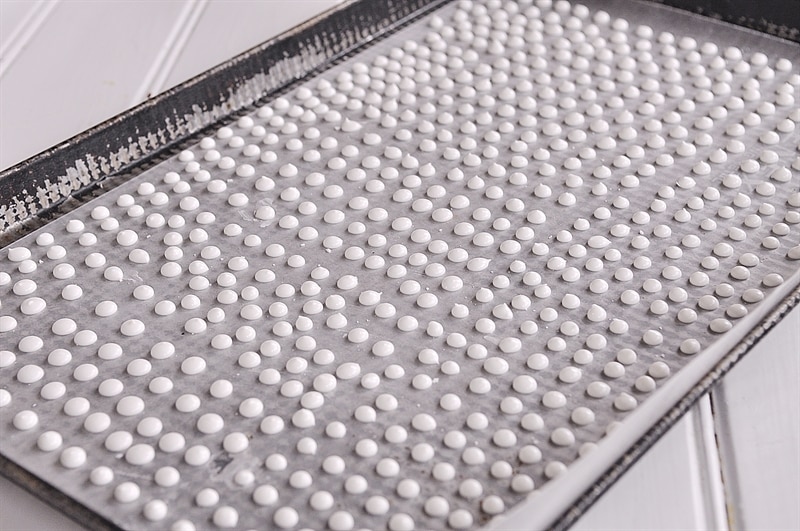 Next put the black royal icing in a piping bag with the same number 4 tip.  Go back and add the pupil to each eye.
Let them sit out to air dry for 24 hours to harden up.  After they are dry, they will pop right off the wax paper.  If they stick to the paper they are not dry enough yet.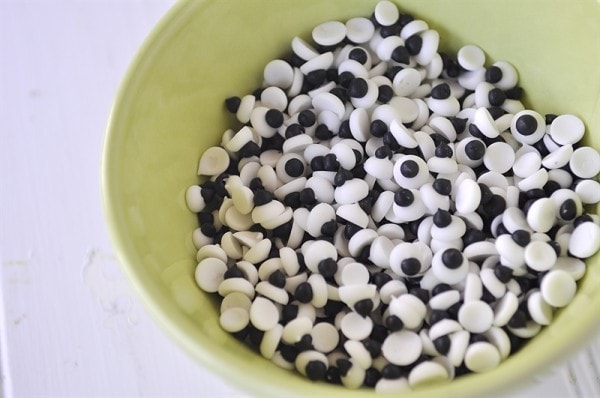 Keep them stored in an airtight container until ready to use.
Royal Icing Recipe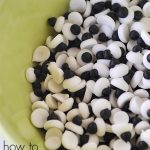 Print
Royal Icing
This easy recipe makes the perfect royal icing!
Ingredients
4

egg whites

4

C

powdered sugar

1

tsp

lemon extract

optional

water as needed
Instructions
Beat egg whites large bowl with mixer at high speed until foamy

Gradually add sugar and lemon extract.

Beat at high speed until thickened and desired consistency

If it is too thick add a few drops a water, a little at a time. If it is too runny add some more sugar.
Nutrition
Calories:
53
kcal
|
Carbohydrates:
13
g
|
Sodium:
5
mg
|
Potassium:
5
mg
|
Sugar:
13
g
Now use some of those googly eyes to make these cute Googly Eye Donut Creatures!
For directions and more ideas on ways to use googly eyes check out this post.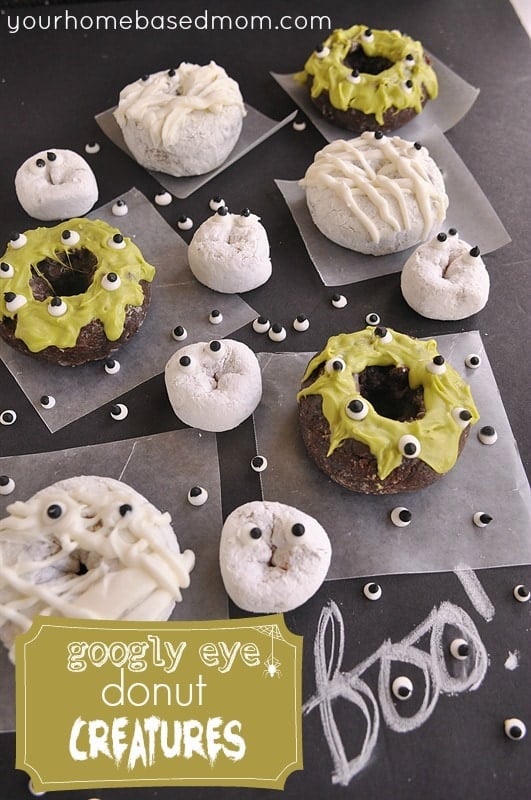 Get my Weekly Menu Plan for FREE!
Receive my FREE "What's for Dinner?" Meal Planning Course, a copy of my FREE ebook that includes my most popular recipes and my FREE weekly Meal Plan.