This weeks' muffin recipe is one I was testing out for the bridal shower I did this weekend.  The recipe belonged to the mother of the bride and she requested we serve it at the shower.  The combination of lemon and raspberry sounded lovely.
I would consider this muffin recipe a little bit of a spring/summer recipe as it is easier to find fresh raspberries that time of year but lucky for me Costco had fresh raspberries.  I am sure you could make it with frozen but everything is better with fresh – don't you think.
The recipe calls for a combination of white flour and whole wheat pastry flour.  I always feel healthier when I use wheat flour – don't you?
In addition to the lemon juice and lemon zest it calls for in the muffin batter I also mixed together about 1/4 cup of sugar and the zest of one lemon and used it to sprinkle over the top of the batter before I baked the muffins.  It gave the muffins a nice sweet, crunchy, lemony top.  You can never have too much lemon at my house.
I loved the lemon/raspberry combination and will definitely be making them again.  They were a perfect additional to the bridal brunch along with the Snickerdoodle Muffins.
Lemon Raspberry Muffin Recipe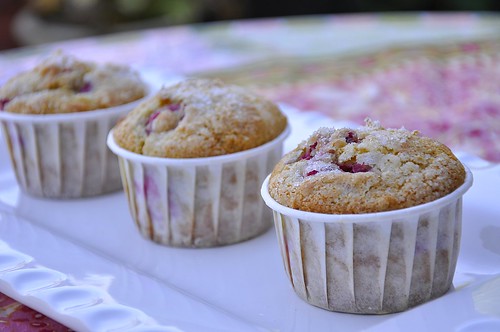 Lemon Raspberry Buttermilk Muffins
Buttermilk muffins loaded with lemon raspberry flavor.
Ingredients
1 lemon
1/2 C sugar
1 C nonfat buttermilk (see Tip)
1/3 C canola oil
1 large egg
1 tsp vanilla extract
1 C whole-wheat pastry flour
1 C all-purpose flour
2 tsp baking powder
1 tsp baking soda
1/4 teaspoon salt
1 1/2 cups fresh or frozen not thawed raspberries
Topping:
1/4 C sugar
zest of one lemon
Instructions
Preheat oven to 400°F

Coat 12 large (1/2-cup) muffin cups with cooking spray or line with paper liners

Zest lemons

Combine the zest of one lemon and 1/2 cup of sugar in a food processor; pulse until the zest is very finely chopped into the sugar

Add buttermilk, oil, egg and vanilla and pulse until blended

Note: The original recipe didn't call for it but for a little extra lemon flavor go ahead and add the juice of the lemon you zested!

Combine whole-wheat flour, all-purpose flour, baking powder, baking soda and salt in a large bowl Add the buttermilk mixture and fold until almost blended

Gently fold in raspberries

Divide the batter among the muffin cups

Combine 1/4 C sugar and zest of one lemon, mix together well and sprinkle over top of each muffin

Bake the muffins until the edges and tops are golden, 20 to 25 minutes

Let cool in the pan for 5 minutes before turning out onto a wire rack

Serve warm

Tip: No buttermilk? Mix 1 tablespoon lemon juice into 1 cup milk