A lovely lemon curd filled cupcake topped with a cream cheese lemon curd frosting is the perfect treat for lemon lovers!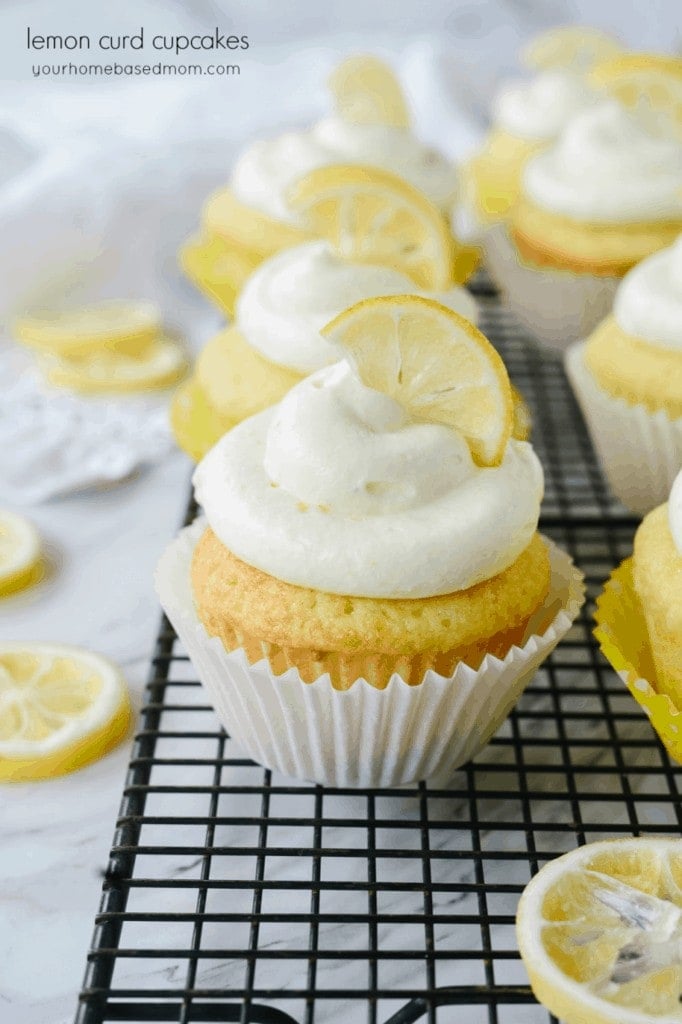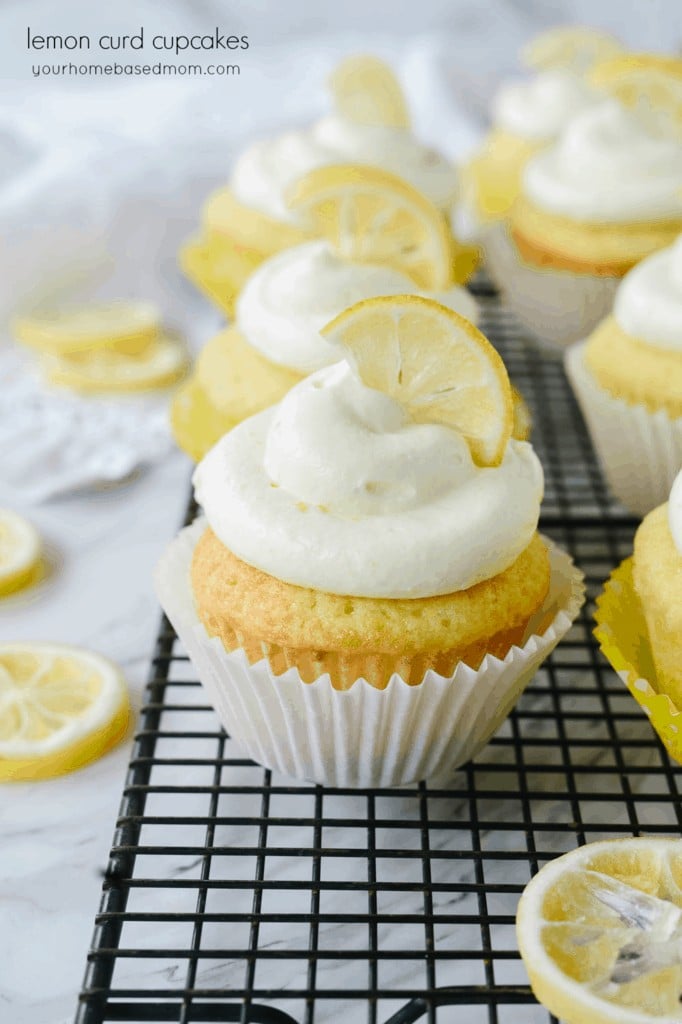 I think since it is Easter week and Easter and lemon go together I figured it was o.k. to share yet another lemon dessert. Some type of lemon dessert is a requirement at our house for Easter. No matter what else we have, there must always be lemon!
I have made a lovely lemon cream cake before for Easter. This year I decided I wanted to make cupcakes instead of a cake but somehow I wanted to incorporate the filling from the lemon cream cake.  I decided to turn it into a frosting for the cupcakes and fill the lemon cupcakes with lemon curd.  Lemon heaven.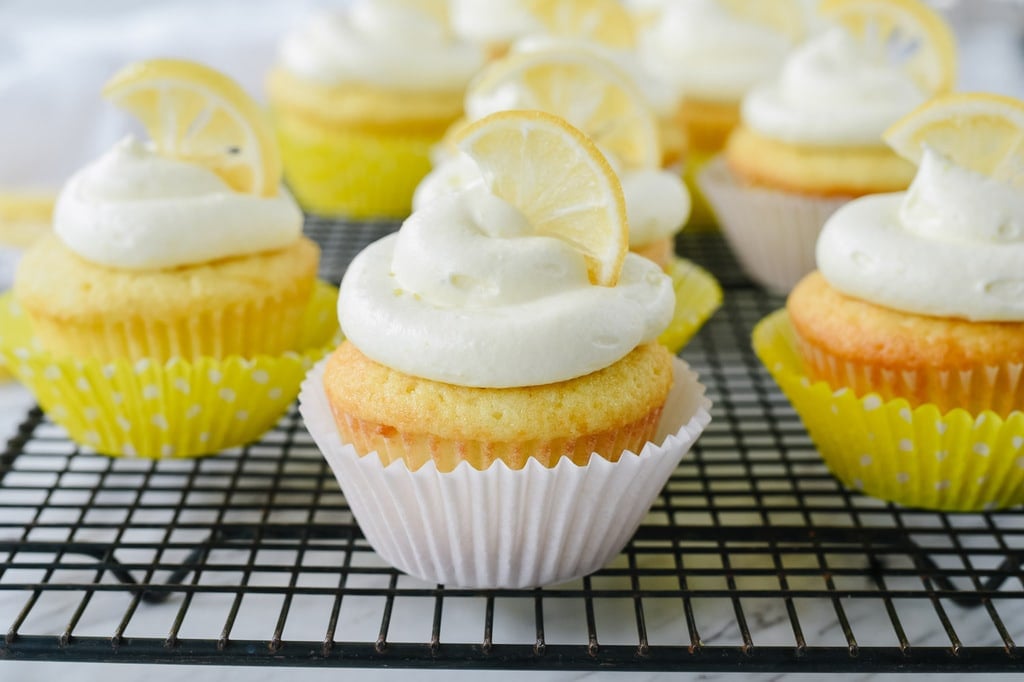 What is Lemon Curd?
Lemon Curd is the most important ingredient in these cupcakes, it is in the cupcake and the frosting. You can purchase lemon curd at the store but homemade is so easy to make and it is ALWAYS better than store bought.
Lemon Curd is a made from lemon juice, sugar, eggs, salt and butter. It has a jam like topping that can be used on scones, biscuits, cookies, cakes, you name it! It is a lemon lovers favorite jam!
How to Make Lemon Curd
While the cupcakes are baking, make your lemon curd and allow it to cool until about room temperature.  It is easy to do in a saucepan on the stove top.  Just be sure to stir it continuously so it doesn't burn.  I stick  the pan in the refrigerator after cooking  to speed up the cooling process.
I have a full tutorial for lemon curd here.
How to Make Lemon Curd Cupcakes
Prep Pan. Line cupcake pan with liners. This helps the cupcakes to come out of the pan easily and they look prettier when served.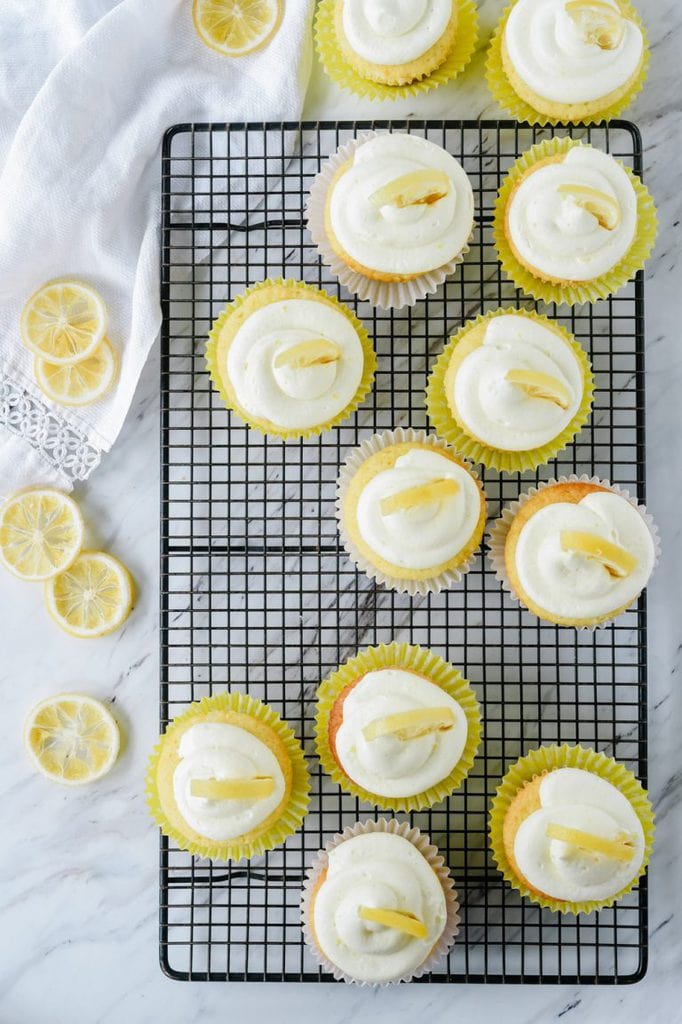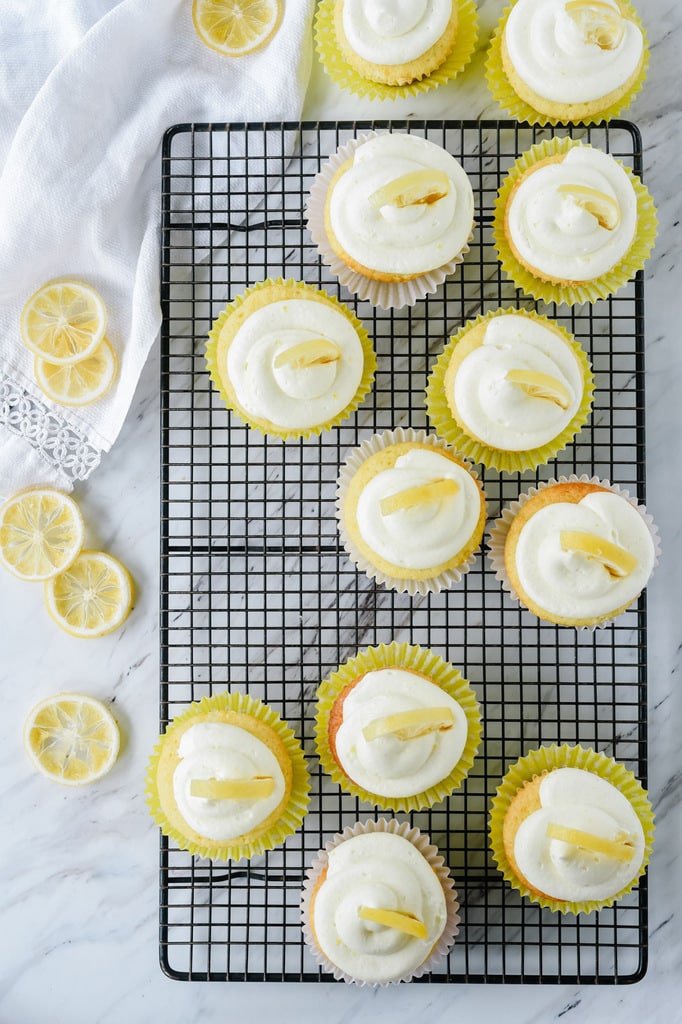 Mix together cupcake batter. This cupcake batter is made by separating the eggs, adding the egg yolks into the batter and then whipping the egg whites. The egg whites are then folded gently into the batter. This makes for a very light and tender cupcake.
Bake the cupcakes at 350 degrees F. for 20-25 minutes.
Lemon Cream Cheese Frosting
The crowning glory and main attraction to these cupcakes is the frosting.  It is amazing!!  You will want to make these cupcakes just so you can make this frosting. 
The frosting is a cream cheese and whipped cream frosting with lemon curd.  You will use half of the lemon curd mixture in the frosting (about 1/2 cup) and the other half is piped into the center of the cupcake.
To get the lemon curd into the middle of the cupcake I use a plastic squeeze bottle. I just poke it right into the middle of the cupcake and squeeze. If you don't have one, use the end of a wooden spoon to make a hole in the middle of the cupcake and carefully spoon lemon curd into the hole.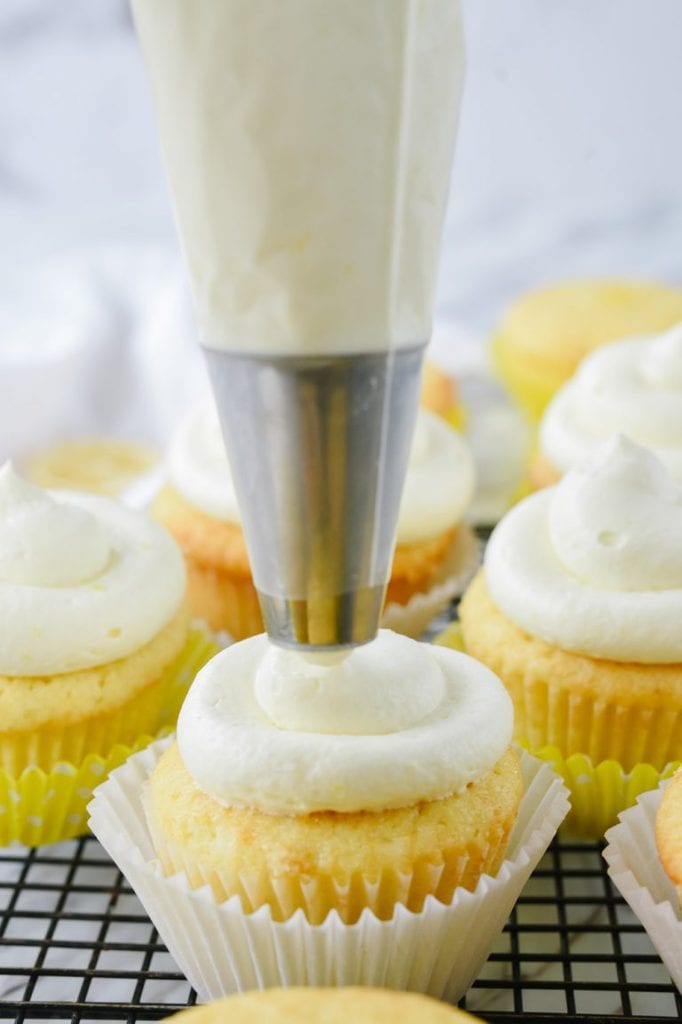 Fill a piping bag with the frosting along with a large round tip and pipe the frosting onto the cupcakes. You can also just use a knife and frost them. The combination of cream cheese, whipping cream and lemon curd makes for a nice, light, soft frosting. You will need to keep the cupcakes refrigerated over night due to the whipping cream and cream cheese if there are any leftover. Bring the cake back to room temperature though before serving.
I like to garnish the cupcakes with some dried sugared lemons I found at Trader Joe's or use slices of fresh lemon.
For a few other lemon dessert ideas for Easter check these out: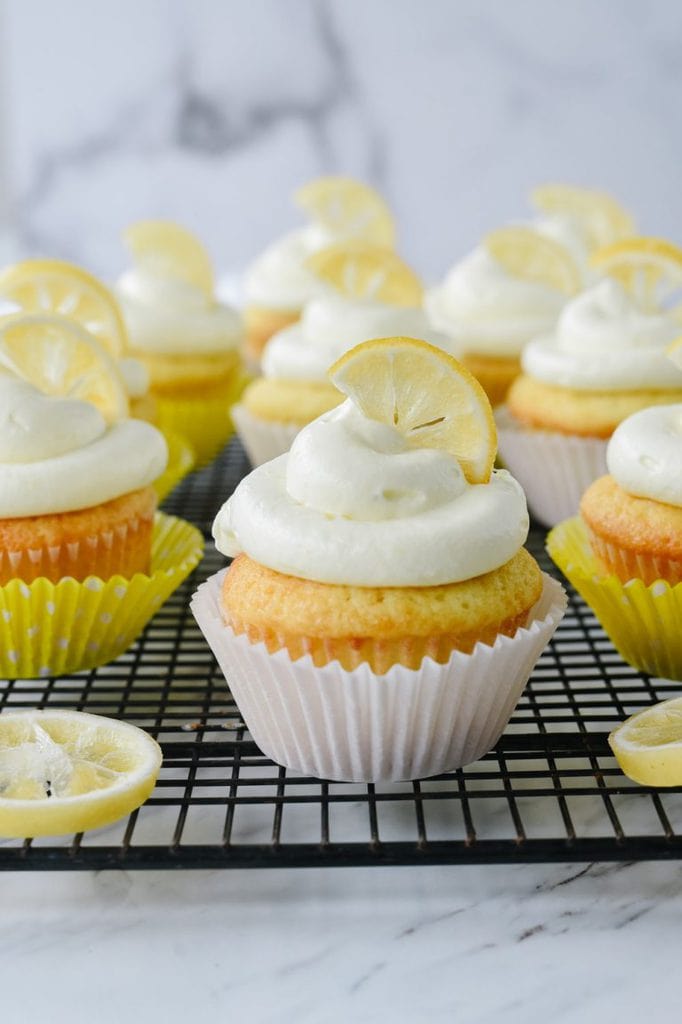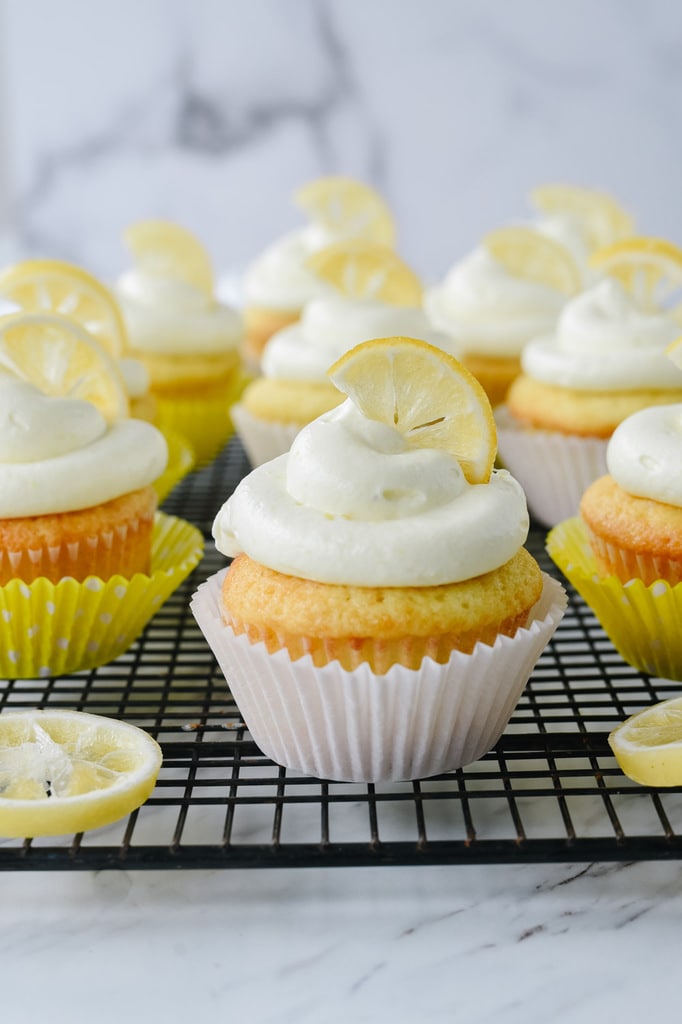 Lemon Curd Cupcake Recipe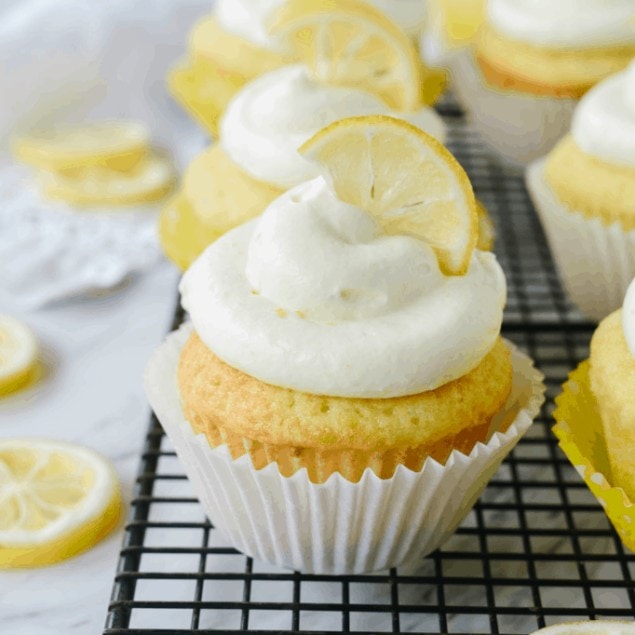 Lemon Curd Cupcakes with Lemon Cream Cheese Frosting
A lovely lemon curd filled cupcake topped with a cream cheese lemon curd frosting is the perfect treat for lemon lovers!

Ingredients
Lemon Cake:
3 cups flour
1 Tbsp baking powder
1/2 tsp salt
1 cup butter room temperature
2 cup sugar
4 eggs separated
1 cup milk
1 tsp vanilla
1 tsp lemon extract
zest of two lemons
Lemon Curd:
2 lemons juiced and zested
4 egg yolks
3/4 cup sugar
4 Tbsp butter cold
Lemon Cream Cheese Frosting
1 8 oz. pkg cream cheese softened
1 cup powdered sugar
1/8 tsp salt
1 tsp vanilla
1 1/2 cups whipping cream
Half of the above lemon curd recipe above.
Instructions
Lemon Cake:
Mix together flour, baking powder and salt.

Beat together the butter and sugar until light and fluffy. Add egg yolks, one at a time. Mix well

Alternately add in flour mixture and milk. Beginning and ending with flour. Add in vanilla and lemon extract and lemon zest.

In another bowl, beat the egg whites until stiff but not dry. Fold beaten egg whites into batter gently

Fill cupcake liners in muffin tin. Bake at 350 for about 20-25 minutes or until toothpick comes out clean. Cool.

Use half of lemon curd recipe to fill the cupcakes either with a squeeze bottle or by cutting a small hole in the middle of the cupcake and filling with lemon curd
Lemon Curd:
Zest and juice the lemons

In a small sauce pan mix together the egg yolks and sugar until smooth. Stir in lemon juice and zest. Stir over medium heat until mixture thickens.

Stir in the butter 1 Tbsp at a time and stir until butter melts.

Cover lemon curd with plastic wrap and refrigerate until chilled and thickened
Lemon Cream Cheese Frosting
In a small bowl beat whipping cream until stiff.

In another bowl, mix together the cream cheese, sugar, salt and vanilla. Add in lemon curd and beat until smooth.

Fold in whipped cream and frost or pipe frosting onto cooked cupcakes. If there are cupcakes leftover, refrigerate cupcakes overnight. Bring to room temperature to enjoy.
Nutrition Facts:
Calories: 331kcal (17%) Carbohydrates: 42g (14%) Protein: 3g (6%) Fat: 17g (26%) Saturated Fat: 10g (63%) Cholesterol: 106mg (35%) Sodium: 168mg (7%) Potassium: 119mg (3%) Sugar: 28g (31%) Vitamin A: 615IU (12%) Vitamin C: 4.9mg (6%) Calcium: 58mg (6%) Iron: 1mg (6%)
* Disclaimer: All nutrition information are estimates only. Read full disclosure here.
Originally posted April 20, 2011
Need some help figuring out what's for dinner tonight?
Come join our Facebook Group! Join hundreds of others who love sharing dinner time ideas. You don't want to miss out on the fun!

You'll find lots of ideas for dinner from all our awesome members and you can share your ideas too! Join the Family Dinner Table today.