MUST. MAKE.
This was the body of the email my friend Sherra sent me with a link to the recipe I am sharing with you today.
The recipe was for a Lemon Blueberry Marble Cake.
We celebrated my mom's birthday this last weekend so I thought that was the perfect opportunity to give it a try. I love baking cakes. Cakes like this one take a little time and effort and I really enjoy that process and time in the kitchen. This is not a "quick I need a dessert" type recipe. This cake is for when you want to create something pretty and delicious for someone special. Like your mom. Like your mom who is turning 82! (sorry mom I had to tell)

I've got great genes don't I!
I love the flavor combination of lemon and blueberry and this cake did not disappoint.

The cake is a 3 layer cake made from scratch using cake flour with lemon zest and lemon extract so it has a nice lovely light lemon flavor.

The original recipe had a recipe for homemade blueberry lemon jam but I used storebought blueberry jam that had lemon juice in it so we were good to go. I love this brand of jam and I love their jars even more. I use them in myvcraft room to hold all kinds of treasures.

To help with time, I made the cake layers the night before and after they cooled I wrapped them in plastic wrap.
You reserve part of the cake batter and mix in some of the blueberry lemon jam and then swirl it in with the other cake batter.

After your layers are cool you are ready to start assembly of the cake. Use half of the blueberry jam on top of the bottom layer of cake and then place the second layer on top of that and spread with the remaining jam. Add the third layer and you are ready to frost it.

I had never made frosting like the one called for in the recipe. If you like butter you will like this frosting. It has ALOT of butter in it (1 1/2 C) and not only tastes like butter but has a very butter like consistency to it. There is actually very little sugar (only 1 cup) in this recipe.
You do need a candy thermometer to heat the sugar and water to a soft ball stage. The syrup is then added into the beaten eggs. You need to be sure you add the hot syrup slowly and allow it to pour down the side of the bowl. You don't want it to hit the beaters or it may splash all over you. More lemon extract is added and you then beat this mixture for a while – a long while. Fifteen to twenty minutes to be exact. At first it will look like you did something wrong – at least I thought I did. It will be very runny.

But keep beating and it will turn into this!
And then you take all that buttery creaminess and cover your cake in it. And you have this!

Amazing yumminess!

So pretty and delicious!

So if you have someone celebrating a birthday at your house or even if you don't you MUST. MAKE. Thanks Sherra!
Follow Leigh Anne, YourHomebasedMom's board YHM – Desserts on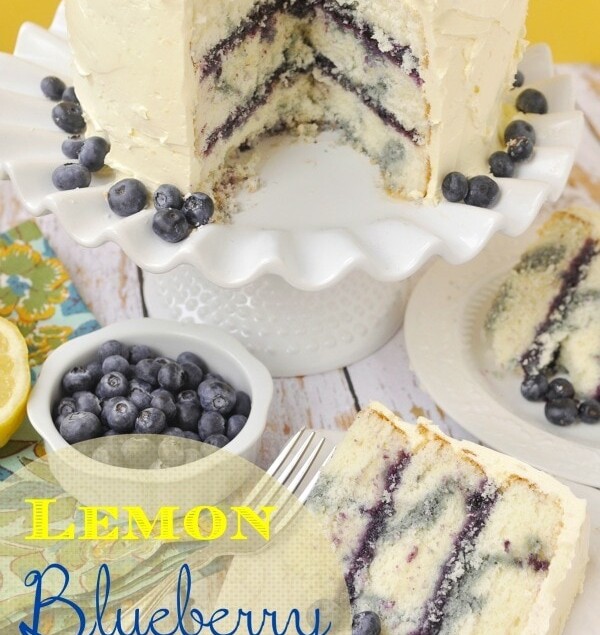 Lemon Blueberry Marble Cake
Delicious lemon and blueberry cake marbled together for the perfect summer dessert.
Ingredients
Cake
1 C butter room temperature
2 C granulated sugar
2 tsp grated lemon zest
1 1/2 tsp lemon extract
7 egg whites
3 C cake flour
4 tsp baking power
1/4 tsp salt
1 1/4 C whole milk
1 13 oz. jar blueberry jam with lemon juice
Frosting
1 C granulated sugar
1/4 C water
2 eggs
1 1/2 C butter
2 Tbsp freshly squeezed lemon juice
1 Tbsp grated lemon zest
Instructions
Cake
Preheat oven to 350 degrees.

Grease and flour 3 eight inch cake pans and line bottom with wax paper.

Cream together butter, sugar, lemon zest and lemon extract until fluffy.

Add in the egg whites gradually, a couple at a time. Beat well between additions and scrape down sides of bowl.

Mix together in another bowl the flour, baking powder and salt.

Alternating flour and milk, beat the dry ingredients and milk into the butter mixture. Beat on medium speed for one minute to eliminate any lumps.

Set aside 1 cup of batter in a small bowl.

Divide the remaining batter between the three cake pans, smooth top with spatula.

Add 2 1/2 Tbsp jam to the reserved batter and mix well.

Drizzle by the teaspoon over the batter in the pans.

Use a wooden skewer to swirl the blueberry mixture into the lemon batter without mixing it in.

Bake for 25 minutes or until toothpick comes out clean and cake pulls away from the sides.s

Let cool for 10-15 minutes and remove from pan onto a wire rack. Cool completely.
Frosting
In a small pan combine the sugar and water. Bring to a boil over medium heat, stir to dissolve sugar.

Continue boiling without stirring. Use a pastry brush and some water to wash down the sides of the pan to remove sugar on the sides of pan. Heat until syrup reaches the soft ball stage or 238 degrees. Immediately remove from heat.

In a large mixer beat the eggs briefly on medium speed.

Slowly add the hot syrup in a thin stream, pouring it down the sides of the bowl. Do not allow it to hit the beaters or may splash.

After all the syrup has been added raise speed to medium high speed and beat until the mixture is fluffy and cooled to body temperature. About 15-20 minutes.

Reduce speed to medium low and gradually add the softened butter 2 – 3 Tbsp at a time, beat well between additions.

Add in lemon juice and zest.

To assemble cake place one layer on cake stand and spread with half the blueberry jam. Place second layer on top and spread with the remaining blueberry jam. Add third layer and frost the cake on top and the sides with buttercream. Garnish with blueberries and lemon slices

Serve and enjoy.

Recipe from www.lickthebowlgood.blogspot.com
Nutrition Facts:
Calories: 774kcal (39%) Carbohydrates: 98g (33%) Protein: 8g (16%) Fat: 40g (62%) Saturated Fat: 25g (156%) Cholesterol: 131mg (44%) Sodium: 590mg (26%) Potassium: 140mg (4%) Fiber: 1g (4%) Sugar: 68g (76%) Vitamin A: 1263IU (25%) Vitamin C: 5mg (6%) Calcium: 135mg (14%) Iron: 1mg (6%)
* Disclaimer: All nutrition information are estimates only. Read full disclosure here.
Thanks also to Lick The Bowl Good where the recipe came from.