Create your own delicious cheese steak sandwich when you aren't close enough to Philadelphia to get a real Philly Cheese Steak!
Need a few other delicious sandwich recipes? Try this make ahead Focaccia Sandwich, perfect for picnics or tailgates parties. Asian Chicken Wraps are another great picnic sandwich or great for school lunches too. I love a good French Dip and this one is made in the slow cooker.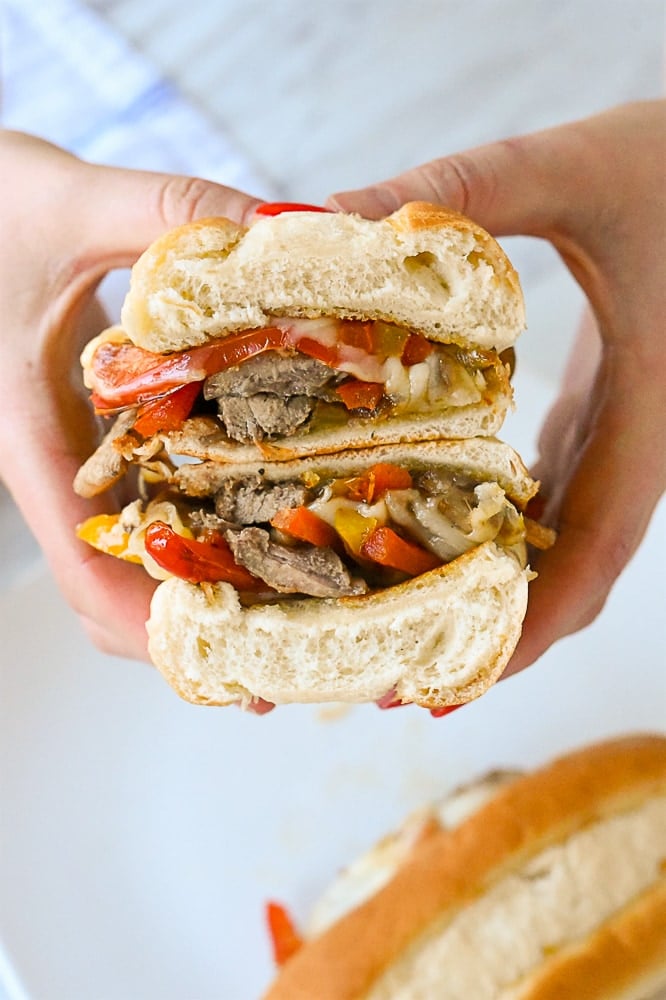 If you love a good Philly Cheese Steak Sandwich, but don't have a place to pick one up near you, you are going to love this cheese steak sandwich you can make at home!
Years ago we took our boys on an American History trip and as part of it we stopped in Philadelphia and while there I was able to eat an authentic Philly Cheese Steak Sandwich. So good! I have tried them several places since but none of them measured up to the one I had in Philadelphia! I found much more success when I decided to try and make it at home. Maybe not exactly the same but still delicious!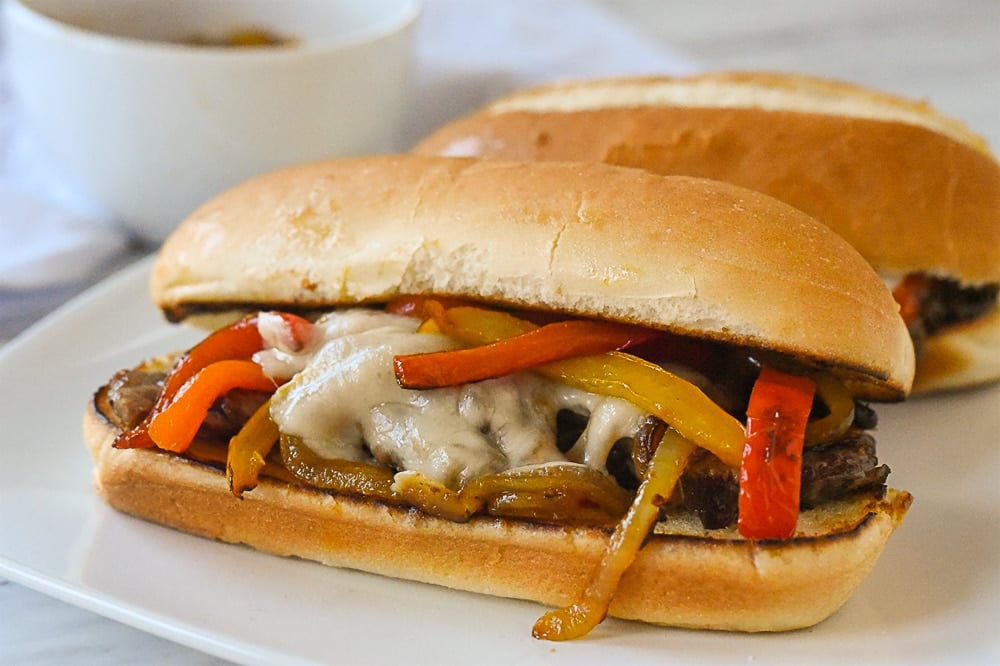 How to Make a Philly Cheese Steak Sandwich
One of the tricks is to use a decent cut of meat. You want the meat to be tender and since the meat isn't marinated, a tender cut is important and my first choice is always rib eye.
Sprinkle steak with salt, pepper and granulated garlic.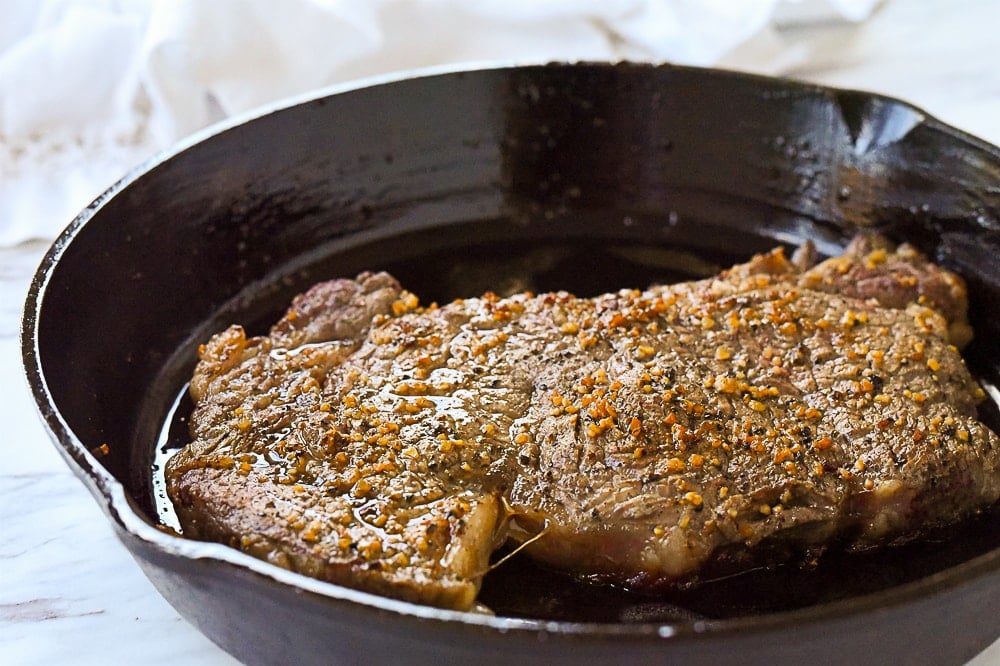 Cook steak in a hot cast iron skillet.  Brown the steak on both sides until well browned and reduce heat to medium and cook until desired doneness.  I cooked mine until about medium or about 135-140 degrees F.  It will sit for a bit too and continue to cook so be sure and not over cook the meat.
Cover the meat with foil and allow to sit while you cook the peppers and onions.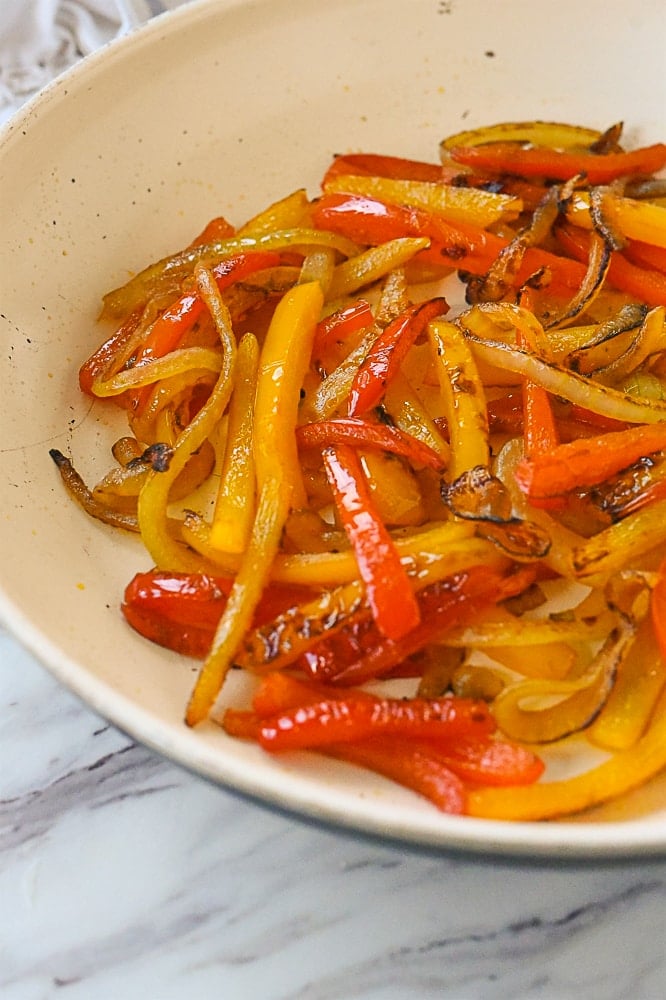 Saute the onions and peppers in olive oil over medium heat with salt and pepper until soft.  About 10 minutes. 
Place the peppers in bowl.  
Slice the steak into thin slices going against the grain.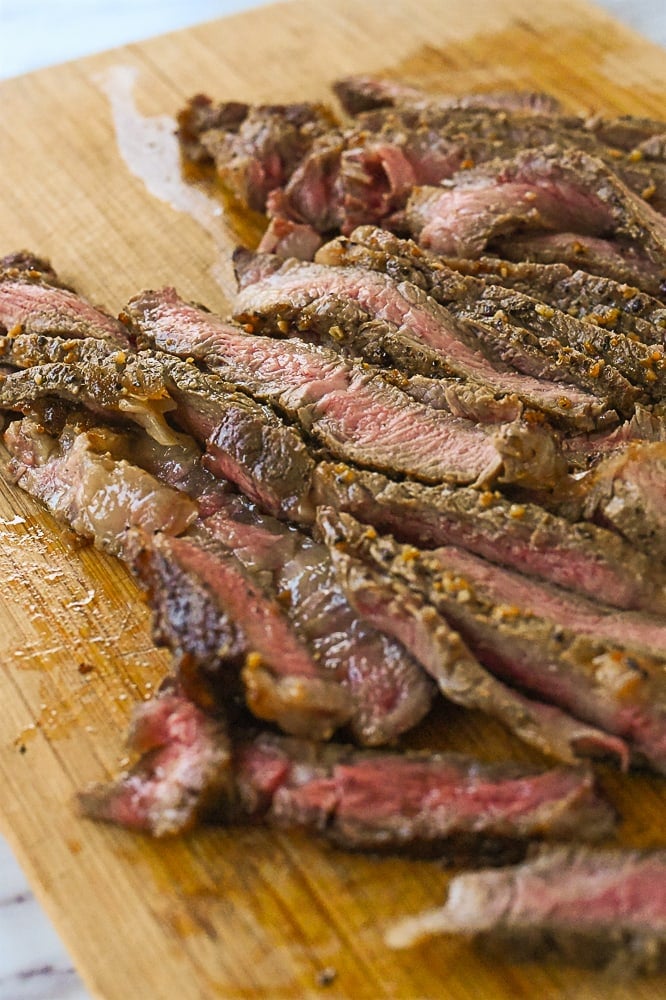 Butter the buns and then toast them.  I do this under my broiler.
Divide the meat into four portions.  
Arrange a single serving of meat in the cast iron skillet  (or you could do this in a frying pan to or on electric griddle) and then add onions and peppers on top. 
Cover with a piece of cheese and allow the cheese to melt.  I placed my cast iron skillet in the oven under the broiler to get the cheese to melt quicker.
After cheese has melted use a spatula to place meat, peppers, onions and cheese on a toasted bun and enjoy a little taste of Philadelphia at home!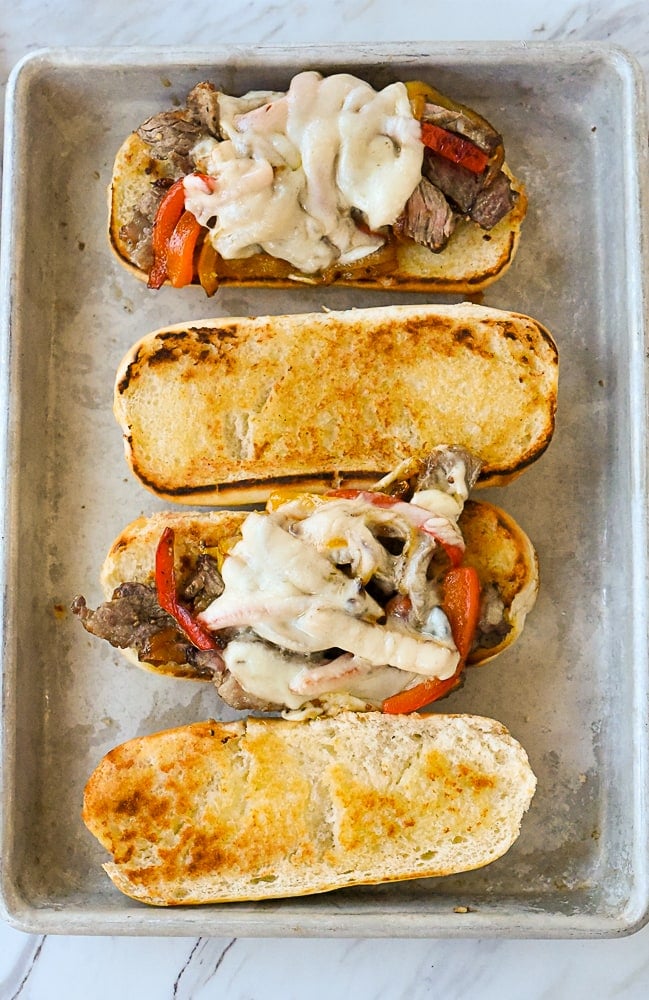 This made for a delicious and easy weeknight dinner and brought back lots of great memories of our fun trip.
What are some of your bucket list foods?? Which have you eaten and which are still on the list?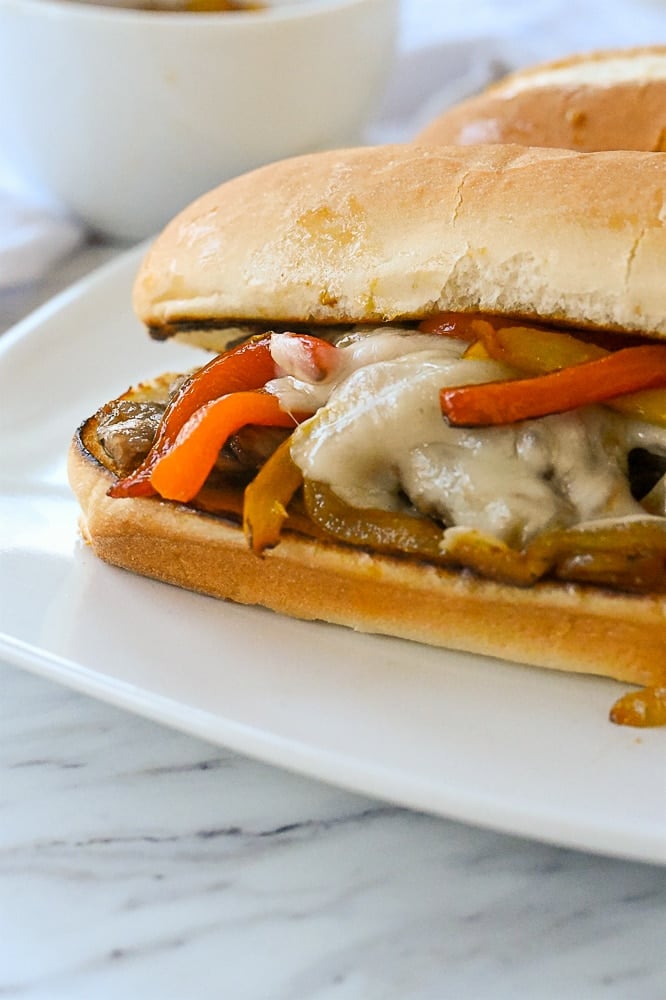 Check out more of my favorite sandwich recipes:
Roasted Red Pepper Chicken and Pesto Sandwich
For all of my other favorite kitchen products and tools visit my Amazon Store.
Did you know I wrote a cookbook? Check out the Holiday Slow Cooker Cookbook for 100 delicious recipes.
Cheese Steak Sandwich Recipe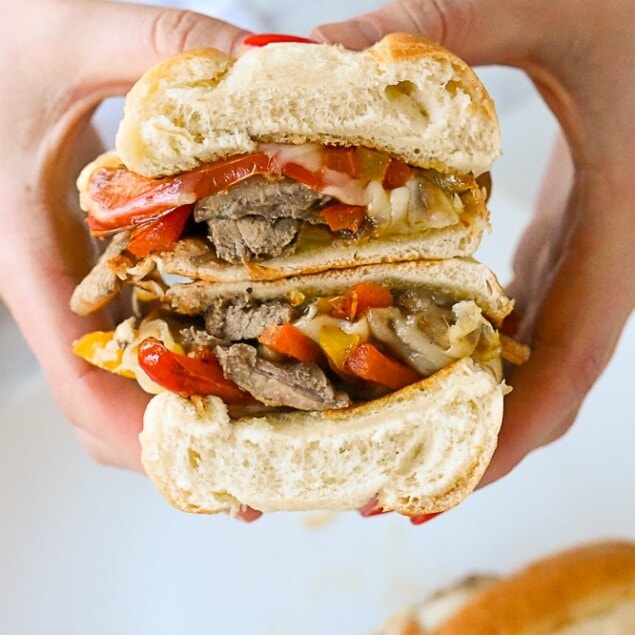 Cheese Steak Sandwich with Peppers
Make a delicious cheese steak sandwich at home when you can't get to Philly!
Ingredients
9 oz rib eye steak
salt pepper, granulated garlic to season
1/2 onion sliced
1/2 red pepper sliced
1/2 yellow pepper sliced
olive oil
sandwich rolls
butter for toasting rolls
4 slices provolone cheese
Instructions
Heat 1 Tbsp olive oil in cast iron skillet under high heat.

Season both sides of steak with salt, pepper and granulated garlic.

Turn heat down to medium and cook steak on both sides until well browned and cooked to desired doneness (I did medium) Allow to rest

Cook sliced onion and peppers in 1 Tbsp olive oil until soft, about 10 minutes. Remove to bowl.

Butter and toast sandwich rolls in frying pan.

Slice meat into thin slices going against the grain.

Divide meat into serving size portion and place in a pile in cast iron skillet. Add peppers and onions on top and then a piece of cheese.

Allow to cheese to melt

Use a spatula to place meat/peppers onto a toasted bun.

Enjoy!
Nutrition Facts:
Calories: 195kcal (10%) Carbohydrates: 3g (1%) Protein: 16g (32%) Fat: 12g (18%) Saturated Fat: 6g (38%) Cholesterol: 48mg (16%) Sodium: 157mg (7%) Potassium: 273mg (8%) Sugar: 1g (1%) Vitamin A: 620IU (12%) Vitamin C: 47.3mg (57%) Calcium: 113mg (11%) Iron: 1.3mg (7%)
* Disclaimer: All nutrition information are estimates only. Read full disclosure here.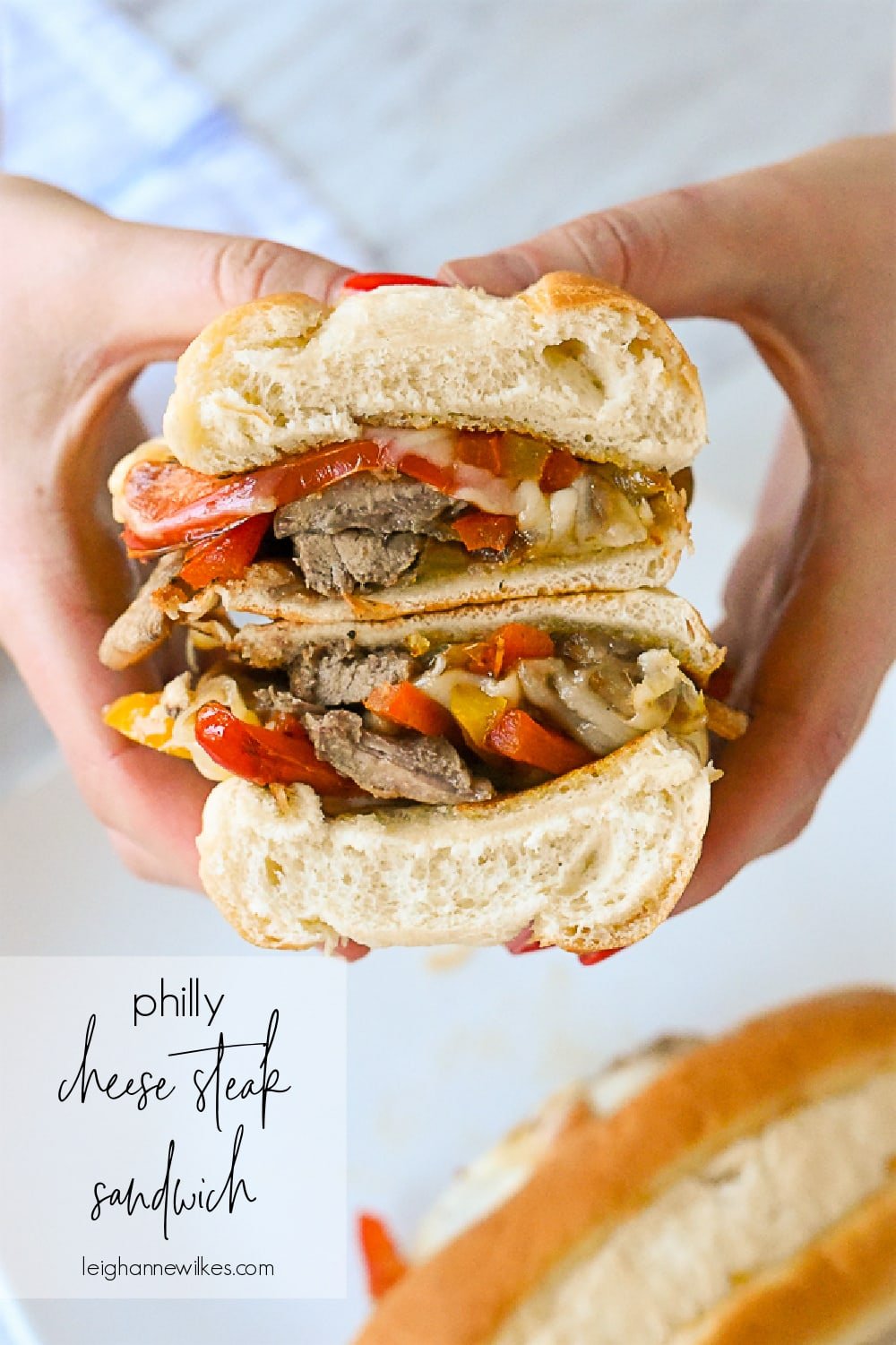 Originally shared April 4, 2013