You'll love the rich, deep flavor of this Italian Beef Stew and the how quick and easy it is to make in your Istant Pot.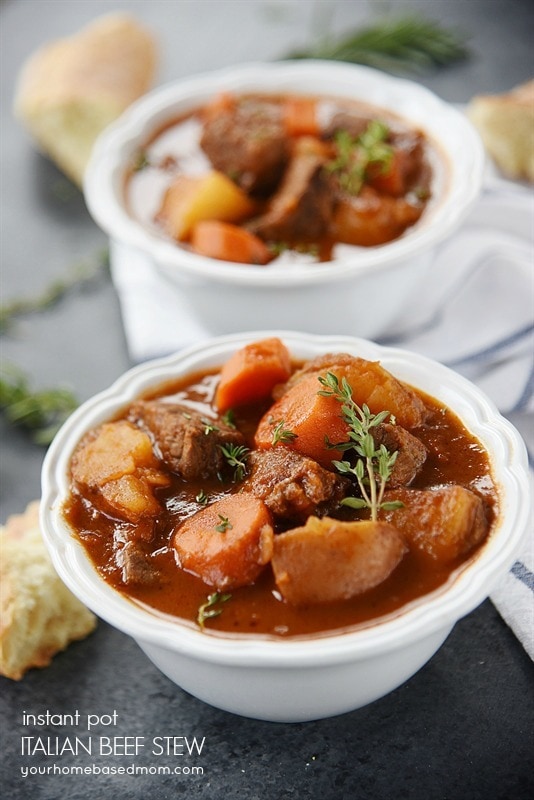 I had my Instant Pot sitting in my closet for six months before I finally used it for the first time. I think secretly, I was afraid of it. It is a pressure cooker after all and pressure cookers are scary. I also needed to read the instruction book before I could begin using it. And that is always an obstacle for me. I just don't do instruction books. I'm one of those people that just likes to figure things out. But I decided I better read the instructions on this one and I learned a couple of things. Most importantly, the instant pot is not scary at all. And it's a really quick way to get dinner on the table.
What is an Instant Pot?
An Instant Pot is basically an electric pressure cooker with a stainless steel pot. The Instant Pot is the pressure cooker of the 21st Century .
Cooking in a pressure cooker takes about an hour. You need about 20 minutes to get the cooker up to pressure and then it cooks for 30 minutes. But once your ingredients are in the pot, you are free to do something else and just leave the Instant Pot to do it's thing.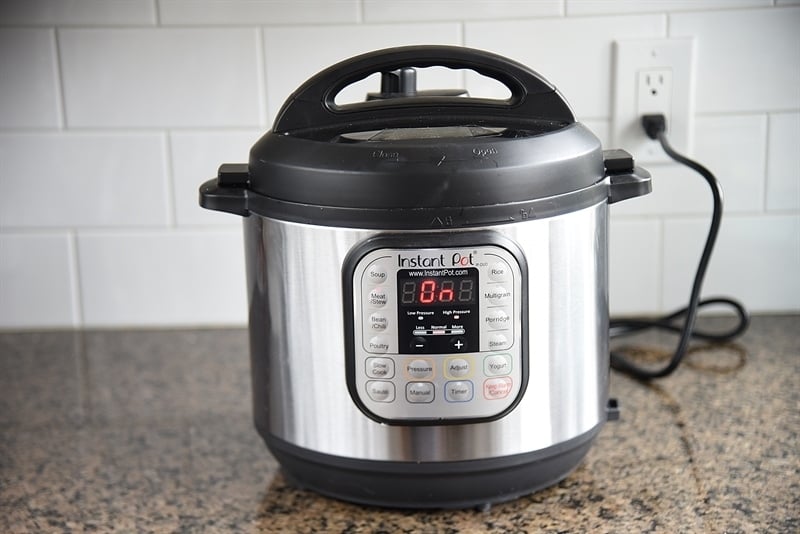 One of the great things about the Instant Pot is that you can use the sauté feature and brown the meat before adding the other ingredients. No need to dirty another pan. The Instant Pot also works as a slow cooker so if you want dinner ready in 4-6 hours use it that way or you can use this recipe in your regular slow cooker too.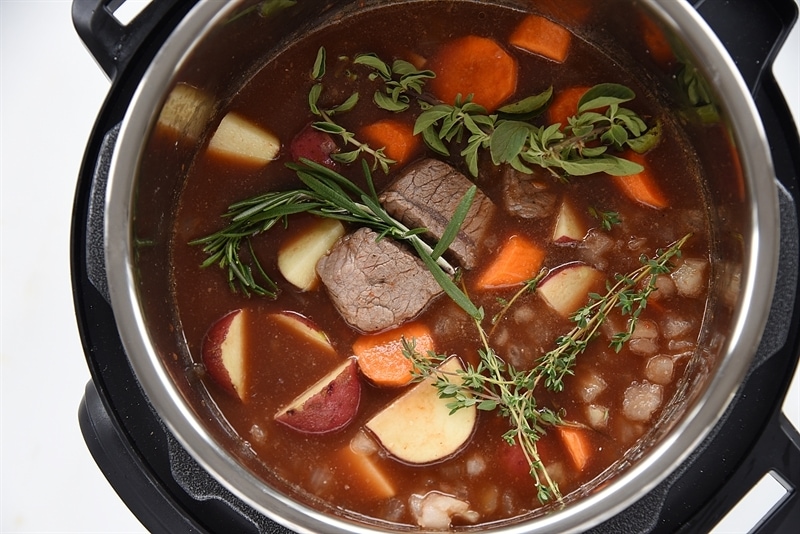 You can use your favorite meat based slow cooker recipes in the Instant Pot. If the slow cooker recipe cooks 8 hours on low or 4 hours on high, it will pretty much be cooked just right in 25-30 minutes in the pressure cooker (after it comes to pressure). Just use the Meat/Stew button for red meats and Poultry button for chicken. A pressure cooker needs at least 1 cup of liquid to get to pressure so you may need to make an adjustment to a slow cooker recipe if it calls for less than 1 cup of liquid, just add more liquid!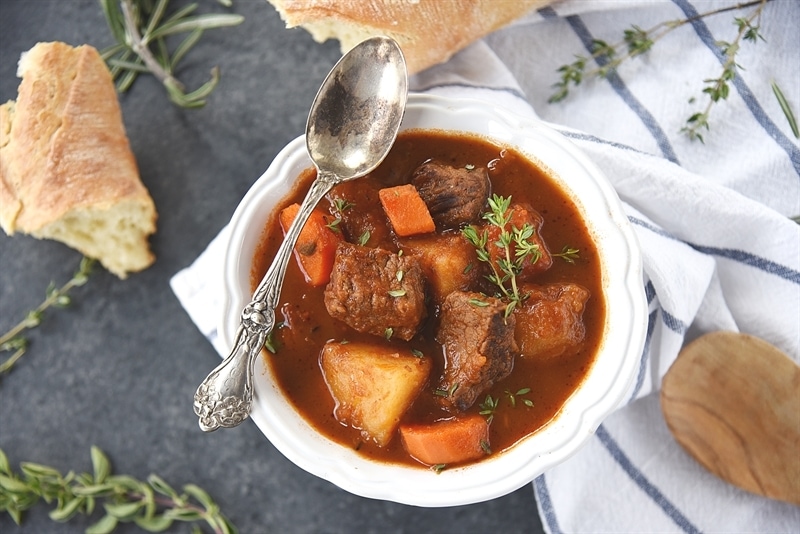 How to Make Italian Beef Stew in an Instant Pot
This stew uses stew meat, carrots, potatoes, beef broth and tomato paste along with springs of your favorite fresh herbs. I used rosemary, thyme and oregano. I just put the whole springs right into the pressure cooker. Just remove the stems from the stew before serving. No one likes twigs in their stew. The stew came out perfectly cooked, the carrots and potatoes weren't too mushy, they were just right and the flavor was deep and rich.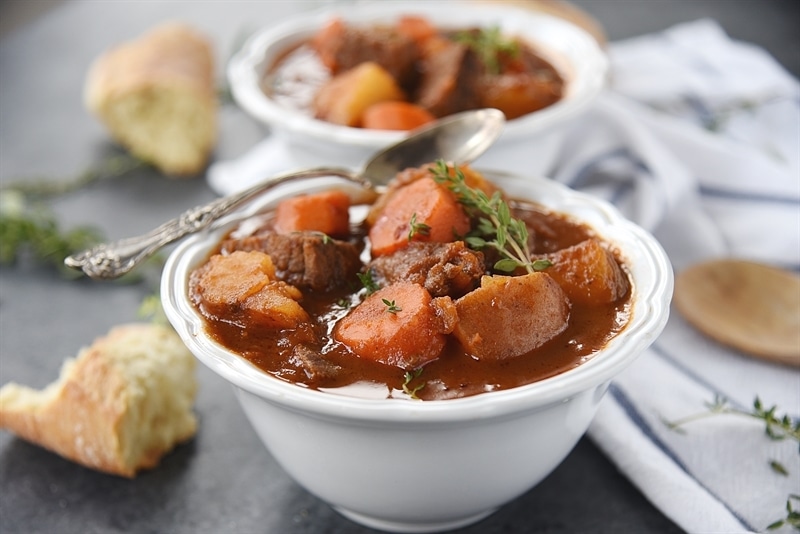 I purchased my Instant Pot on Amazon. Watch for more Instant Pot recipes coming soon but in the meantime,
Check out more delicious Instant Pot Recipes: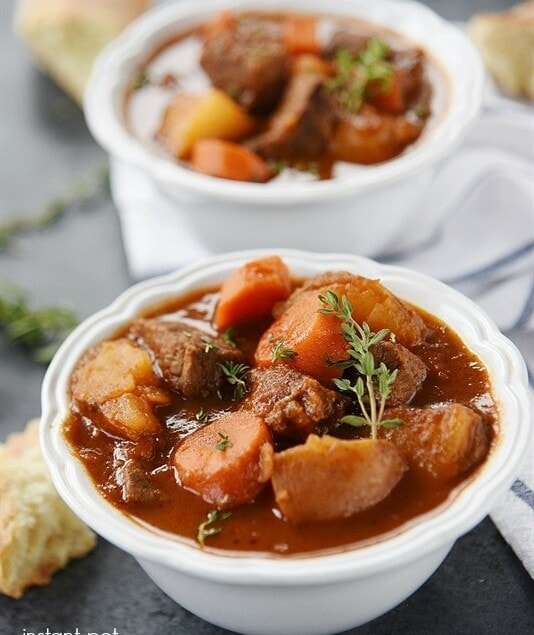 Italian Beef Stew
Make delicious Italian Beef Stew in your Instant Pot
Ingredients
2 lbs. stew meat
1 Tbsp olive oil
1/2 cup onion chopped
4 red potatoes cut into 1 inch pieces
4 tsp garlic minced
1 6 oz. can tomato paste
3 carrots peeled and cut into 1/2″ pieces
3 cups beef broth
1/2 cup balsamic vinegar
Sprigs of thyme oregano and rosemary
Instructions
Turn Instant Pot to saute, add oil and when it is hot add the meat meat in a single layer and brown.

Add in remaining ingredients, stir and close the lid then close the steam valve. Press the "Meat/Stew" button and allow the cooker to naturally cool and release pressure.

Once the pressure has released, open the steam valve then carefully open the lid. Give the stew a good stir, taste, and adjust the salt if needed.
Nutrition Facts:
Calories: 406kcal (20%) Carbohydrates: 37g (12%) Protein: 39g (78%) Fat: 10g (15%) Saturated Fat: 3g (19%) Cholesterol: 93mg (31%) Sodium: 844mg (37%) Potassium: 1710mg (49%) Fiber: 4g (17%) Sugar: 11g (12%) Vitamin A: 5610IU (112%) Vitamin C: 22.9mg (28%) Calcium: 84mg (8%) Iron: 5.6mg (31%)
* Disclaimer: All nutrition information are estimates only. Read full disclosure here.