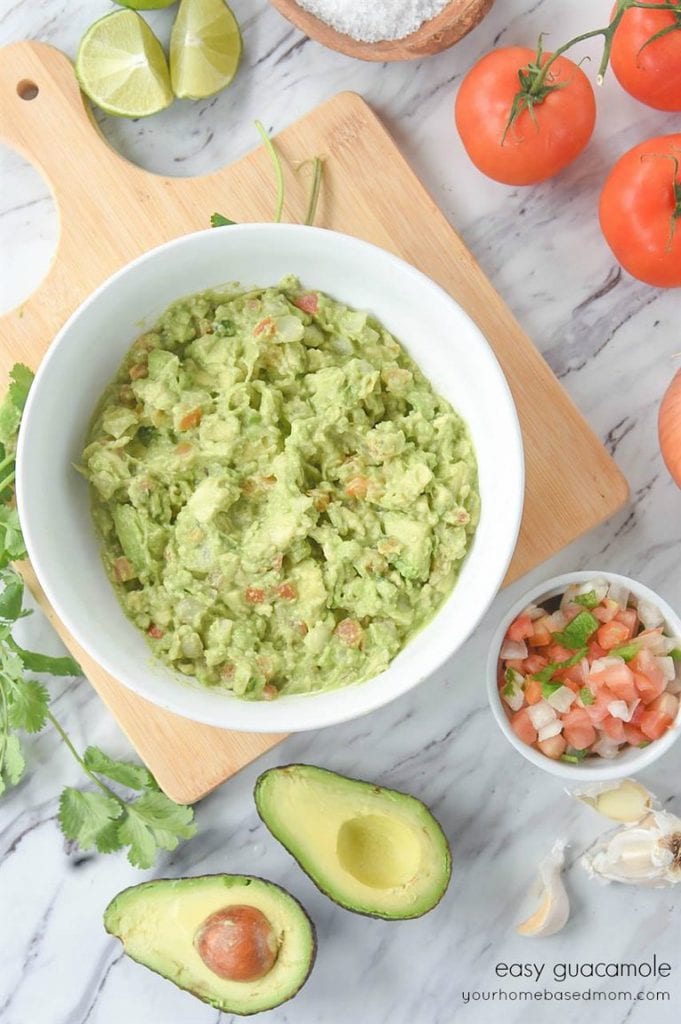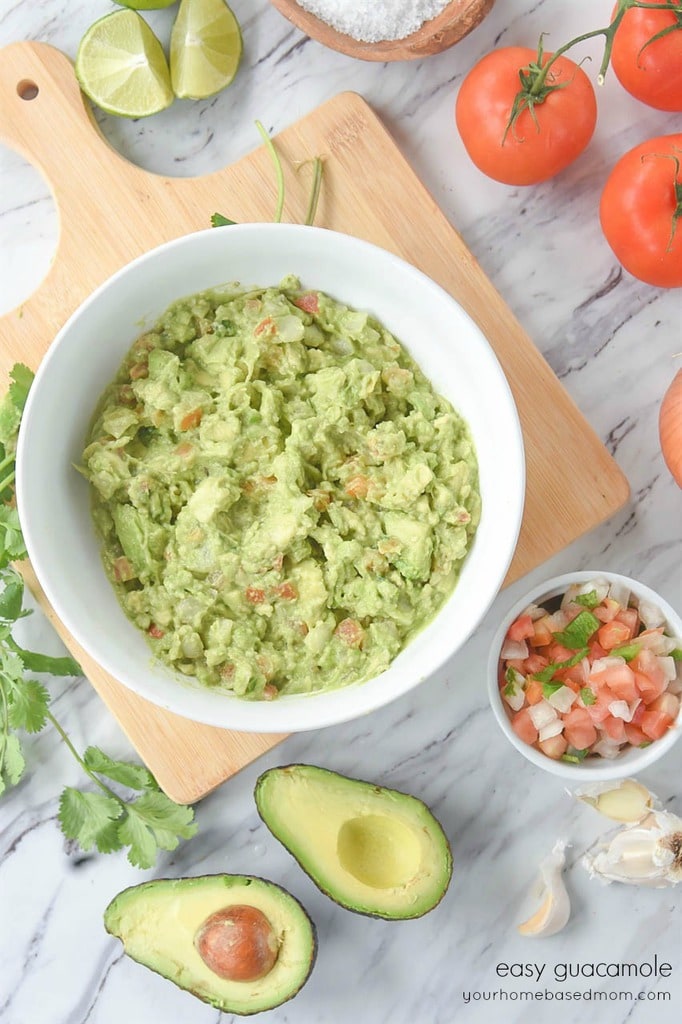 Nothing beats fresh guacamole and homemade guacamole is so easy to make! This guacamole recipe is perfect on its own or with your favorite Mexican dish.
I am a guacamole convert. If you know me well, you have probably already guessed but it is definitely a texture issue for me. But I as I have gotten older and wiser, I have discovered that guacamole is quite delicious. And it is also easy to make. The hardest part seems to be finding the avocados that are just right. Not too hard, but not too soft. I've got some tips for you below to help you pick the perfect avocado.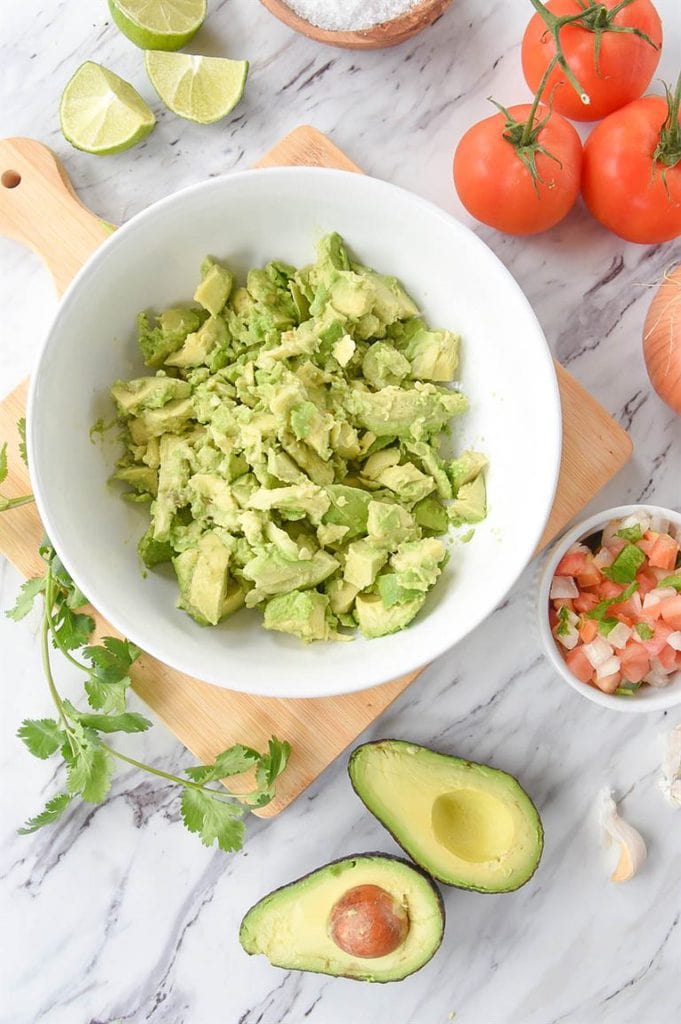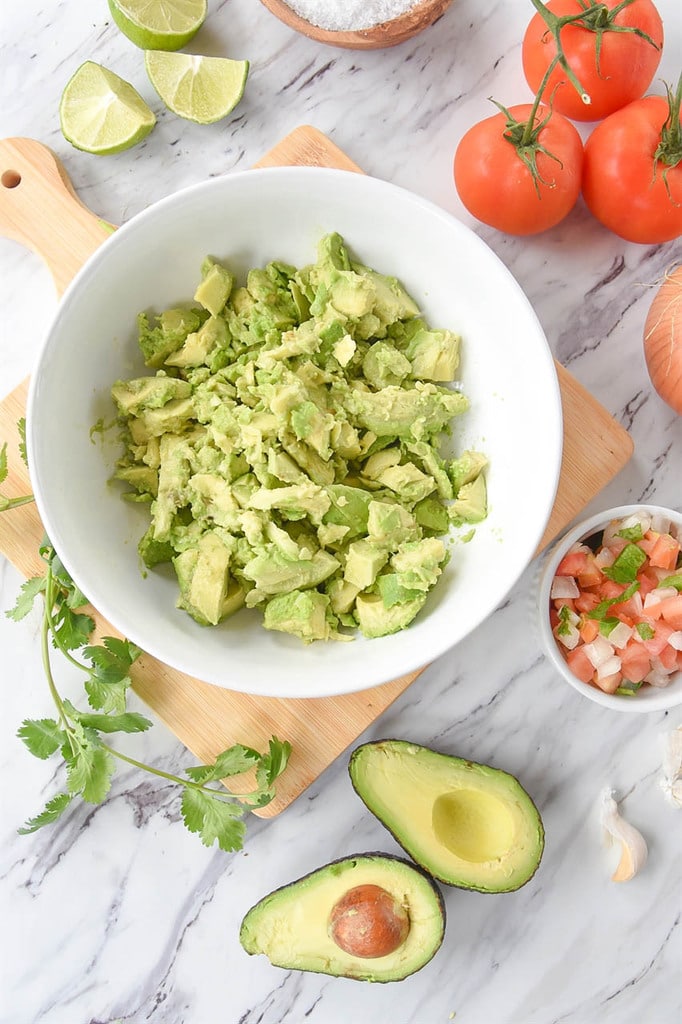 How to make guacamole
Because there are so few ingredients, fresh ingredients are very important. You want to make sure your avocado, tomato, and lime juice are all as fresh as possible.
I like my guacamole a little chunky so I just smash up the ripe avocados with a fork and then add in everything else. Also, I like to refrigerate it for at least an hour so it is cold.
The other great thing about guacamole is that it's good for you – avocados are good for your heart, they help fight cancer, and prevent strokes. I love foods that make me feel healthy while I'm eating it!
I love eating a bowl of guacamole with chips for lunch!
Time saving tip: If I am in a hurry, I will buy the fresh pico you can find in the produce section of the grocery store instead of dicing my own tomatoes and onion.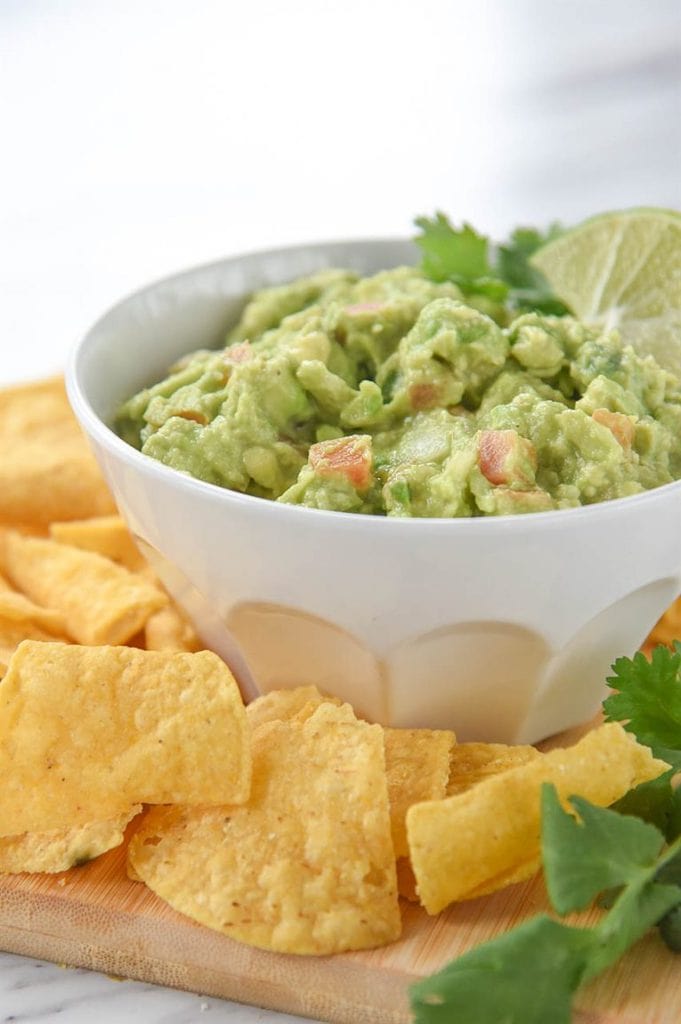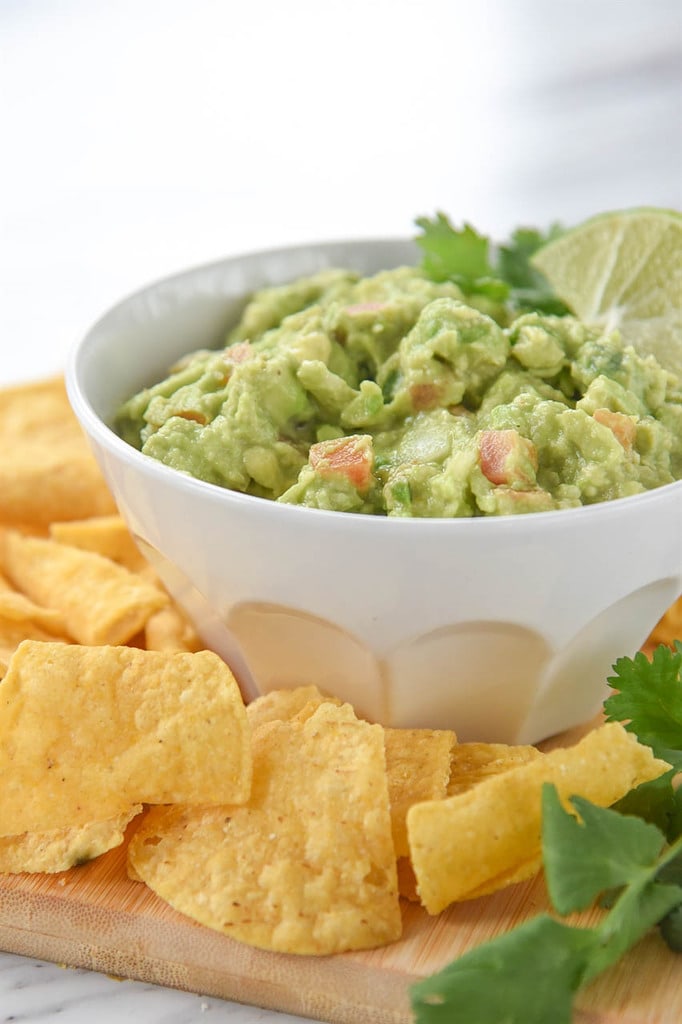 How to Cut an Avocado
With the tip of a sharp knife, cut the avocado in half
Remove the pit
Take your knife and whack the pit with it with enough force that the knife sticks in the pit. Twist the knife to pull out the pit.
If dicing, cut through the flesh of the avocado without piercing the skin, dicing it into squares and then scoop it out with a spoon.
If slicing, scoop out and slice
For neat slices, use your spoon to loosen skin all the way around, and scoop out the flesh whole. Place flat side down on cutting board and slice using the tip of your knife.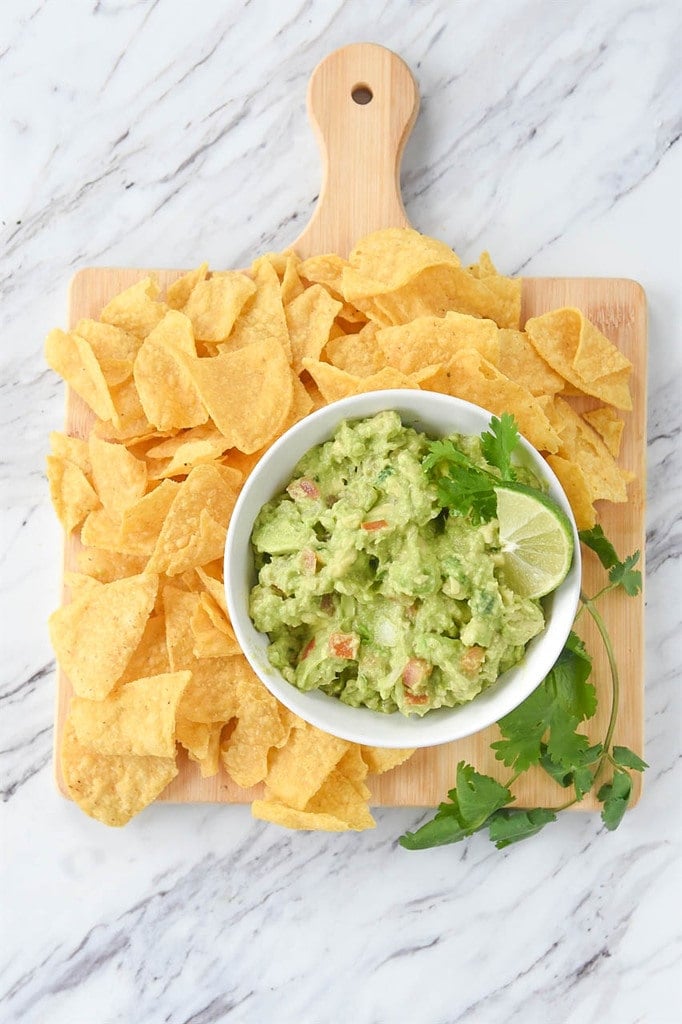 How do you tell if an avocado is ripe
Check the skin color. The fresher avocados will have a lighter skin. The riper ones will be darker. Check for any indentations which could indicate bruising.
Gently squeeze the avocado with the palm of the hand, not the fingers which can bruise the avocado. It should give a little, but not too much which can indicate over ripeness.
A friend of mine taught me to flick the little stem off the end of the avocado. If you see green, it is a good avocado, if it is brown you don't want it. Since I have used her trick I'm pretty much 100% in my avocado selection.
If you are not going to use the avocado within 2-3 days be sure and buy ones that are firmer to the touch.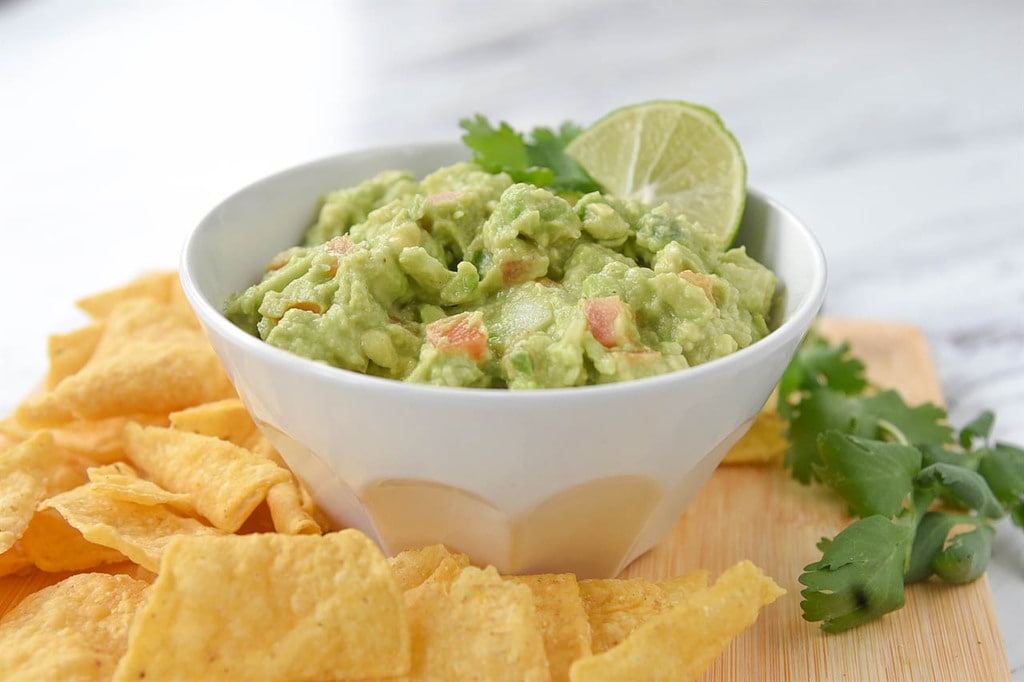 How to Ripen Avocados
Avocados actually don't ripen on the tree, they ripen after being picked. To speed up the avocado ripening process , place them in a brown paper bag with an apple or banana for two to three days until they are ripe.
Other favorite appetizers:
Guacamole Recipe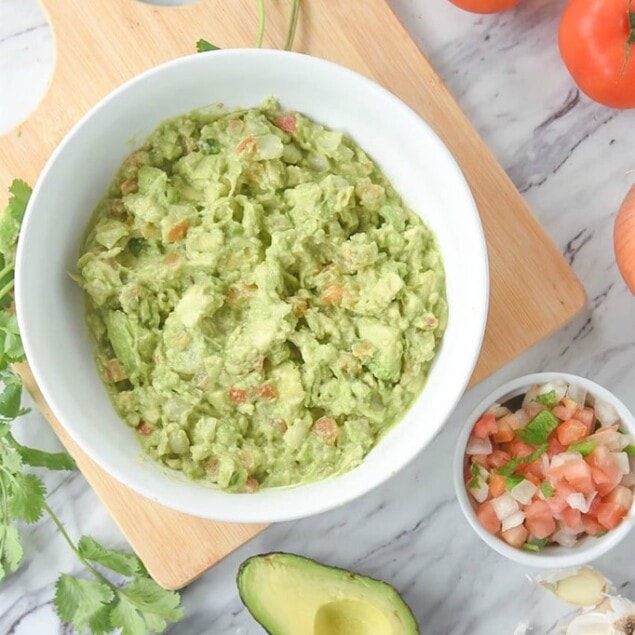 Guacamole
The perfect homemade guacamole recipe with fresh ingredients.
Ingredients
3-4 avocados diced
1 lime juiced
1/2 c diced onion
3 Tbsp cilantro chopped
2 tomatoes diced
1 tsp minced garlic
1 pinch cayenne
1 tsp salt
Instructions
In bowl, use a fork to mash together the avocados

Add in the lime juice, and salt

Mix in onion, cilantro, tomatoes, and garlic

Stir in cayenne pepper

Refrigerate 1 hour or serve immediately
Tips & Notes:
If I am in a hurry I will buy the premade pico in the produce section and use it in place of the tomatoes and onion.
Nutrition Facts:
Calories: 133kcal (7%) Carbohydrates: 9g (3%) Protein: 1g (2%) Fat: 11g (17%) Saturated Fat: 1g (6%) Sodium: 298mg (13%) Potassium: 461mg (13%) Fiber: 5g (21%) Sugar: 1g (1%) Vitamin A: 375IU (8%) Vitamin C: 15mg (18%) Calcium: 17mg (2%) Iron: 0.5mg (3%)
* Disclaimer: All nutrition information are estimates only. Read full disclosure here.