Tips and Tricks for creating grad party decorations that will help you celebrate your graduate in style.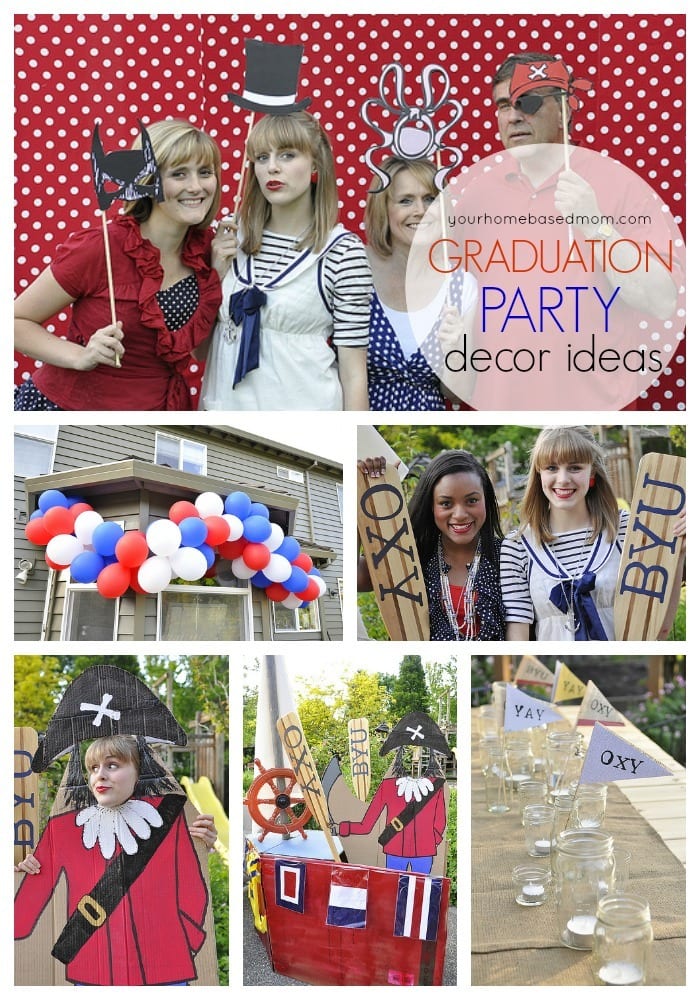 For more graduation ideas go here.
Nautical Theme Party Idea
Today I am going to share the grad party decorations we used for the Sail Away Graduation party. It was such a fun party to decorate for. Having a theme makes things so much easier. We decided not to do the "traditional" graduation party but rather use a fun theme. Our nautical theme was perfect! I love red, white and blue.
What would a nautical party be without a boat and a pirate?
Cali made the boat out of a box from a piece of furniture. I had the plastic nautical flags already(they came from Oriental Trading). My mom painted the pirate for me on a big piece of cardboard. The idea came from here. I borrowed the oars from the theater department at school and cut their school names out on my Cricut. The sail was made out of some muslin I had in my craft room and the pole came from the garage. I bought the plastic anchor and wheel at a local party supply store (Lippmans)
I used the little BYU and YAY pennants I had made for the Smart Cookie Party and just added in some for OXY (Occidental) Thought they looked pretty cute in some clear canning jars on my new table Jim made me. For the table runner I just hemmed a piece of long burlap.
Italian Soda Bar
For all my tips and tricks for putting together an Italian Soda Bar check out this post.
Balloon Banner Arch
My favorite part of our grad party decorations was the balloon banner we made. Every party must have balloons!  We created this fun, festive balloon banner. One of the best things I have bought in a long time is a little hand pump for blowing up the balloons.  With help from Scarlet (the other graduate's mother) we were able to blow up the balloons and string them together in no time.  The trickiest part was getting the big banner out of the house once it was put together without popping any balloons.  I love the color it added to the party!

Grad Party Decoration Table Ideas
For the tables, I covered them with an assortment of red, white and blue tablecloths I already owned. I added the fabric pennant banners I made to the front of the tables and to the fence.
I just used straight pins to attach it to the table and thumbtacks to the fence.
For the backdrop for the pictures on the table I used a wooden shipping palette.
I had a fishing net already and just draped it across the palette and then using my staple gun I added photos of the girls that we took during their fun invitation photo shoot.
The wooden life preserver came out of the garage and originally came from Michael's craft.
Graduation Party Decorations Photo Booth
We also had a photo booth at the party – the kids LOVED it!! I used the large piece of red fabric from the invitation photo shoot and hung it on the front of our shed. You want to make sure it is in a shady area – no direct sunlight so you don't get shadows and squinty eyes in the pictures.
We set the camera up on a tripod and they took hundreds of photos throughout the night. Of course, the kids can just use their cell phones too!
I had a table full of fun photobooth props that I downloaded and printed out here.
I also made or rather had Jim make some fun chalkboard conversation bubbles that they could hold up and write on. They did some pretty creative things!
Activities included badminton, bongo ball and a bonfire and of course lots of talking, singing and just having a good time. There was even some dancing going on for a while.
For more graduation party ideas check out these: