Fudgy Chocolate Walnut Pie is the perfect combo of a brownie and a pie all in one!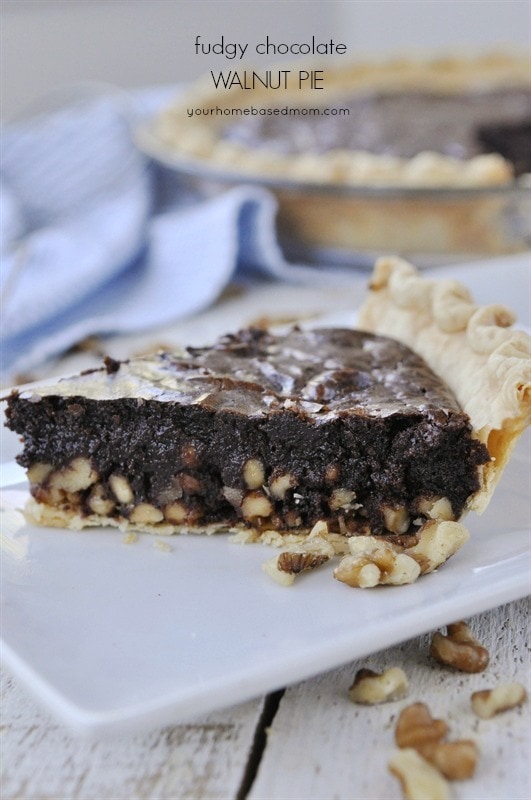 This post is sponsored by the California Walnut Board but all opinions are my own.
Are there certain foods that when you cook with them or eat them they remind of you a certain person?  I am that way with walnuts.  They always remind me of my Grandpa Schenck.  We lived in Wisconsin growing up and every summer we would take the train out to California to spend a month or so with my mother's parents.  I remember sitting on the back porch of grandpa's house in San Gabriel shelling walnuts.  I can never cook with or eat a walnut without thinking about my grandpa.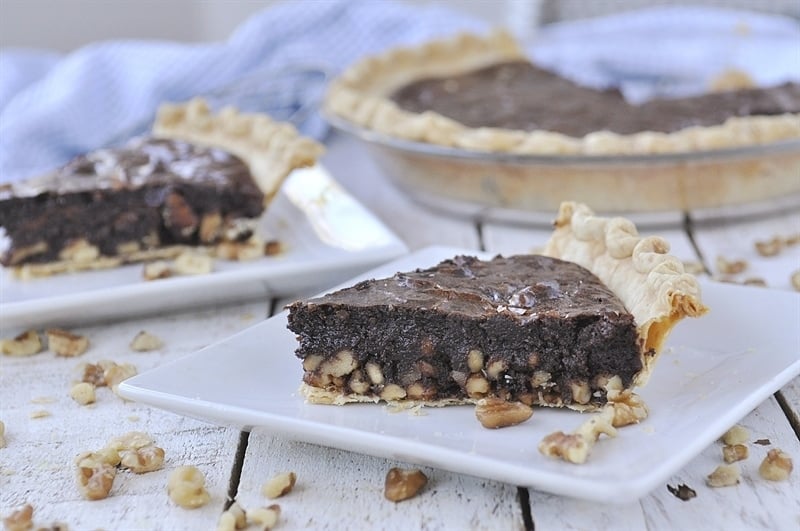 This fudgy chocolate walnut pie is full memories for me and lots of chocoalte and walnut goodness.  The chocolate is fudgy and gooey but it's not runny.  A layer of toasted walnuts on the bottom of the pie adds some nice crunch and flavor to the pie and helps the chocolate not to be too overwhelming.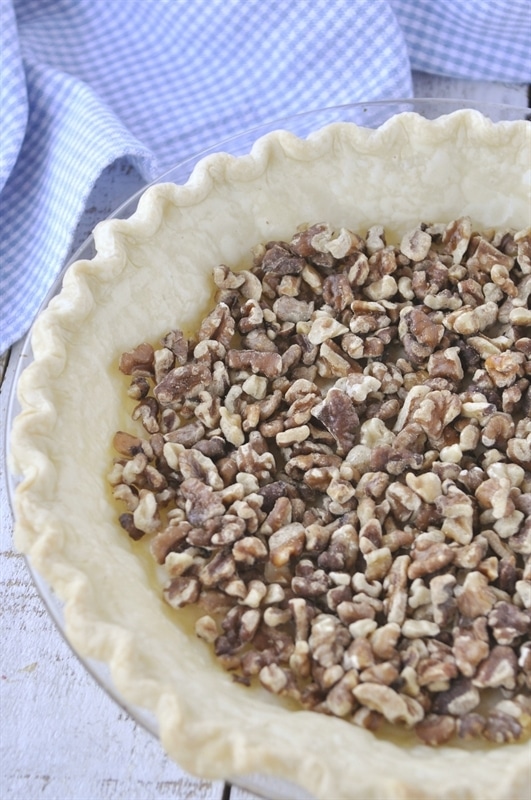 I used a store bought pie crust but you can always make your own.  I love my Perfect Pie Crust recipe.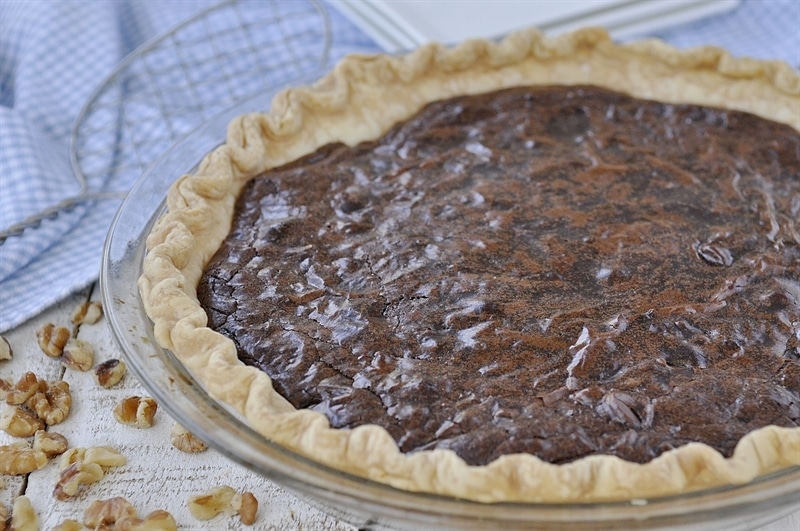 Let the pie cool for an hour or so so that it is easier to cut and serve.  Of course, a nice scoop of vanilla ice cream would be perfect on this pie!
Fudgy Chocolate Walnut Pie
Total :
1
hour
20
minutes
Ingredients
1 9 inch pie crust
1 cup semi sweet chocolate chips
4 Tbsp butter
1/4 cup canola oil
2 Tbsp unsweetened cocoa powder
3/4 cup packed brown sugar
2 eggs
1 Tbsp vanilla extract
3/4 tsp salt
1/4 cup all purpose flour
1 cup walnuts toasted and chopped
Instructions
Preheat oven to 350 degrees F.

Line pie pan with pie dough and press into bottom of pan and up the sides. Trim overhang to 1/2 inch and tuck overhang under itself. Crimp down evenly around the dish using your fingers.

Chill for 15 minutes wrapped in plastic wrap.

Prick bottom of crust and bake for 18 minutes or until lightly golden around the edges.

Reduce heat to 325 degrees F.

Combine 2/3 cup chocoalte chips and butter in a bowl and melt in microwavve.

Stir in oil and cocoa, stir until smooth.

In another bowl, mix together sugar, eggs, vanilla and salt until smooth. Whisk chocolate mixture into sugar mixture.

Stir in flour and remaining chocolate chips until combined.

Spread walnuts in bottom of pie crust.

Pour batter over the top and smooth to level.

Bake until a toothpick comes out with just a thin coating of batter on it, about 30-35 mimutes.

Let pie cool for about 1 1/2 hours.

Slice and serve. Can be rewarmed in the oven at 300 degrees for about 10-15 minutes.

Serve with ice cream.