Microwave Caramel Corn is the best and easiest way to make caramel corn!  In a matter of minutes you can have crunchy and delicious caramel corn.
We are big popcorn eaters at our house. Some of our other favorite ways to enjoy popcorn are this Peanut Butter Popcorn. Key Lime Popcorn almost tastes as good as the pie and this Nutella Marshmallow Popcorn is to die for! And how fun is this Popcorn Cake, perfect any celebration.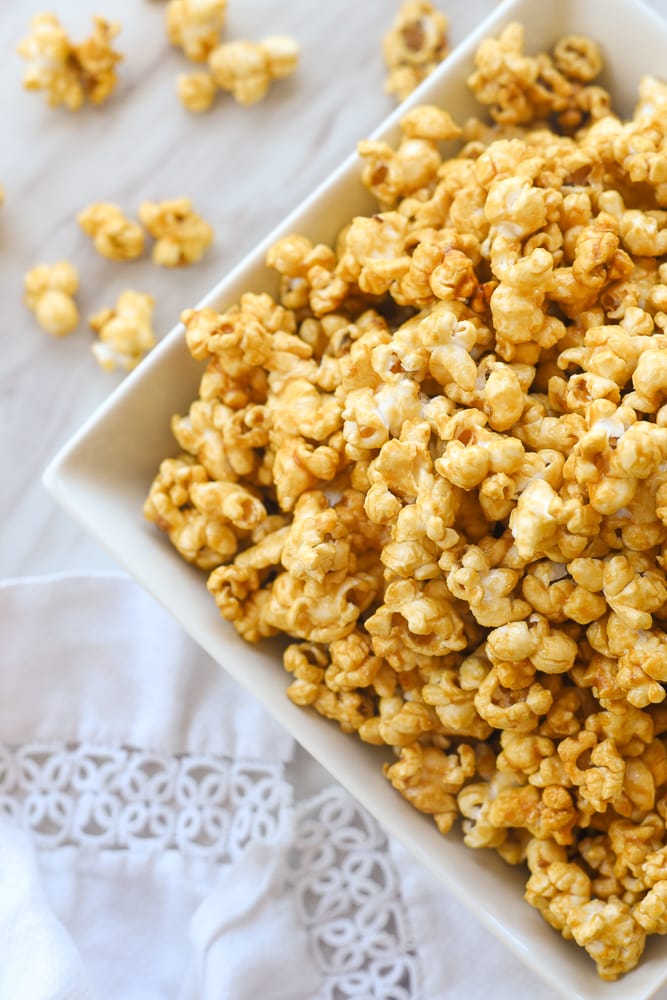 For over 30 years my family has been making this delicious microwave caramel popcorn.  I got the recipe from my friend Pam. We totally fell in love with it and have been making it ever since.  The fun thing about this recipe is how easy it is!  You don't need a candy thermometer or have to worry about the caramel hitting a certain temperature.  The whole recipe is made in the microwave!
Easy Microwave Caramel Corn
Besides being easy, what I love about this microwave caramel popcorn recipe is that it makes a dry, crunchy caramel corn. I know there is a divided camp on caramel corn. Some like it gooey and sticky and some like it dry and crunchy. I'm a dry and crunchy caramel corn girl!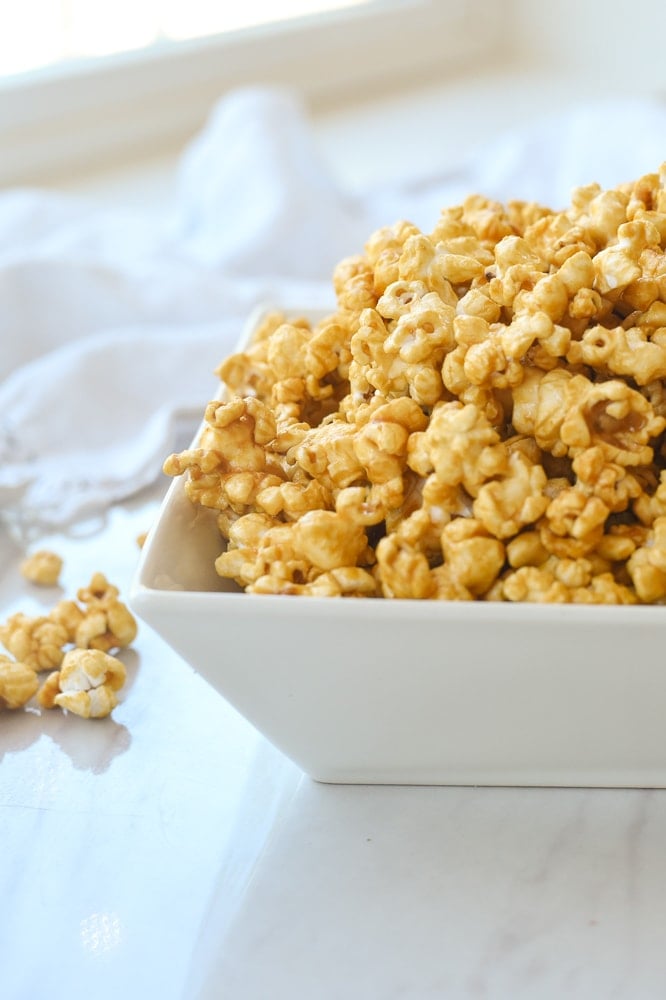 Microwave Caramel Corn in a Brown Paper Bag
The other great thing about this recipe is the caramel corn is made in a brown paper bag so clean up is easy too.  After you cook the caramel popcorn in the microwave, you spread it out on wax paper on the counter to dry.  Then just toss the paper bag!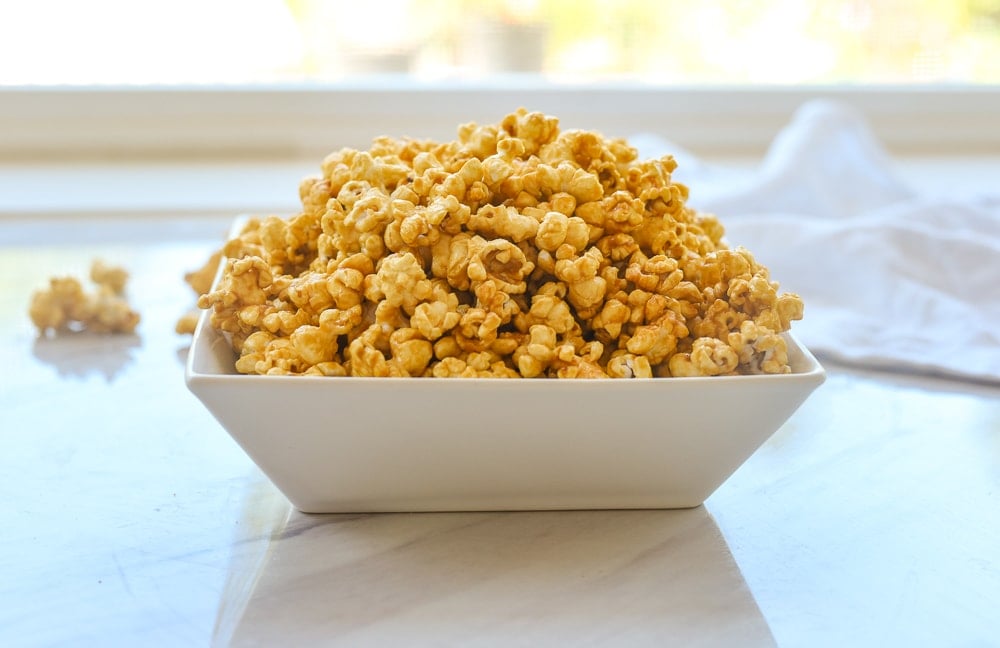 What Ingredients Do I Need for Microwave Caramel Corn?
Popcorn. You will need 16 cups of popped popcorn. I prefer to use my air popper to pop my corn but you can do it on the stove top or use microwave popcorn.
Brown Sugar. I like to use light brown sugar.
Butter. I use salted butter but if you are using microwave popcorn that has been salted use unsalted butter.
Light Corn Syrup. This prevents the caramel from crystallizing.
Baking Soda. The baking soda is important. It causes a chemical reaction between the acid in the brown sugar and corn syrup and creates little bubbles of carbon dioxide. You will see this reaction as the caramel mixture bubbles.
Vanilla Extract.
How do you Make caramel corn in the Microwave?
Place popped corn in a large brown grocery store bag. Be sure you have removed all the unpopped kernels.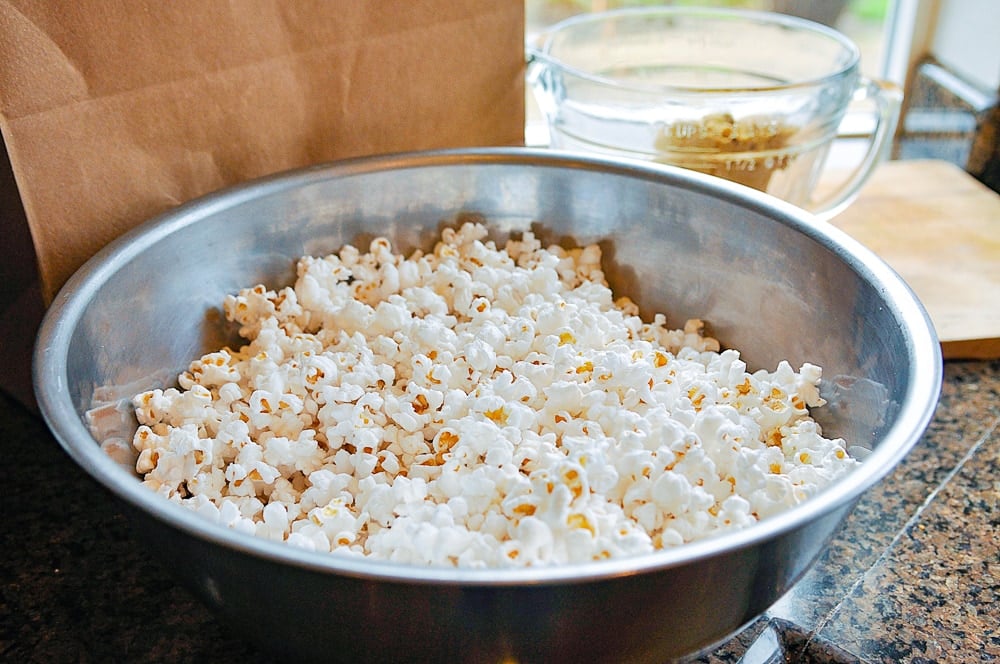 Combine brown sugar, corn syrup and butter into a microwave safe bowl, be sure the bowl has higher sides, as the mixture will expand and bubble and you don't want it to overflow in the microwave.
Place bowl in microwave and microwave for one minute, remove and stir. Repeat this process for four additional minutes, removing to stir after each minute. You will do this for a total of five minutes. The mixture will get hot and bubbly.
Remove and add in baking soda and vanilla, stir until foamy.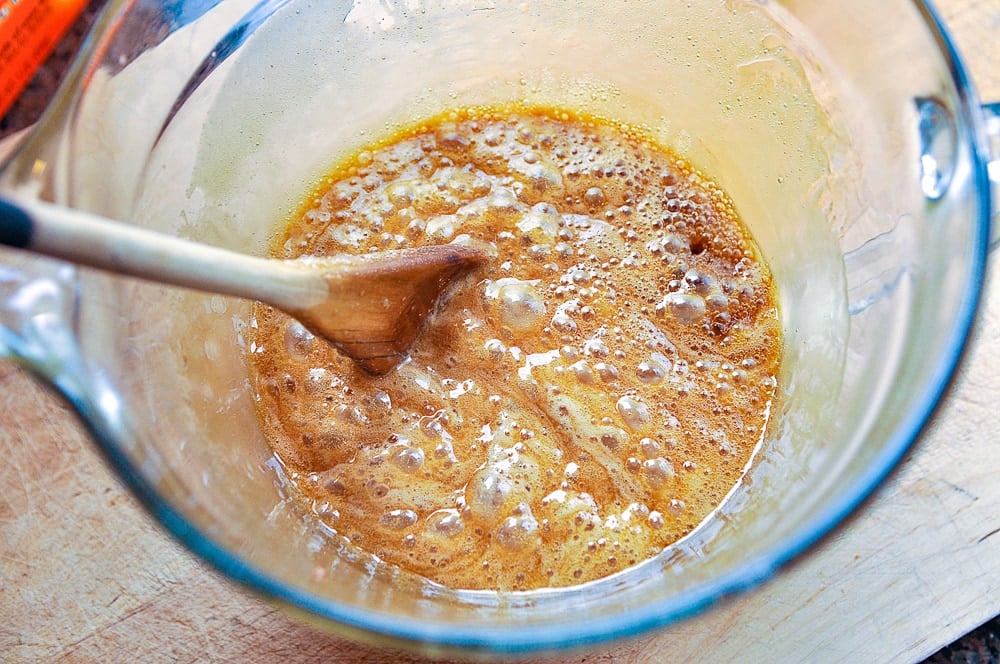 Pour hot sugar mixture into bag over popcorn.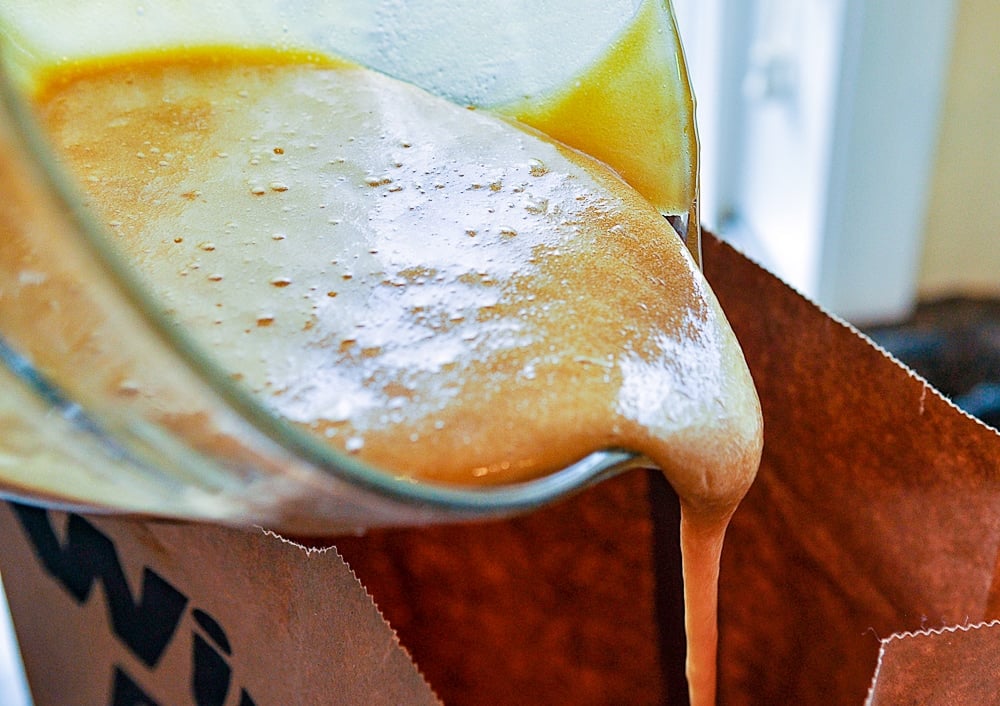 With a wooden spoon stir mixture to coat popcorn as much as possible. It's o.k. if it doesn't get totally coated, it will as it cooks in the microwave.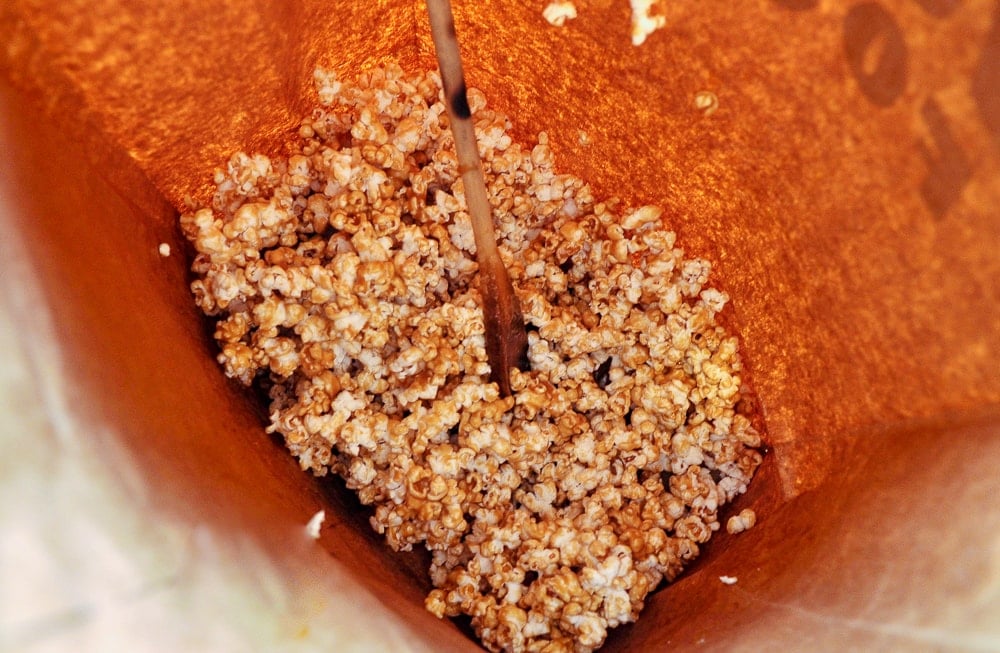 Close the bag and fold over the top, make it small enough so that it fits into your microwave.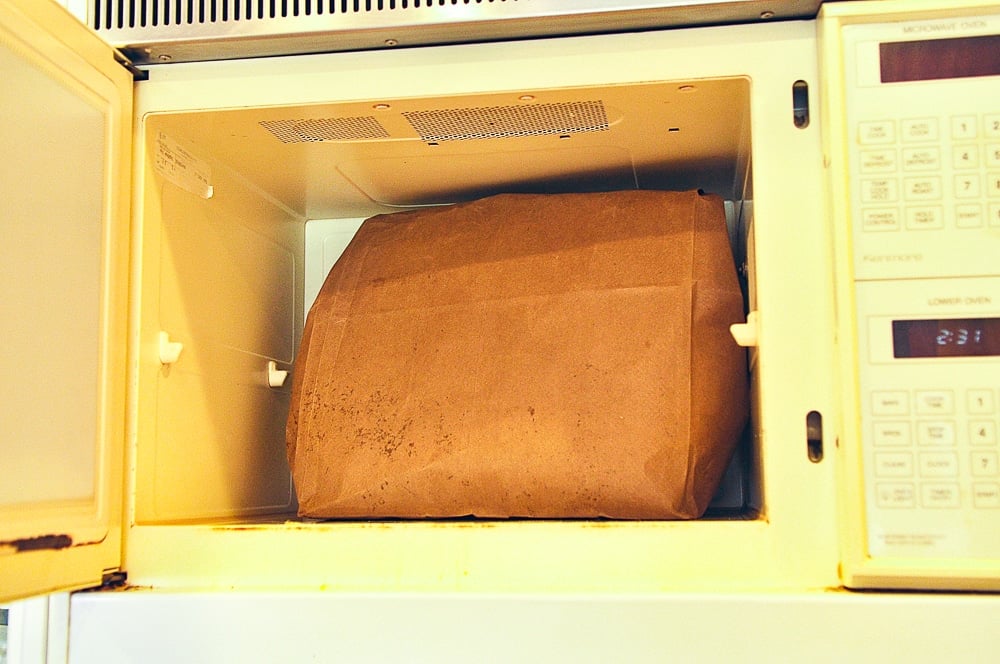 Microwave for one minute, remove and shake. Repeat. Microwave for 30 seconds, remove and shake. Repeat. A total of three minutes.
Pour the caramel corn onto a baking sheet or a piece of parchment paper. Allow to cool.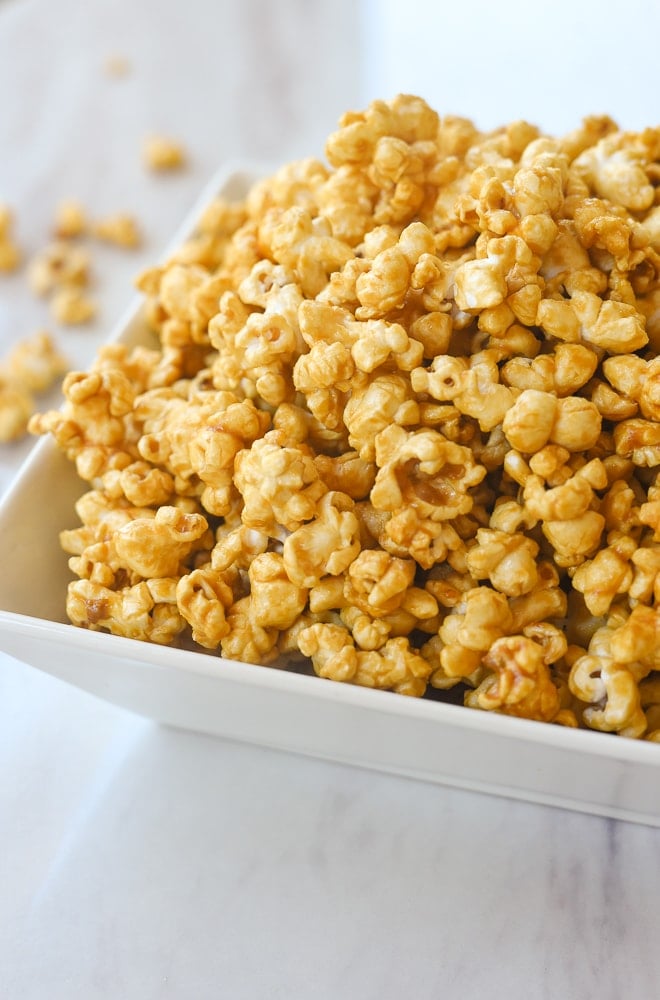 Caramel Corn Add Ins and Flavor Variations
It is easy to dress this caramel popcorn up too.
Snickerdoodle Caramel Corn: add a 1-2 teaspoons of cinnamon sugar into the brown bag when you pull it out of the microwave for the last time.  Be sure and give it a good couple of shakes to get it evenly distributed. Do it quickly as the caramel sets up quickly and the sugar will not stick to the kernels if it is too dry.
White Chocolate Caramel Corn: While the caramel corn is cooling on the wax paper, just drizzle melted white chocolate on top. Allow chocolate to set up.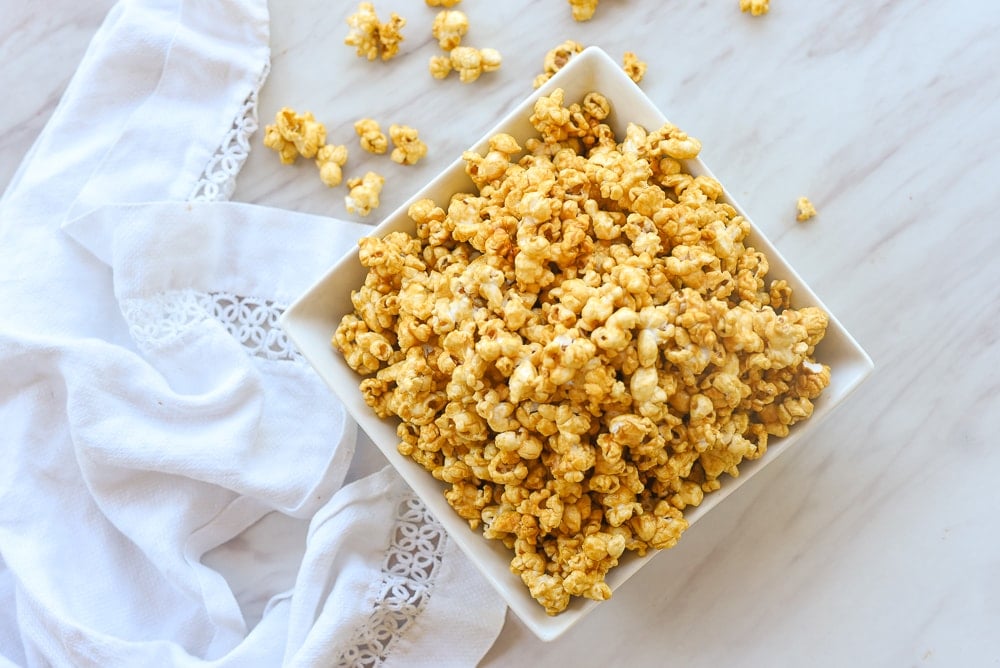 How Long Will Caramel Corn Last?
Not very long at our house! But you can store it in an airtight container or a zippered plastic bag for 5-6 days.
Here are some other fun flavor caramel corn combinations I have put together.
For all of my other favorite kitchen products and tools visit my Amazon Store. 
Did you know I wrote a cookbook?  Check out the Holiday Slow Cooker Cookbook for 100 delicious recipes.
Microwave Caramel Corn Recipe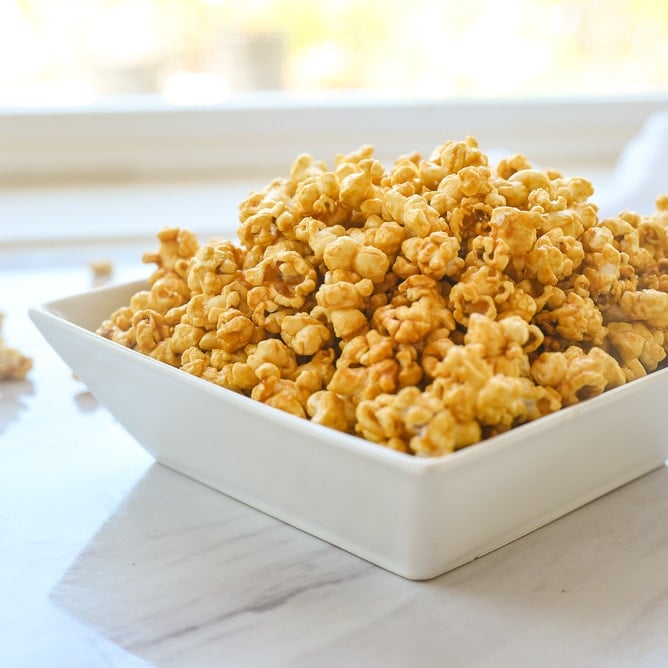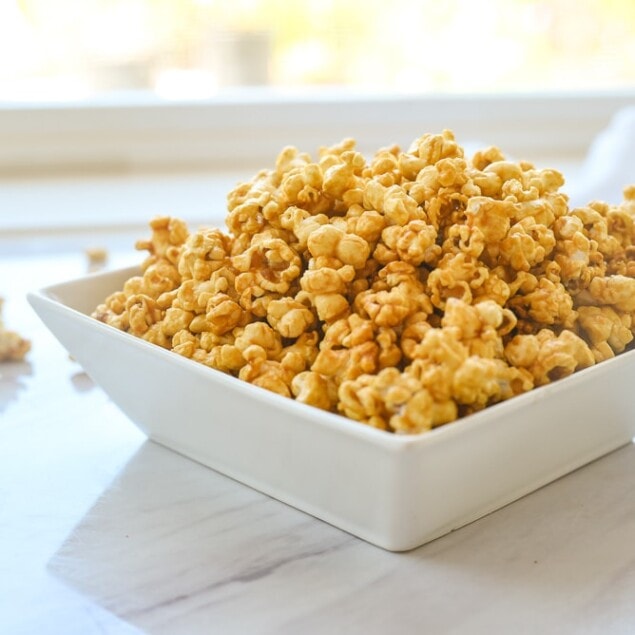 Microwave Caramel Corn
 Microwave Caramel Popcorn is the best and easiest way to make caramel corn!  In a matter of minutes you can have crunchy and delicious caramel corn.
Ingredients
16 cups popped corn I used my air popper
1 cup brown sugar
1/4 cup corn syrup
1/2 cup butter
1/2 tsp baking soda
1/2-1 tsp vanilla
Instructions
Pop 16 cups of popcorn and place in a large brown grocery bag

Cook sugar, syrup and butter in a medium to large glass bowl in microwave on high for one minute

Stir and repeat for a total of five minutes, should be hot and bubbly

Add baking soda, vanilla and mix until foamy

Pour mixture over popcorn in brown paper bag, stir to coat

Fold bag over and place in microwave.

Microwave for one minute and shake, repeat.

Microwave 30 seconds and shake, repeat

Pour popcorn out onto parchment paper to cool.
Nutrition Facts:
Calories: 161kcal (8%) Carbohydrates: 26g (9%) Protein: 1g (2%) Fat: 6g (9%) Saturated Fat: 4g (25%) Cholesterol: 15mg (5%) Sodium: 98mg (4%) Potassium: 54mg (2%) Fiber: 2g (8%) Sugar: 18g (20%) Vitamin A: 199IU (4%) Calcium: 15mg (2%) Iron: 1mg (6%)
* Disclaimer: All nutrition information are estimates only. Read full disclosure here.
Originally posted March 27, 2014