Microwave Caramel Popcorn is the best way to make delicious caramel corn!
For over 25 years my family has been making this delicious microwave caramel popcorn.  I got the recipe from my friend Pam.  We were in a family home evening group together with some other moms.  Each month we took turns putting together a lesson, visual aids and a treat idea for everyone that could be used for our weekly family home evening.
One month Pam shared her family's caramel corn recipe for the treat.  We all totally fell in love with it and have been making it ever since.  The fun thing about this recipe is how easy it is!  You don't need a candy thermometer or have to worry about the caramel hitting a certain temperature.  The whole recipe is made in the microwave!
Besides being easy, what I love about this microwave caramel popcorn recipe is that it makes a dry, crunchy caramel corn.  I know there is a divided camp on caramel corn.  Some like it gooey and sticky and some like it dry and crunchy.  I'm a dry and crunchy caramel corn girl!
The other great thing about this recipe is the caramel corn is made in a brown paper bag so clean up is easy too.  After you cook the caramel popcorn in the microwave, you spread it out on wax paper on the counter to dry.  Then just toss the paper bag!
How to make microwave caramel popcorn.
Just like that, you have delicious caramel corn made in the microwave!
It is easy to dress this caramel popcorn up too.  For Snickerdoodle microwave caramel corn, just add a couple teaspoons of cinnamon sugar into the brown bag when you pull it out of the microwave for the last time.  Be sure and give it a good couple of shakes to get it evenly distributed. Do it quickly as the caramel sets up quickly and the sugar will not stick to the kernels if it is too dry.
It is also awesome with white chocolate drizzled over the top.  While the caramel corn is cooling on the wax paper, just drizzle melted white chocolate on top.  The white chocolate caramel corn  was a HUGE hit at a party I took it to and everyone kept asking me where I bought it.  No one could believe I actually made it!  One of our friends even suggested that maybe I should go into business and sell it.  It is easy to make, but I would rather share the recipe so you can make your own microwave caramel popcorn to enjoy!
Here are some other fun flavor caramel corn combinations I have put together.
S'more Caramel Corn – Gingerbread Caramel Corn – Peppermint Bark Caramel Corn – Peanut Butter Chocolate Caramel Corn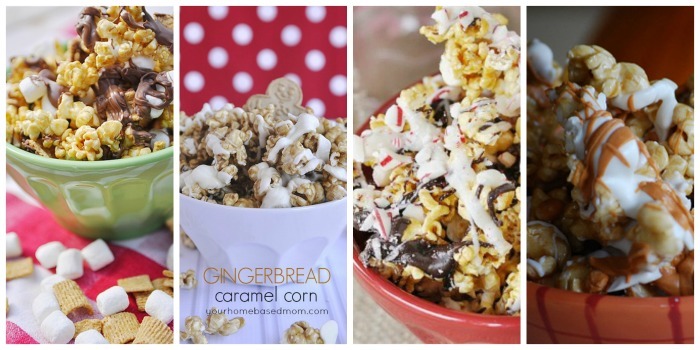 Microwave Caramel Popcorn Recipe
Print
Friday Favorite – Caramel Corn
Ingredients
16

cups

popped corn

I used my air popper

1

C

brown sugar

1/4

C

Karo syrup

1/2

C

butter

1/2

tsp

baking soda

1/2-1

tsp

vanilla
Instructions
Cook sugar, syrup and butter in a glass bowl in microwave on high for one minute

Stir and repeat for a total of five minutes

Should be hot and bubble

Add baking soda, vanilla

Mix until foamy

Put popped corn into a brown grocery bag

Pour syrup into bag

Stir to coat

Fold bag over

Place in microwave and microwave for one minute and shake

Repeat

Microwave 30 seconds and shake

Repeat

(Sprinkle with cinammon sugar if desired and shake again)

Pour popcorn out to cool on wax paper
Get my Weekly Menu Plan for FREE!
Receive my FREE "What's for Dinner?" Meal Planning Course, a copy of my FREE ebook that includes my most popular recipes and my FREE weekly Meal Plan.