Providing all the tips and things you need to know on how to set up a donut bar for your next party.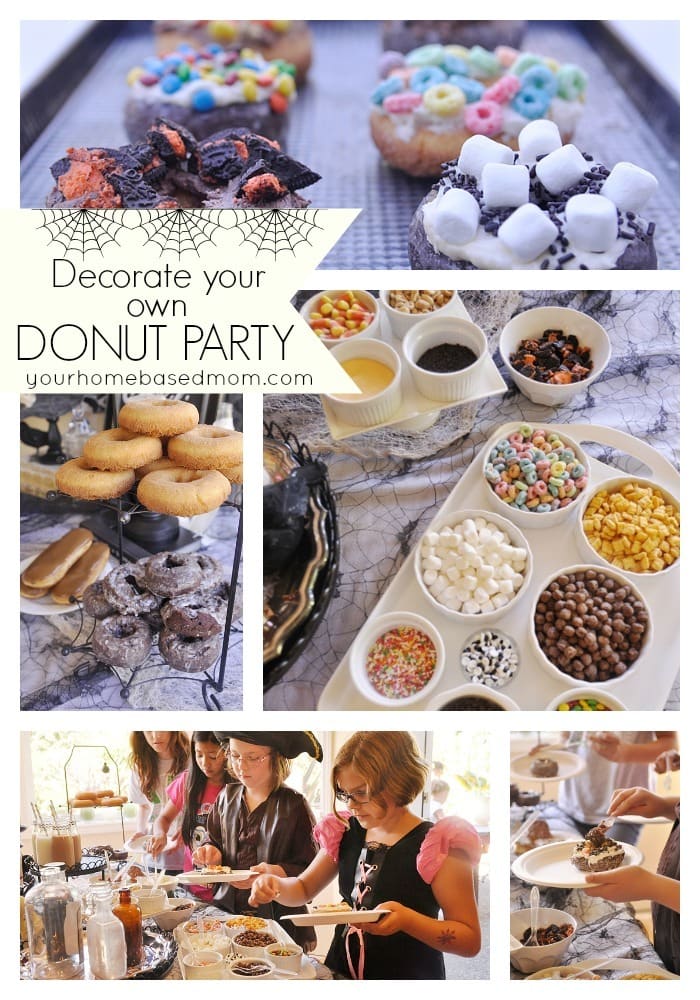 If you have ever Googled "Top Ten Things to Do in Portland, Oregon" you will always find a visit to Voo Doo Donuts on any list! Voo Doo Donuts is a fun and unique donut shop in Portland that offers an unsual selection of donuts. They top their donuts with just about anything and everything. From Tang powdered drink mix to Captain Crunch Cereal to the ever popular bacon! Voo Doo Donuts is an experience not to be missed if you visit Portland!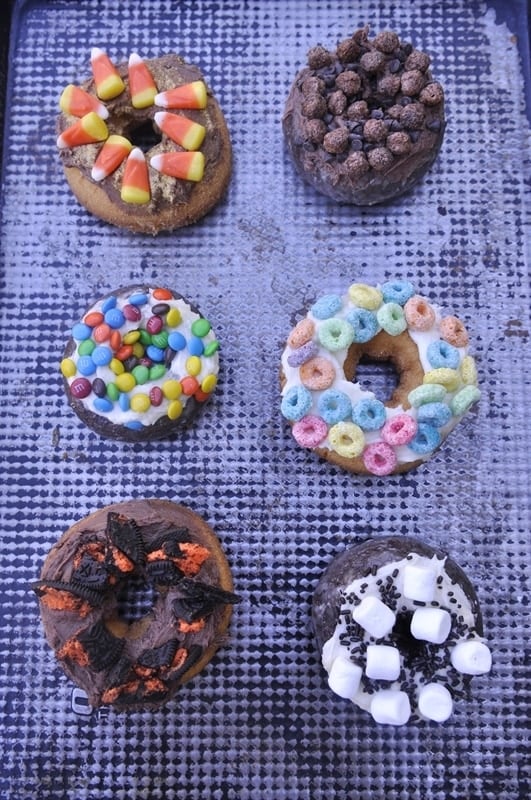 Decorate Your Own Donut Party
I decided to take a little inspiration from Voo Doo Donuts and host a Donut Bar for a Halloween Party I had for my Activity Day girls from church.
I decked the table out in my finest Halloween decor.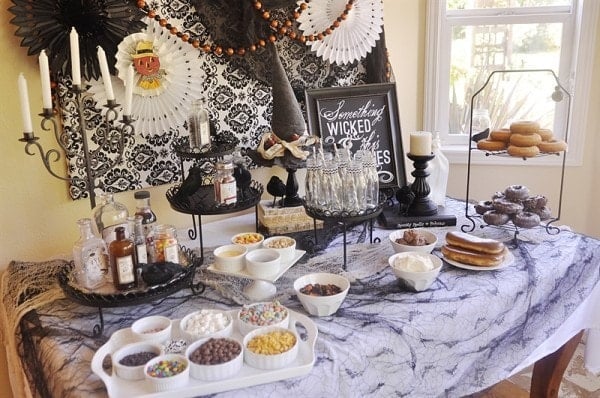 How To Put Together A Donut Bar
Assemble all your ingredients.
Toppings
Coco Puffs
Captain Crunch
Fruit Loops
Sprinkles
Mini M & M's
Peanuts
Marshmallows
Mini chocolate chips
Crushed Oreo cookies,
Candy corn
Tang drink mix powder
Edible googly eyes which ended up being a huge hit!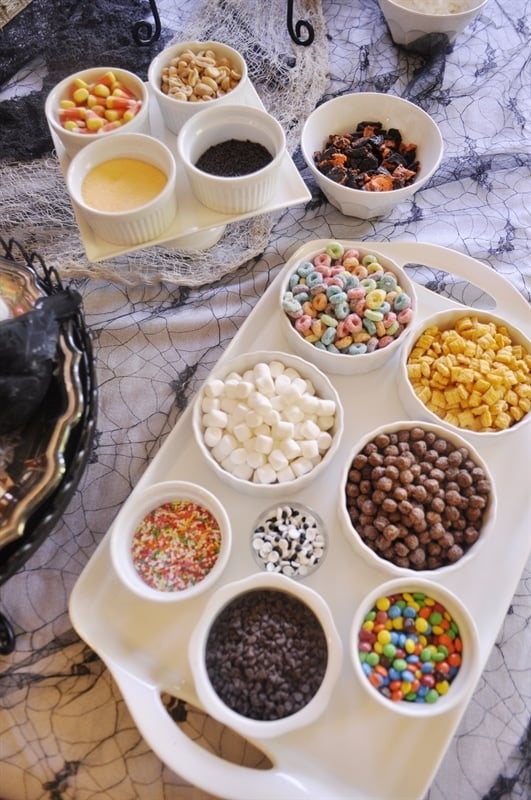 Donuts
I purchased my donuts at Krispy Kreme. Finding chocolate cake donuts can be a bit of a challenge but Krispy Kreme has them. I also just bought plain cake donuts and some maple bars which also ended up being a huge hit.
Cake donuts are sturdier and are easier to decorated than a raised donut although raised donuts will work.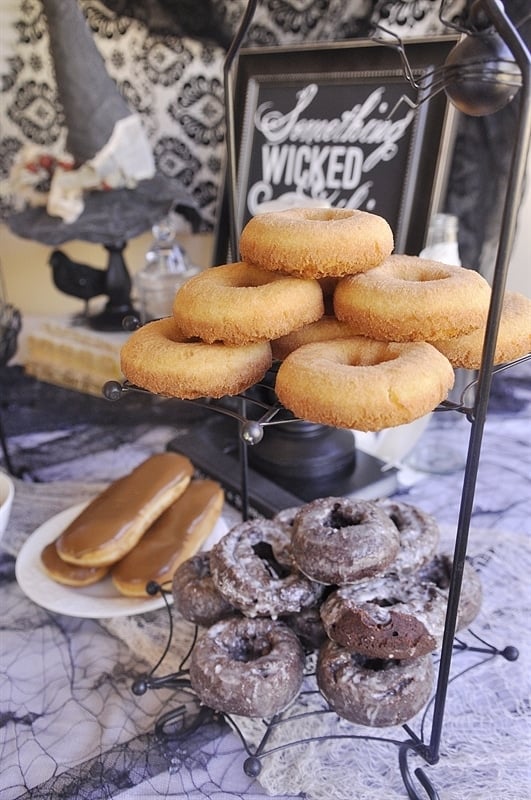 Frosting
I had two different flavors of frosting, vanilla and chocolate. I used my favorite buttercream frosting recipe.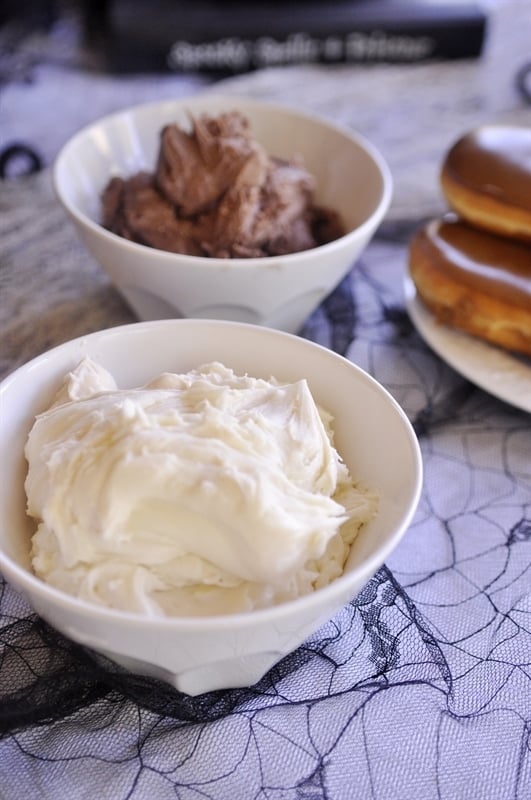 Have Fun
The girls just spread on their frosting of choice and then went to town decorating their donuts with all the fun toppings.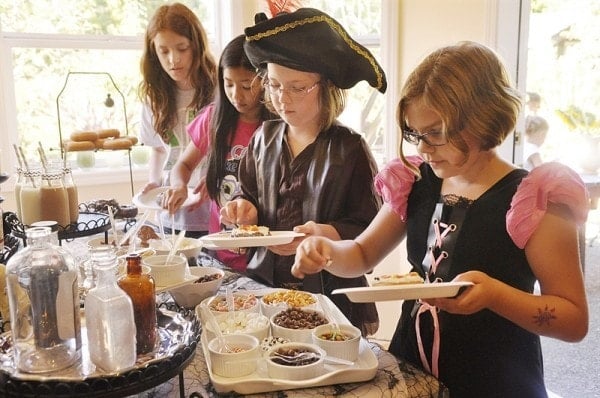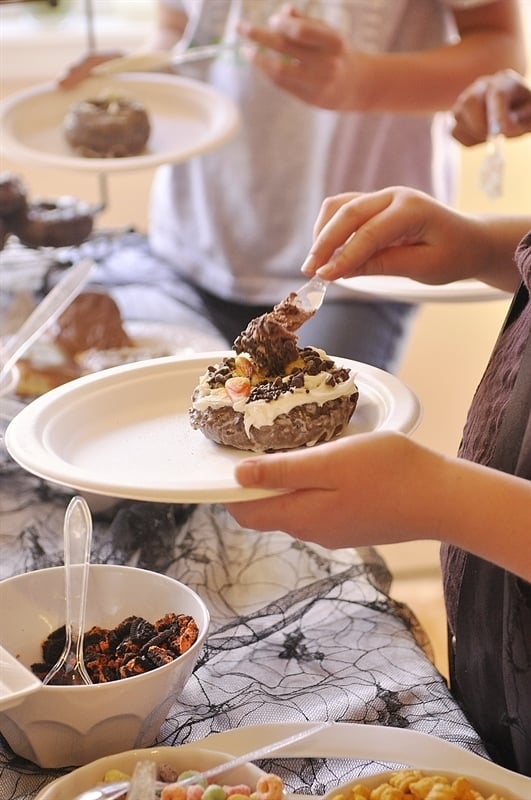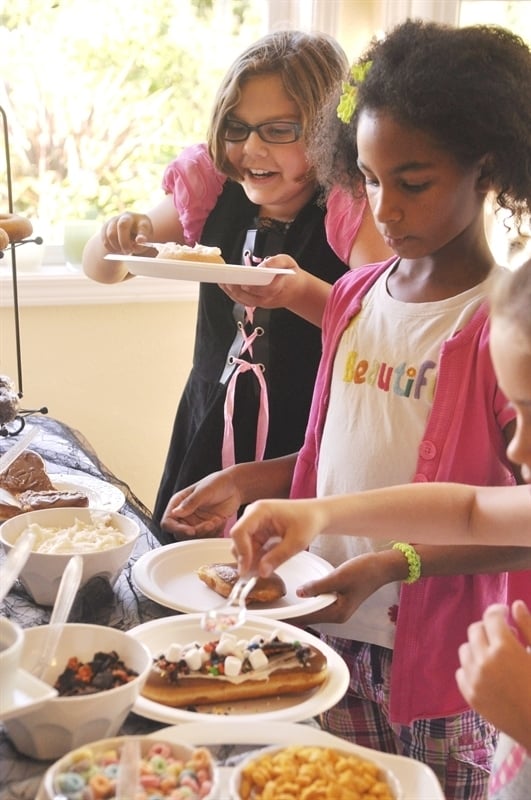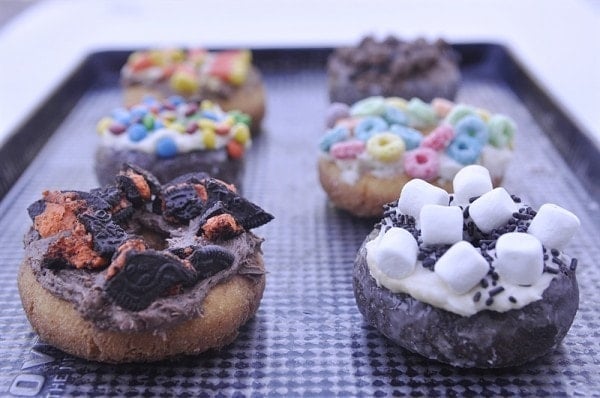 Does it look like they are having fun!?
It was fun to see their different flavor combinations.
Of course if you are going to have donuts you must also have milk. We had a choice of regular or chocolate.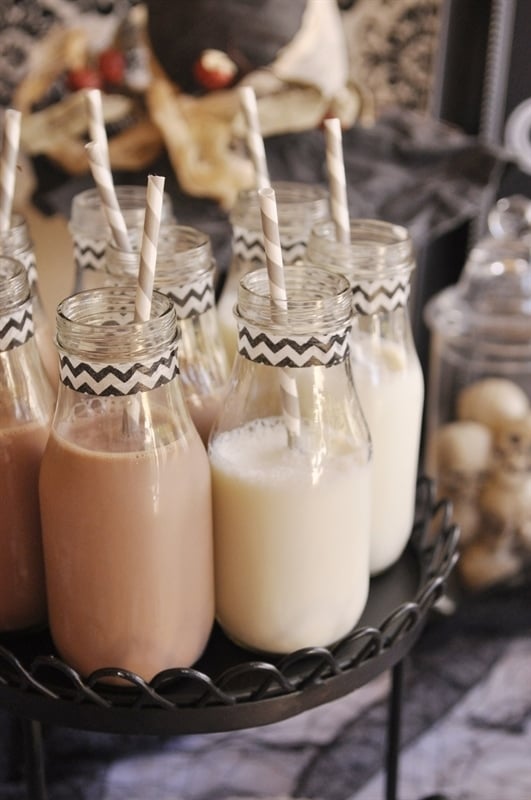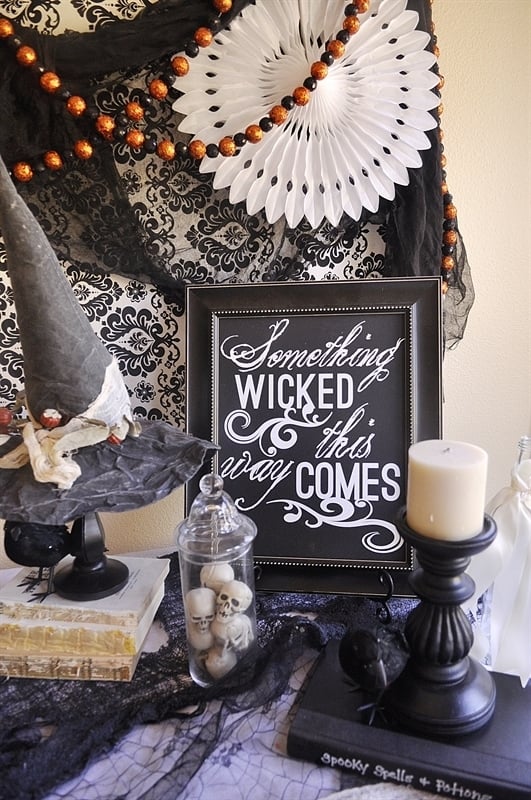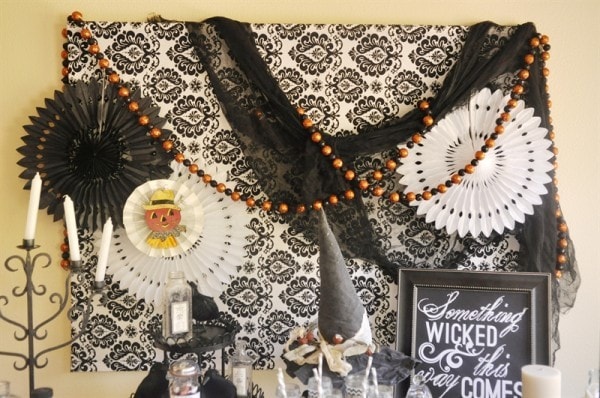 I pulled out my fabric backdrop I made last year.See tutorial for backdrop here. I added a few paper fans, Halloween garland and gauzy fabric for a fun backdrop to our table.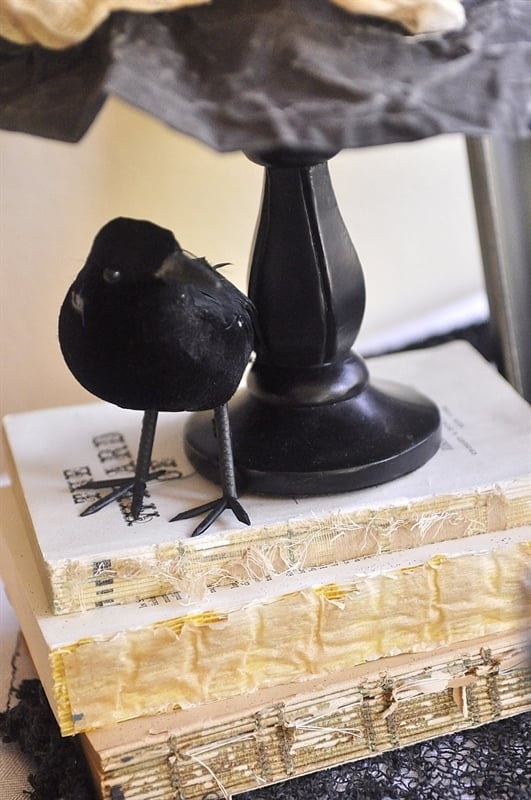 Just pull the covers off some old books and use them on the table to create height.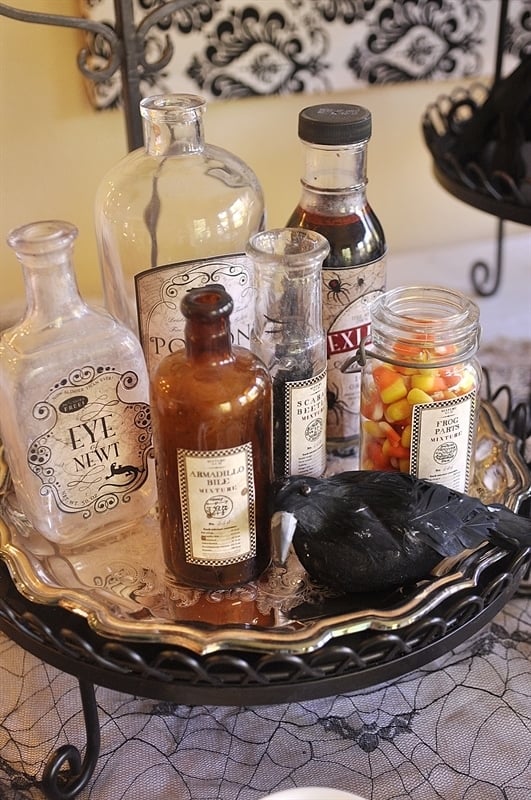 It was a fun little party and the girl's loved the donut bar. This idea could work for your upcoming Halloween party or really for any kind of party. It would be a great activity for a birthday party too!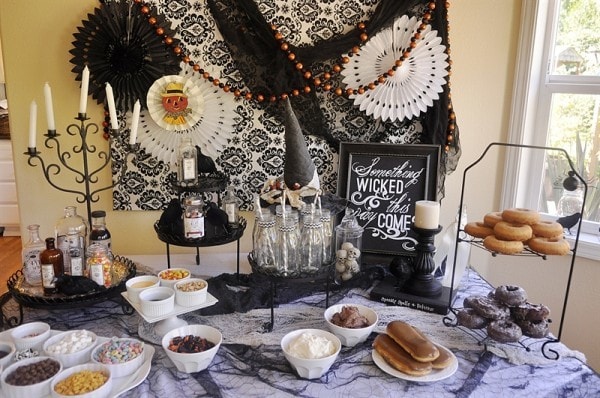 For more Halloween party ideas check out: