Chocolate Crinkle Cookies are a classic, especially at the holiday time.  Adding white chocolate chips to them makes them extra special!
Is your holiday baking done?   Yesterday was our annual Cookie/Candy Making Day.
My mom and girls joined in the fun with a couple of neighbors too!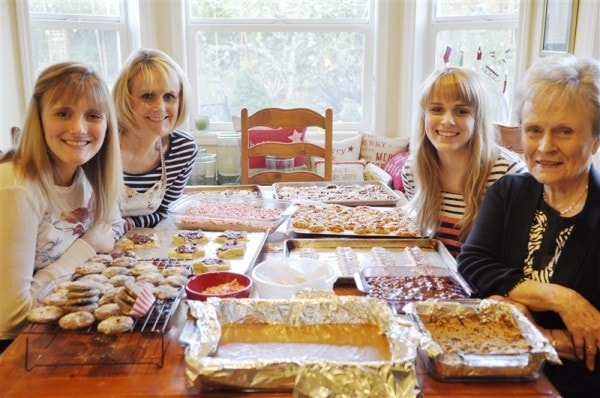 One of the cookies I like to make every year but I can never seem to find the recipe for is Chocolate Crinkle Cookies.  For some reason it is not in my binder of favorite recipes and it is not on the blog.  I have to go searching every year!  This year I found the recipe on Host a Cookie Party site and decided it was going on the blog!
Chocolate Crinkle Cookies are a pretty traditional Christmas cookie. This version is dressed up with some white chocolate chips thus making them Chocolate Crinkle Cookies with White Chocolate Chips.  I think white chocolate chips make everything better.  Of course, you could always use semi sweet or milk chocolate chips too.  I used mini chips but regular size will do too.  The trick to making these chocolate cookies crinkle is to roll them in sugar before baking.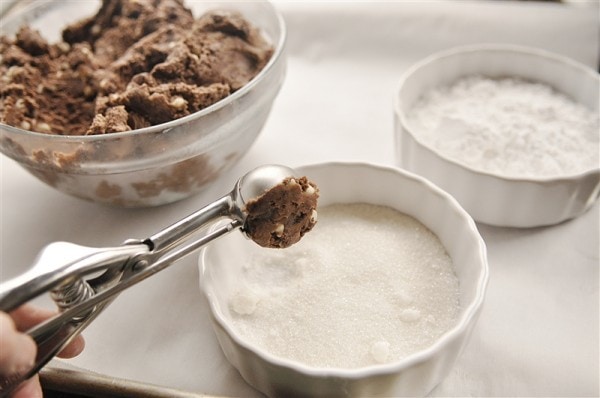 The first step is to roll them in granulated sugar.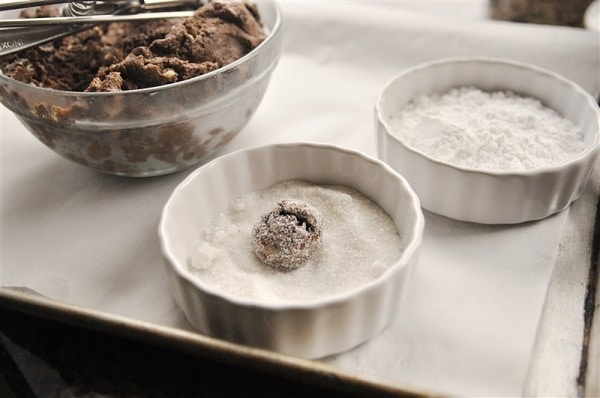 And then roll them in powdered sugar!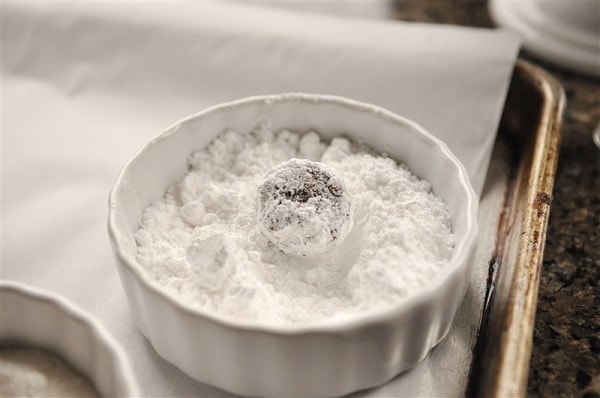 Place them on a cookie sheet and they are ready to bake!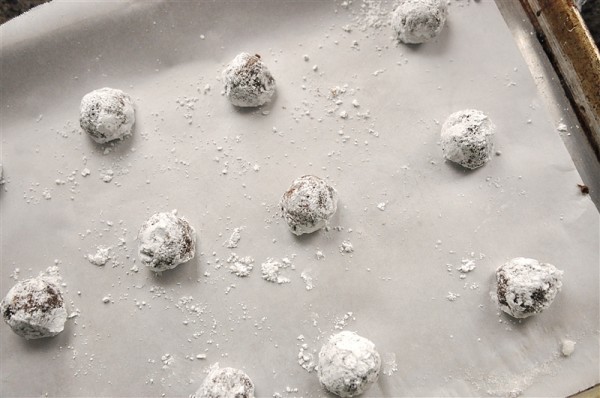 Err on the side of under cooked with these cookies.  Bake them a minute less than you think they need.  That way you will have a crisp edge and they will still be nice and chewy in the middle.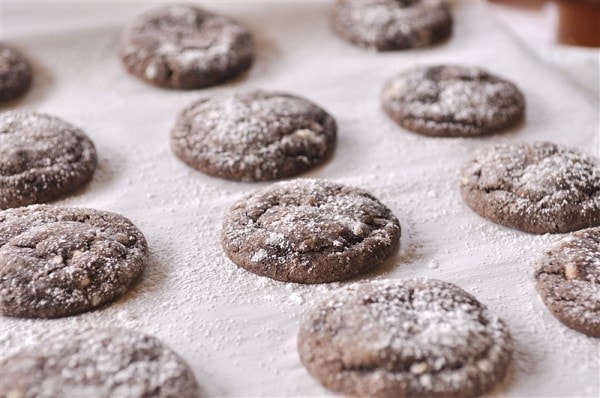 I like to give them an extra dusting of powdered sugar when they come out of the oven to make them a little prettier.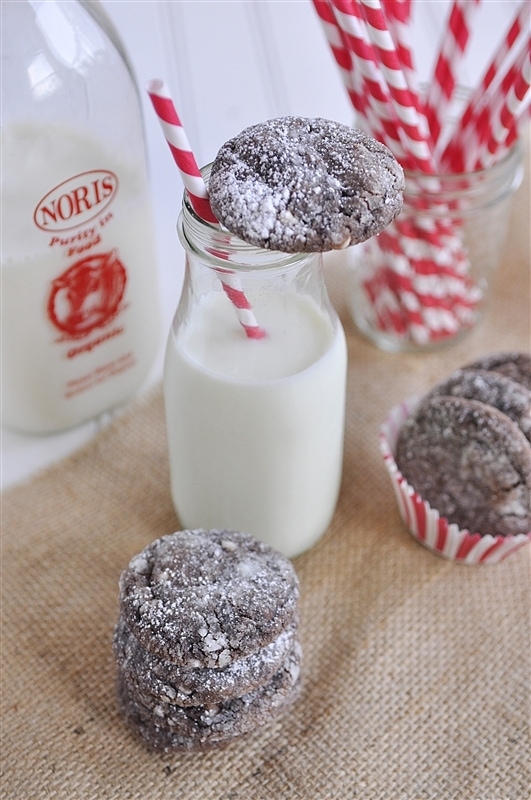 Of course a glass of ice cold milk is required with these cookies or with any cookies!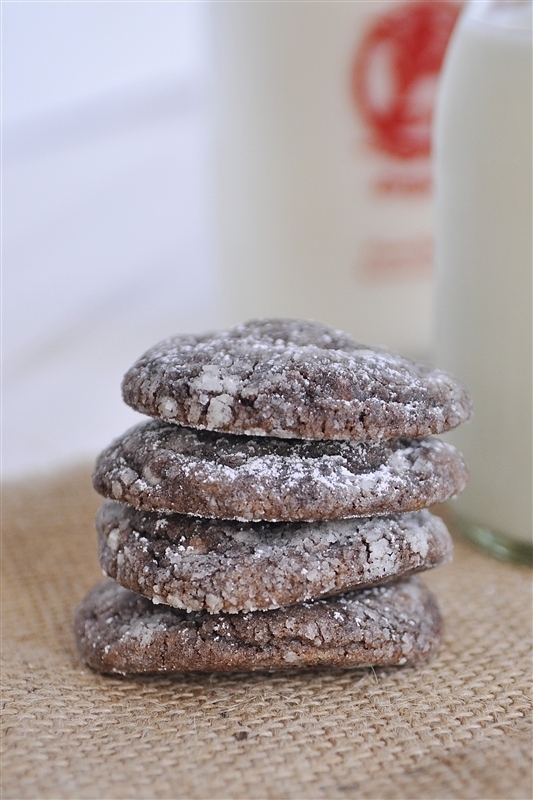 Do you have a favorite, traditional cookie you  have to make every holiday?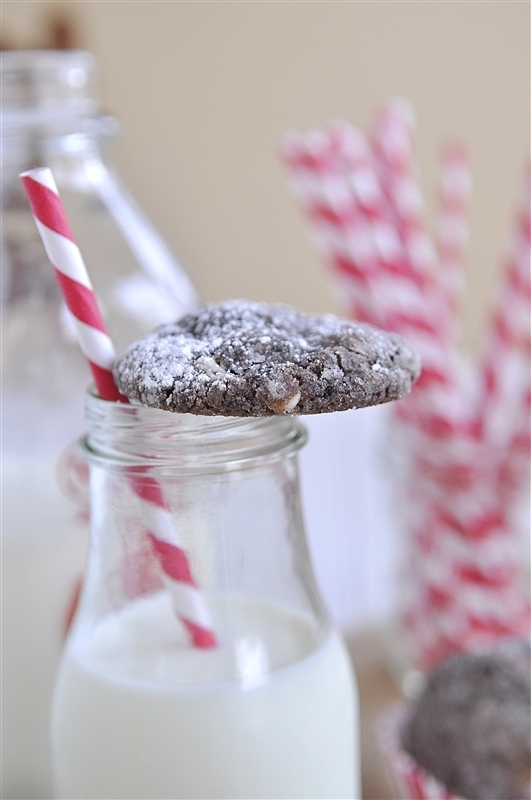 Now for the fun party – the giveaway!  Today's giveaway is sponsored by the J.M. Smucker family who makes lots of your favorite foods!  Today they are giving away a fun Cookie Party Pack including that darling chalkboard you see in the photo below.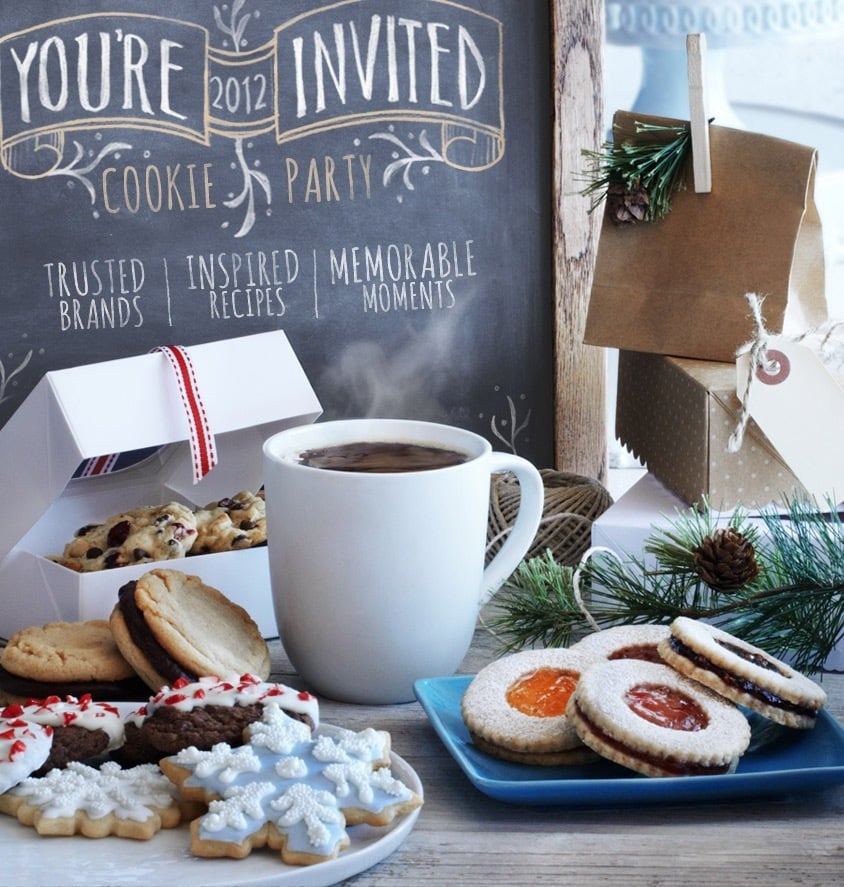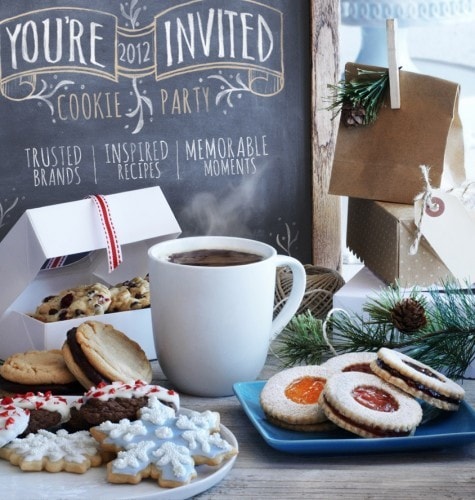 Cookie Party Pack: ARV: $150
A variety ofSmucker products– Crisco, Folgers, Eagle Brand, Jif, Pillsbury and Hungry Jack
$25 Visa gift card
Framed chalkboard menu & chalk – great for cookie party decorations!
Assorted gift boxes, bags, baker's twine & ribbons for wrapping up your cookies!
To enter the giveaway leave a comment and let me know what cookies from the Host a Cookie Party site you are going to make! Giveaway is open until Friday, December 21st at midnight.
And now for the recipe:
Enjoy!
Leigh Anne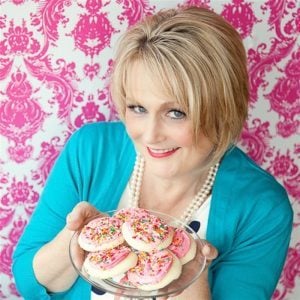 You can also visit me on Facebook, Pinterest, Twitter or Instagram.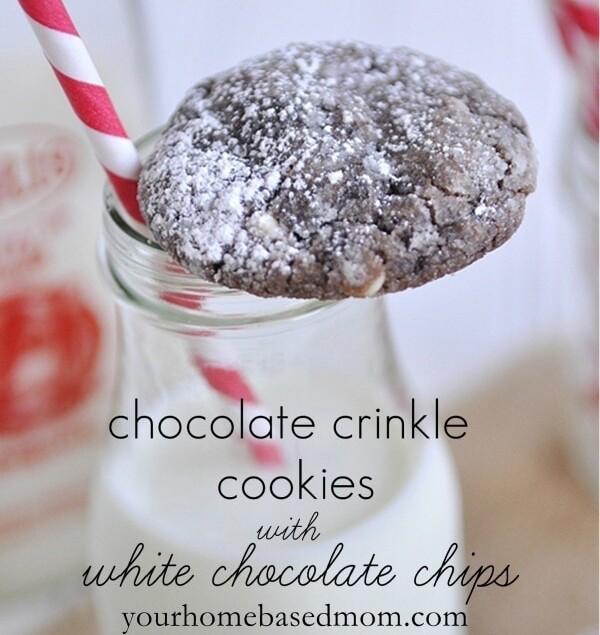 Chocolate Crinkle Cookies with White Chocolate Chips
Ingredients
1 1/4 cups firmly packed light brown sugar
1 stick Crisco® All-Vegetable Shortening
OR 1 cup Crisco® Baking Sticks All-Vegetable Shortening
1 teaspoon vanilla extract
2 large eggs
2 cups Pillsbury BEST® All Purpose Flour
6 tablespoons unsweetened cocoa powder
1/2 teaspoon salt
1/4 teaspoon baking soda
2/3 cup miniature semi-sweet chocolate chips
1/3 cup sugar
1/2 cup powdered sugar
Instructions
BEAT brown sugar, shortening and vanilla in large bowl with an electric mixer at medium speed until well blended. Add eggs; beat until fluffy.

STIR together flour, cocoa, salt and baking soda. Gradually add to shortening mixture, beating at medium speed just until blended. Stir in chocolate chips. Cover and chill 3 hours.

HEAT oven to 375ºF. Shape dough into 1 1/4-inch balls. Roll in granulated sugar, then in powdered sugar to coat completely. Place 2 inches apart on ungreased baking sheet.

BAKE 8 to 10 minutes or until cookies are set. Cool 2 minutes on baking sheet. Remove to wire rack to cool completely.
Shared at:Today's Creative Blog  **Sugar Bee Crafts   **Mandy's Recipe Box **Not Just a Housewife*Home Stories A2Z*Chef in Training *Trick or Treat Tuesday*Crazy Sweet Tuesday*Thrifty Talented Crafty Tuesday*Homemade Ginger*Lil' Luna * Hungry Little Girl*Trendy Treehouse*Adorned from Above** Creations by Kara*36th Avenue*House of Hepworth*A Glimpse Inside ***Creative Thursday*Showcase Your Talent Thursday