A sweet buttermilk biscuit topped with fresh strawberries and whipped cream is the perfect strawberry shortcake.
For more strawberry goodness such as Fresh Strawberry Milkshake, Strawberry Cream Cake, and Buttermilk Cake with Strawberries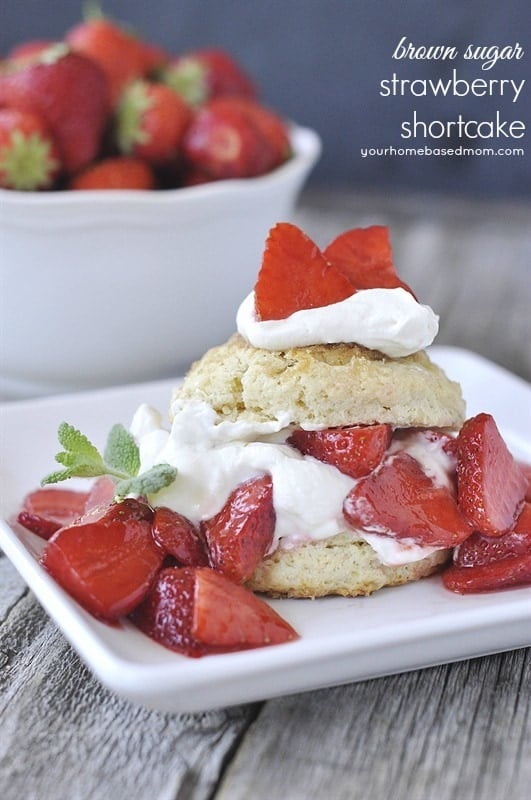 I have eaten lots of strawberry shortcake in my day and the problem with it is you take a risk of getting a dried out shortcake. A good shortcake can make or break a strawberry shortcake, no matter how amazing the strawberries are. If there is a dried out old biscuit underneath those amazing strawberries – yuck!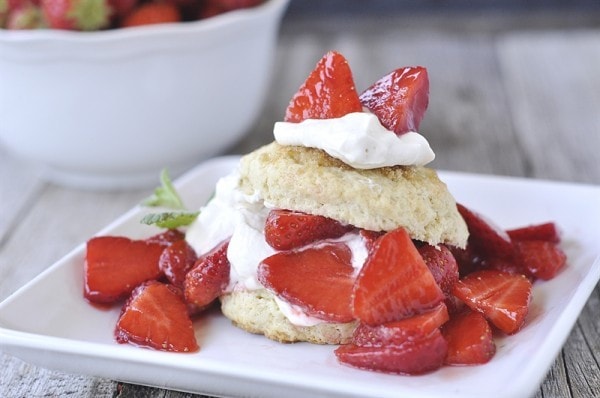 Strawberry Shortcake Tips
Having a moist, soft, flavorful shortcake is crucial.
Use whipping cream in your shortcake. Not half and half, not milk, use cream! I use the heavy whipping cream.
Chilled butter. Use chilled butter for. a flakier biscuit.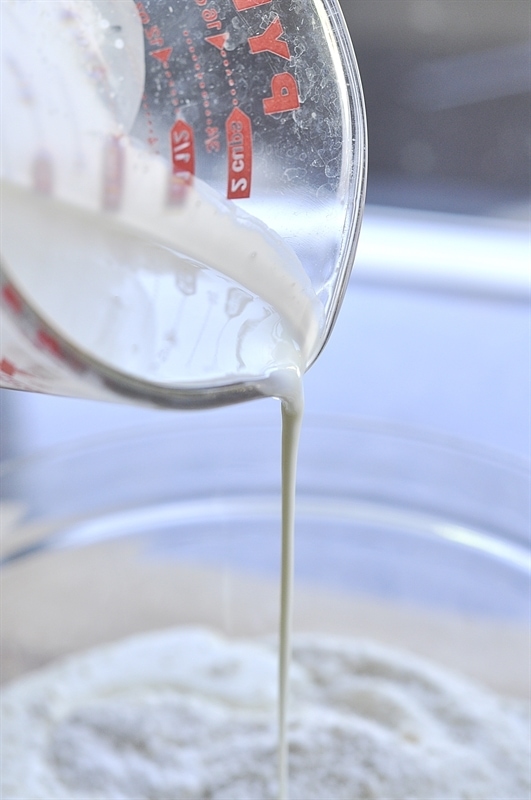 Handle the dough as little as possible. Overworking the dough can create a tough shortcake. I use a food processor to combine my dry ingredients and butter but you can also do it by hand using a pastry blender. Stir in the wet ingredients by hand.
Roll your dough out to about 1 inch thick. You will get 6-8 biscuits out of the recipe. Of course using your grandmothers vintage biscuit cutters make it even better.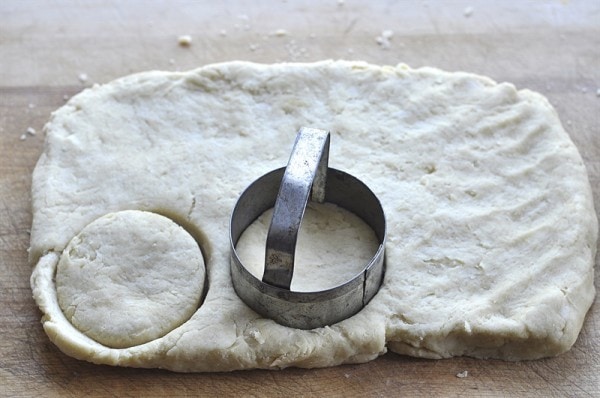 What is a Shortcake?
A shortcake is basically a sweet biscuit. I used brown sugar in my shortcake. The shortcakes also got a sprinkle of brown sugar on top for some extra sweet goodness.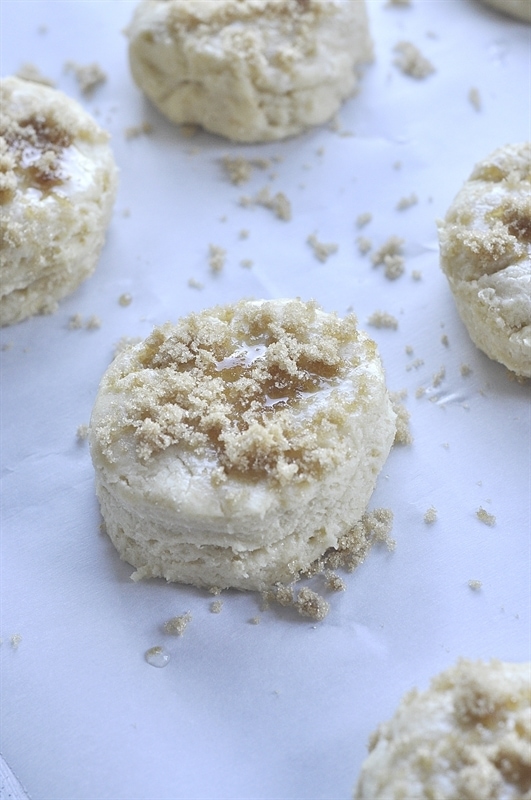 The shortcake is so yummy it almost doesn't need strawberries but of course you must add strawberries. Not only strawberries but also cream.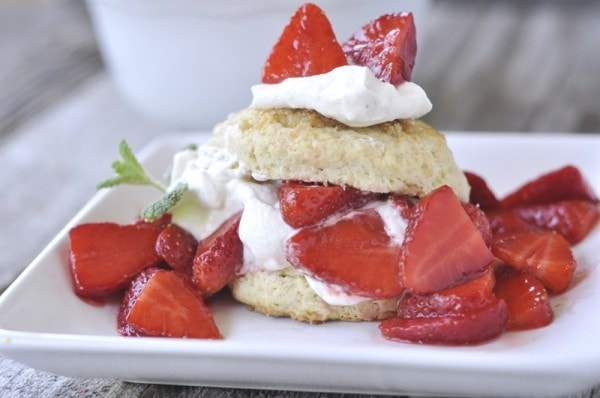 What to Put on ShortCake?
You can use any type of berry you like but strawberries are always the most popular. If your strawberries are not very sweet you may want to macerate them – see directions here.
If you'd like to sweeten the whipping cream use these directions.
I have also been known to add a scoop of vanilla ice cream instead of whipped cream to my strawberry shortcake.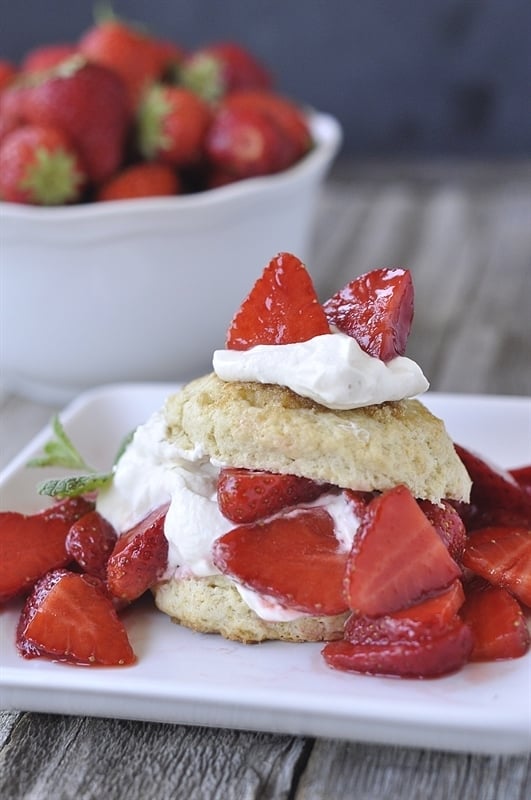 I layered all that goodness together to create a sweet, moist and delicious strawberry shortcake.
All that is left now is to add a fork! And dig in!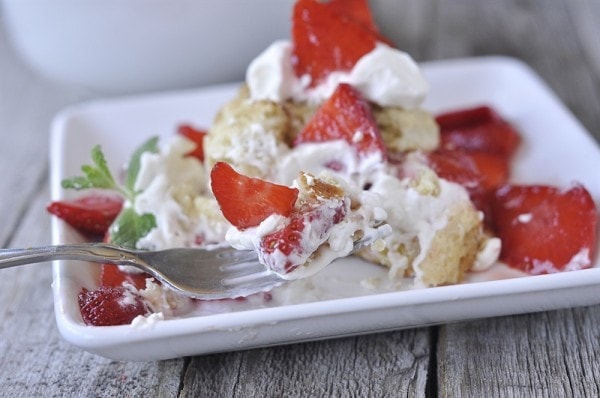 For all of my other favorite kitchen products and tools visit my Amazon Store.
Did you know I wrote a cookbook? Check out the Holiday Slow Cooker Cookbook for 100 delicious recipes.
Be sure and follow me over on You Tube for weekly cooking demos!
Brown Sugar Strawberry Shortcake Recipe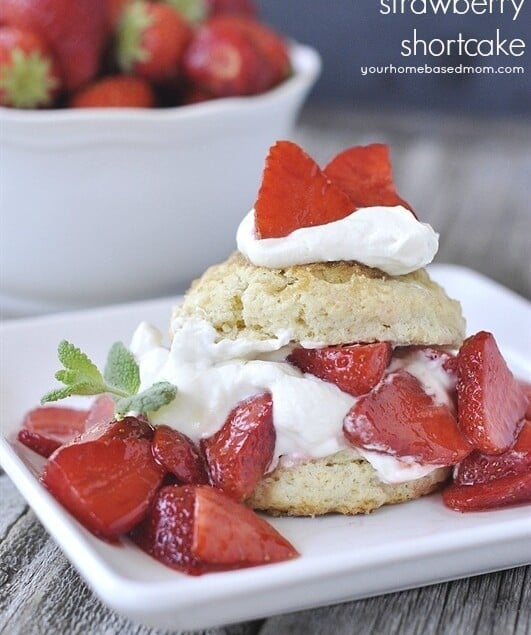 Brown Sugar Strawberry Shortcake
A sweet buttermilk biscuit topped with fresh strawberries and whipped cream is the perfect strawberry shortcake.
Ingredients
2 pints strawberries sliced
3 Tbsp sugar
2 cups flour
5 Tbsp brown sugar
1 Tbsp baking powder
1/2 tsp salt
1/2 cup butter
2/3 cup heavy whipping cream
1 egg
1 egg white
Brown Sugar Whipping Cream
1 cup whipping cream
1/2 cup sour cream
1/3 cup brown sugar
pinch of salt
Instructions
Preheat oven to 375 degrees

Slice strawberries and sprinkle with 3 Tbsp sugar. Allow to rest for 15-20 minutes
Shortcakes
In a food processor, pulse together flour, 3 Tbsp of brown sugar, baking powder and salt.

Cut butter into pieces and add into food processor.

Pulse until it forms a coarse cornmeal like texture.

Put flour mixture into a bowl and add in cream and egg that have been mixed together.

Stir together with a spatula until a large clump forms.

Turn out onto a lightly floured counter and knead just until the dough comes together – about 30 seconds.

Pat the dough into a 9 x 6 inch rectangle, 1 inch thick.

Using a 2 3/4 inch biscuit cutter cut out shortcakes – 6-8 of them.

Place on a parchment covered baking sheet and brush with egg white and sprinkle with remaining 2 Tbsp brown sugar.

Bake for 14-15 minutes or until golden brown.
Brown Sugar Whipped Cream
Whip together the cream, sour cream, sugar and pinch of salt until whipped and cream forms soft peaks.

Cut short cakes in half and layer with whipped cream mixture and sliced strawberries
Nutrition Facts:
Calories: 544kcal (27%) Carbohydrates: 56g (19%) Protein: 7g (14%) Fat: 34g (52%) Saturated Fat: 21g (131%) Polyunsaturated Fat: 2g Monounsaturated Fat: 9g Trans Fat: 1g Cholesterol: 126mg (42%) Sodium: 299mg (13%) Potassium: 463mg (13%) Fiber: 3g (13%) Sugar: 27g (30%) Vitamin A: 1217IU (24%) Vitamin C: 70mg (85%) Calcium: 157mg (16%) Iron: 2mg (11%)
* Disclaimer: All nutrition information are estimates only. Read full disclosure here.