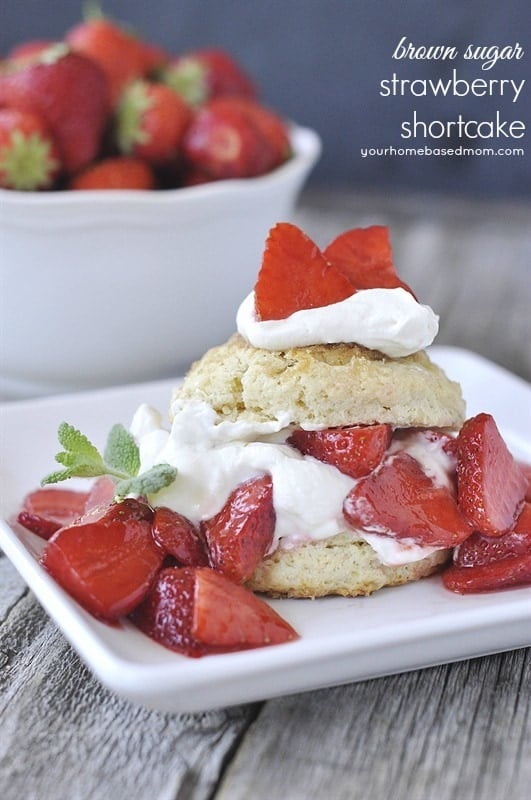 When I asked on Facebook what I should make with all my strawberries the number one vote was for Strawberry Shortcake.  I think if you polled any group of people their favorite strawberry dessert would be hands down strawberry shortcake.
I have eaten lots of strawberry shortcake in my day and the problem with it is you take a risk of getting a dried out shortcake.  A good shortcake can make or break a strawberry shortcake, no matter  how amazing the strawberries are.  If there is a dried out old biscuit underneath those amazing strawberries – yuck!
Having a moist, soft, flavorful shortcake is crucial. There are a couple of tricks to that.  First,  use whipping cream in your shortcake.  A must.  Not half and half, not milk – cream.  Real whipping cream! Iuse the heavy whipping cream.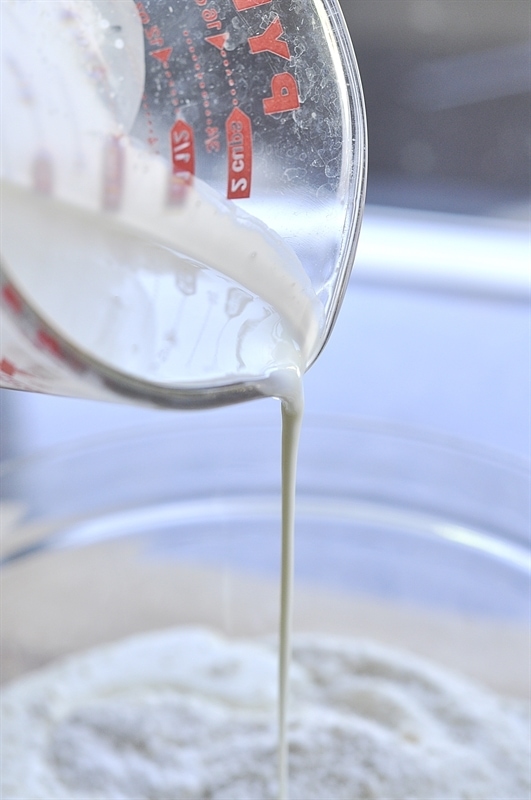 Second, handle the dough as little as possible.  Overworking the dough can create a tough shortcake.  You want to roll  your dough out to about 1 inch thick.  You will get 6-8 biscuits out of the recipe.  Of course using your grandmothers vintage biscuit cutters make it even better.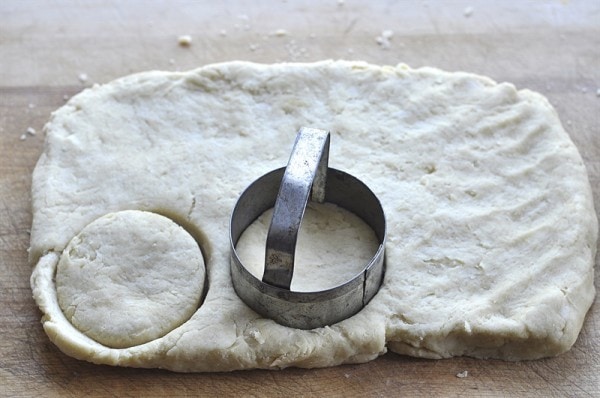 A shortcake is pretty much a sweet biscuit.  I used brown sugar in my shortcake.  The shortcakes also got a sprinkle of brown sugar on top for some extra sweet goodness.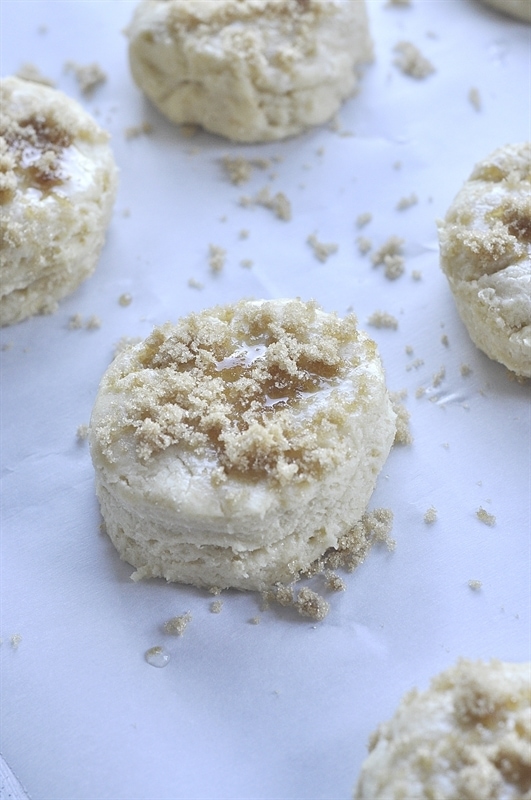 The shortcake is so yummy it almost doesn't need strawberries but of course you must add strawberries.  Not only strawberries but also cream.
I made my cream with a combination of whipping cream and sour cream which gives it more body than just plain whipping cream.  To sweeten it up I used more brown sugar.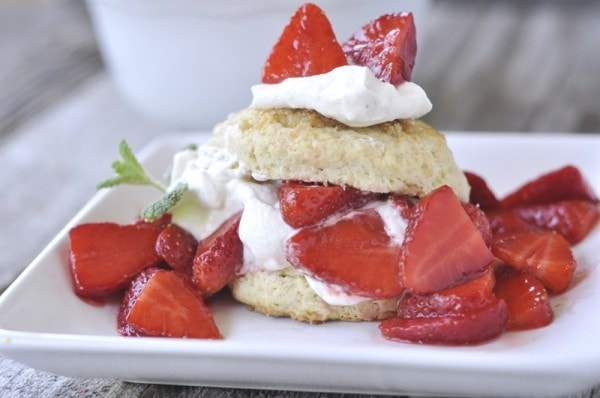 I layered all that goodness together to create a sweet, moist and delicious strawberry shortcake.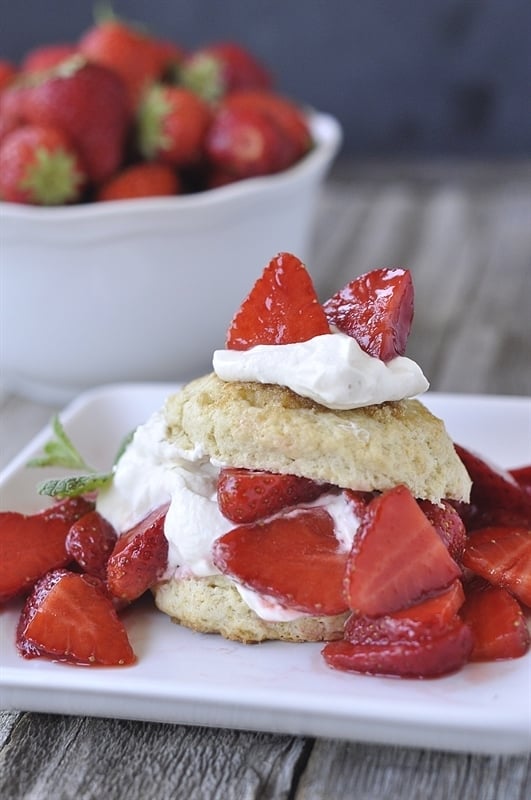 I also added a little sugar to the strawberries so they would get nice and juicy.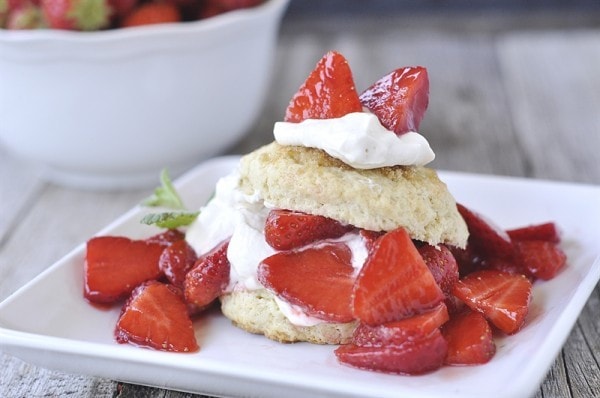 All that is left now is to add a fork!  And dig in!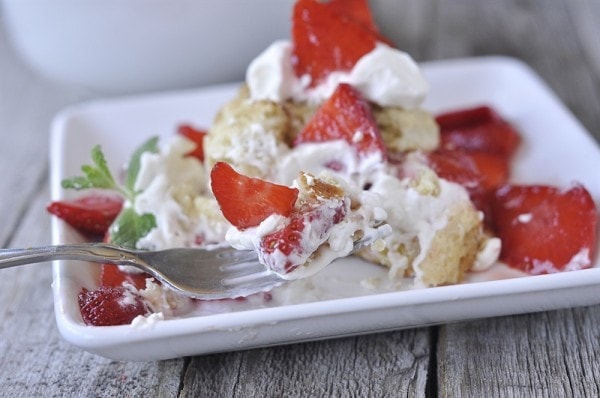 For more strawberry goodness:
Fresh Strawberry Milkshake – Strawberry Cream Cake –  Buttermilk Cake with Strawberries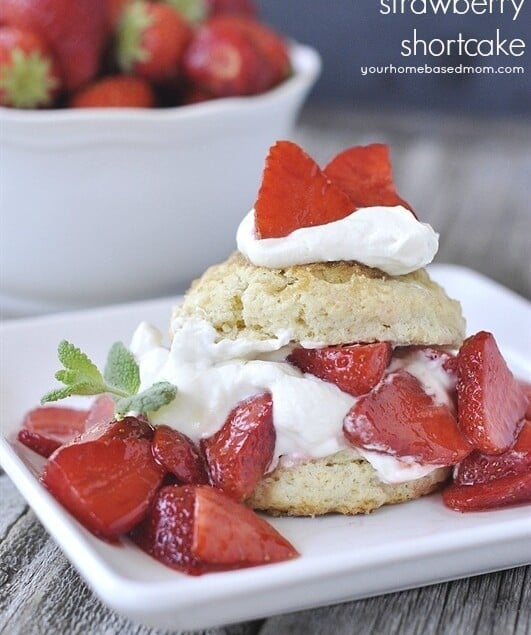 Brown Sugar Strawberry Shortcake
Ingredients
2 pints strawberries sliced
3 Tbsp sugar
2 C flour
5 Tbsp brown sugar
1 Tbsp baking powder
1/2 tsp salt
1/2 C butter
2/3 C heavy whipping cream
1 egg
1 egg white
Brown Sugar Whipping Cream
1 C whipping cream
1/2 C sour cream
1/3 C brown sugar
pinch of salt
Instructions
Preheat oven to 375 degrees

Slice strawberries and sprinkle with 3 Tbsp sugar. Allow to rest for 15-20 minutes
Shortcakes
In a food processor, pulse together flour, 3 Tbsp of brown sugar, baking powder and salt.

Cut butter into pieces and add into food processor.

Pulse until it forms a coarse cornmeal like texture.

Put flour mixture into a bowl and add in cream and egg that have been mixed together.

Stir together with a spatula until a large clump forms.

Turn out onto a lightly floured counter and knead just until the dough comes together - about 30 seconds.

Pat the dough into a 9 x 6 inch rectangle, 1 inch thick.

Using a 2 3/4 inch biscuit cutter cut out shortcakes - 6-8 of them.

Place on a parchment covered baking sheet and brush with egg white and sprinkle with remaining 2 Tbsp brown sugar.

Bake for 14-15 minutes or until golden brown.
Brown Sugar Whipped Cream
Whip together the cream, sour cream, sugar and pinch of salt until whipped and cream forms soft peaks.

Cut short cakes in half and layer with whipped cream mixture and sliced strawberries
Enjoy!
Leigh Anne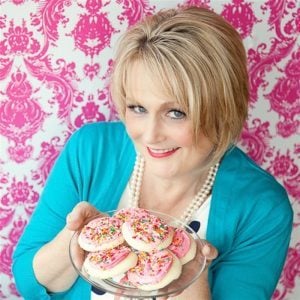 You can also visit me on Facebook, Pinterest, Twitter or Instagram.