Brown Sugar Brie only requires 3 ingredients and comes together in minutes. Bake it in the oven and serve it warm and gooey.
Baked Brie is one of my favorite appetizers. I have several delicious variations of brie recipes including Bacon Basil and Peach Brie and Cranberry Brie Appetizer.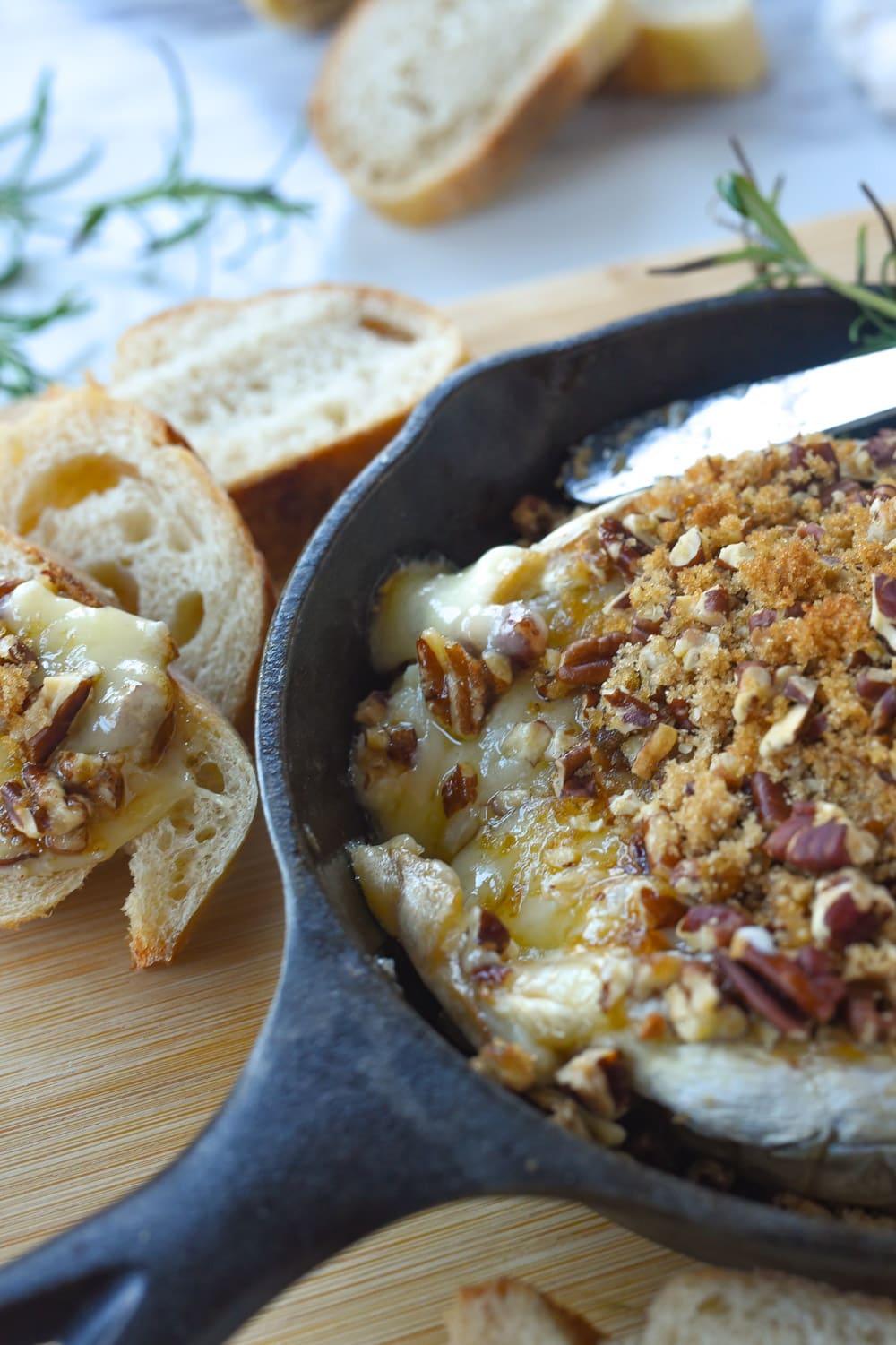 I love an appetizer that is simple to prepare and one my guests will go crazy over it.
3 Ingredient Appetizer
Simple and delicious is the best way to describe Brown Sugar Brie. I love an appetizer that has three ingredients, takes a few minutes to put together and only about 15 minutes to bake.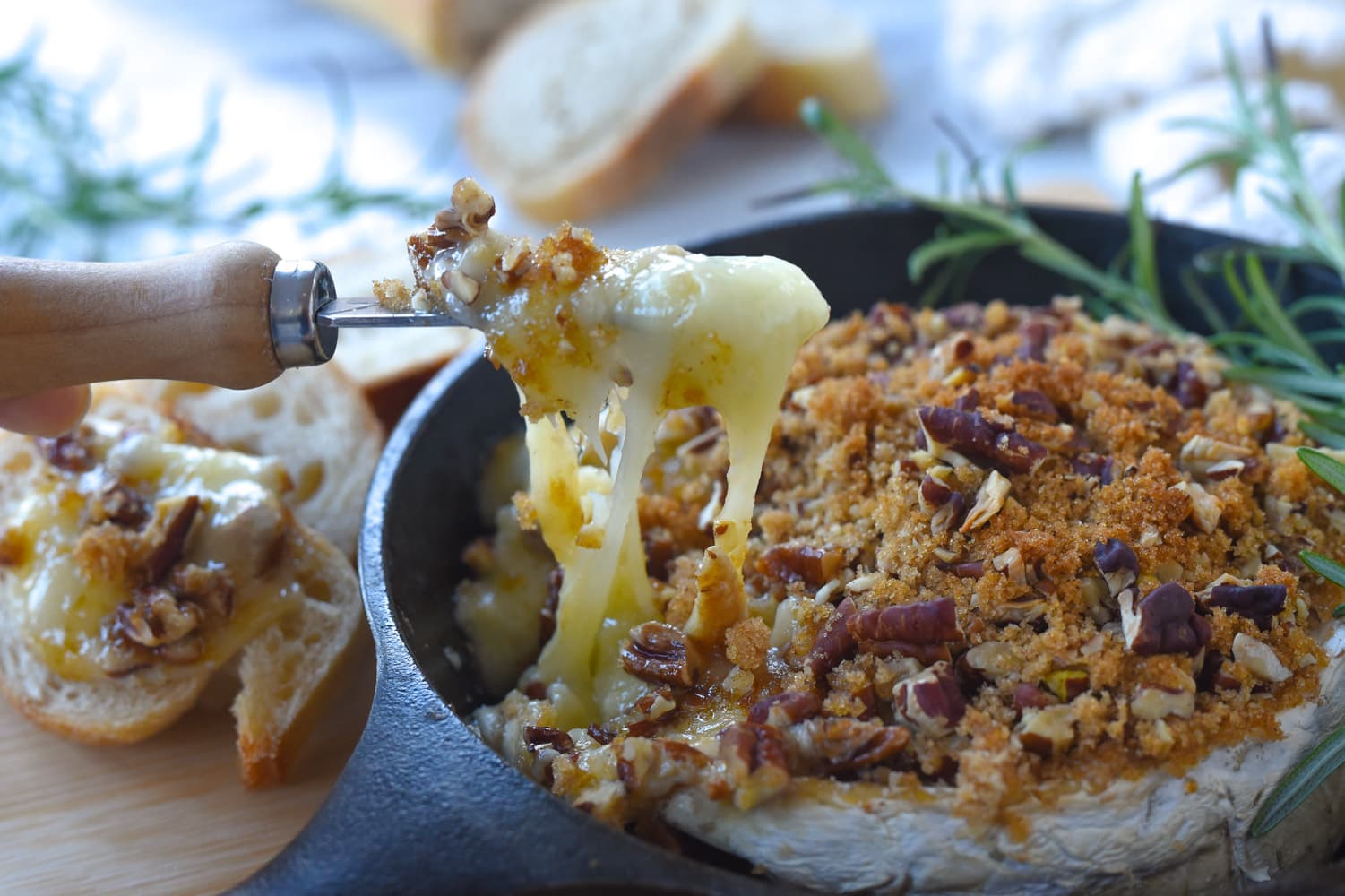 Can I Eat the Brie Rind?
Brie is a nice soft cheese and comes with a rind on it.  The rind is totally eatable and I find that it really doesn't have much flavor.  The rind is actually mold that is formed from penicillin candidum.  It is harmless unless you are very allergic to mold. I have a mild mold allergy and it doesn't bother me at all.
How to Make Brown Sugar Brie
Remove the top part the rind and some of the cheese from the middle of the brie, leaving about a 1/2 inch border. With a spoon, dig out the cheese from this area to about 1/2 inch deep. This area will hold the brown sugar so if you want more brown sugar then cut the area deeper.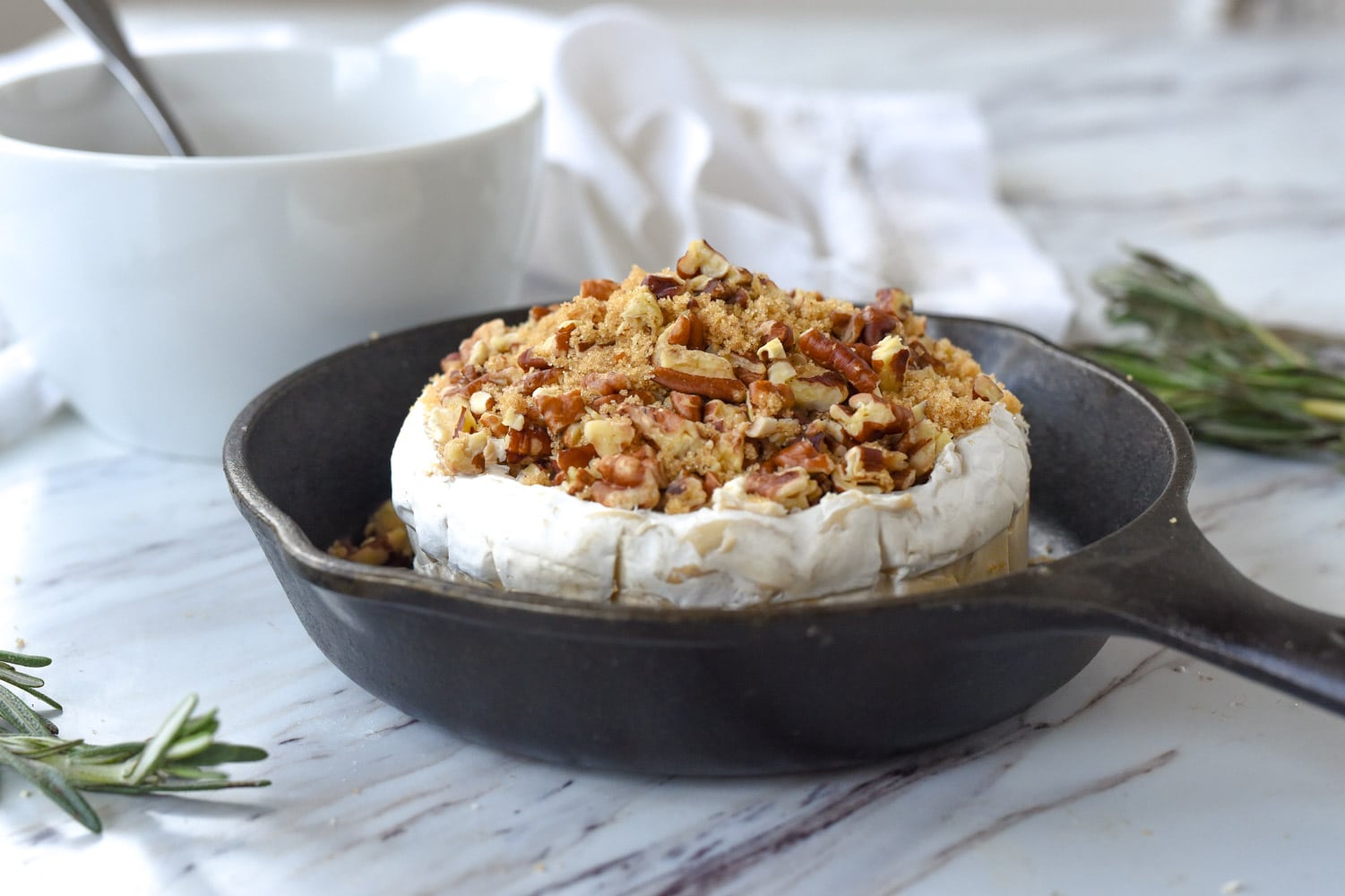 Place the brie into an oven safe dish.  I like using my mini cast iron pan but a 8 x 8 glass dish would work well too.
Fill the cavity with brown sugar and pecan mixture and pat it down (it lets you get more in!)
Bake at 350 degrees for about 20 minutes or until the cheese is melted.  As it bakes, the brie will slightly inflate or swell . 
How Do You Know Brie Is Done?.
To check if the brie is done, cut into the cheese and if it oozes out, it is ready.

How Do I Serve Brie?
Sliced baguettes
Crackers
Carrot sticks
Celery Sticks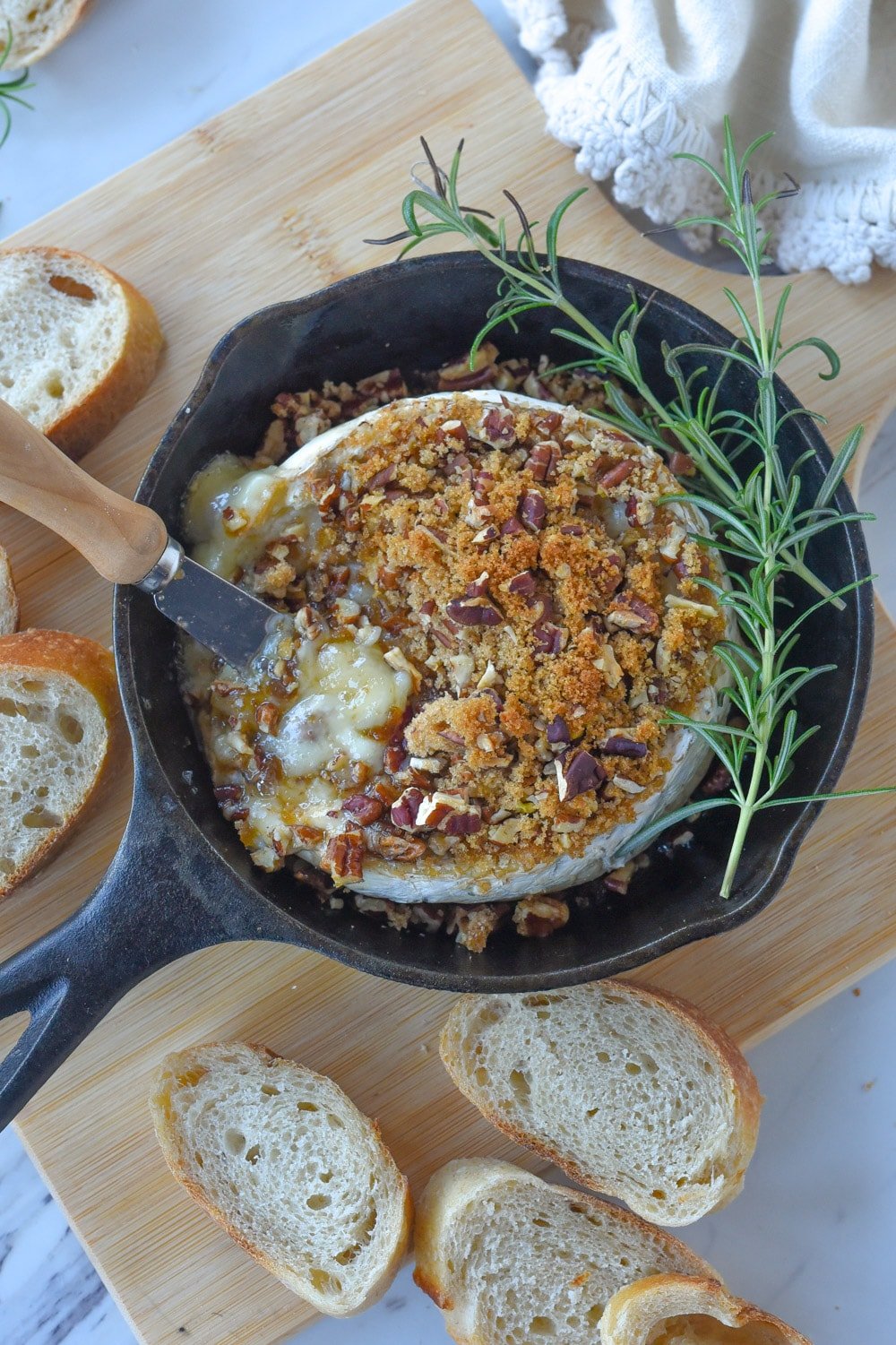 Enjoy some of our other favorite appetizers:
For all of my other favorite kitchen products and tools visit my Amazon Store.
Did you know I wrote a cookbook? Check out the Holiday Slow Cooker Cookbook for 100 delicious recipe
Brown Sugar Brie Recipe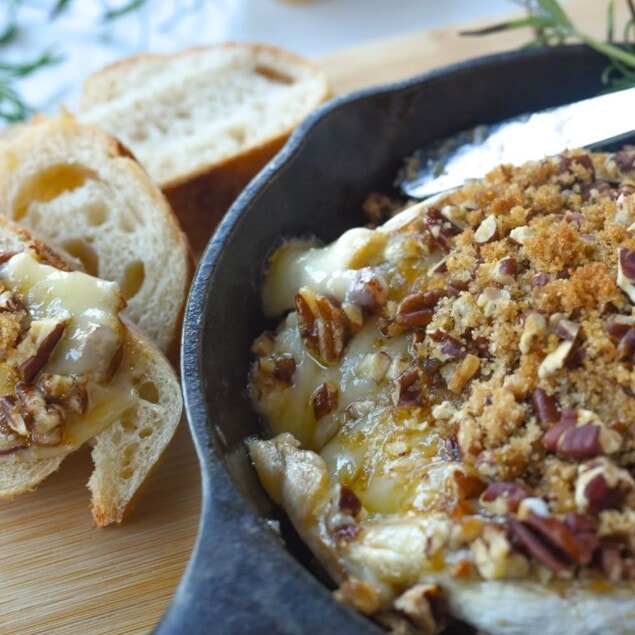 Brown Sugar Brie
Brown Sugar Brie is covered in a mixture of brown sugar and pecans. Serve it warm and gooey right out of the oven and it will be the hit of any party.
Ingredients
1 16 oz. brie
1/4 cup brown sugar
1/2 cup pecans chopped
Instructions
Preheat oven to 350 degrees F.

Cut out the middle of the brie with a knife leaving about a 1/2 inch rim around the brie

Cut down into the brie about 1/2-3/4 inch and remove the cheese

Mix together chopped pecans and brown sugar and fill the cavity with as much of the mixture as it will hold. Place on a baking sheet or baking dish.

Bake for about 15-20 minutes.

It will swell a bit when the cheese is melted and the cheese will ooze out of it when cut into

Serve with bread or crackers
Nutrition Facts:
Calories: 92kcal (5%) Carbohydrates: 10g (3%) Protein: 1g (2%) Fat: 6g (9%) Saturated Fat: 1g (6%) Cholesterol: 1mg Sodium: 4mg Potassium: 46mg (1%) Fiber: 1g (4%) Sugar: 9g (10%) Calcium: 13mg (1%) Iron: 1mg (6%)
* Disclaimer: All nutrition information are estimates only. Read full disclosure here.
Originally posted Dec. 11, 2010