Savory Beef Pot Pie is pure comfort food at its finest, just like grandma use to make.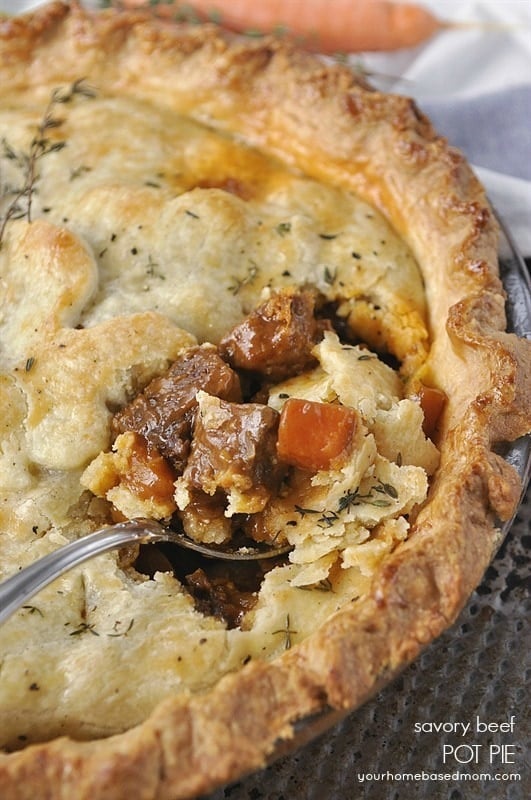 Fall means it is time to add some good old fashioned comfort food to your menu.  Hearty crock pot meals, soups, and this delicious beef pot pie.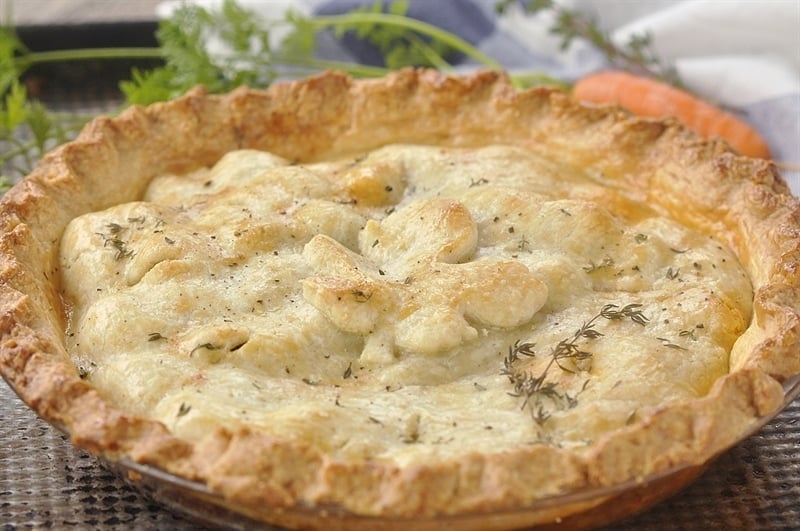 Grandmothers have been making pot pies for generations. And nothing represents comfort food any better than a homemade beef pot pie.  Personally, I don't remember my grandma ever making a pot pie. And the only kind I remember ever eating as a child was a frozen pot pie.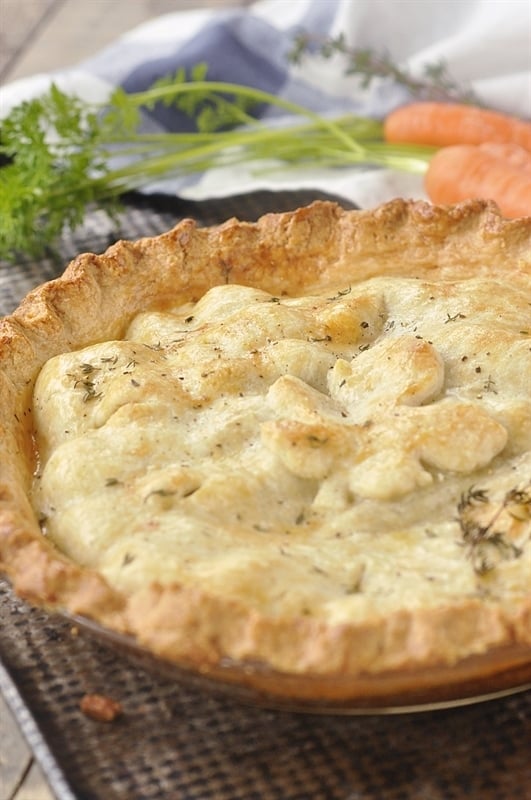 A frozen pot pie has its place, but a homemade pot pie is divine.  A nice flaky crust covering a pile of savory, tender beef and veggies!  You can make this beef pot pie recipe a little quicker by using a pre made pie crust.  Or you can use my perfect pie crust recipe which really is easy and delicious!  The filling for the pot pie is a combination of steak, carrots, chicken broth and seasoning.  The meat and veggies are browned and then baked until nice and tender.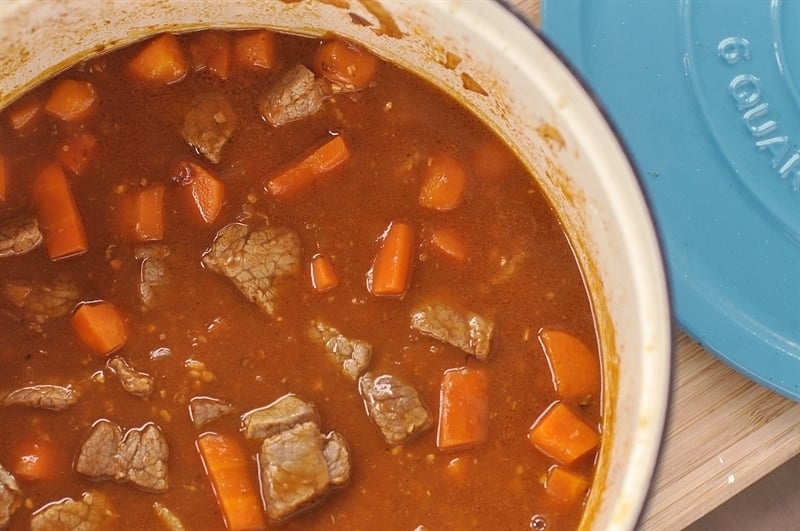 After baking, the mixture will thicken up and then you place it in a pie dish and cover it with your pie crust.  An egg wash is brushed over the top and then it is sprinkled with salt, pepper and some fresh thyme. You can get fancy like I did and use a cookie cutter to cut out a shape from the leftover pie crust and place it on top.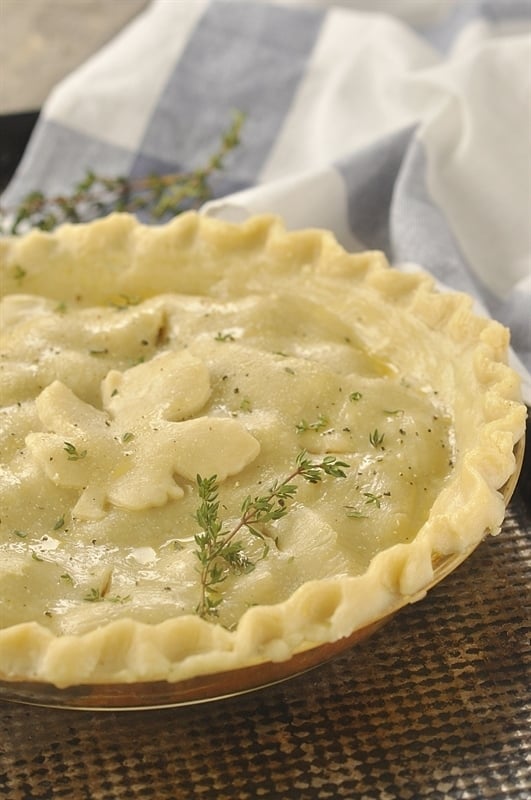 Bake until the crust is golden brown and dinner is ready! Then grab a spoon and it's ready to serve.  While this was baking in my oven I had a delivery and the delivery man commented on how good the house smelled and commented, "You know how to cook!"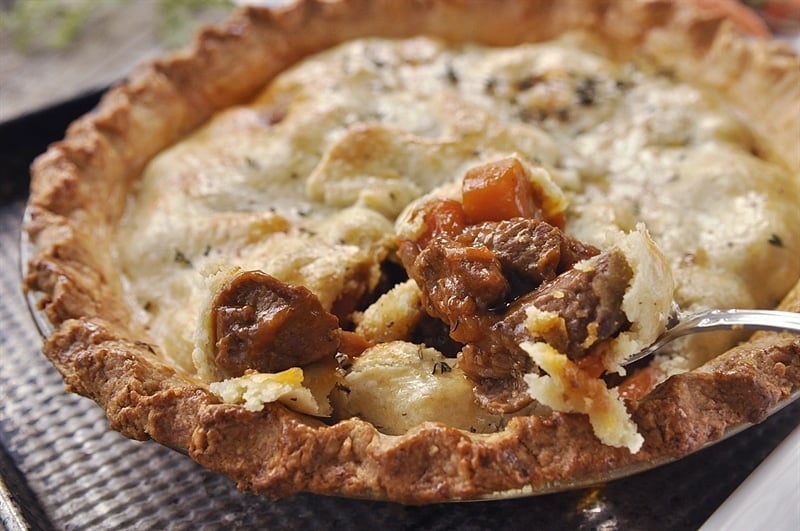 The combination of tender and savory meat, veggies and flaky pastry crust is divine and will satisfy every craving for comfort food you might have!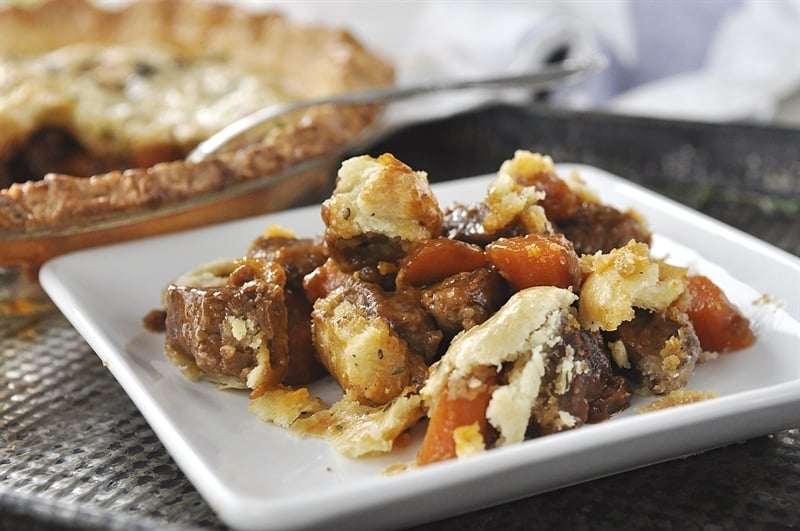 Beef Pot Pie Recipe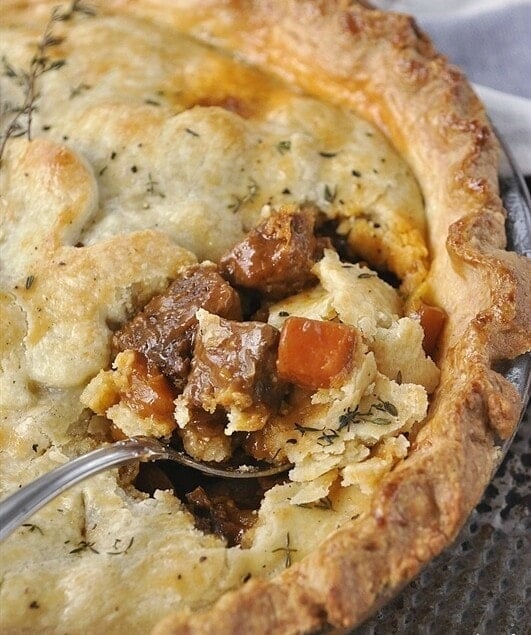 Beef Pot Pie
Savory and comforting flavors baked into a delicious beef pot pie.
Ingredients
1 1 1/2 - 2 lb sirloin, trimmed and cut into 3/4-inch pieces
Salt and pepper
3 Tbsp olive oil
1 onion chopped fine
2 carrots peeled and cut into 1/2-inch pieces
2 Tbsp tomato paste
4 garlic cloves minced
3 Tbsp all-purpose flour
1 3/4 cups beef broth
1 Tbsp soy sauce
1 Tbsp Worcestershire sauce
1 bay leaf
1 1/2 tsps chopped fresh thyme
1 large egg lightly beaten
1 9-inch store-bought pie dough round
Instructions
Preheat oven to 350 degrees.

Pat beef dry with paper towels and season with salt and pepper. Heat 1 1/2 tablespoons oil in Dutch oven over medium-high heat until just smoking. Add half of beef and cook until well browned all over, 7 to 10 minutes. Using slotted spoon, transfer beef to bowl. Repeat with remaining uncooked beef and move into bowl after browning.

Add remaining 1 1/2 tablespoons oil to now-empty pot and reduce heat to medium. Add onion, and carrots and cook until vegetables are lightly browned, about 5 minutes, scraping up any browned bits. Stir in tomato paste and garlic and cook until fragrant, about 30 seconds.

Stir in flour until vegetables are well coated and cook for 1 minute. Stir in broth, soy sauce, Worcestershire, and bay leaf until combined. Add beef and bring to simmer. Cover and transfer to oven. Cook until beef is tender, about 1 hour.

Remove filling from oven and increase oven temperature to 400 degrees. Transfer filling to 9-inch deep-dish pie plate; discard bay leaf. Let filling cool, uncovered, for 30 minutes. Stir in 1 teaspoon chopped thyme. Season with salt and pepper to taste.

Top filling with pie dough so dough overhangs edges of pie plate slightly. Fold overhanging pie dough inward so folded edge is flush with inner edge of pie plate. Crimp dough evenly around edge of pie using your fingers.

Cut a decorate shape out of left over pie crust andn place in middle of pie. Cut six 1/2-inch slits around center, halfway between center and edge of pie. Brush dough with remaining egg, then season with salt, pepper, and remaining 1/2 teaspoon chopped thyme. Transfer pie to rimmed baking sheet and bake until crust is golden brown, about 30 minutes. Transfer pie to cooling rack and let cool for 20 minutes. Serve.
Nutrition Facts:
Calories: 338kcal (17%) Carbohydrates: 17g (6%) Protein: 28g (56%) Fat: 16g (25%) Saturated Fat: 4g (25%) Cholesterol: 89mg (30%) Sodium: 485mg (21%) Potassium: 576mg (16%) Fiber: 1g (4%) Sugar: 2g (2%) Vitamin A: 2655IU (53%) Vitamin C: 4.1mg (5%) Calcium: 58mg (6%) Iron: 3.2mg (18%)
* Disclaimer: All nutrition information are estimates only. Read full disclosure here.