This is my second recipe as part of the Barefoot Blogger group.  One more recipe down towards my goal of cooking my way through the Barefoot Contessa cookbooks.
I have to perfectly honest  – I did not want to make this dish.  In fact I was considering using one of my "free passes" and skipping this one.  I am not a seafood lover and I hate salmon.  Yes, a girl living in the Northwest that does not like salmon – such a waste!
I have some smell issues when it comes to food and two fish I can not stand are salmon and tuna.  In fact when I was in preschool they would fix creamed tuna for lunch each Friday.  (That was back in the good old days when fish was served every Friday!)
My mom would have to come and pick me up early from school, before they started cooking the creamed tuna, because the smell made me gag!
Well, we were invited to a barbecue last week and I needed to take an appetizer so I figured I'd just be a big girl and give this recipe a try.  What I discovered is that smoked salmon does not smell nearly as bad as fresh salmon!  I didn't even gag!
The recipe was quick and easy to make and I even took one bite – not too bad.  My husband thought it was great and those at the party seem to enjoy it.  So if you like smoked salmon you might want to give it a try.  If nothing else – the pink color is pretty!
This recipe was selected by Ashley of  The Spicy Skillet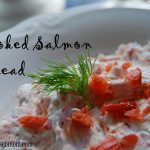 Print
Smoked Salmon Spread – Barefoot Bloggers
Ingredients
8

ounces

cream cheese at room temperature

1/2

cup

sour cream

1

Tbsp.

freshly squeezed lemon juice

1

Tbsp.

minced fresh dill

1

tsp.

prepared horseradish

drained

1/2

tsp.

kosher salt

1/4

tsp.

freshly ground black pepper

1/4

lb.

4 oz. smoked salmon, minced
Instructions
Cream the cheese in an electric mixer fitted with a paddle attachment until just smooth

Add teh sour cream, lemon juice, dill, horseradish, salt and pepper and mix

Add the smoked salmon and mix well

Chill and serve with crudites or crackers

If you can find it the Barefoot Contessa prefers Norwegian salmon, it's drier and less salty than other smoked salmons
Get my Weekly Menu Plan for FREE!
Receive my FREE "What's for Dinner?" Meal Planning Course, a copy of my FREE ebook that includes my most popular recipes and my FREE weekly Meal Plan.