Today I'm sharing tips for putting together the perfect after school snack ideas.   Keep the masses happy and full with a fun and delicious snack board!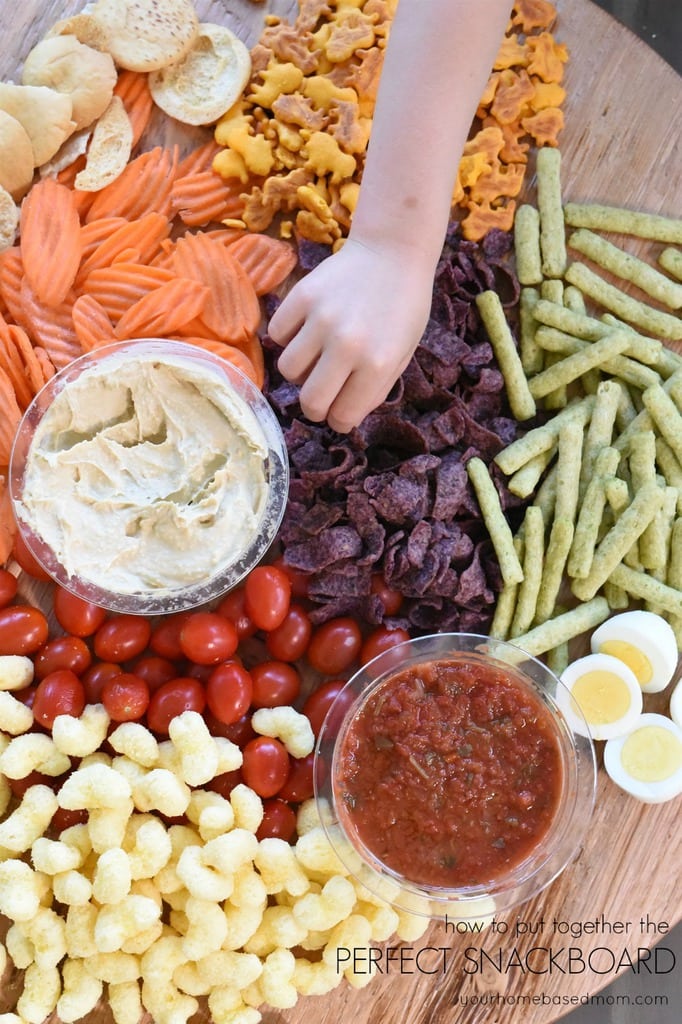 School has been underway for a week here in Portland.  Even though I no longer have anyone living at home who is in school, I remember those days well.  Now, instead of a child coming home from school that is hungry and looking for something to eat, I have a husband who comes home from work and is hungry and looking for something to eat.  He is at work early (6:00 am) so when he gets home around 3:00 pm, he's hungry and ready for a snack since he eats lunch so early.
Today I've partnered with Albertsons and Safeway to share with you one of my favorite ideas for an after school snack or after work snack!  I've learned a few tricks over all those years of preparing after school snacks for my four kids.
Top Tips for After School Snack Ideas
 Variety – Kids love choices.  If you have more than one child you know that no two children like the same thing.  Putting together an after school snack idea with something for everyone is easy to do with the help of Albertsons exclusive O Organics® brand.  I love having foods of different colors, different flavors and different textures. Something salty, sweet, crunchy, soft and spicy.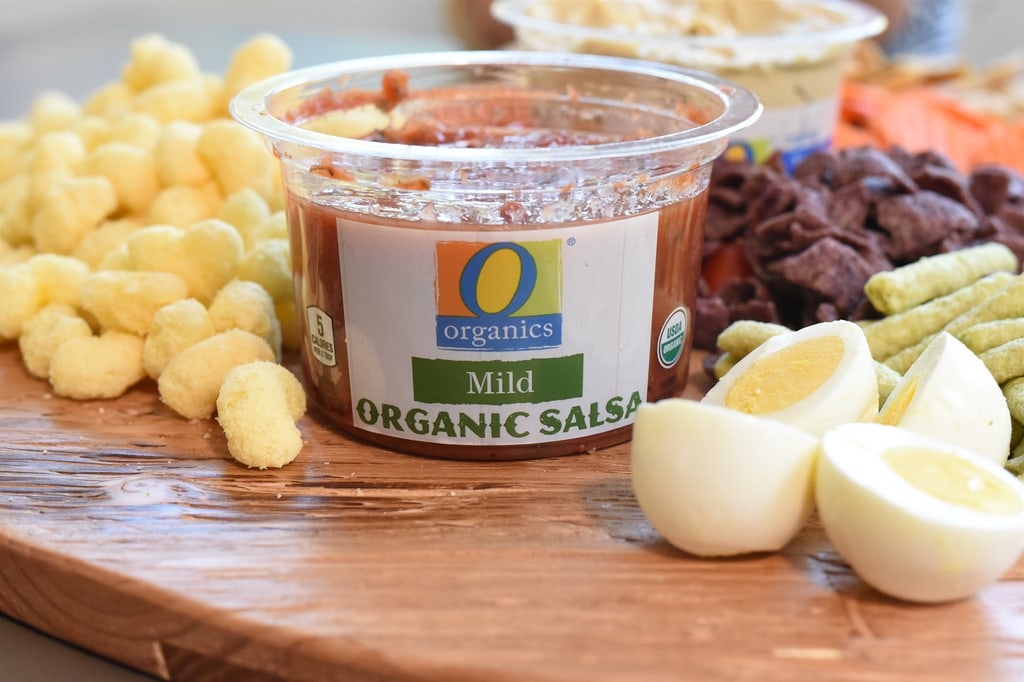 Quick & Easy – Everything I used to assemble my after school snack tray was from the O Organics line at my local Albertsons and Safeway.  All I had to do was open the package.  Starting with a container of O Organics Hummus and Mild Salsa is quick and easy to go and the perfect things for dipping into!  What kid doesn't love to dip!!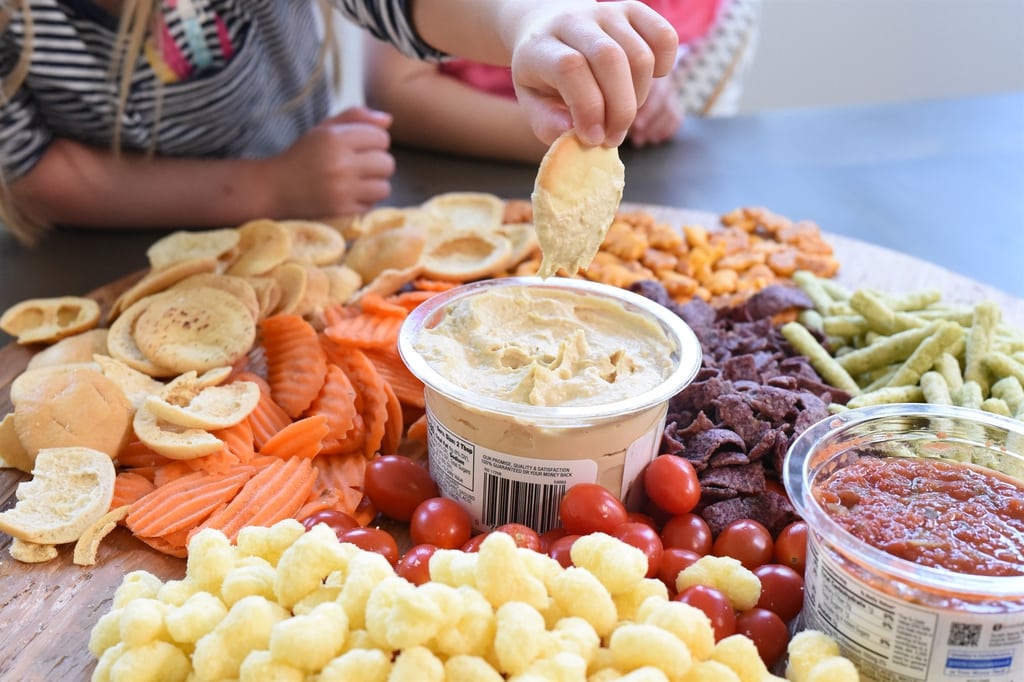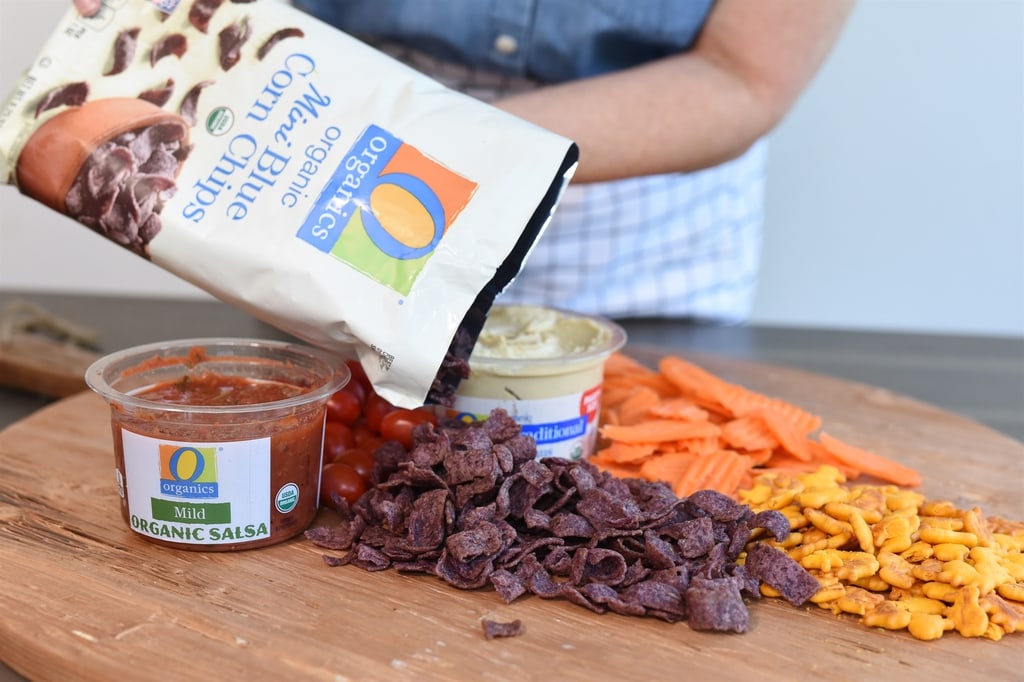 Healthy and Affordable  –   In addition to some crunchy, salty treats like the O Organics Mini Blue Corn Chips and the O Organics Cheddar Animals, I also picked up some Cage Free Boiled Eggs, Carrot slices, and Grape Tomatoes from the O Organics line. I love that Albertsons and Safeway's USDA certified O Organics line makes it possible to have great tasting organic food available to everyone at a great price.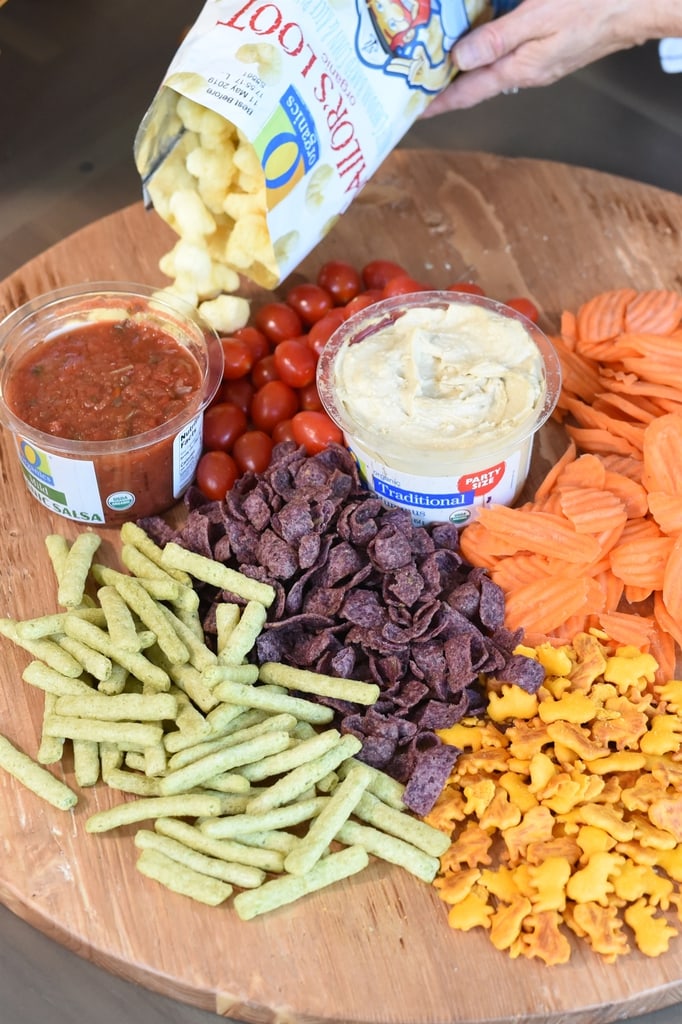 Fun Presentation – "It's all in the presentation!"  I pulled out a round cutting board to create my snack board on.  But you could use a cookie sheet, a plate, muffin tins, any kind of board or serving platter and then just pour on all the stuff!  Get creative and use something you don't normally use as a fun serving piece.  The size of your board depends on how many people you are feeding.  You can easily do this idea for just one person by not having as much variety or quantity.  Or you can be the cool mom and pour everything right onto the table!  Then all you have to do is step back and watch the kids go for it!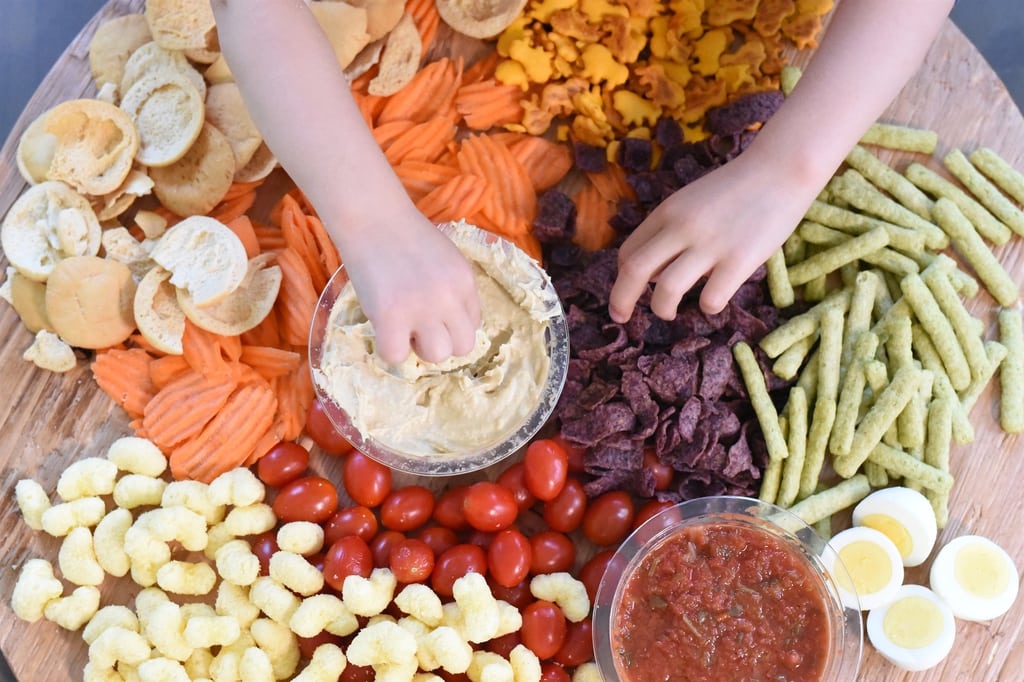 That O Organics Sailor's Loot is a favorite at our house!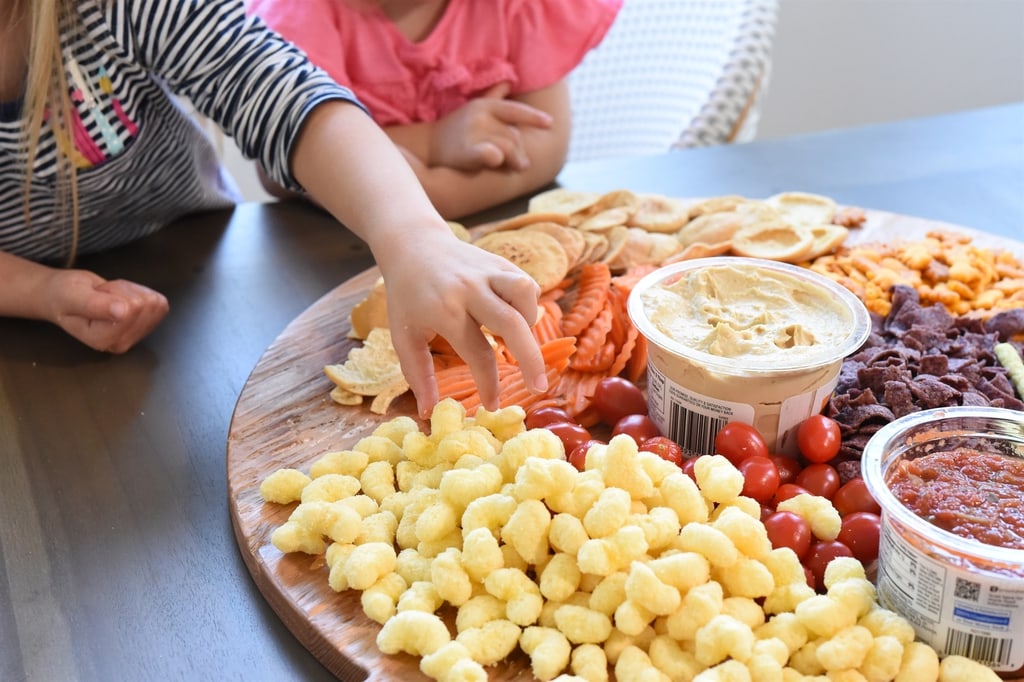 After School Snack Board
An after school snack board is the perfect way to get the kids to hang out and share their day with you. Those after school visits were always my favorite.  And they don't last very long until they are off to the next activity.  Take advantage of that time and keep them busy with a delicious after school snack board!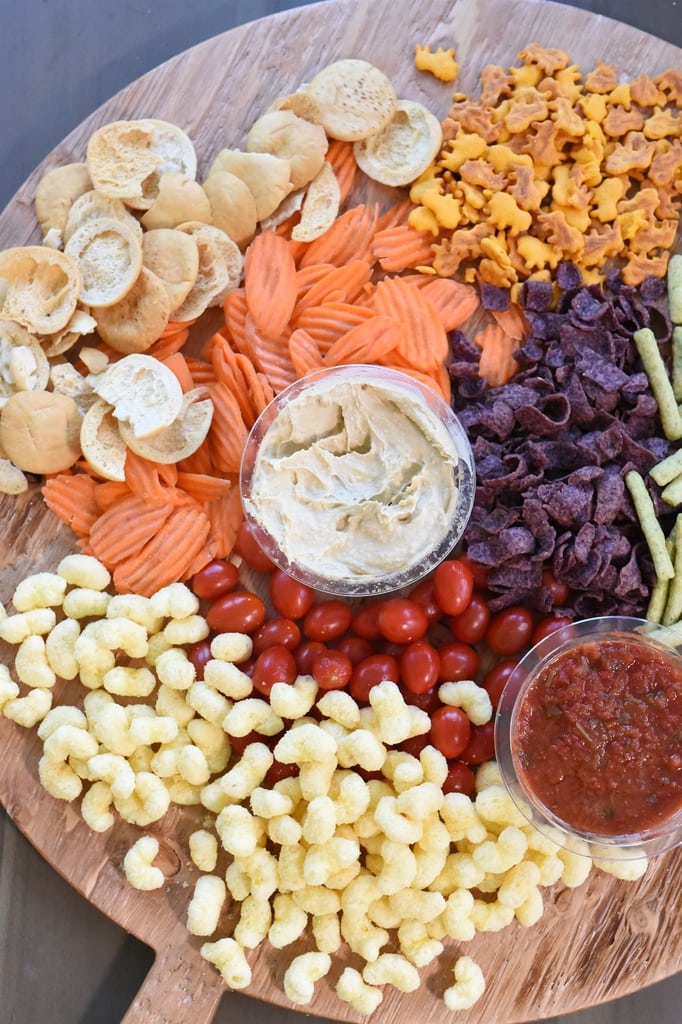 Be sure and check out my video below on how I put together my after school snack board idea.
I buy my O Organics products at my local Albertsons and Safeway stores. And you can also find them exclusively at all of the Albertsons Companies family of stores.  Including ACME Markets, Jewel-Osco, Vons, Pavilions, Randalls, Tom Thumb, Shaw's, Star Market, and Carrs/Safeway. Visit Albertsons.com or Safeway.com to find a store near you and discover more meal prep tips and recipe ideas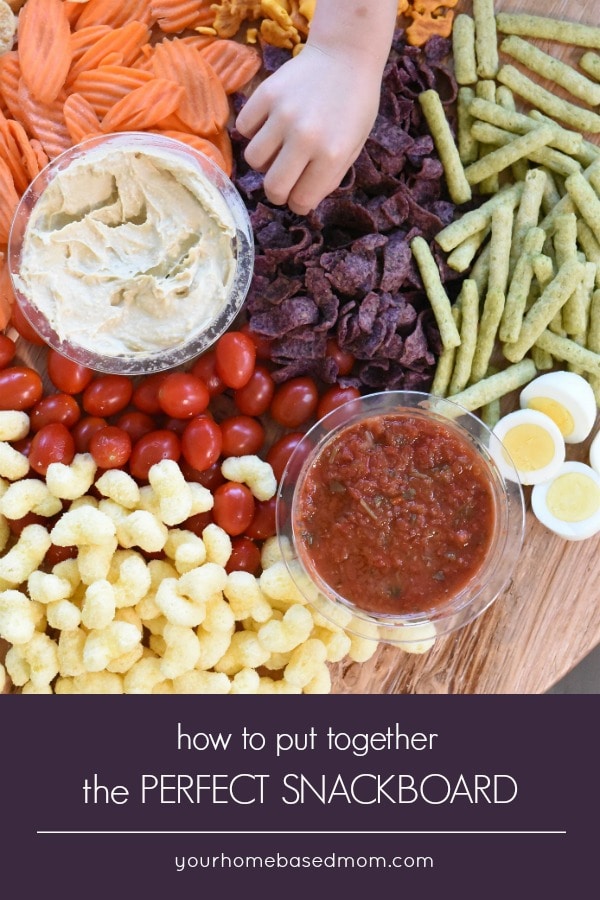 This is a sponsored conversation written by me on behalf of Albertsons and Safeway Stores. The opinions and text are all mine.
For some other snack board inspiration check out these posts:
How to Make the Perfect Relish Tray